One of my best friends, who's been a hunting buddy for about two decades, has done very well this year on public land in Florida. In the first 2.5 weeks of gun season, he put three whitetail bucks in the freezer. (You can read about that by clicking here.) But the main reason we're talking about it here is bullet performance.
(If you are squeamish and/or don't want to see bloody photos of a dead deer, leave now.)
Each of the three bucks were taken using Winchester factory-loaded hunting ammo with Power Point 150-grain bullets, in two different cartridges/calibers.
The first and third deer was taken with a Browning A-Bolt rifle in 270 WSM — and while both deer were killed perfectly dead, bullet performance was questionable. In the case of the first buck, in fact, bullet performance was downright weird.
Buck number two was slain with a Ruger 30-06 and although the bullet mushroomed perfectly, the fact that it failed to pass completely through a 115-pound buck at just 50 yards was a bit concerning.
I'm not here to condemn the ammo, just to talk about the results and make a few observations. Kind of an online campfire hunt camp discussion.
Let's dive in and examine each of the kill scenarios.
Buck Number One
The first bullet is certainly the weirdest one we can examine. Although it hit no bone, it utterly failed to expand.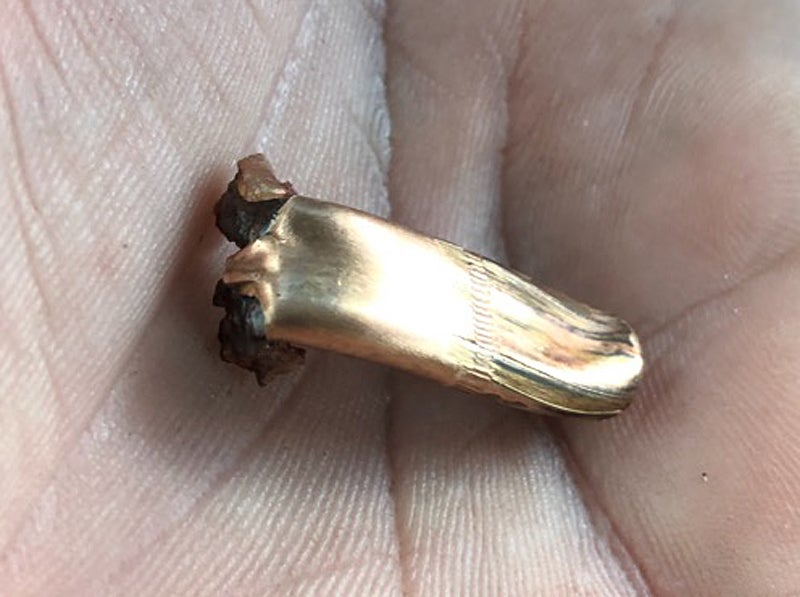 It also became flattened out — and bent — during its wild ride through the insides of a 115-pound whitetail deer.
Caliber/cartridge: 270 WSM
Ammo: Winchester Power Point 150 grain
Animal: Whitetail deer 115 pounds
Distance: 50 yards
Deer Position: Hard quartering away with left side visible
Shot placement: Just behind the last rib on the side. Expected direction of bullet penetration was towards right shoulder.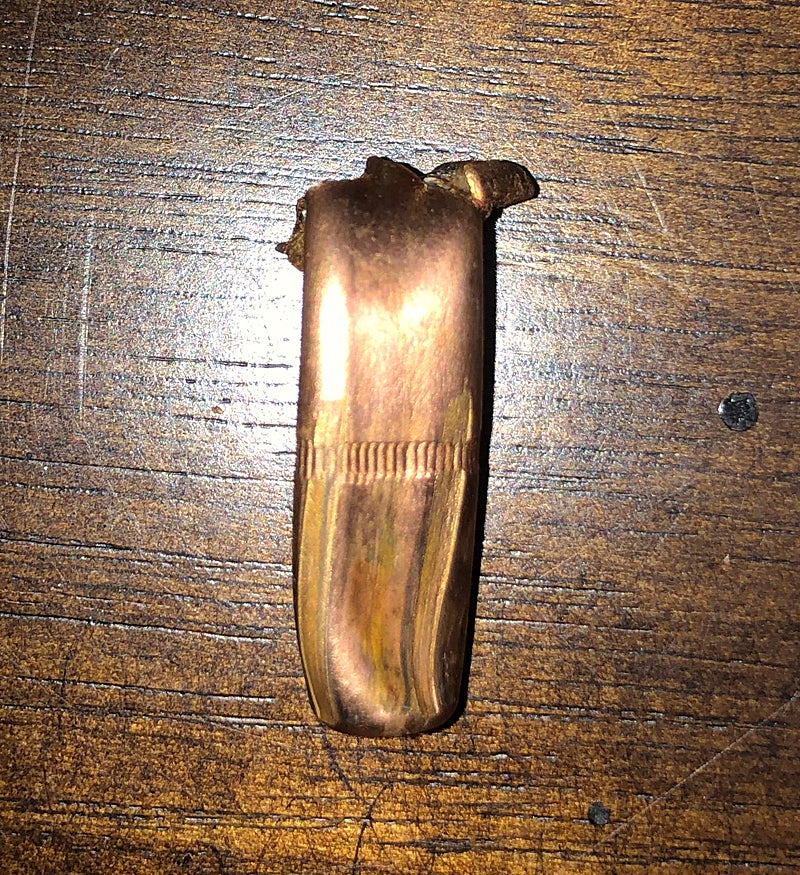 The hunter had this to say:
The first thing I noticed was that his lungs were completely destroyed. On the right side inside the rib cage I could see where the bullet hit and traveled along a few ribs, but did not exit. I continued to look for the bullet and found it on the left side — the same side it had entered — embedded in some tissue. To my surprise the bullet did not expand one bit. The lead soft point was gone and the jacket had a "chewed up" appearance. Near the base, the bullet was deformed.

The bullet looked like it had been thrown out a car window and run over a few times more than it looked like it had just been fired into an animal.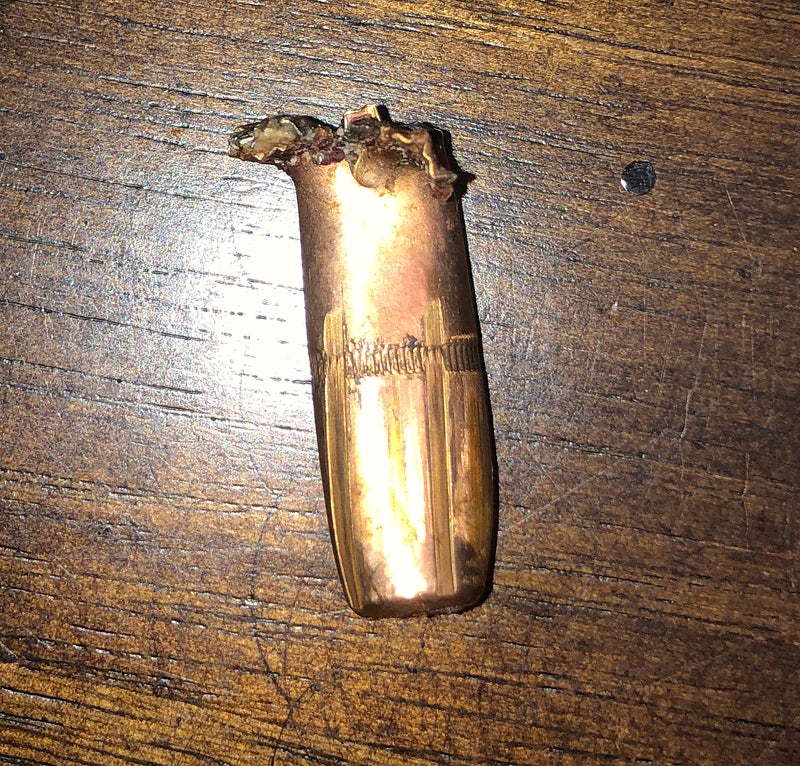 While the end result was an almost-instant kill, there's no denying that this bullet did not perform as it should have. It's true that it's a 270 WSM bullet and the deer was a mere 30 yards away, but it still should have expanded.
Buck Number Two
For buck two, Shane used his old Ruger 30-06 because his son was hunting with the "270 Stumpy" as he likes to call it.
He shot the deer while it was running, then finished it with a neck shot. The first bullet was recovered; the neck shot was naturally a pass-through.
Here's how he described it:
The first shot was placed about 6 inches behind his right shoulder. The bullet traveled back at an angle and lodged in his hide just in front of the left ham. It was a good hit, taking out one lung on its way to the guts.

The distance was 30 yards, but to my surprise the bullet did not exit. It did mushroom and stayed intact as a quality bullet should, but I expected a full pass-through at 30 yards with a 30-06 — after all, I had not hit bone. The shot to the neck was a pass-through.
Expansion was surely textbook in this case, but I'm with Shane as far as expecting a full pass-through shot complete with exit wound from this ammo at that range — even though it was a quartering shot.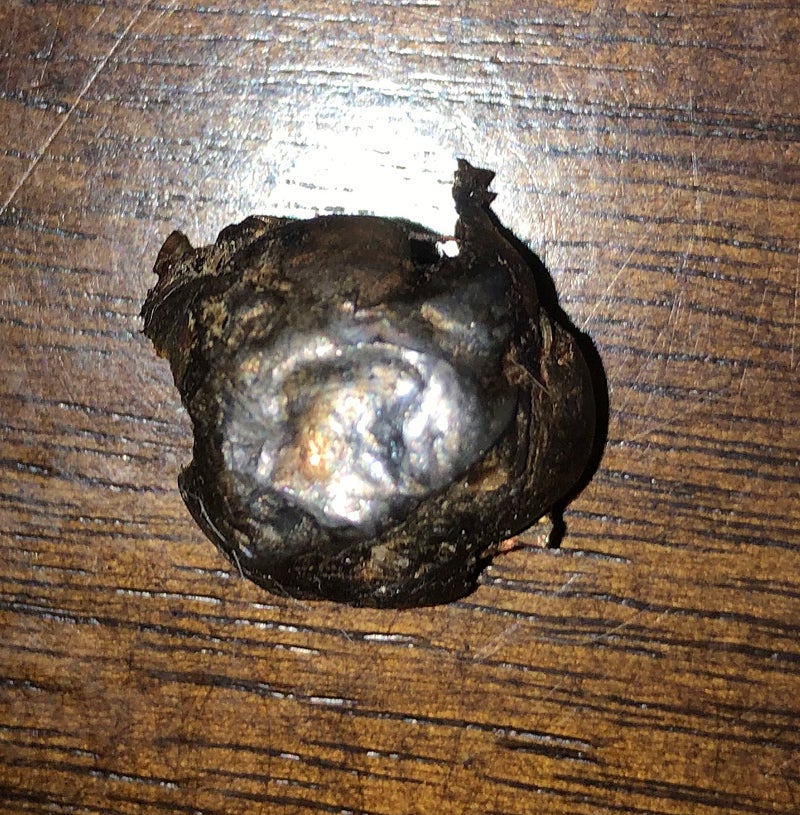 Caliber/cartridge: 30-06 Springfield
Ammo: Winchester Power Point 150 grain
Animal: Whitetail deer 112 pounds
Distance: 30 yards
Deer Position: Quartering towards & running to my right
Shot placement: 6″ behind shoulder; took out rear portion of right lung.
My father used to say, "There's no such thing as a bad shot when you're standing there looking at your deer," and he was right… but he would also agree that some shots (and bullet 'performances') are better than others.
Buck Number Three
Buck three was the farthest one, at approximately 200 yards — and it was the only one through which the bullet completely passed. That said, the result of the shot was still a bit unusual.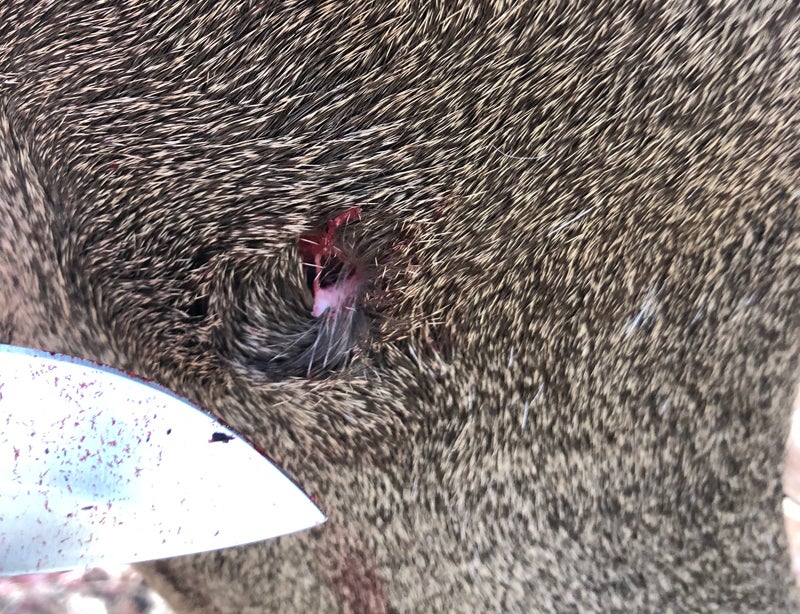 From the hunter:
He was roughly 200 yards out and pretty much broadside. Shot placement was just behind the left shoulder and the bullet exited through the right shoulder. What was odd was the exit wound was barely any larger than the .270-caliber bullet that made it, which suggested another failure to expand.

During the skinning of the buck I documented severe tissue and bone damage. The ribs and right (off-side) shoulder were destroyed. Since it was a complete pass-through I can't say the bullet didn't do its job; it did. But the exit wound didn't suggest much of a mushroom effect. This only the second deer taken with the ammo. The results are dead deer but I am not impressed with bullet performance.
Caliber/cartridge: 270 WSM
Ammo: Winchester Power Point 150 grain
Animal: Whitetail deer 127 pounds
Distance: 200 yards
Deer Position: Broadside
Shot placement: Just behind the left shoulder.
The entrance wound was considerably larger than the exit, and showed much more bloody trauma. This is not the first time I have observed that — it's happened more than once with my trusty old 308 — but it's still noteworthy, especially considering the weird non-expansion of the same bullet in the first buck.
I've taken more than 60 whitetails and witnessed many more kills, and it's the exception rather than the rule to see more trauma and a larger wound on the entrance vs. exit.
Conclusion
What conclusion can we draw from this? Well, like so many things in our world, that's a bit subjective. Personally, if it were me I wouldn't continue to hunt with the 270 WSM using this ammunition… and I might also be looking for some ought-six ammunition that's more likely to drive a bullet all the way through my quarry.
But as I said earlier, it's tough to argue with the results.
What's your take? Do you think these bullets performed up to snuff or would you save the rest of the ammo for target practice and stop hunting with it? Please let us know in the comments below.