Triple Whammy: Taking a Trio of Public-Land Florida Whitetails
Russ Chastain 11.29.19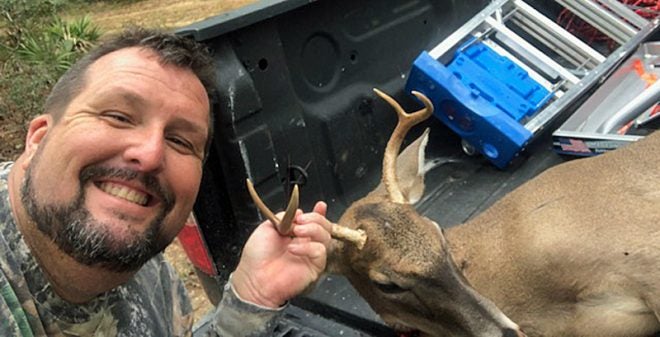 In November 2018, my friend Shane Jones had plenty of opportunities to shoot deer in the Ocala National Forest — and two of those chances came on the only morning I was able to join him. But rifle trouble interfered and we went home empty-handed. When he hit the same woods a year later, he wasn't expecting much; the area had been opened up due to a recent burn and there was a lot of vehicular traffic nearby. Still, he headed to the forest so he could hunt with his father and his son.
Things turned out well for him. I'll let him tell his story from here.
Opening Morning
Saturday November 9 was opening day of general gun season in Florida's northeast game management region. I was hunting in the Ocala National Forest.
I decided to climb a tree I'd climbed several times over the years, from which I'd seen plenty of deer but had never been successful. My rifle of choice this morning was a Browning A-Bolt Hunter chambered in 270 Winchester Short Magnum. Ammo was factory-loaded Winchester with 150-grain Power Point bullets.
Good shooting light came at 7:05 AM and I was ready for a BAB (Big A– Buck) to show up. At 7:15, a doe and her fawn came in from my left and I watched as they browsed by. I turned back to my left and spotted a deer slipping through the scrub headed in my direction. Before long, it stopped at a rut scrape roughly 30 yards from me and I watched as it worked the scrape and reached up to the licking branches.
It was clearly a buck, but I couldn't make out any good headgear through the scrub and skinny pines. He proceeded onward and when he got in front of me I could tell he was a good legal buck and decided to take him.
I had a very small window of opportunity and as he reached the opening he began to turn to walk straight away from me. I stopped him with a "hey deer" and placed a shot right behind the last rib on his left side. It doesn't sound like the best shot placement, but at that angle it was a kill shot because the bullet's path was straight into his vitals. He leaped forward and fell over, not to move again. 7:30 AM and I was already celebrating a successful hunt!
Now for the work. Skinning him out, I wanted to the retrieve the projectile because it did not exit, which I thought was odd for the close distance.
Inside, the first thing I noticed was that his lungs were completely destroyed. On the right side inside the rib cage I could see where the bullet had hit and traveled along a few ribs, but did not exit. I continued to look for the bullet and found it on the left side — the same side it had entered — embedded in some tissue. To my surprise the bullet did not expand one bit. The lead soft point was gone and the jacket had a "chewed up" appearance. Near the base, the bullet was deformed.
The bullet looked like it had been thrown out a car window and run over a few times more than it looked like it had just been fired into an animal.
Caliber/cartridge: 270 WSM
Ammo: Winchester Power Point 150 grain
Animal: Whitetail deer 115 pounds
Distance: 50 yards
Deer Position: Hard quartering away with left side visible
Shot placement: Just behind the last rib on the side. Expected direction of bullet penetration was towards right shoulder.
One Week Later
Saturday November 16 was the 8th day of general gun season and my third morning in the woods. It didn't appear that the deer wanted to play nice. After not seeing much movement or deer sign near my previous spot, I decided to move about a quarter-mile south.
I set up about 75 yards west of a sandy two-track woods road, watching a few known trails where the deer cross. That evening the deer start moving a little. I spotted two deer running in the distance at 4:30 PM.
Then at 5:15, mama and her fawn showed up and browsed in front of me for about ten minutes. By dark they were gone, and my hunt ended.
The next morning was cool and overcast with a southerly wind. The cold front had stalled and my hopes of a north wind went out the window. The morning wore on and with no deer being seen, I was second-guessing my decision to move. I had changed things up and was hunting with my old Ruger 30-06 which had been my first bolt-action hunting rifle.
Then, seemingly out of nowhere, a legal buck was running up the hill to my right. I yelled to stop him but he wasn't having any of that. I chose a clear spot, took aim, and fired. He'd been quartering towards me slightly; at the shot he spun around and ran directly away from me for about 10 yards and stopped, just standing there. After what seemed like minutes of waiting for him to fall over, he looked back my direction; I chose to take a neck shot and he dropped.
The first shot was placed about 6 inches behind his right shoulder. The bullet traveled back at an angle and lodged in his hide just in front of the left ham. It was a good hit, taking out one lung on its way to the guts. He was dead and didn't know it.
The distance was 30 yards, but to my surprise the bullet did not exit. It did mushroom and stayed intact as a quality bullet should, but I expected a full pass-through at 30 yards with a 30-06 — after all, I had not hit bone. The shot to the neck was a pass-through.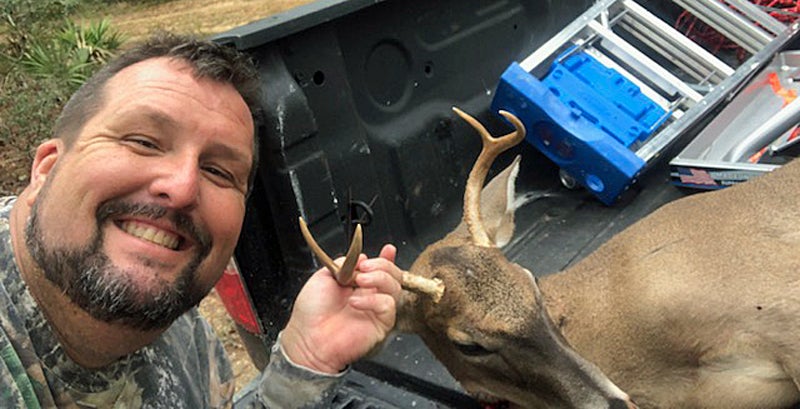 Caliber/cartridge: 30-06 Springfield
Ammo: Winchester Power Point 150 grain
Animal: Whitetail deer 112 pounds
Distance: 30 yards
Deer Position: Quartering towards & running to my right
Shot placement: 6″ behind shoulder; took out rear portion of right lung.
Happy Thanksgiving
Tuesday November 26th was my 9th morning in the woods and the 4th morning hunt of this particular trip. I only had one more day to hunt before it was time to strike camp and head home for Thanksgiving. This would have to be my last hunt of the season.
Early in this hunt I had been hunting the place where I took buck number two, trying to let my other area cool down. On Sunday evening I'd relocated to my hilltop spot where I took my opening-morning buck. That evening I saw a few does, which is always good. Monday morning was even better as I saw 11 deer from the stand. 7 were identified and 4 were unknowns… but any day you see 11 deer from a tree stand on public land in Florida is a good day.
On Monday evening I decided to set up a second climber on the south end, thinking the deer are moving on the hill and I wanted a clean start in the morning. That evening I was skunked, unless you count a huge Florida black bear.
On Tuesday morning it was a cool 36 degrees when I parked. Clear skies and no wind, which for me is perfect hunting weather. I was again carrying the Browning 270 WSM.
My decision not to hunt the hill was paying off. At 7:05 I spotted a doe being pushed by a legal (but small-bodied) spike. Both deer passed at a range of about 30 feet, and I watched them walk away browsing. At 7:10 (looked at my watch after the shot) I glanced up to my left and saw a deer way out in the distance strolling along. I threw up the rifle, cranked up the scope power, and saw it was good legal buck. I waited for him to step into a gap in the brush and yelled "stop!" He stopped and I fired. He hit the ground.
He was roughly 200 yards out and pretty much broadside. Shot placement was just behind the left shoulder and the bullet exited through the right shoulder. What was odd was the exit wound was barely any larger than the .270-caliber bullet that made it, which suggested another failure to expand.
During the skinning of the buck I documented severe tissue and bone damage. The ribs and right shoulder were destroyed. Since it was a complete pass-through I can't say the bullet didn't do its job; it did. But the exit wound didn't suggest much of a mushroom effect. This only the second deer taken with the ammo. The results are dead deer but I am not impressed with bullet performance.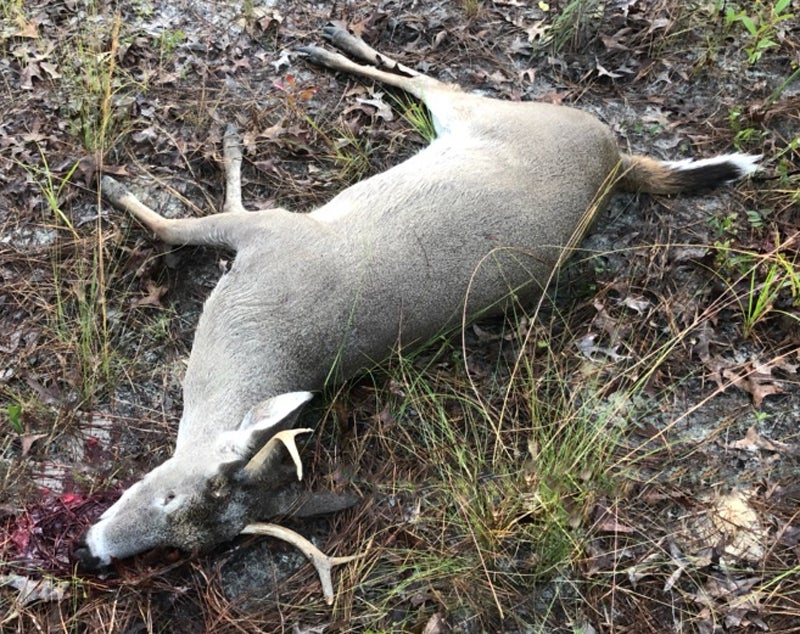 Caliber/cartridge: 270 WSM
Ammo: Winchester Power Point 150 grain
Animal: Whitetail deer 127 pounds
Distance: 200 yards
Deer Position: Broadside
Shot placement: Just behind the left shoulder.
Conclusion
While 2018's deer season had been pretty rough on my ol' buddy Shane, 2019 made up for it and then some. And while there's no way to complain about three public-land bucks in the freezer after spending just 9 mornings in the woods, the bullet performance left us wondering.
If you're interested, you can check out my post which contains photos of recovered bullets as well as some post-mortem pictures of deer number three.
Happy hunting.