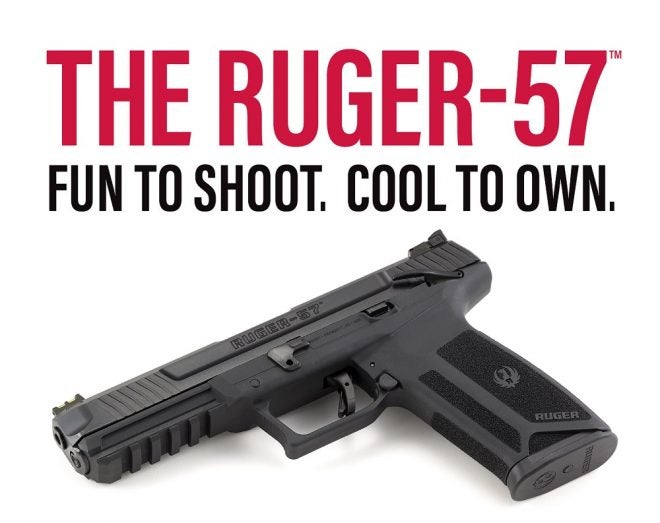 As a sort of a departure from the way Ruger normally names new gun models, their latest production is the Ruger-57. The new pistol was formally announced back in December of 2019. What is so unique about a gun innocuously entitled the No. 57? For one thing, this new pistol is chambered for the somewhat rare and likely misunderstood 5.7x28mm cartridge.
The pistol itself has a black polymer frame with an alloy steel slide. The barrel is 4.94 inches long. Don't ask why not a simple 5 inch one. It is striker fired. The rear sight is adjustable with a fiber optic front sight. The pistol's weight is 24.5 ounces. Magazine capacity is 20 plus one.
An optic adapter plate is available to mount a variety of optics. The slide has multiple slash cuts for easy gripping to charge the pistol. A Picatinny accessory rail is forward under the slide and barrel for mounting a light or laser. The pistol is designed to be easily taken down without tools. The internal hammer of the "Secure Action" fire control produces a short trigger pull with a positive reset.
The Model 57 has a slick, modern appearance. Dual safety levers enhance the shooting and safety features of the handgun. The grip has been ergonomically designed for a comfortable fit for most shooters. I suspect the 57 will be fun to carry and shoot.
The 5.7x28mm was developed by Fabrique Nationale or FN Herstal as a potential replacement for the 9×19 cartridge. It is a small caliber, high velocity cartridge that oddly enough is similar to the 22 Magnum and the 22 Hornet in some respects. There is no parent case as the 5.7×28 was created as an original case and cartridge.
This cartridge is now currently used in more than 40 nations in both military and law enforcement applications. There have been a variety of loads developed for the 5.7×28. The two most common loads use either a 28 or 31 grain bullet with a muzzle velocity of 2350 feet per second. The muzzle energy ranges from 344 foot pounds to 394 ft. lbs. I would have to think this arrangement is a specialist type of handgun and cartridge for unique missions.
Why would Ruger bring out such a pistol? I am not sure I know the answer to that, but in my opinion Ruger would not undertake such a project without good cause. The Ruger-57 could be used for small game hunting, target shooting, and super fun recreational shooting. I would bet on that.
Editor's note: Check out this post about shooting the Ruger-57 at the 2020 SHOT Show Range Day.