Gun Review: Henry Lever Action Small Game Rifle in 22 S/L/LR
Russ Chastain 04.20.20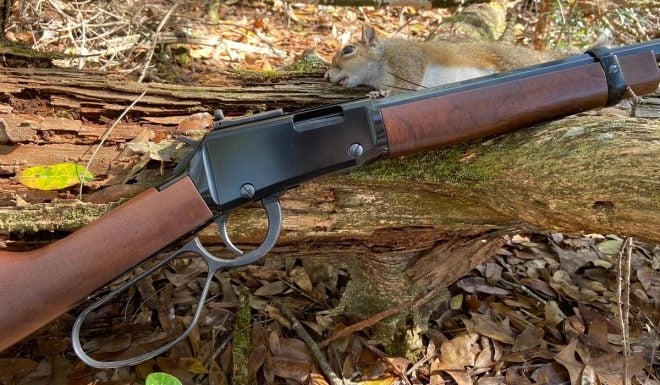 When it comes to rifles and fun shooting, it's tough to beat a 22 long rifle (LR) rimfire for accuracy, affordability of shooting, and just plain fun. Add to that the ease and nostalgia of shooting a lever-action, and you've got a recipe for fun on the range and in the woods.
Which brings us to the subject of this article: The Henry Small Game Rifle (SGR). This is an attractive and useful little rifle that comes with a peep sight, which is way better than open sights for hunting and target work… and as the name suggests, it's great for hunting squirrels and such. This series is available in 4 models; carbine or rifle lengths, chambered for 22 short/long/long rifle or 22 WMR (22 magnum). In this article, we're dealing with the longer rifle version in 22 S/L/LR.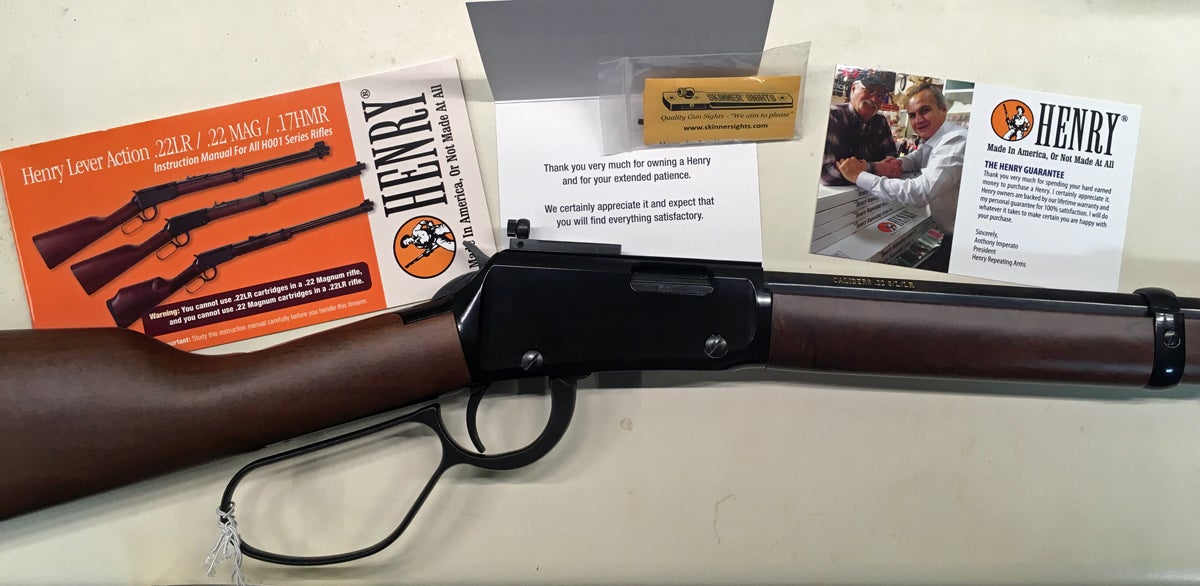 Manufacturer Specs
Model: H001TRP
Ammo type: 22 rimfire; will handle 22 short, 22 long, and/or 22 long rifle
Magazine: Tubular, under barrel
Mag Capacity: 16 long rifle/21 short
Barrel: 20″ Octagonal Blued Steel (19.75″ actual)
Rate of Twist: 1:16
Overall Length: 38-1/2″ (38-1/8″ actual)
Weight: 6.50 pounds (6.2 actual)
Receiver Finish: Black
Rear Sight: Skinner Peep Sight
Front Sight: Brass Bead
Scopeability: 3/8″ Grooved Receiver
Stock: American Walnut
Black plastic buttplate
Length of Pul1: 4″
Safety: 1/4 Cock (I call it half-cock)
Best Uses: Target/Hunting/Small Game
Embellishments/Extras: Large Loop Lever
MSRP: $536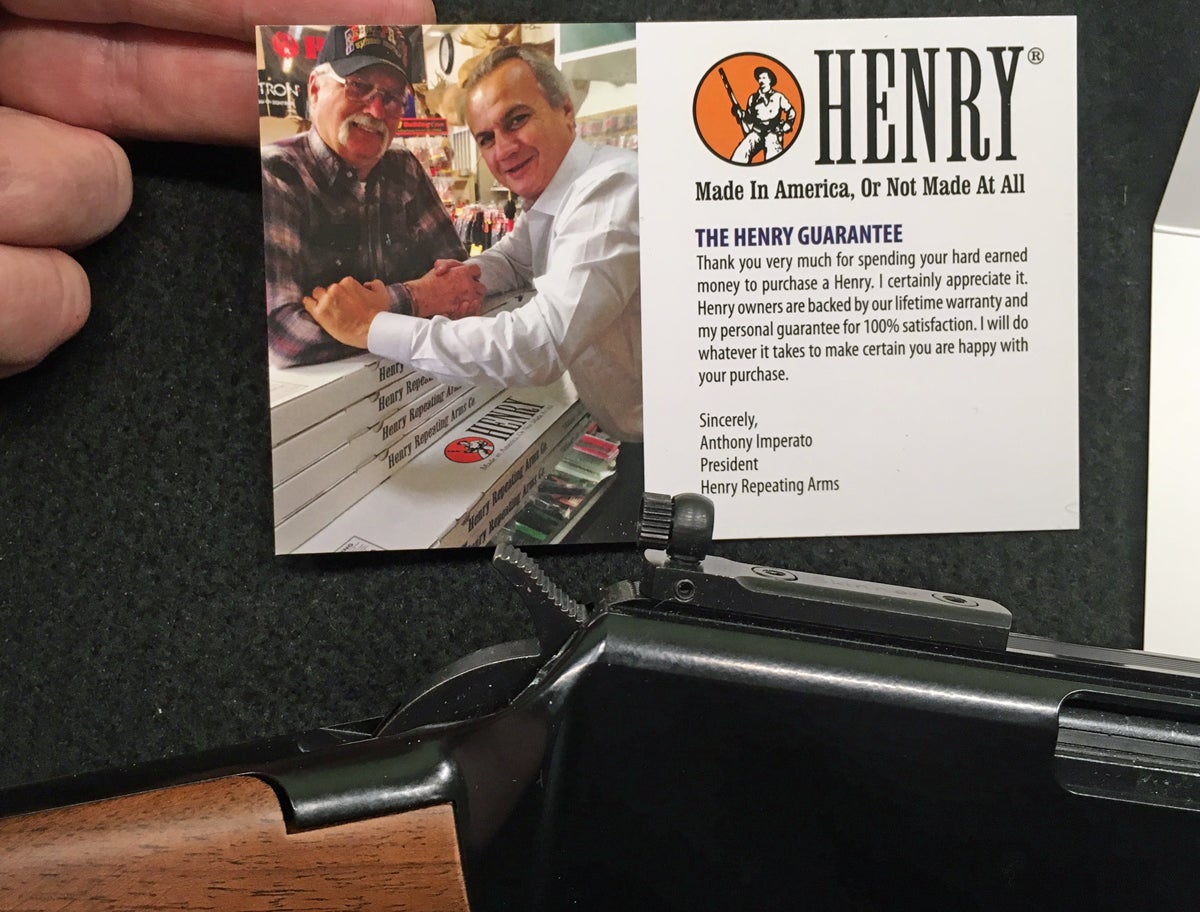 First Impressions
As soon as I got my hands on the Henry, I had to slip out back to burn up some ammo. I had this to say in my introductory post about the rifle:
I can report that the Henry Small Game Rifle is easy to handle, feels great in my hands, is accurate even with bulk-packed ammo, and is comfortable and fast to run with its oversized lever loop.
I did have some feed problems, which gradually became worse. I returned the rifle to Henry and ten days later it was back in my hands; it's been running perfectly ever since.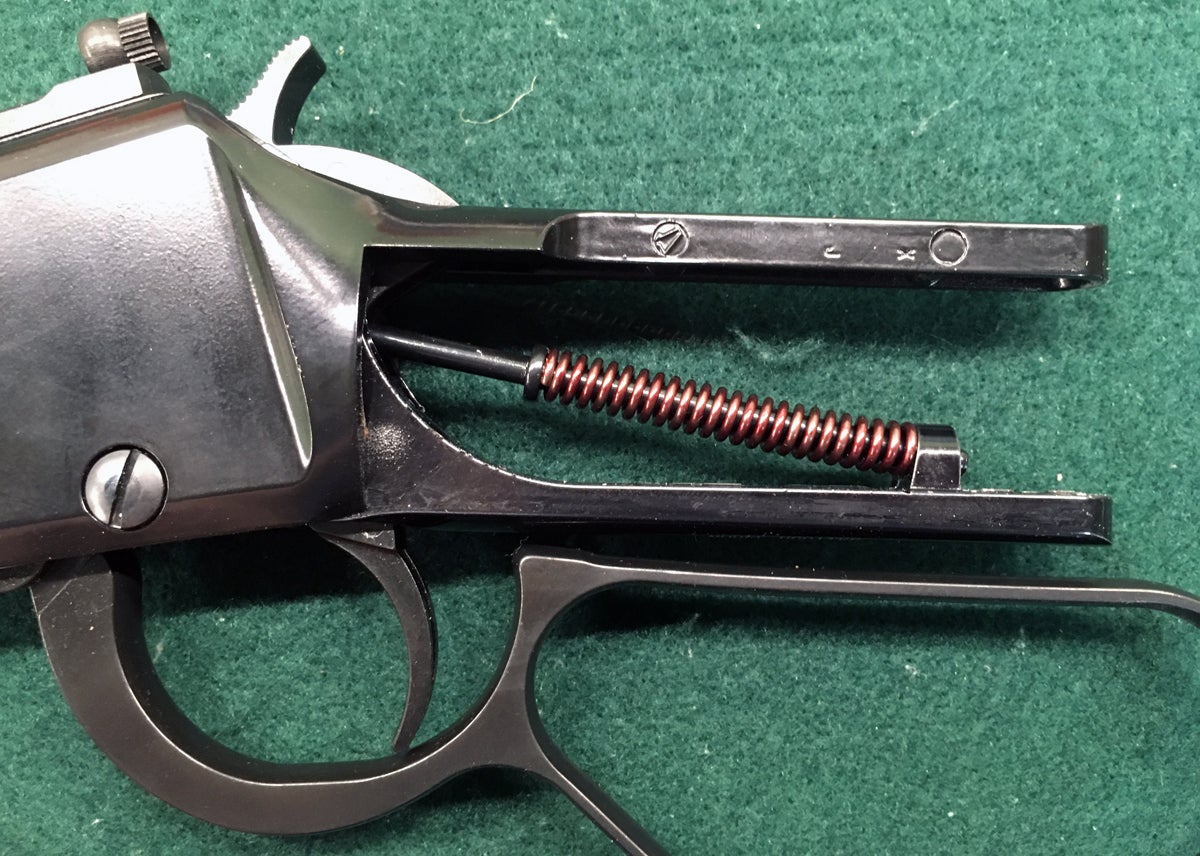 Cocking the hammer is smooth and easy, but it has plenty of oomph. I never experienced any misfires or light primer strikes, which can sometimes plague a rimfire rifle.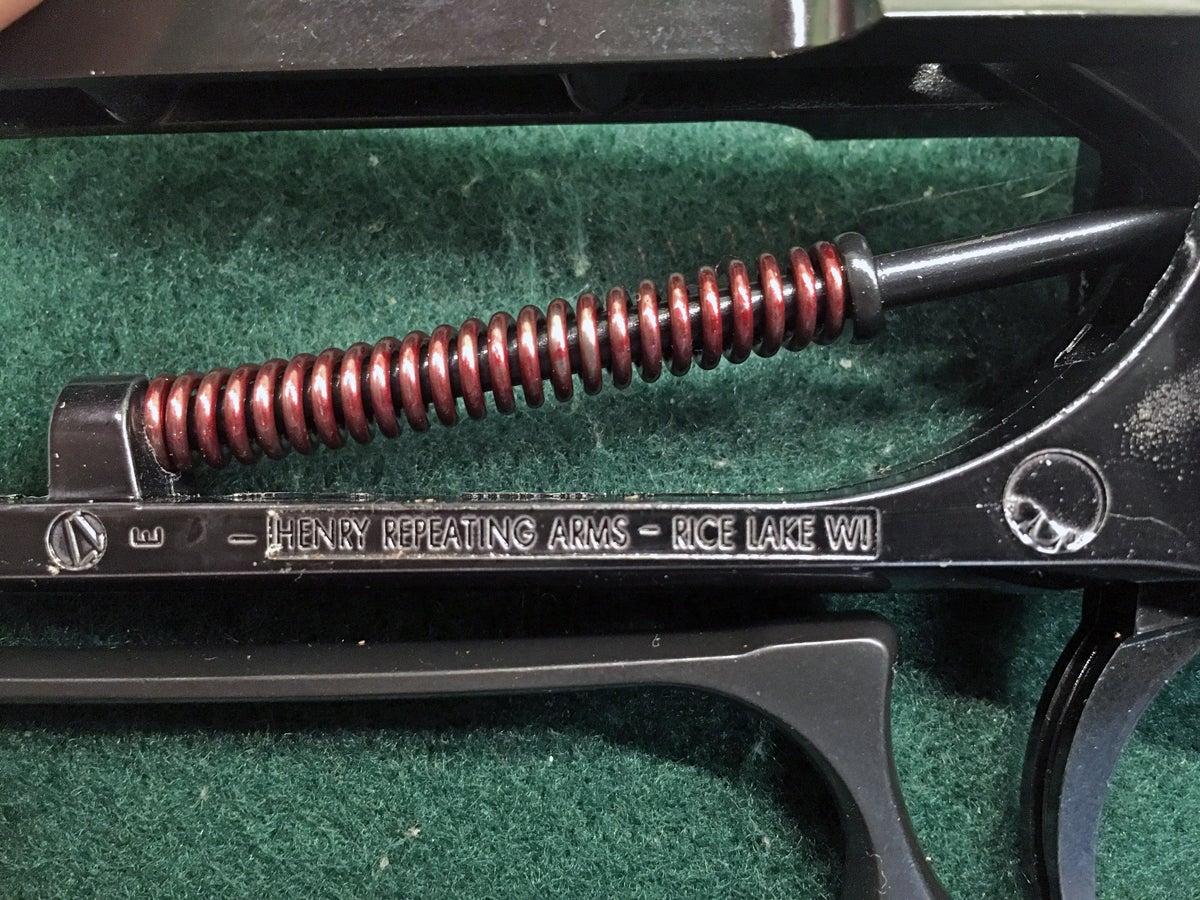 The Henry action is interesting. The slick and streamlined receiver you see is actually a metal cover made of aluminum alloy. With the removal of five screws, you can remove the butt stock and the receiver cover — the butt stock has to come off because the top tang is part of the receiver cover — and get to the gun's innards.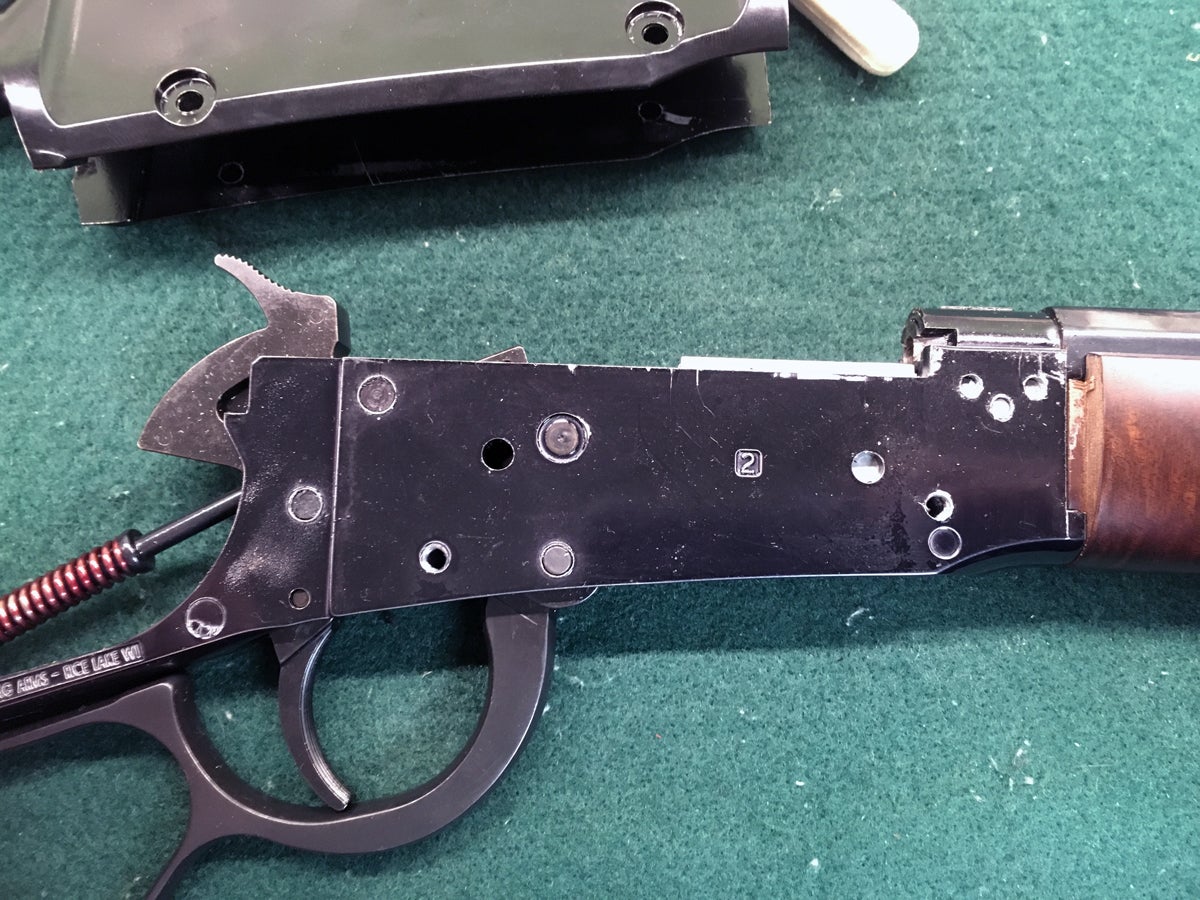 These photos show exactly how my rifle looked when I removed the receiver cover for the first time, after firing about 80 rounds.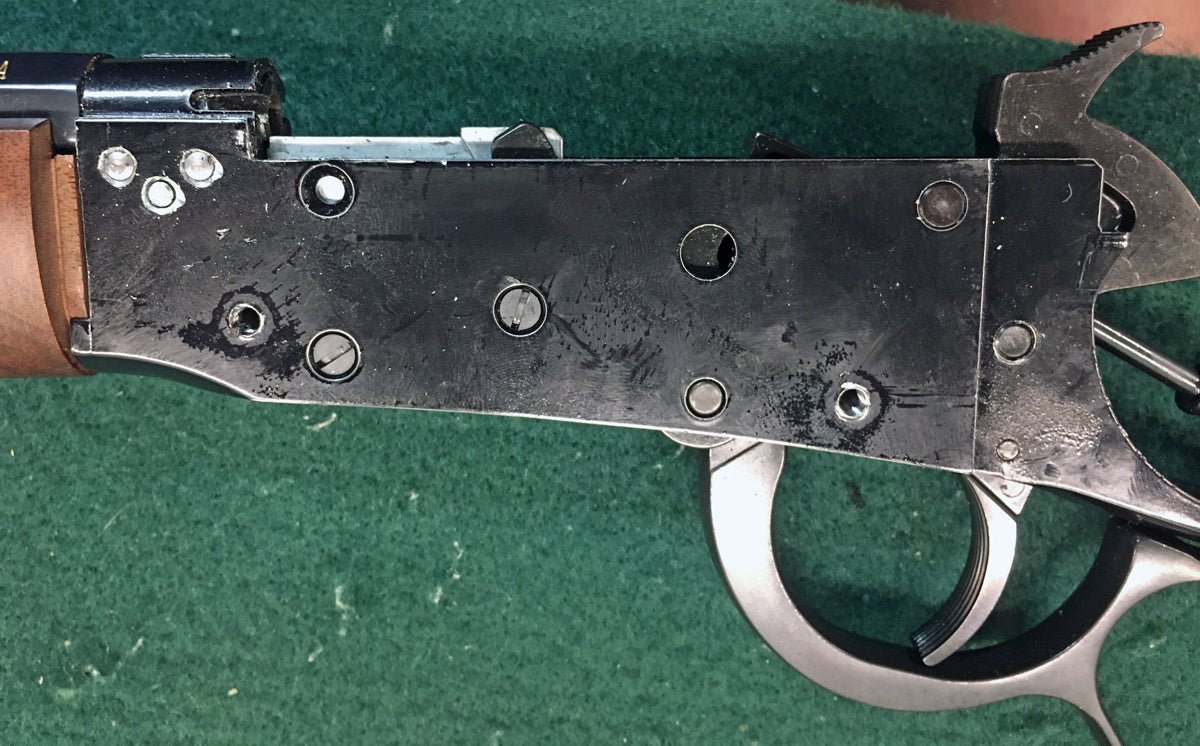 My rifle was obviously well-lubricated at the factory.

I's a simple action, but there are plenty of moving parts inside.
Comparing With Standard Henry 22

I had the chance to shoot the Small Game rifle alongside a friend's standard Henry 22 which was a few years older. Both guns are accurate and reliable.

When it comes to looks, I prefer the Small Game Rifle's octagonal barrel and steel front sight with dovetailed underbarrel lug for anchoring the front end of the magazine tube. The older rifle has a plastic band/front sight setup.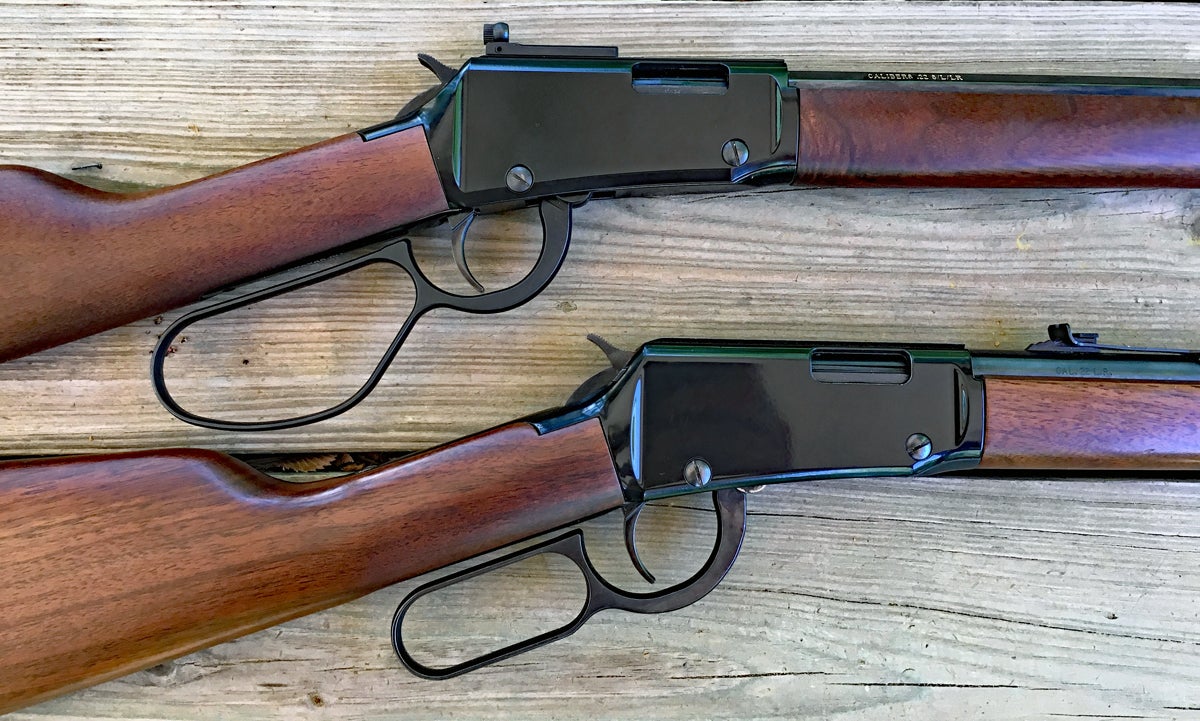 In practicality or usefulness, I admire the SGR's larger lever loop, long sight radius, rear Skinner peep (aperture) sight, and steel front sight with brass bead. But when it comes to practicality in a lever gun for hunting, the SGR is lacking an important feature: Sling studs. Most hunters use slings often for carrying their rifles as well as enhancing accuracy when shooting without a rest.
Don't Lose Sight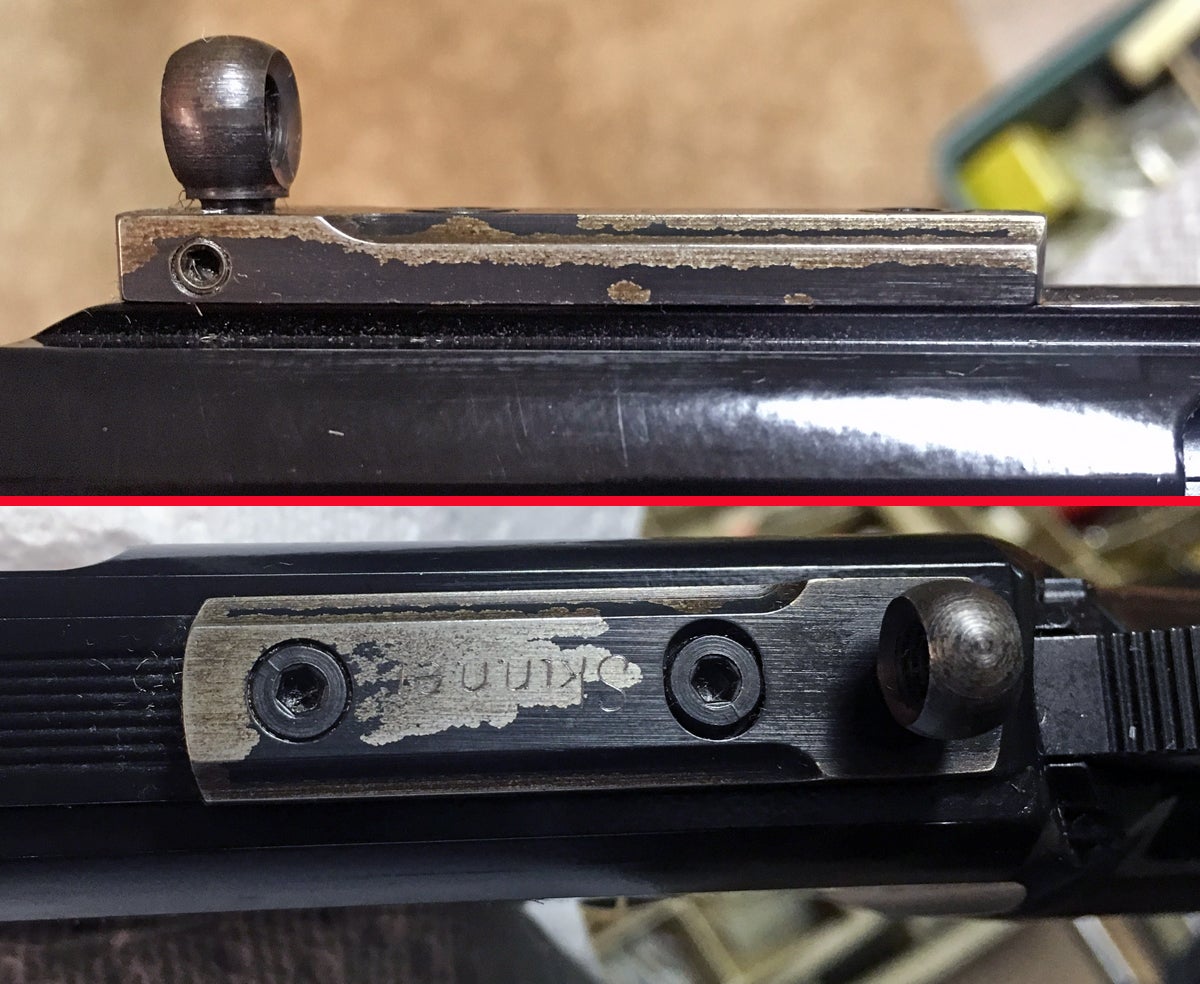 Somewhere along the line, I must have neglected to properly wipe down my rifle after a shooting session. Next time I brought it out of the safe, I noticed with horror that the Skinner brand rear sight was largely covered with rust. I used the age-old method of rust removal, which is to wet the area with oil and rub lightly with steel wool, then wipe it away. In most cases, that works to remove rust with little or no damage to the bluing.
As you can see in the photo above, which shows the right side (top of photo) and top of the rear sight, the bluing came off along with the rust. Doh!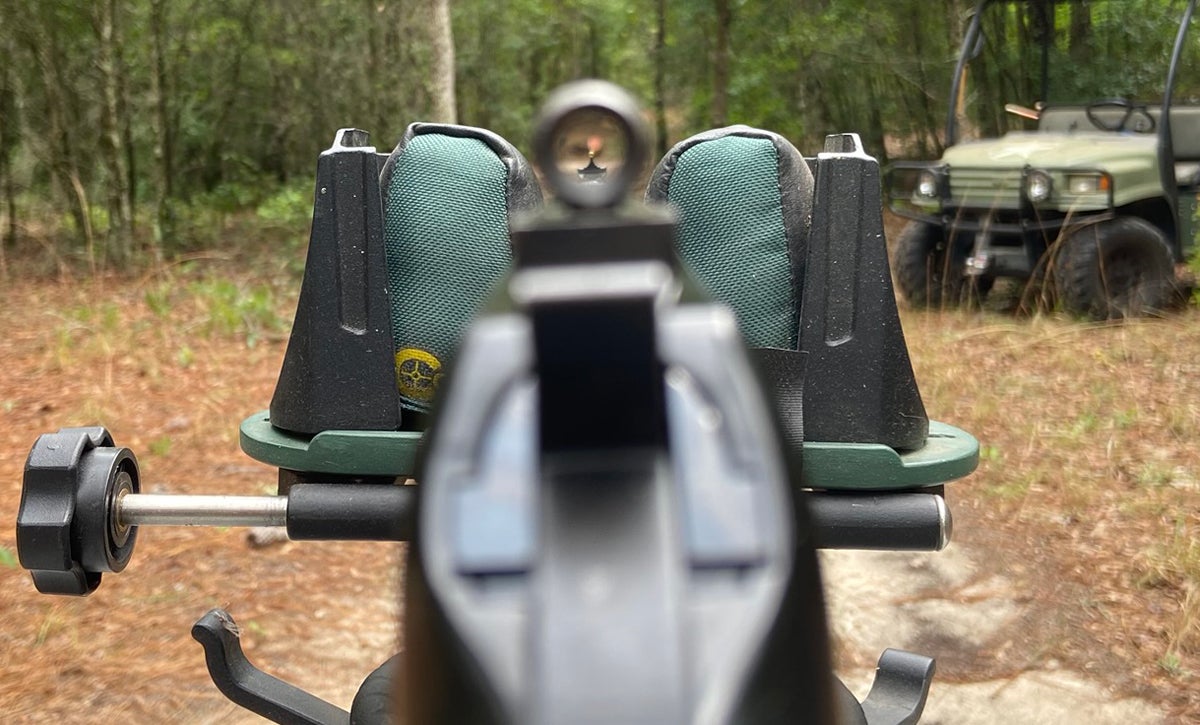 I do love the sights, and the combination of an easy-to-see front bead sight and a rear peep (or aperture, or "ghost ring") sight is the absolute best type of non-optical sighting setup for a rifle.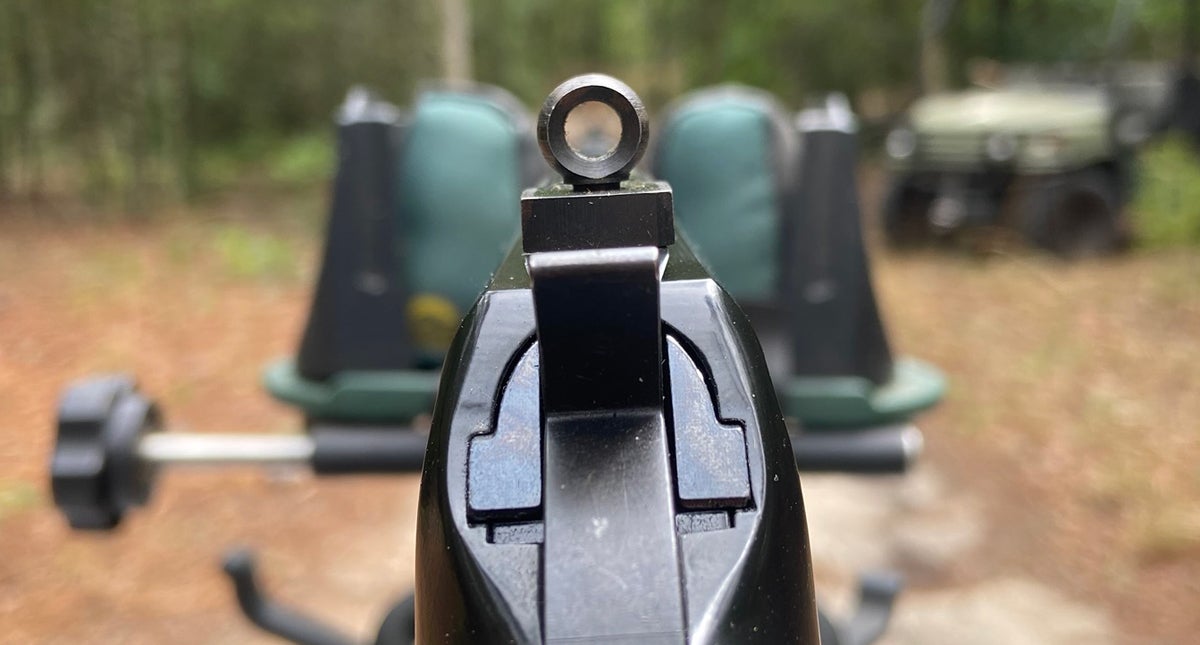 Accuracy & Function
I did most of my shooting with the ammo I had the most of, which is Federal BYOB bulk-packed 36-grain Champion hollowpoint ammo. This sort of ammunition is perfectly suited for most shooting, including plinking and informal target work. But bulk-packed 22 rimfire ammunition is notorious for being a little less consistent than other 22 groceries, so I also fired some groups using premium target ammo.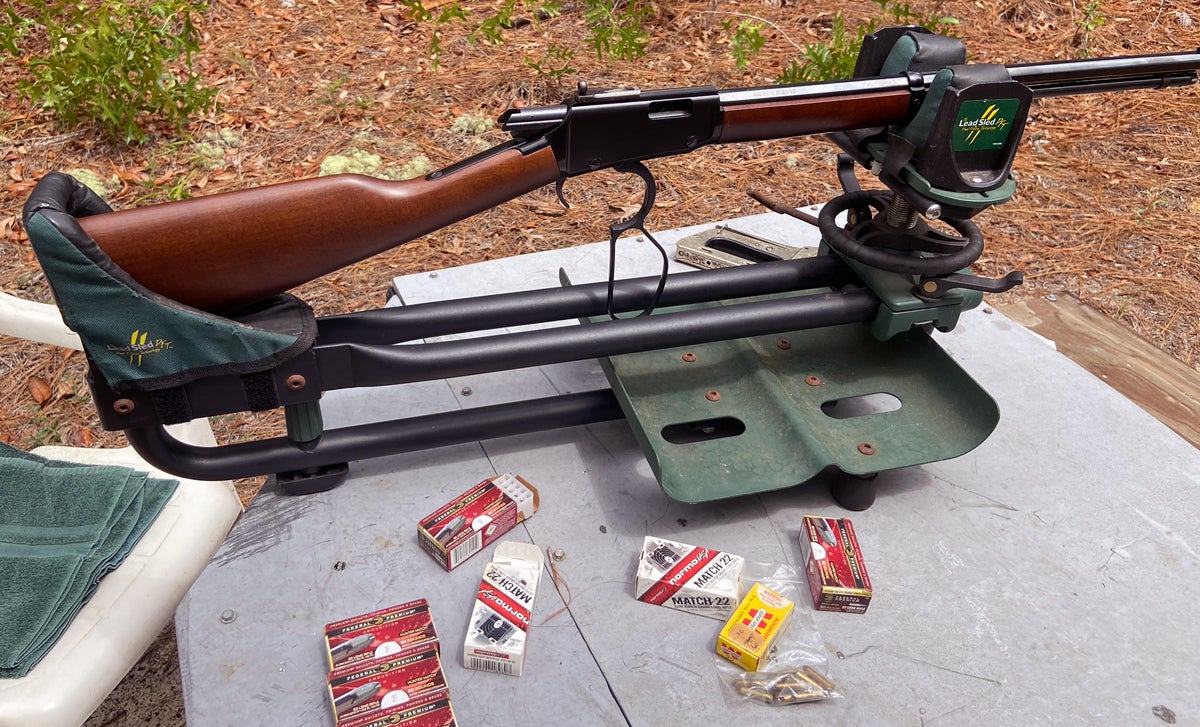 To test accuracy and function, I used a selection of ammo on the range, and I chose to use a Caldwell Lead Sled DFT shooting rest. It's heavy and stout, and I like the way it adjusts — plus it allows the rifle's lever to be operated without removing the rifle from the rest.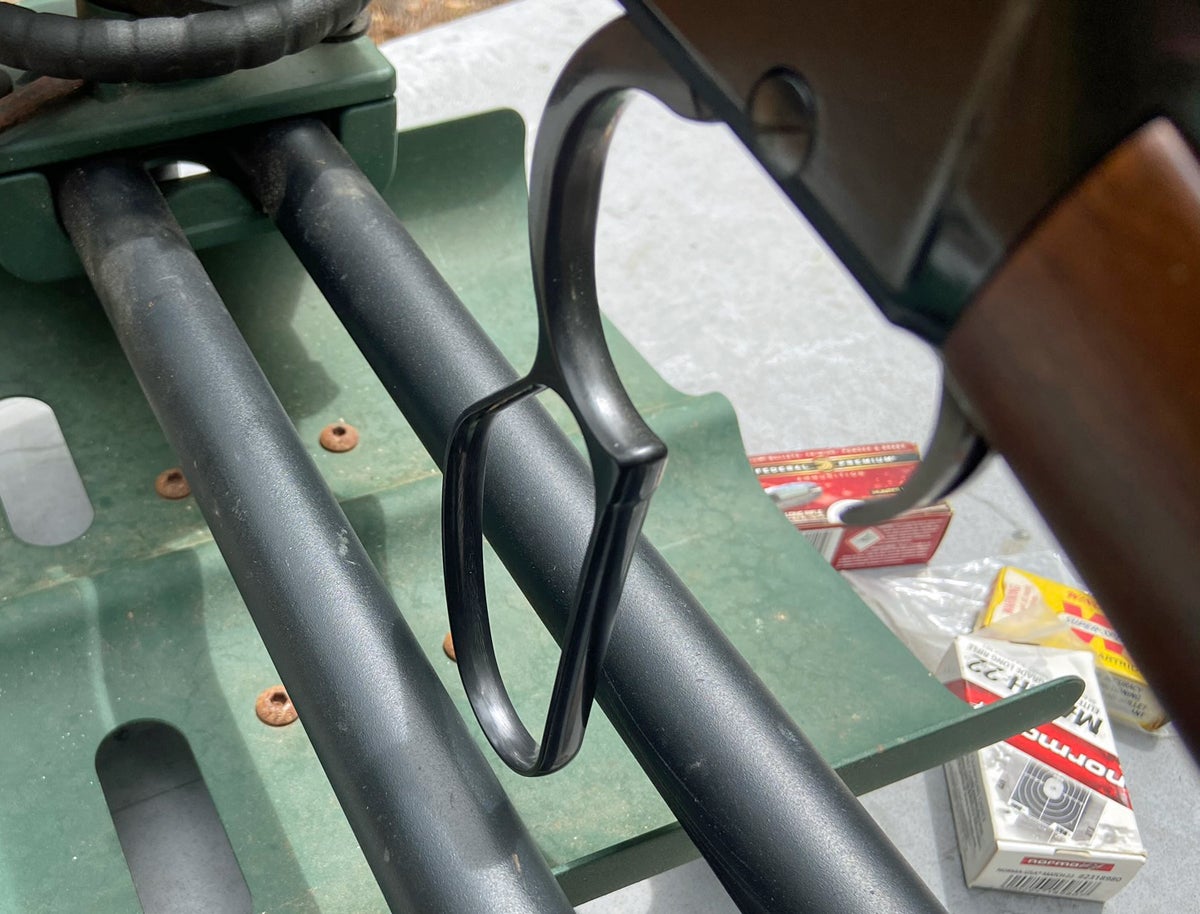 The first load I fired for accuracy was Federal Premium Hunter Match Small Game, with 40 grain match hollowpoint lead bullets and nickel-plated cases. This is Federal load 720 and its rated muzzle velocity (MV) is 1200 feet per second (FPS). I set up at 50 yards, and fired 15 rounds. Point of impact was below my point of aim, so I'll need to adjust my sight when I take this ammo hunting. I was merely firing for accuracy testing to see what the group size would be.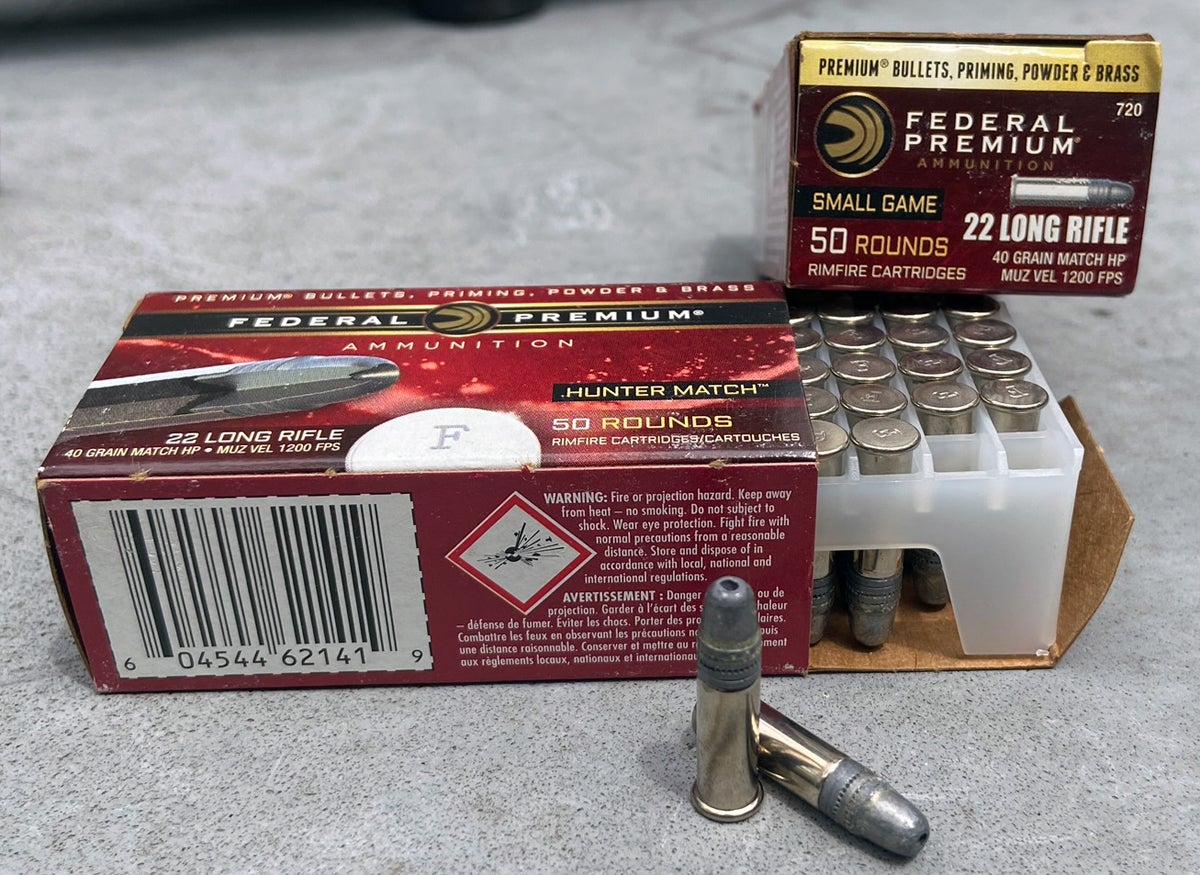 I fired 15-round groups because it was convenient. Bright sunshine on the brass front sight bead contributed to opening up the group, but I really can't complain. This a lever-action rifle after all, and the group size is smaller than the front sight, perspective-wise. A 3.5-inch group (ignoring the flyer off to the left) is pretty good, given the circumstances.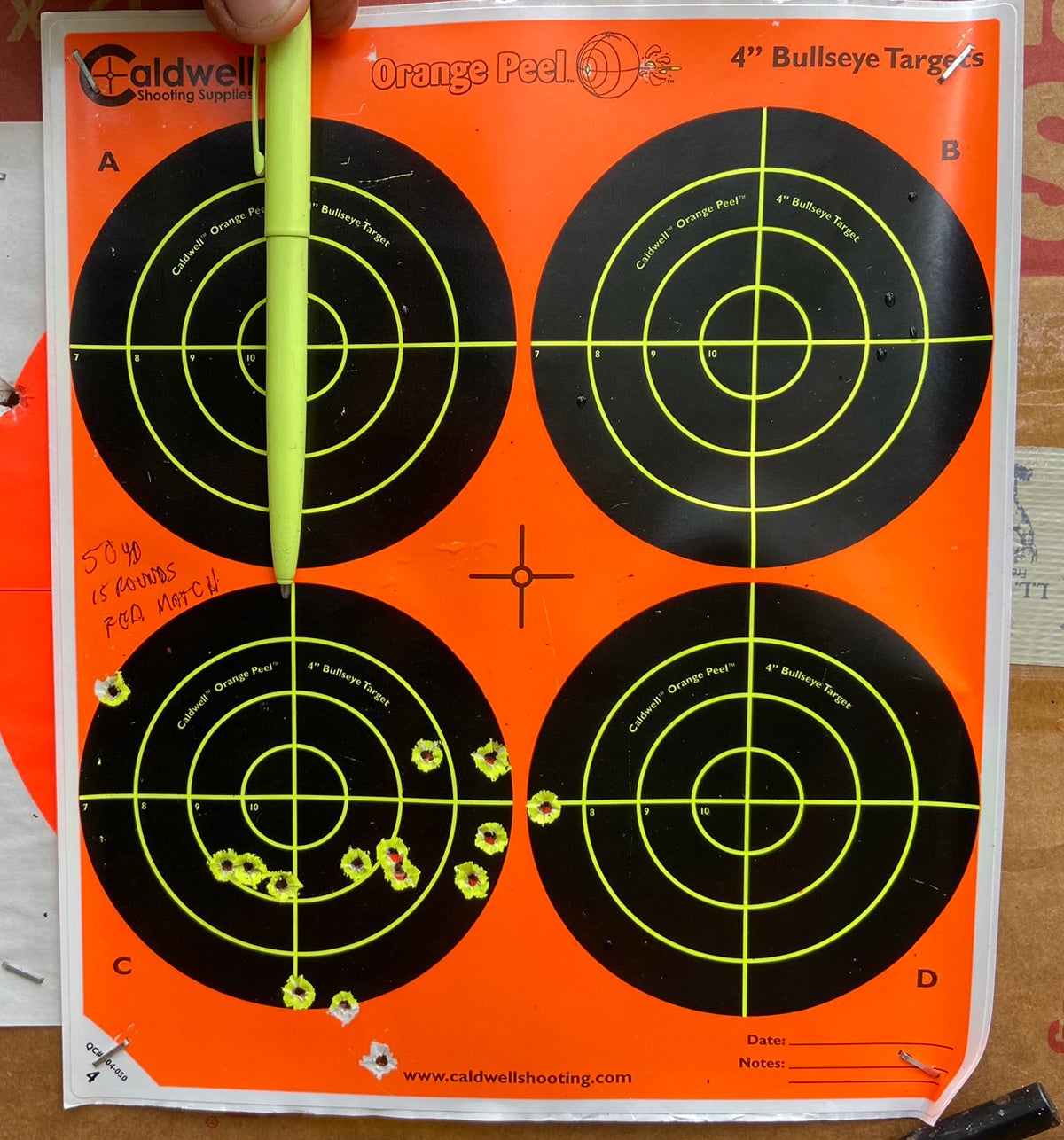 I also fired some Norma USA Match-grade ammunition, once again in 22 LR and with 40-grain projos. These bullets are round nose instead of hollow point, and they are rated at a slightly slower MV of 1100 FPS. Slower MVs are known to provide better accuracy at times, but the reduced speed also allowed a bit more drop. After firing a few rounds, I found I needed needed to adjust my point of aim up higher.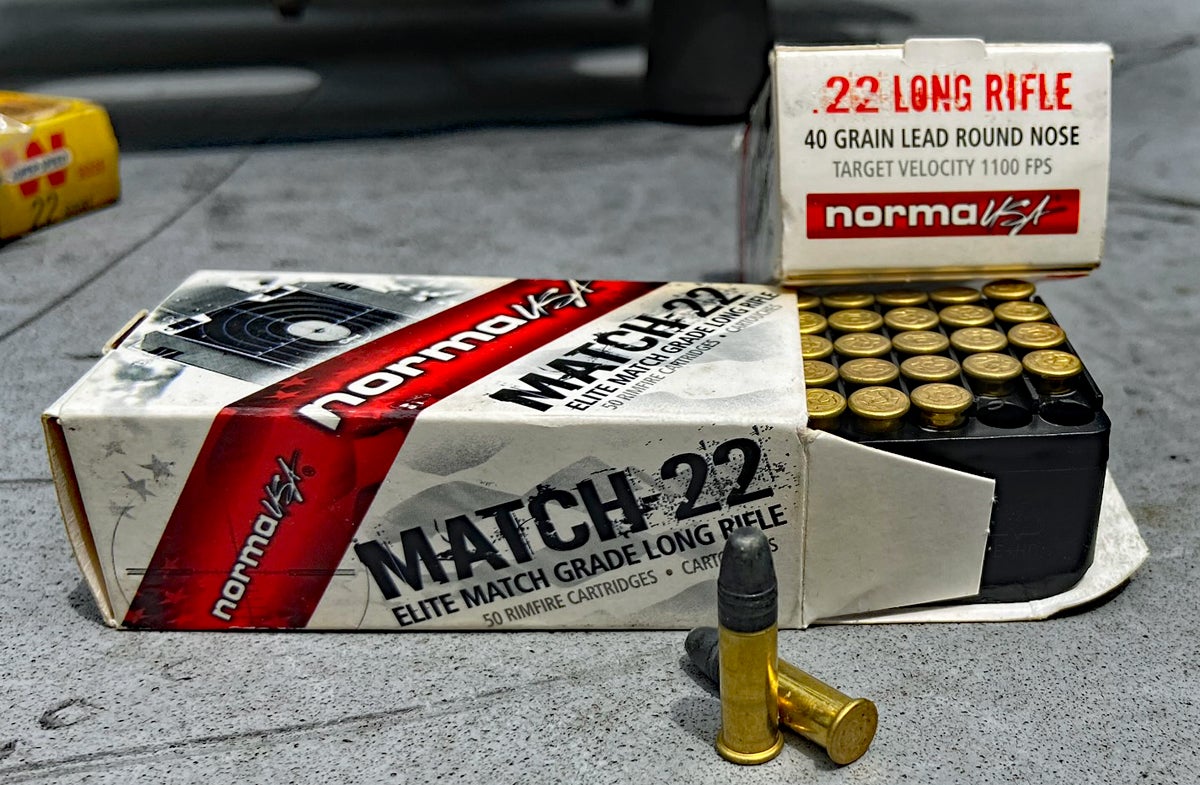 After I dumped 15 rounds of this ammo into my hand and began loading it into the gun's tubular mag, I noticed the ammo felt pretty slick and slimy. 22 LR is an "externally lubricated" round and its lead bullets are lubricated outside of the brass case. This is why 22 ammo sometimes has the tendency to get gunked up or otherwise nasty if you tote some around in your pocket, for example. But most modern ammunition uses a lube with a higher melting point to prevent the lube from rubbing off or attracting dirt. For whatever reason, these Norma bullets are lubed with a much softer substance.
After adjusting my aim, I again fired 15 rounds at 50 yards. Although this is a pretty large group if you include the "flyers," if you ignore the extreme right and left impacts it's smaller than 3 inches, and that is impressive given the blur and glint of my front sight.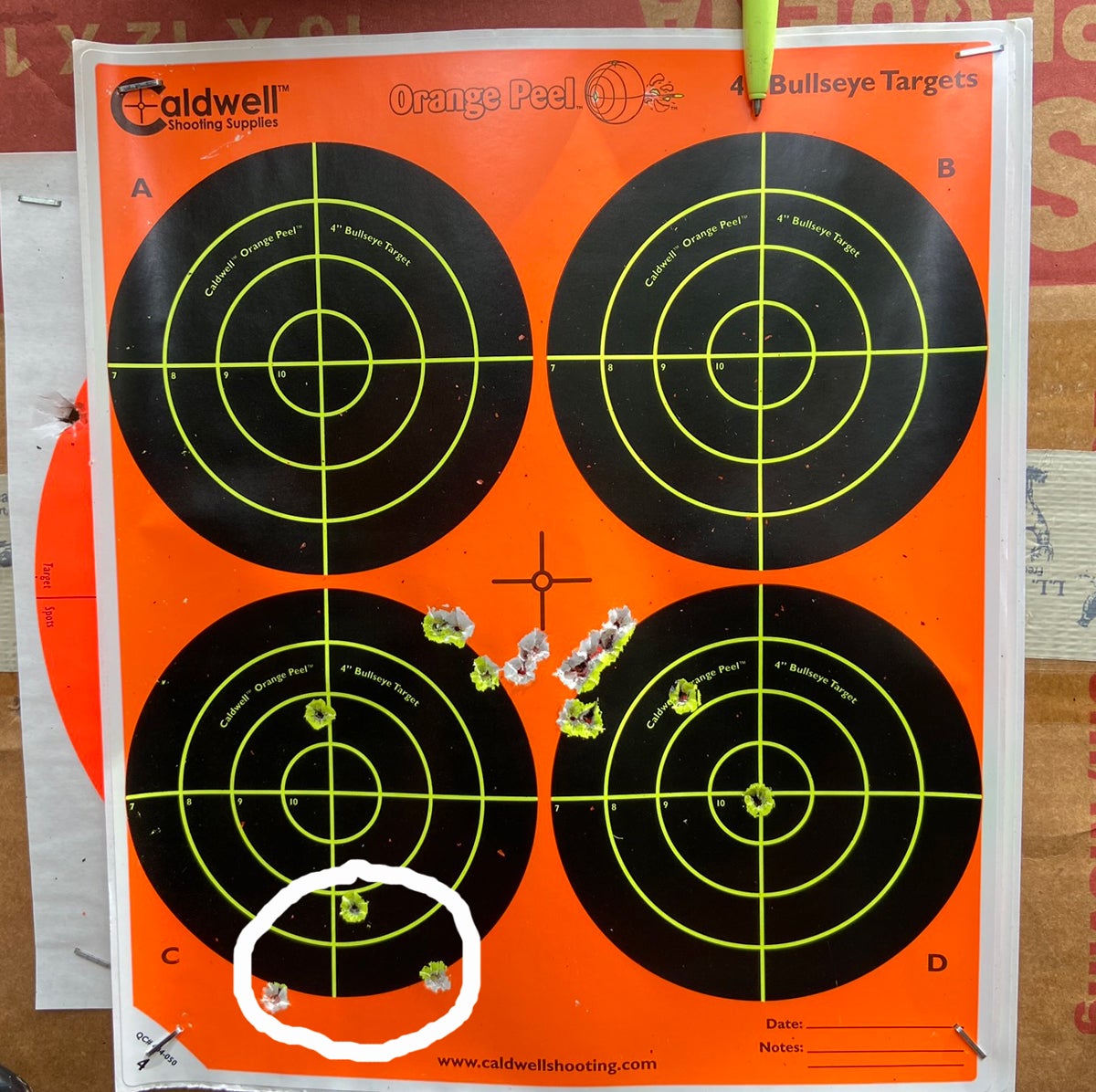 This is an accurate rifle which shoots both of these loads well — in fact, I have yet to find any ammo it doesn't like. These groups would likely have improved if the trigger had less creep, but I certainly can't complain about the pull weight, which is just a smidge above 3 pounds.
Moving on, I decided to see how the Henry functioned with some unusual ammo; namely some crimped brass "rat shot" shotshells and some 22 Short ammunition.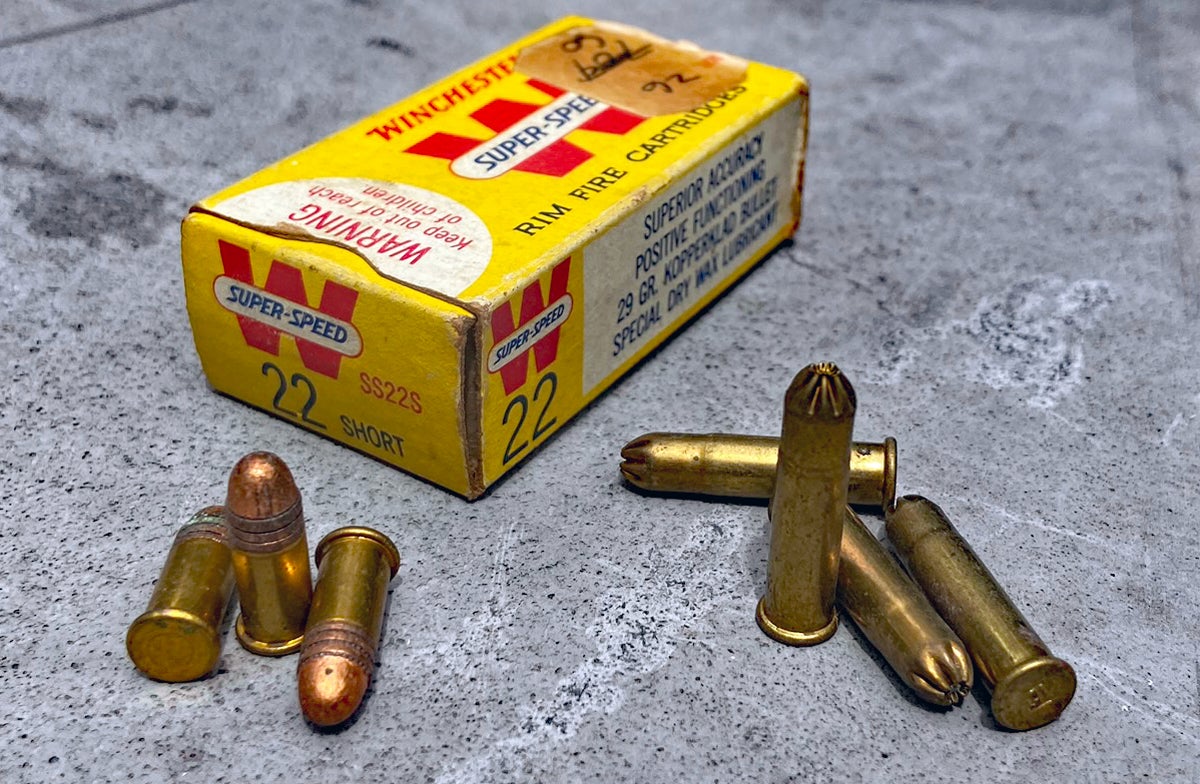 This rifle is rated to handle 22 Short, 22 Long, and 22 Long Rifle ammunition. I couldn't find any Longs in my stash, but I found some Shorts that would fit the bill. And although Henry says the SGR's magazine capacity is 21 rounds with 22 Short, I stoked it up with the 23 rounds and went to shootin'.
I fired just as quickly as I could work the lever and aim at large steel plates, and there was nary a hiccup. The ammo fed perfectly and went bang every time — and hit the targets every time, too.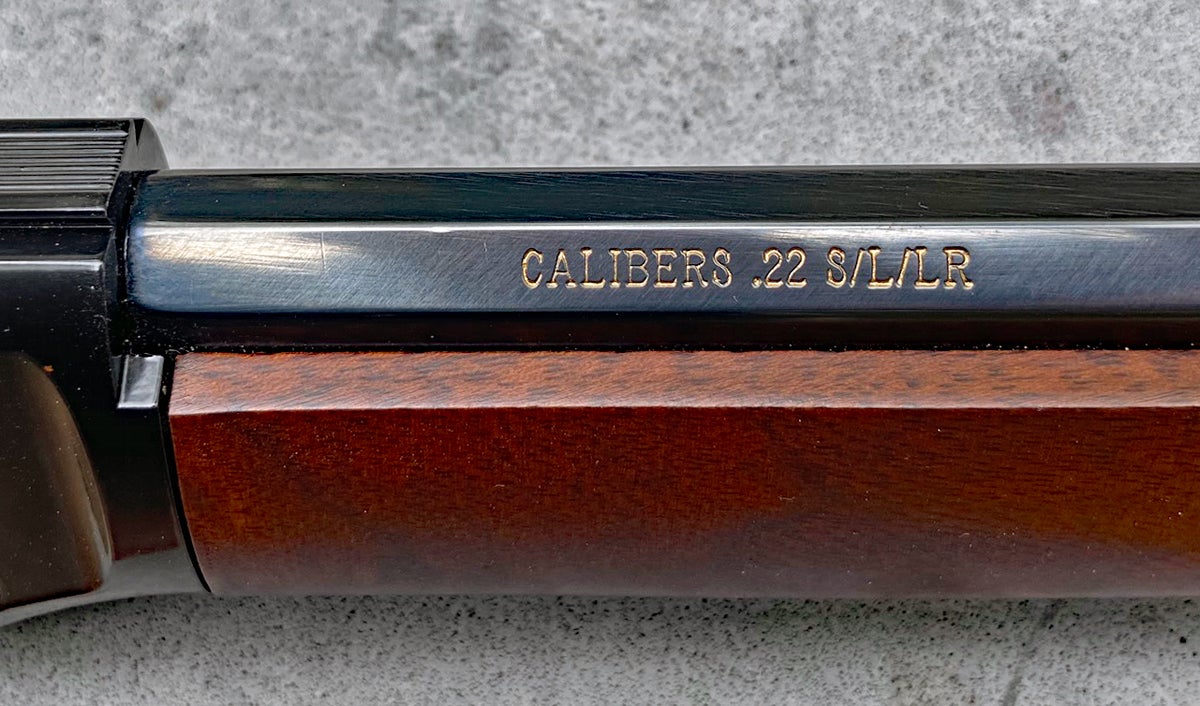 I found an old ziploc bag with 11 rounds of crimped Federal shotshells in 22 LR, so I loaded those up and let 'er rip. Again the rifle functioned perfectly; cycling, firing, and ejecting those rat shot shells without breaking a sweat.
What's that I hear? I do believe I just heard a reader speaking doubts about the value of that information… but let me affirm that a 22 rifle which reliably functions with rat shot can come in handy when you're writing a review and there arises a sudden need to dispatch a rogue squirrel that's running laps on the wall of your house just outside your office window (rat shot is much easier on the house wall).
Not kidding. Life is full of surprises!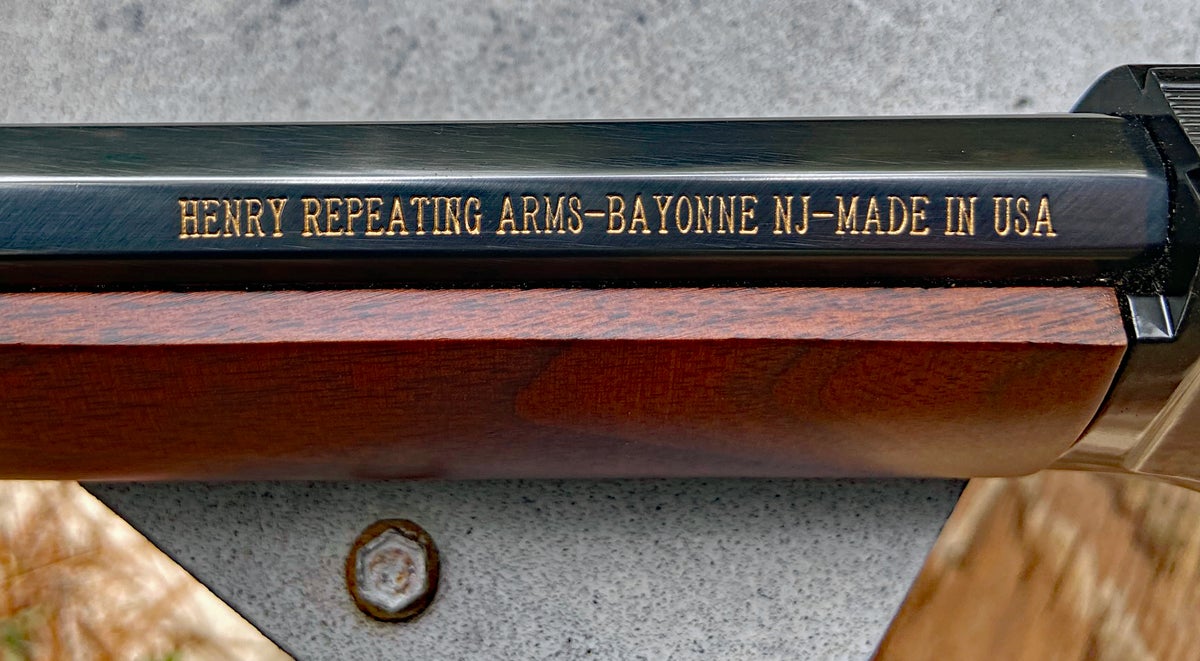 Speaking of ejection, this rifle ejects empties like a dream. That's not a minor point… poor ejection is one of the biggest contributors to a jammed rifle — and I had zero ejection problems with this rifle.
The Finish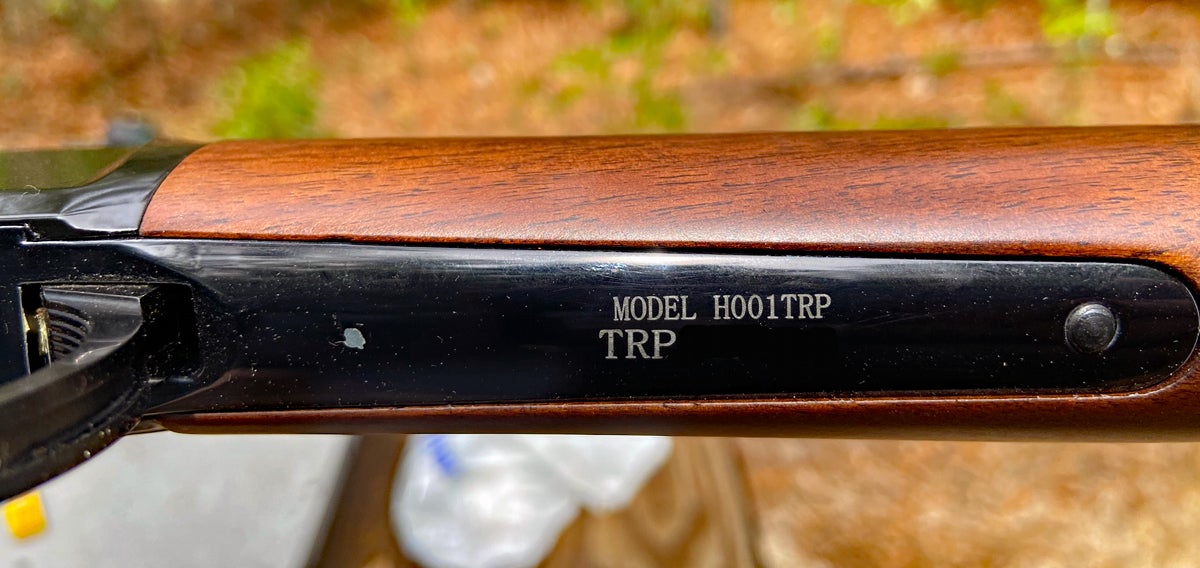 Henry uses a lot of aluminum alloy in their rifles, and you can't blue that stuff… so they paint it. The drawback to that is that once the finish is compromised, such as the spot in the photo above where the lever contacted the tang and chipped the paint, said paint has a tendency to flake off. Bummer.
The lever can't even touch the tang during normal use, so this must have occurred when someone worked the lever while the butt stock was removed.
Blued steel parts include the octagonal barrel, magazine tube, magazine tube lug, knurled magazine end cap, sights, hammer, and lever; this finish should be quite durable (with the exception of the Skinner rear sight as observed earlier).
The barrel band at front of forend appears to be plastic, which is fine because it won't rust and there's no paint to get chipped.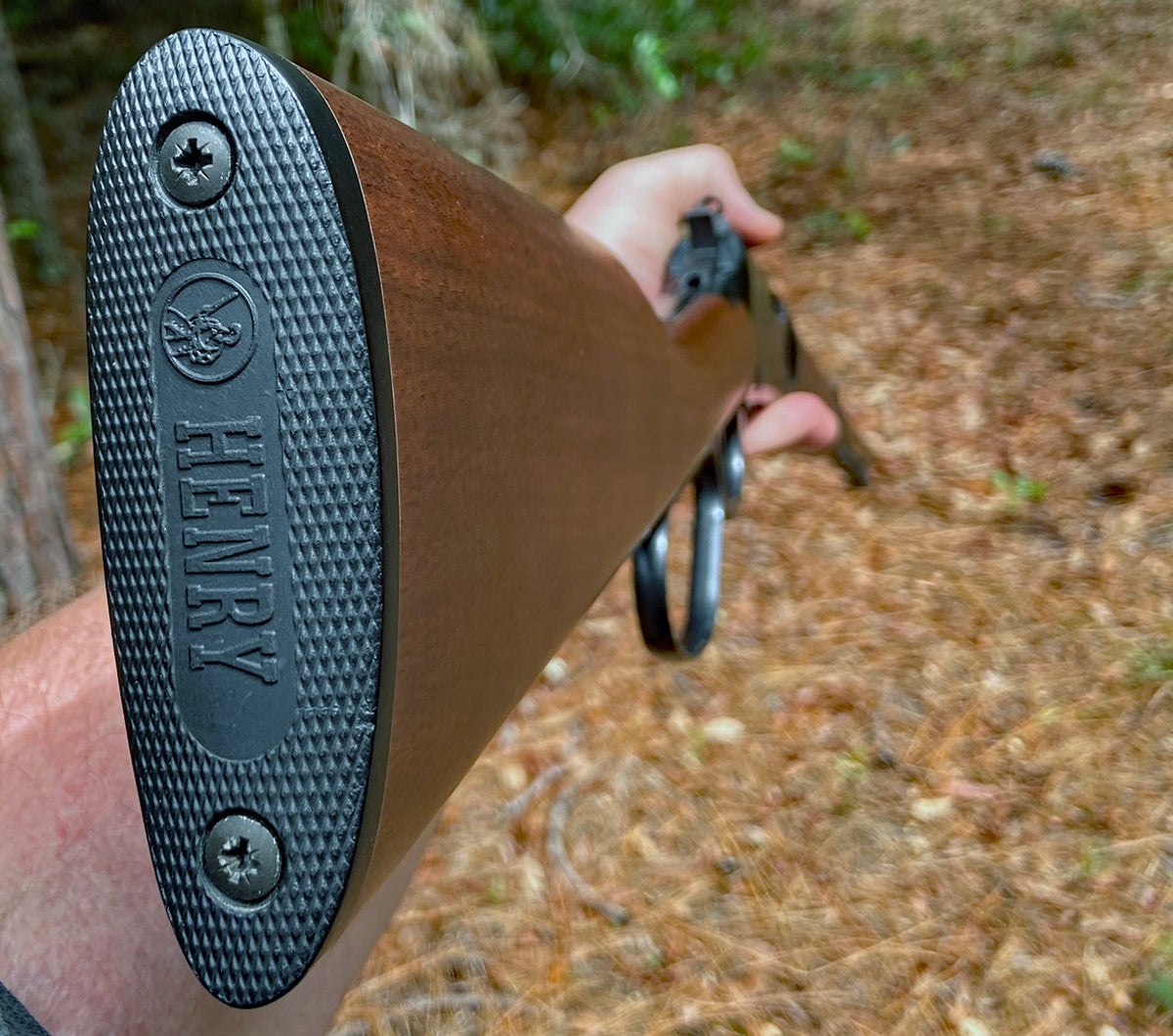 Conclusion
I like the Henry Small Game Rifle, but just like any gun, it's not perfect. I would prefer a different finish on the receiver and tangs, considering how the paint is already flaking off of mine. To be fair, that probably wouldn't have happened during normal use; it was probably done when the rifle went in for service.
After initial feed problems were corrected by a trip back to the factory, this Henry will digest any 22 short or long rifle ammo I've tried, and there's no reason to think it wouldn't do just as well with 22 long cartridges. Feed and ejection are now slicker'n snot on a doorknob.
The oversized lever loop is a nice touch, adding to the attractiveness while also being practical for hunters who may be wearing gloves. It's certainly easy to run.
You'd be hard pressed to find a better iron sight for a hunting rifle than a peep, and the Skinner sight does that job well. If you hanker for optics instead, the receiver is grooved for a standard 3/8″ dovetail rimfire scope mount.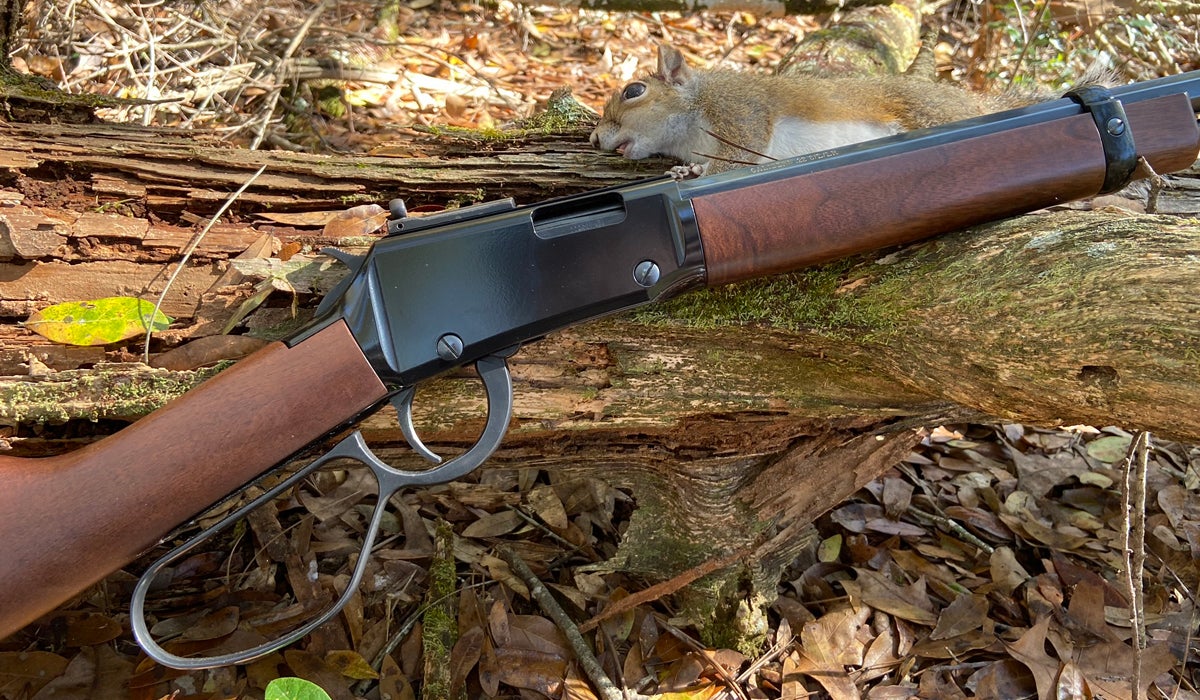 There's nothing quite like the flat-sided lines of a classic lever gun, and the Henry Small Game Rifle has that look and feel, without any unsightly red-and-green safeties to spoil it. Who needs more safety than a half-cock hammer provides? The octagonal barrel adds to the nostalgic feel while providing the accuracy you need to put game on the table.
While the MSRP is north of $500, Brownells currently has it for much less. Check it out by clicking here.