AllOutdoor Review: XS Sights F8 Tritium Night Sights
Adam Scepaniak 05.04.20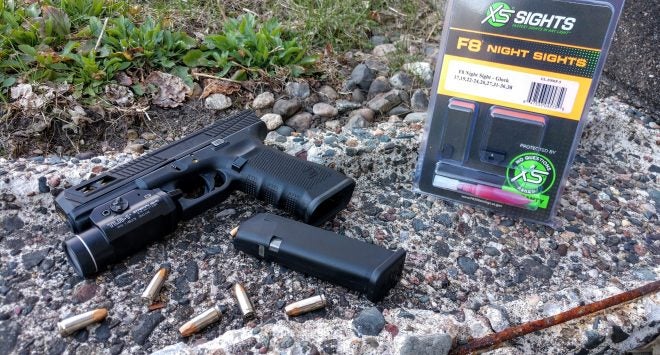 When it comes to duty pistols, carry guns, and hunting sidearms all of these niche types of handguns have one thing in common being they are tools. We as shooting enthusiasts choose them with a deliberate purpose in mind, to fill a need, and to accomplish a goal. With all of that being said, there will be bumps along the way. The aforementioned firearms are not safe queens nor will they be purposefully dragged through a "torture test." This is the predicament many of us find ourselves in with regards to sights for our pistols. We want high quality that will not break when tested in day or night time settings. For an established company like XS Sights, that is a challenge they gladly accept. So, in this AllOutdoor Review we take a look at a set of XS Sights F8 Tritium Night Sights! Let's dive in and see what they are all about.
Specifications: XS Sights 

F8 Tritium Night 

Sights
When it comes to tritium night sights a lot of people make the generalization that they are all the same because it is a glow-in-the-dark night sight, after all. This is pretty far from the truth though. Many manufacturers, including XS Sights, scrutinize the details of a sight down to the smallest minutia so they are absolutely perfect. To decide if the F8 Tritium Night Sights fall into that category, you can read all of the specifications below as presented by XS Sights:
Tritium Powered Front & Rear Sight – Glows in low light to aid in sight alignment
Colored Front Sight Ring – Highly visible orange ring designed for maximum visibility in bright to low light
Ember Glow Dot – Absorbs light and glows in low light levels
Wide Notch Rear Sight – Draws focus to top edges of sight for proper alignment
Rear Sight Overhang – Reduces rear sight glare in bright daylight for greater sight definition
Rear Sight Ledge – Aids in one-handed slide manipulations
Easy Installation – Easily install by hand or sight pusher tool
Wide Rear Sight Gap – Increases the amount of light around the front sight for greater visibility in low light
Figure 8 Sight Picture – Fool proof alignment prevents shooters from mixing up the front and rear sight
0.160″ wide front blade for increased front sight acquisition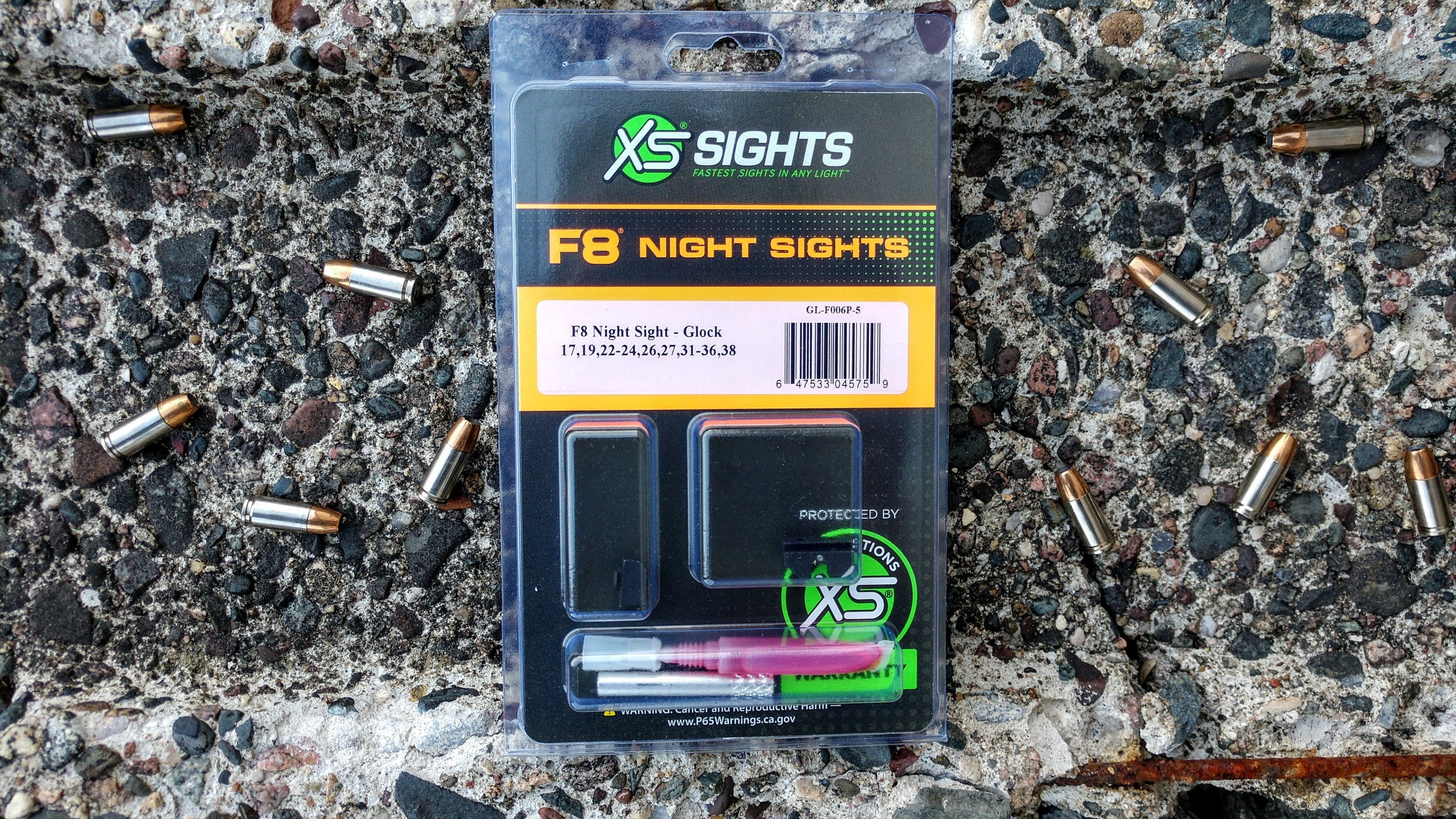 The XS Sights F8 Tritium Night Sights are available in one color scheme of an orange halo front sight and both a front and rear tritium night sight at an MSRP of $142 each. That is a very competitive price to the market and they also carry the XS Sights 30-Day Satisfaction Guarantee as well as their "10 Year Warranty – No Questions Asked Night Sight Warranty." An expanded explanation of these sights can be read in the XS Sights Press Release below:
"F8 Night sights are designed to increase front sight focus by using a large 0.160", high-contrast front post for fast sight acquisition. The front is paired with a 0.190" wide-notch rear sight to allow for greater visibility of the front post in decreasing light levels. The front sight's equipped with our Ember glow dot that absorbs light and glows in low light levels before tritium becomes visible. The 2-Dot alignment system simplifies the rear and draws focus to the front sight. 

F8 sights are taller than traditional night sights on the market for a more natural sight alignment and serve as backup iron sights for pistol reflex sights. F8 night sights give you the best notch and post sight solution for visibility in all lighting conditions and incorporation with new reflex technology."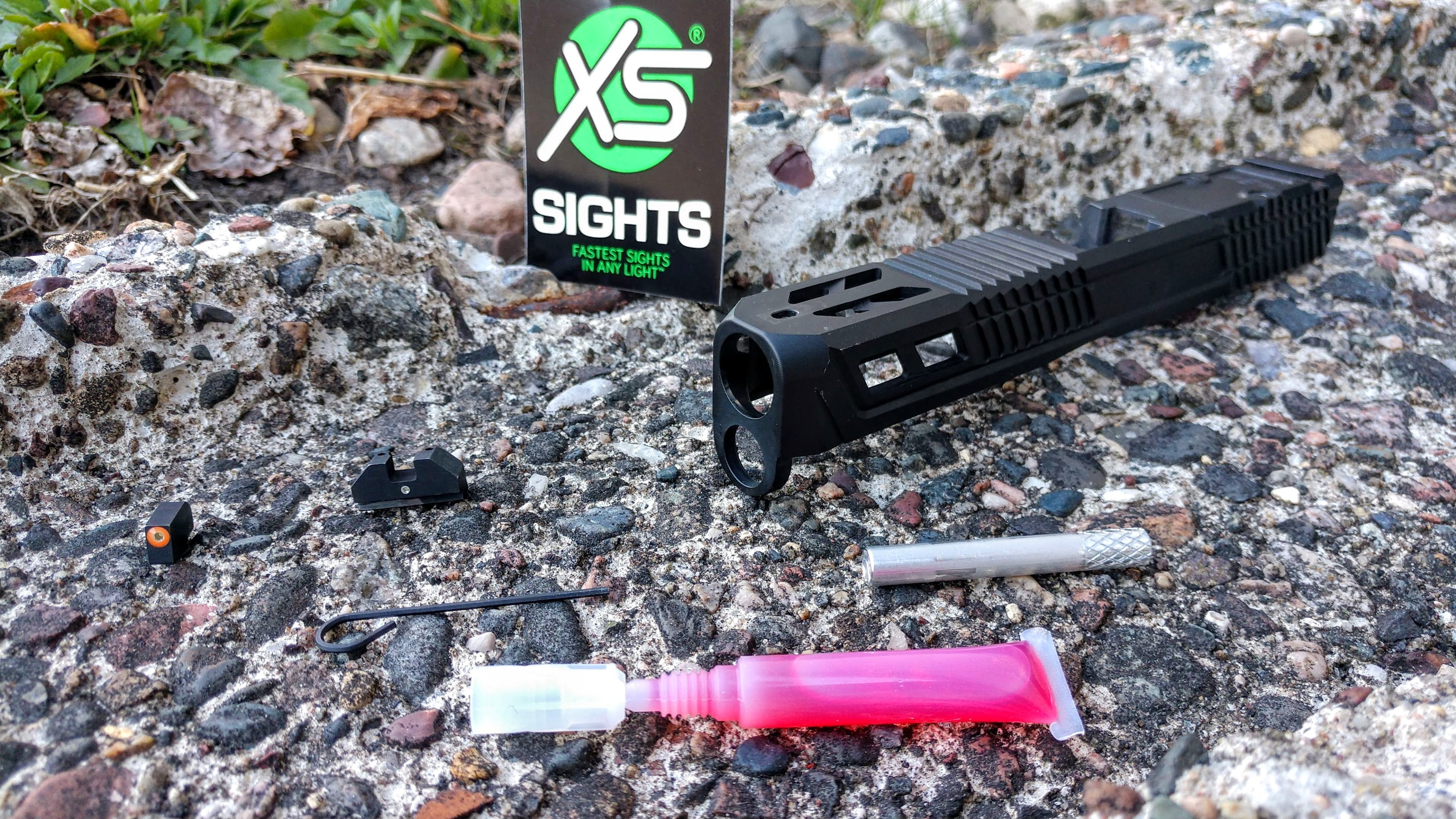 For the purposes of this AllOutdoor Review, we are testing out a set of the XS Sights F8 Tritium Night Sights on a Glock Gen4 G17 9mm pistol, but the F8 Night Sights are available for a wide variety of popular pistol models which include all of the following: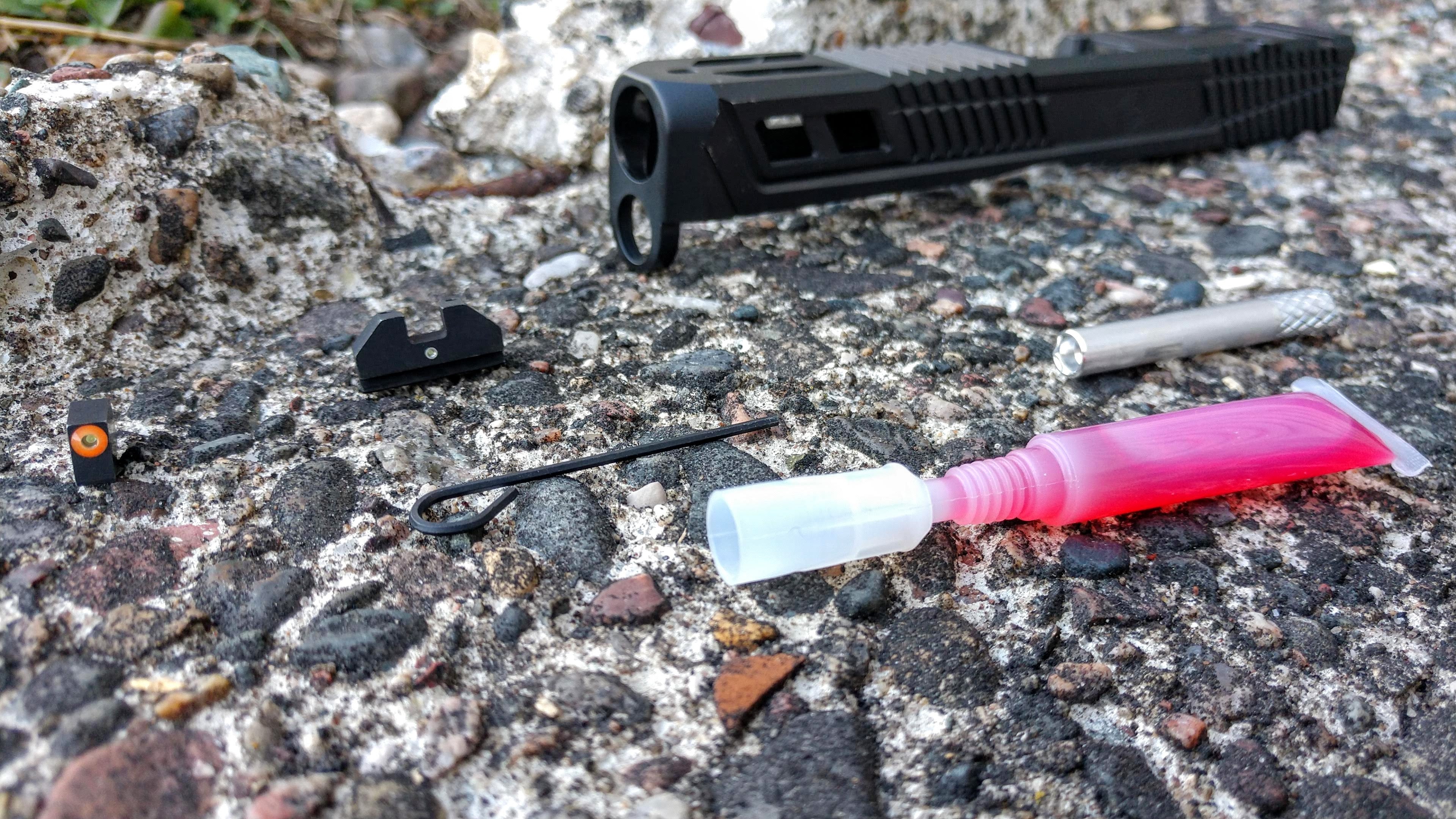 First Look: XS Sights 

F8 Tritium Night 

Sights
This is my 3rd set of XS Sights I have handled in recent months and like all of the sights before these the F8 sights look and feel like a good quality set even before installing them. The matte black finish has no glare for potentially sunny days and is very robust and thick in comparison to competing aftermarket sights. I have zero worries of wrecking these when they are so substantial.
The rear sight has two Allen set screws similar to the DXT2 Big Dot Night Sights we reviewed recently. The F8 sights did require a Rear Sight Press Tool to install because of their tight fit; whereas, the DXT2 Big Dot Night Sights could be simply slid into the dovetail in its appropriate position. I believe the sights were meant to be slid into position without the need of a Rear Sight Press Tool, but I own an aftermarket Glock slide (I sold my factory slide) so it may be the slide that is "incorrect dimensions" rather than the sights.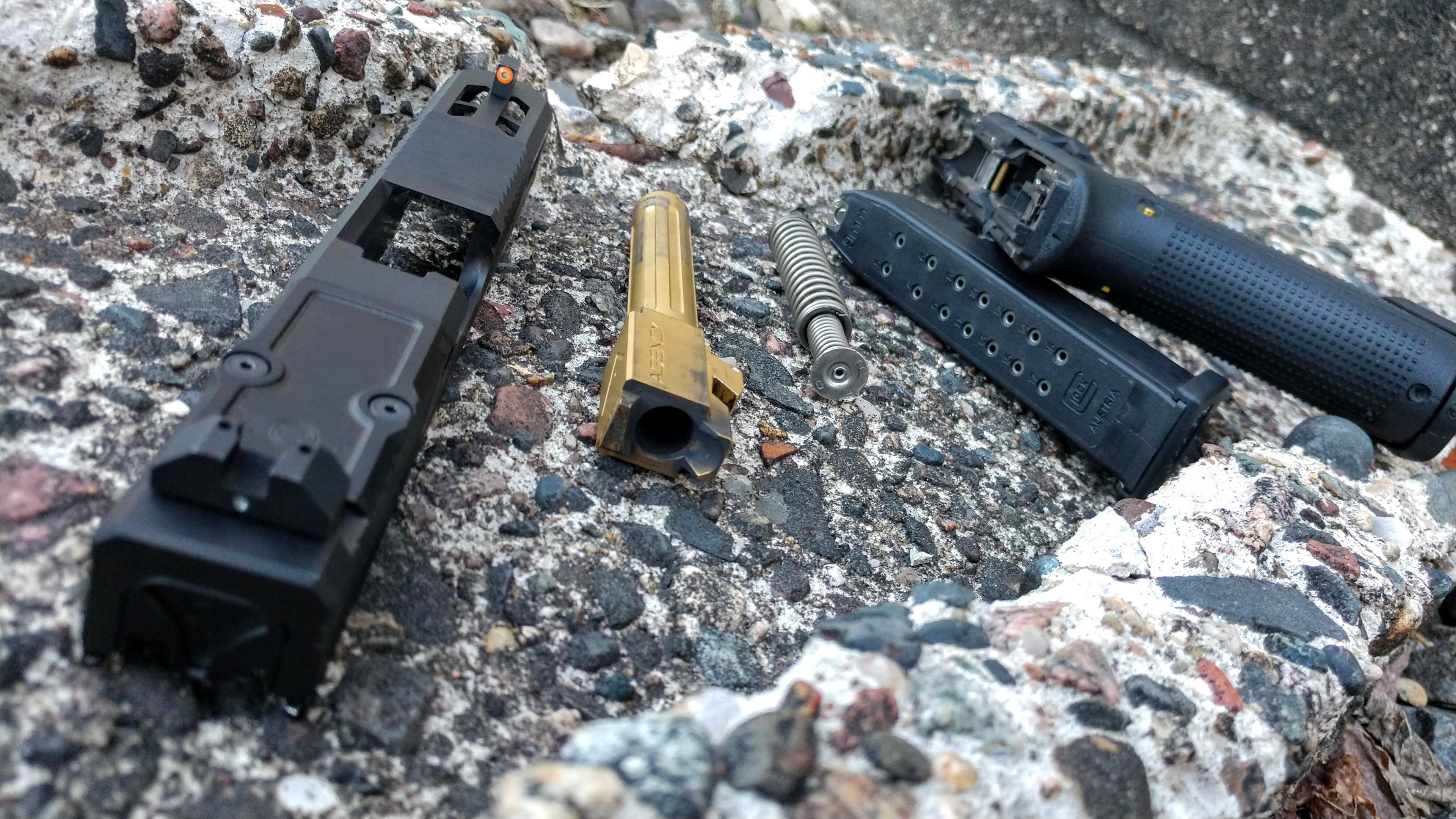 Once installed there is little doubt the rear sight will move after pressing it in, but the two Allen set screws are a secondary precaution and safeguard against that from happening. All in all, the install was very easy, straight-forward, and went swimmingly; nothing difficult about it. XS Sights provided a Front Sight Tool to screw in the front sight to the slide as well as some red Loc-Tite for the two Allen set screws in the rear sight. For a great explanation of how to install these sights for anyone who has not done it before, XS Sights has this short yet concise tutorial video below:
Range Time: XS Sights 

F8 Tritium Night 

Sights
Once the sights were installed and everything looked good to go the last thing to do was to head to the range. I shot a healthy diet of 9mm FMJ (Full-Metal Jacket) and all the while the front and rear sight never shifted from their installed position. Over the course of a couple visits to my local range (some in the early morning and others at dusk) the sights remained steadfast in their position and never moved.
The XS Sights F8 Tritium Night Sights shot well in dusk and dawn range sessions which extended my training time beyond what I normally could get done in any given day. As the sun would fade away in the evening the sights transitioned nicely from a vibrant orange glow ring to the tritium night sights.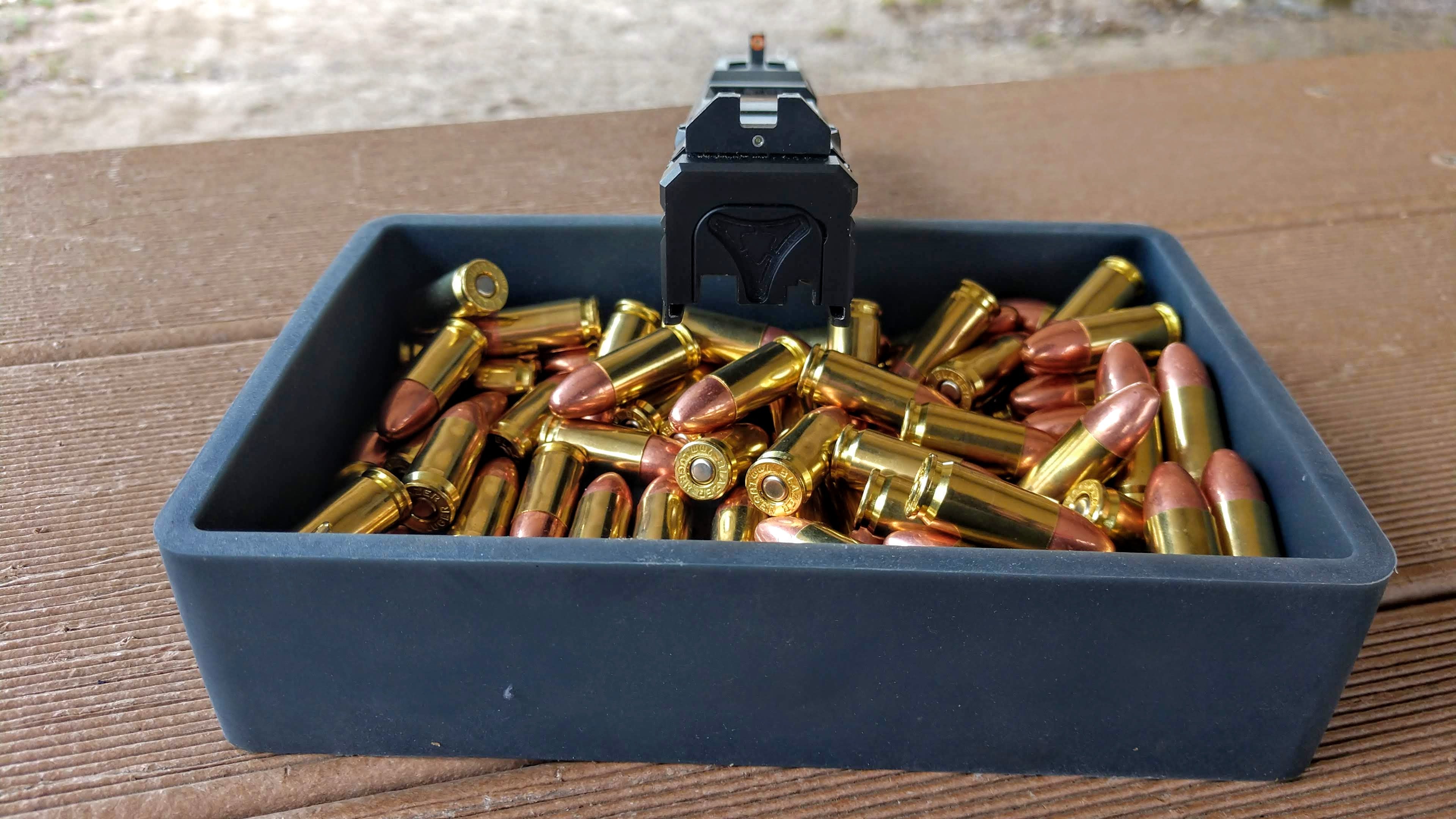 Overall, the XS Sights F8 Tritium Night Sights were an easy sight picture to shoot because of the robust sizing and familiar geometry. There was an ever-so-small gap of air around the front sight when it was viewed through the rear sight notch. I liked that because it allowed you to see exactly where you were in space. Also, you could observe if you needed to adjust your hold of the front sight in the rear sight based upon your impacts.
Final Thoughts: XS Sights 

F8 Tritium Night 

Sights
When it came to shooting the XS Sights F8 Tritium Night Sights they performed exactly as I expected if not better. Their robust sizing is great for their durability and the sights fired well in both high and low light shooting scenarios. The one thing that some shooters might need to get used to is the "figure eight (8)" or dot-on-top-of-a-dot sight picture. I believe all pistol shooters are familiar with the "3 dots across" sight picture seen on S&W M&Ps, FNs, Springfields, etc. So, simply getting used to the F8 style of a sight picture might be a small learning curve for some people.
Other than that, the sights installed easily and XS Sights gives you all of the necessary accessories to make that process go smoothly. At an MSRP of $142 per sight set I believe these are absolutely worth the asking price. The only question that remains is whether you are in the market for an upgrade and may need night sights, or not.
In closing, I want to say thank you to XS Sights for allowing AllOutdoor and myself the opportunity to try out their XS Sights F8 Tritium Night Sights. That is greatly appreciated. Also, we would like to know what all of you guys and gals think? Do you believe that the XS Sights F8 Tritium Night Sights are something worth spending your money on? Would you carry these sights on a pistol while camping or hiking? Shoot a league with them? Hunt? Let us know all of your thoughts in the Comments below! We always appreciate your feedback.