NEW Vortex Crossbow Scope in Crossfire II 2-7x32mm XBR-2
Adam Scepaniak 07.17.20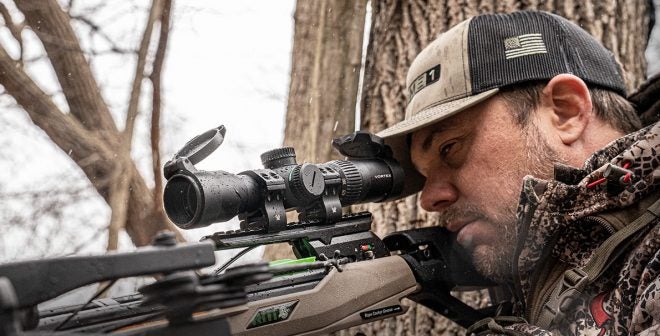 Vortex Optics has debuted a NEW Crossfire II 2-7x32mm XBR-2 as the NEW Vortex Crossbow Scope that is ready for all of this fall's hunts. Something that the archery industry has been lacking direly; moreover the crossbow segment, are optics that are dedicated to the crossbow platform. Many times archers are forced into using modern sporting rifle optics on their crossbows and while this crossover can work it is not made for a crossbow. Vortex Optics understanding this has come out with their NEW Vortex Crossbow Scope to remedy the situation. Some of the accouterments that come with this scope can be read below:
2 – 30mm rings
Flip caps (set)
Neoprene cover
Lens cloth
CR2032 battery
T-15 Torx wrench
The current MSRP of the Vortex Crossfire 2-7x32mm XBR-2 Crossbow Scope is benchmarked at $279.99 for each kit. We state that it is a "kit" because it is honestly an all-inclusive kit to get someone shooting a crossbow off the ground and hunting. As stated above, you receive the necessary rings, appropriate flip caps, and Torx wrench to get this thing mounted and ready to start shooting. Some more information is given from Vortex in their Press Release statement below:
"First light, last light, and all day long, this crossbow topper will have you stacking bolts and filling tags in no time. Our purpose-built reticle not only gives you holdover points out to 100 yards, it features red and green illumination for low-light shooting. We also included the magnification and FPS on the magnification ring to keep the scope compatible with a variety of crossbows and setups, and a wide field of view makes it perfect for a variety of shooting situations. Plus, we're including rings, flip caps, and a neoprene cover, so it's ready to mount right out of the box."

Crossbow hunting and the sport of shooting crossbows has grown exponentially in the last 5 years. It is not just a tool for older archers who have hung up their compound bows for something easier. Men, women, and children of all ages can more easily shoot a crossbow with recent advances in technology than other types of archery, and many states are opening up their regulations for archers to use them in more seasons and for more types of game. This new Vortex Crossbow Scope will surely deliver quality at an affordable price-point like all of their optics do, but the biggest question is what do you think? Is this something you would be willing your invest your money in? Let us know all of your thoughts in the Comments below! We always appreciate your feedback.