IMI Defense Kidon Pistol-to-Carbine and Braced Pistol Kit
Eve Flanigan 08.24.20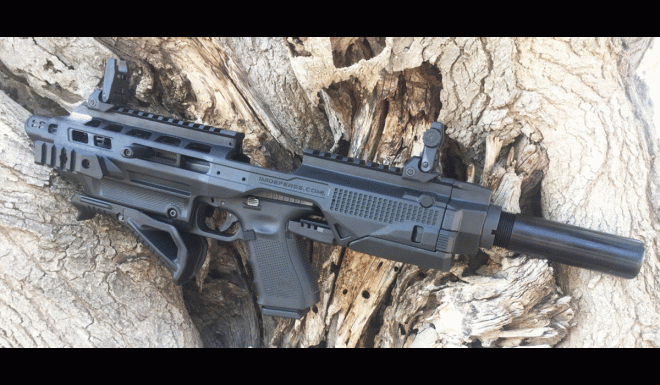 Israeli vendor YRS, Inc., a direct-order outlet for numerous tactical brands made in that country, recently sent the Kidon for trial. It's a kit that converts a pistol into a carbine or braced pistol. Very tactical!
In my case, not having the $200 "tax stamp" required under the National Firearms Act, I tried out the system only as a braced pistol. Even so, it was good fun and of the four similar setups I've tried, this one is the winner for balancing features with ease of installation.
Unlike many other kits that are restricted to the Glock brand, there are 21 different Kidon kits to accommodate most popular brands. As long as it has a rail, the Kidon should fit. It also can be fitted to a couple of rail-less pistols. This test was done with my Gen 4 Glock 19. The same kit also fits Honor Defense pistols. To change the fit, only one simple part needs to be replaced. It's located behind the grip when the device is on a pistol.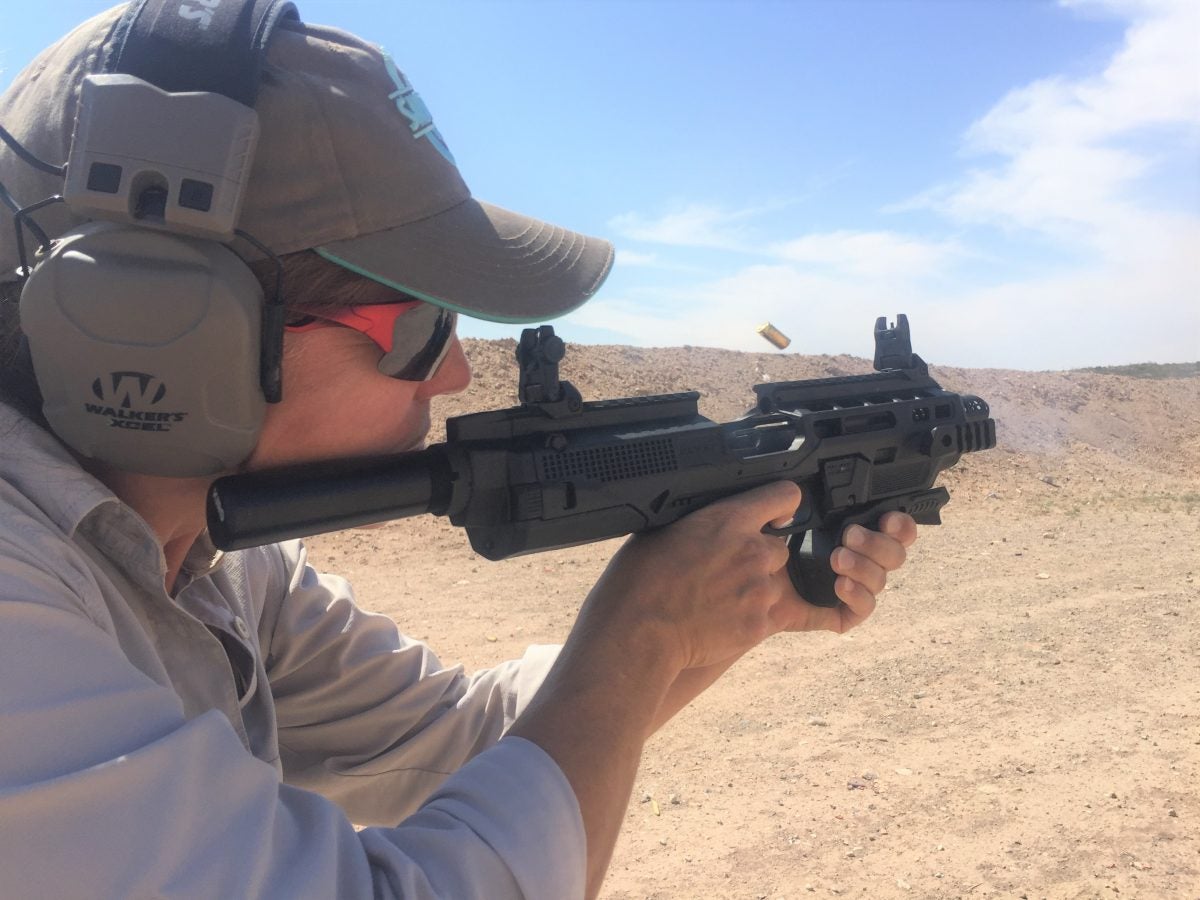 Features
This is no flimsy airsoft gadget. It's mostly polymer, and is reinforced with metal stays and heat shields.
An overall aggressive profile serves multiple practical aims. It's safe to use the Kidon with ported barrels; it is sufficiently vented to shed their increased heat. The angled muzzle end effectively eliminates muzzle flash, while the bit of added weight and length up front tame recoil.
Accessorize away on this kit with its full-length top Picatinny rail, plus rails on each side. Underneath, an angled handguard provides a good index and point of contact.
One of my favorite features is the real, entirely adjustable and removable, AR-style flip-up sights that come standard. Folded, they make for a very discreet profile in storage. They work great as primary sights or as back-ups to an optic.
If you're ready to rock it as an NFA-approved item, the Kidon will come with a good-looking, telescoping TS-2 detachable stock. If your permit hasn't come yet or you simply don't want one, YRS, Inc. sells a buffer tube attachment that is easily installed to give you something to brace against. I did try shouldering it with the buffer tube, and it was impossible to get on the sights. Using the tube along the side of a cheekbone is a legal and effective method, though.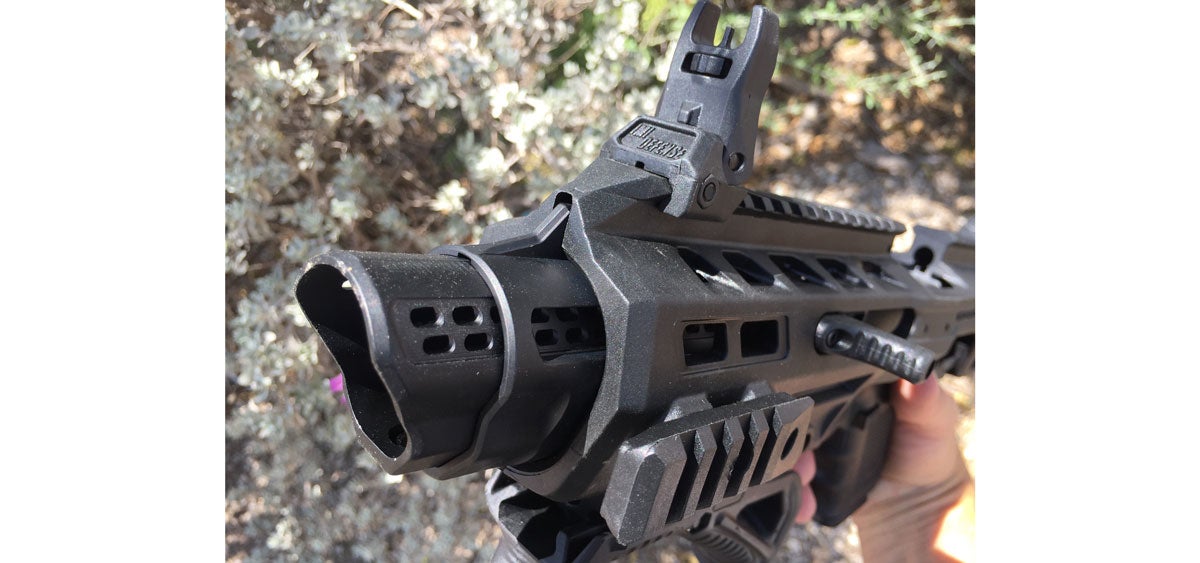 The Kidon is ambidextrous. I was able to use the same two-piece charging handle attachment I used on another Glock brace (the much plainer Recover Tactical 20/20 Stabilizer),  but there is also a two-Allen-screw charging handle that can be installed on the right or left side of the forend. It makes for AK-like bolt operation with much fewer pounds of pull required compared to a real AK/AKM.
Having installed another brand's AR-type shrouds on my Glock, I must praise the Kidon's simple installation procedure. One captive takedown pin and two easy-to-squeeze buttons make the back half pop off. One simple tightening lever secures the front half. Its grip can be adjusted with the provided Allen wrench. Going into this test, I'd previously attached the buffer tube with a simple hand-tightening. None of the components worked loose during testing.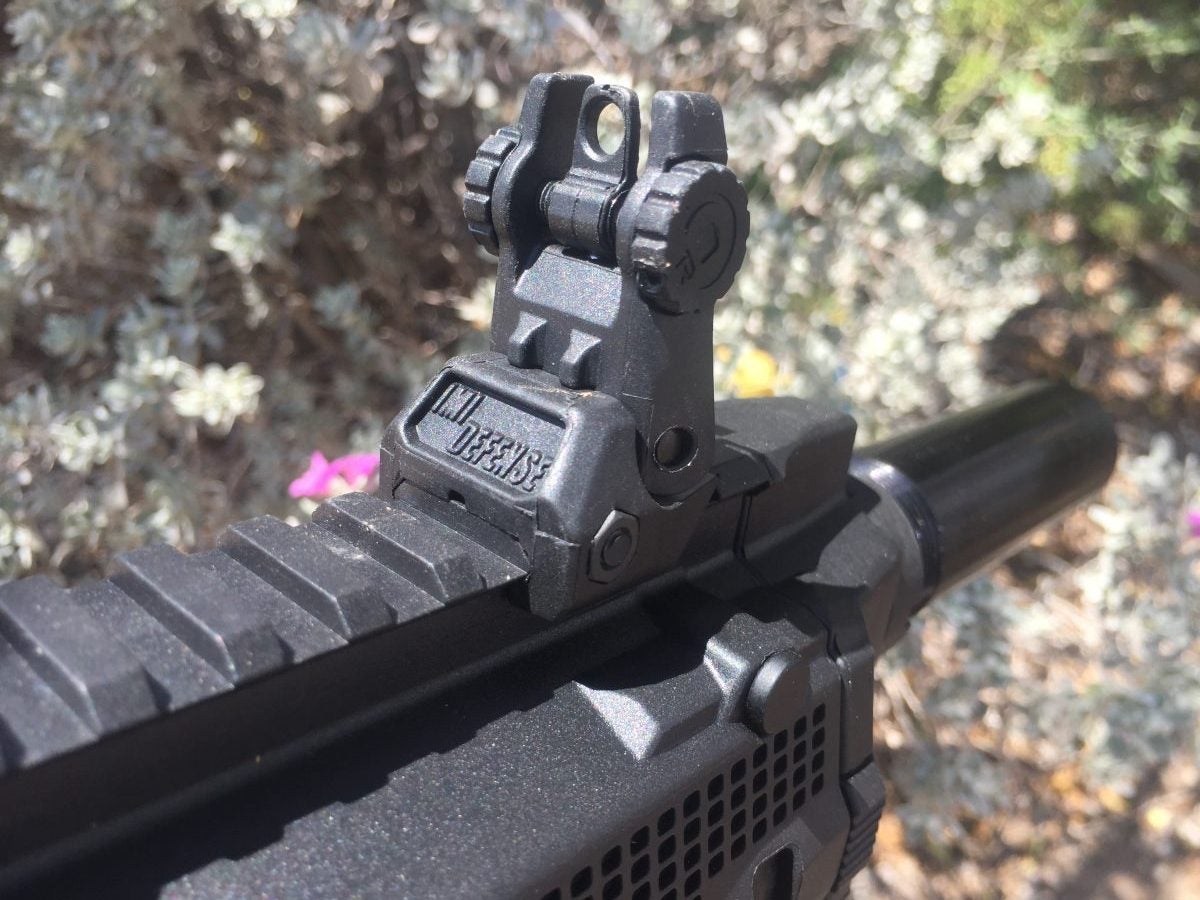 I probably made some mistake installing the device on my Glock, because the shroud put some deep gouges on the original Glock front sight, leaving its profile slightly misshapen. I re-fitted it using the instructional video rather than the book (I used the book the first time). The gun never showed any evidence of not cycling correctly.
There is a bit of gas deflection with using this or any other pistol shroud. I find the slight aroma of lingering gunsmoke pleasant. I'm no doctor but I'd recommend that shooters who are nursing or pregnant use the device at arm's length to avoid unnecessarily inhaling any toxins.
Benefits
A YRS demo video claims the Kidon is lightest in its class. It is indeed light and easy to tote.
The Kidon offers increased stability to milk the best possible long-range performance from a pistol. Those who buy it for this purpose should experiment with bullet weights/brands to get optimum accuracy and a predictable zero.
Where the cool factor is considered, this little device is hard to beat. It's attractive and tactical-looking, with high-quality components that allow it to back up looks with performance, if the person behind it does his or her job.
As always, a braced pistol can be a boon for anyone with injuries or disabilities that make handling a high-powered rifle difficult. Also in this category would be young or timid shooters who are interested in learning modern sporting rifle sighting systems.

YRS, Inc. offers a well-stocked selection of accessories for the Kidon. Yours may come with a one-point sling; this factory sample did not. Consult with YRS, Inc. for details.
Shipping may take a bit longer than normal since these items come all the way from Israel. In the market conditions going on as I write this review, YRS products may well beat the mostly-backordered status of many American distributors' similar wares.
IMI Defense Kidon Pistol Kit
Length:  22.4 inches with stock collapsed
Weight:  2.86 pounds without pistol and ammunition
Price:  $459, with an email list discount available.