AllOutdoor Review: Banish 223 Suppressor from Silencer Central
Adam Scepaniak 09.17.20

If you are talking to any government authorities (ATF, FBI, NFA, etc) they want to call them silencers. If it is you and your buddies by the campfire, you more than likely say suppressor, muffler, can, shusher, or some other synonym to describe them. In any case, we all understand suppressors/silencers make the experience of shooting firearms much more enjoyable. The only begrudging part of silencer ownership is the act of submitting your paperwork. Retailers like Silencer Central (formerly Dakota Silencer) have expedited that painful process and made it much easier for consumers to jump on the bandwagon of suppressor ownership. They offer a lot of the top name brands in the silencer industry as well as their own under the flagship of the "Banish" series of suppressors. In this AllOutdoor Review, we take an in-depth look at the Banish 223 Suppressor from Silencer Central and see how it fares. Let's dive in!
Specifications: Banish 223 Suppressor from Silencer Central
When it comes to suppressors there are a few measurements that some shooters really take to heart. They want to have a suppressor that is light, fairly compact for its category, and simultaneously be affordable. They want to have their cake, and eat it, too. For a .223 Rem/5.56mm NATO suppressor, the Banish 223 suppressor from Silencer Central fares pretty well on all fronts. The complete specification listing can be read below as presented by Silencer Central:
Length: 7″
Diameter: 1-1/2″
Number of Baffles: 7
Weight: 9 oz
Material: Titanium
Thread Pitch: 1/2×28
Self-Service: Yes
Caliber: .223/5.56
Caliber Range: Rifles .224 and smaller
Color & Finish: Black Gun Kote
Mount Style: Conventional 1/2×28 (Class A) 0.625″ in length.
Full-Auto Rated: Limited Full-Auto Rated
Sound Reduction: 38 dB
The current MSRP is $849 for the Banish 223 Suppressor from Silencer Central and carries their Lifetime Warranty of the "Banish™ Better Suppressor Guarantee." This entails an ironclad warranty against defects in manufacturing when it is shipped to you with a guarantee of satisfaction and performance from Silencer Central. If your Banish Suppressor does not significantly reduce the report and recoil of your firearm, Silencer Central will buy it back. Further details about the Banish 223 can be read below as presented by Silencer Central:
Designed for smaller, center-fire calibers used by predator hunters and target shooters, the BANISH 223 will fit all rifles .224 and smaller. This includes rimfire rifles. The reduced report will not only protect the shooter's hearing but also keep it from spooking other predators.

While centerfire rounds are generally jacketed, buildup of the copper jackets in the baffles still occurs. Since there is more powder behind those centerfire predator rounds, there is greater carbon buildup than from rimfire guns. Like all Banish suppressors, the BANISH 223 easily disassembles for cleaning and maintenance. Seven STifle™ baffles designed to easily stack in any order make reassembly a breeze.
Unboxing: Banish 223 Suppressor from Silencer Central
The Banish 223 Suppressor comes with a few accessories to make your ownership run more smoothly, but Silencer Central was kind enough to send us additional pieces as well which you can order from their website if you so desire. Some of the basic essentials are your box, owner's manual, front end cap tool, T-45 torx wrench, and a spare rubber gasket. Other components you might enjoy having that we had for testing are:
The front end cap tool and associated T-45 torx wrench that is included with the silencer mates up well to the front end cap and makes for an easy dis-assembly and removal of the baffles for cleaning. It is nice that they include a spare rubber gasket because regardless of their material make-up all gaskets can break down or degrade over time and may need replacing. So it is nice that is immediately included.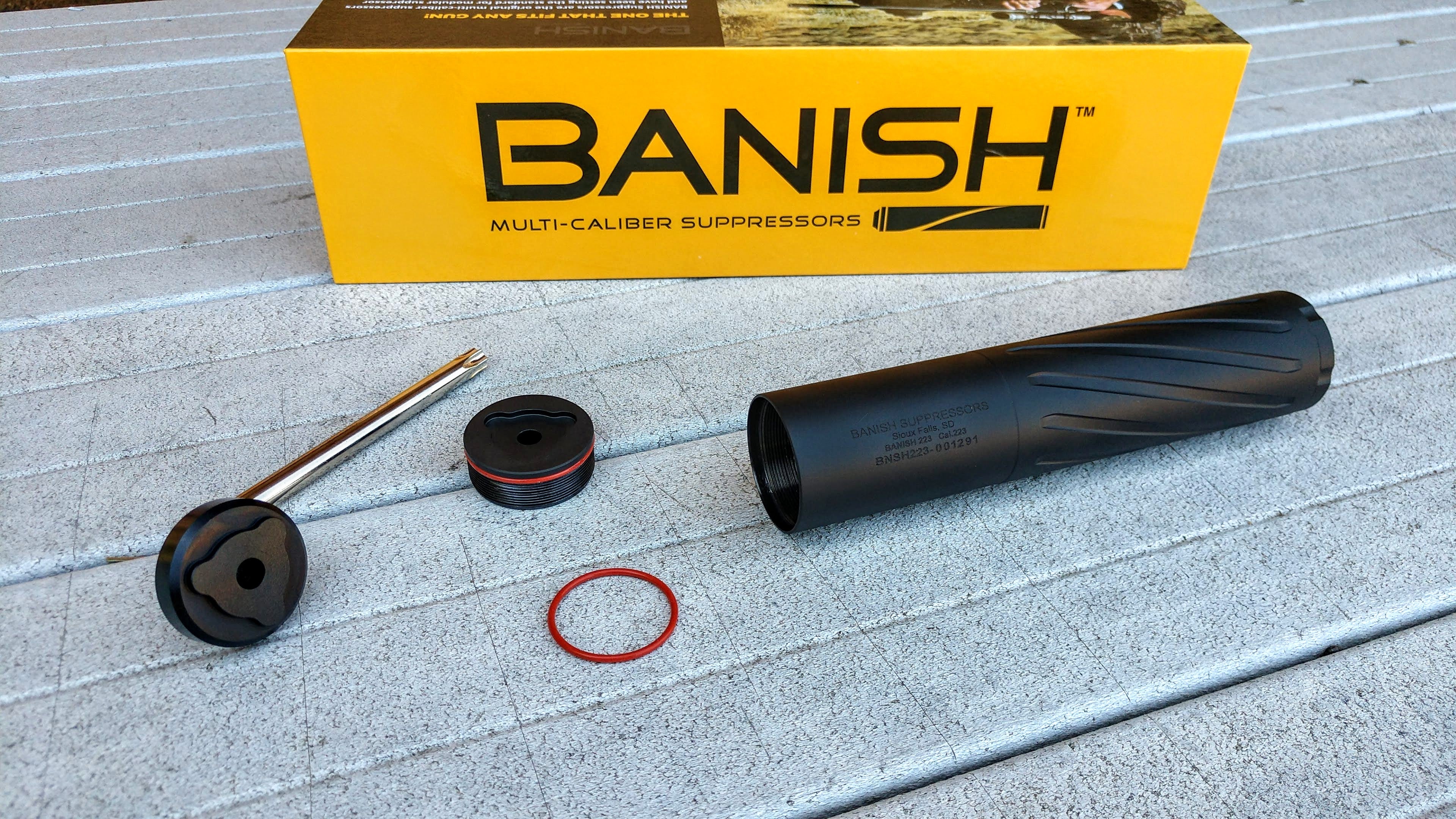 As one would expect with a .22 caliber centerfire suppressor, the Banish 223 has an easy direct thread to all 1/2″ x 28 TPI (Thread per Inch) thread patterns. I personally prefer direct thread mounts versus quick connect ones because whenever I am using a suppressor I am not swapping them out between various firearms in a hurried manner. They are being deployed for a more enjoyable day at the range or a potential hunt where I want to be assured that once they are threaded on they will stay there.
Centerfire suppressors are significantly cleaner than rimfire ones because of the quality-control of the ammunition we shoot and as a result of the pressures centerfire rifle cartridges are loaded to (a lot of the carbon, debris, etc. is blown out of the suppressor through sheer force). For those who want to clean their suppressors, Silencer Central does a terrific job of explaining that through their YouTube video below:
Range Time: Banish 223 Suppressor from Silencer Central
When it came time to finally getting out to the range and sending some rounds down range I was excited to say the least. Who does not like shooting suppressors, seriously? The firearm I used for testing was a new Springfield Armory SAINT with B5 Systems furniture. We actually completed a thorough review of that rifle that can be read HERE. With the Banish 223 Suppressor mated up to the Springfield SAINT the contoured and angled edge of the rear cap made for an attractive aesthetic and nice lines from the silencer to the rifle's barrel as opposed to silencers that have a 90° squared off rear cap. I mention it in almost every product I review that no one wants an ugly product that shoots great, and the Banish 223 is definitely sharp-looking in appearance.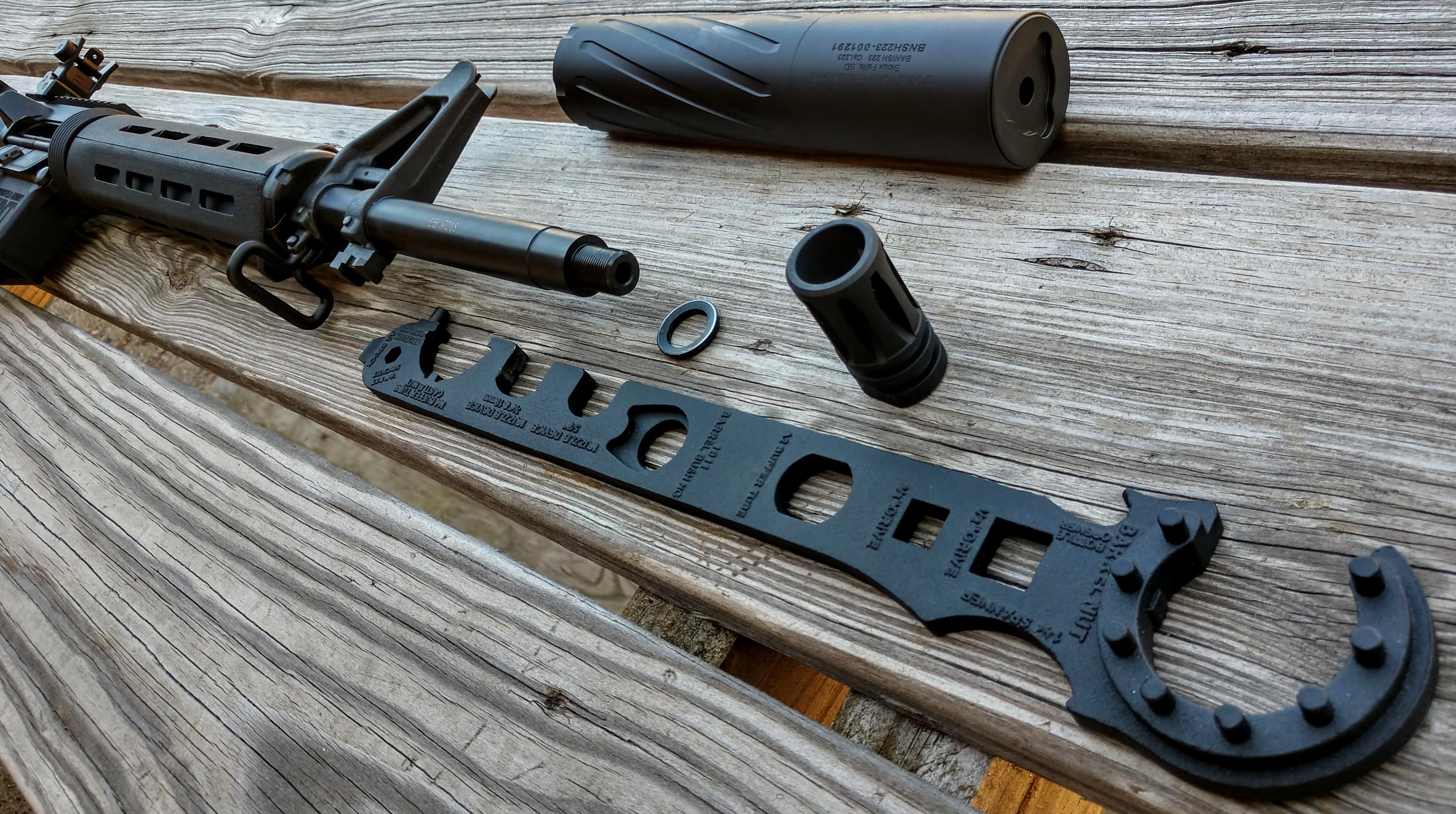 Since we were shooting a gas-driven rifle, it was expected to see a small amount of gas blowback from the ejection port, but it exhibited significantly less than other gas guns that I have shot suppressed in the past. This could be attributed to both the better quality suppressor from Silencer Central and the improved rifle from Springfield Armory. There also were no issues cycling cheap steel case ammunition or higher quality brass casings. No adjustable gas block or suppressed bolt-carrier group (BCG) were required to utilize the silencer which was nice.
I was a bit surprised to see the silencer heat up fast. After 10 rounds it was too hot to touch with a bare hand. This could be indicative of the silencer being so light or something else to do with the material make-up. In any case, it was working fantastic in regards to suppressing noise and mitigating recoil so I simply put the Banish Suppressor Cover on the suppressor that was provided from Silencer Central. After shooting more rounds (closer to 100) the silencer became extremely hot even with the Banish Suppressor Cover on. Before heading home for the day I simply let the rifle and suppressor cool for 10 minutes while I retrieved my targets and collected my things.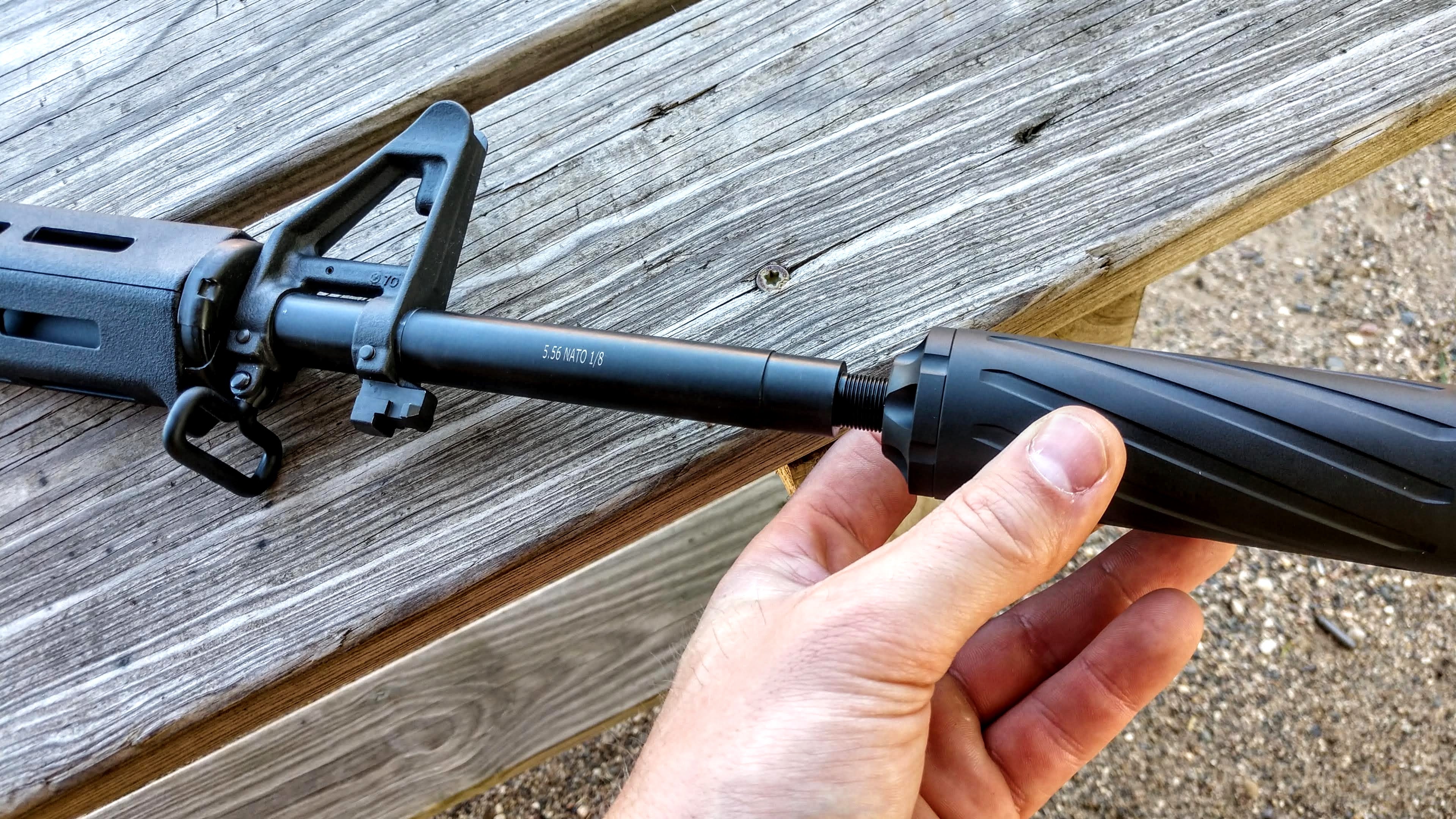 While I was shooting I did not deploy a decibel meter to measure the amount of decibels reduced by the silencer because legitimate ones range in the ballpark of thousands of dollars to truly test the decibel reduction of a suppressor. Cheaper ones on the internet that some other people might employ can be found for around $100, but they are not precise enough to truly trust. So, from an anecdotal perspective I can speak to the extent that the Banish 223 Suppressor reduced the noise considerably (within the advertised range of 30 decibels) and is definitely hearing safe. It did everything it advertised and then some – significantly less noise and recoil.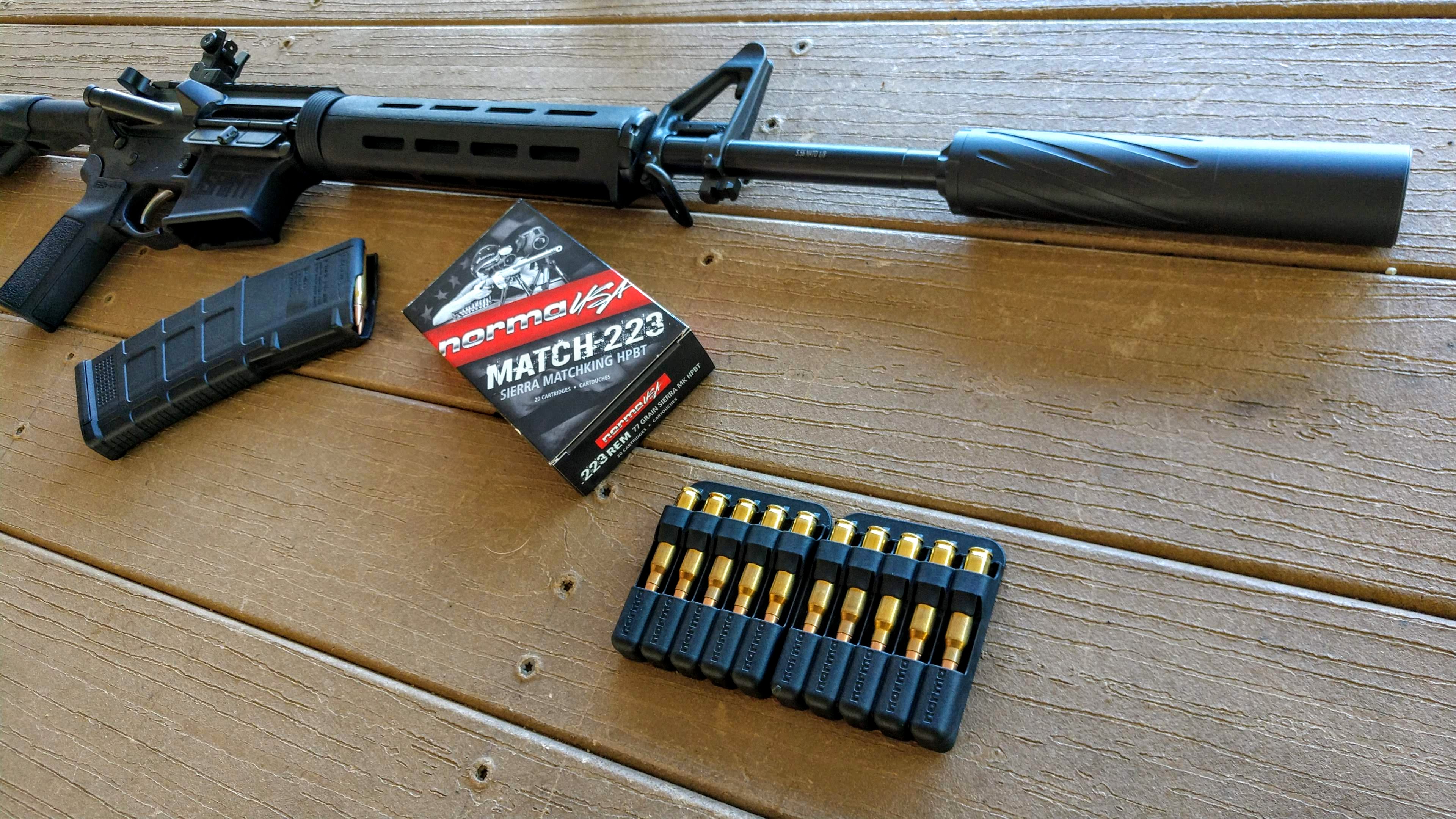 The best results I got were from Norma Match ammunition during testing which exhibited even less gas blowback through the ejection port than all other ammunition tested. This included everything from junky Russian steel case to other premium brass cased brands. It almost goes without stating, but when you use higher quality ammunition like Norma, all aspects of your shooting experience are likely to improve: less report, less recoil, less wasted gas, and better groups.
Final Thoughts: Banish 223 Suppressor from Silencer Central
So, what are my final thoughts for the Banish 223 Suppressor from Silencer Central?… Overall, it performed as well as I could have hoped, if not better. The dis-assembly is very intuitive. The suppressor obviously comes with an owner's manual for troubleshooting, but it was not necessary for me. The 1/2″ x 28 TPI threads made it a breeze to mate it up to any firearm I could have reasonably selected for shooting. The suppression of the report and the reduction in recoil allowed me to safely shoot my rifle without hearing protection (if I so desired for a magazine or two) and I could see my impacts in my optic no problem. The suppressor did heat up fast, but I have never had a suppressor remain cool after 100 rounds or more either at any rate of fire. At the suggested MSRP of $849 I would recommend this suppressor to anyone in the market for a dedicated .223 Rem/5.56mm NATO suppressor.
In closing, I want to say thank you to Silencer Central for allowing AllOutdoor and myself the opportunity to try out one of their Banish 223 Suppressors. Also, many thanks to Norma for providing high quality ammunition for this review. That is always greatly appreciated. The last question that remains is what do you think? Is the Banish 223 Suppressor something you would be willing to invest your money in to go hunting? Would you use it for home defense? Help a new shooter learn to shoot with it? Let us know all of your thoughts in the Comments below! We always appreciate your feedback.