Ammo Review: Sierra GameChanger 165-grain TGK 308 Win Hunting Ammunition
Russ Chastain 10.29.20

(Photo © Russ Chastain)
Under the "things I never thought would happen category" is the ability for me to write a review of Sierra GameChanger deer hunting ammunition even before November. When I zeroed two of my favorite hunting rifles and headed north for an early-season hunt, I never dreamed I would have the opportunity to use it on three good-sized mature whitetail deer — including the two heaviest whitetail bucks of my life.
We first talked about GameChanger ammo after the 2020 SHOT Show, and I recently wrote a couple posts about sighting in with it in my old 30-06 and my Savage Sierra (no relation) 308. Here's some info on the 308 ammo I used on this hunt:
Specs
Sierra Catalog no. A4667–01
308 Winchester cartridge
165-grain Tipped GameKing bullets
Boattail bullet design with polymer tip seated in a hollow point for fast expansion
G1 Ballistic Coefficient: .517
Muzzle velocity: 2680 fps
20 cartridges per box
Sierra price: $37.99
"Tipped GameKing bullet with an extremely accurate boat tail profile and a polymer tip seated in a hollow point design for fast expansion upon impact. A lead core encased in a thick, tough copper jacket delivers outstanding penetration and controlled expansion at any range."
Taking it Afield
In the woods, I carried the ought-six for the first half of the hunt, until a tragic incident in which my rifle fell from a gun rack and landed on the scope. The horror. I never even got to take a shot with it.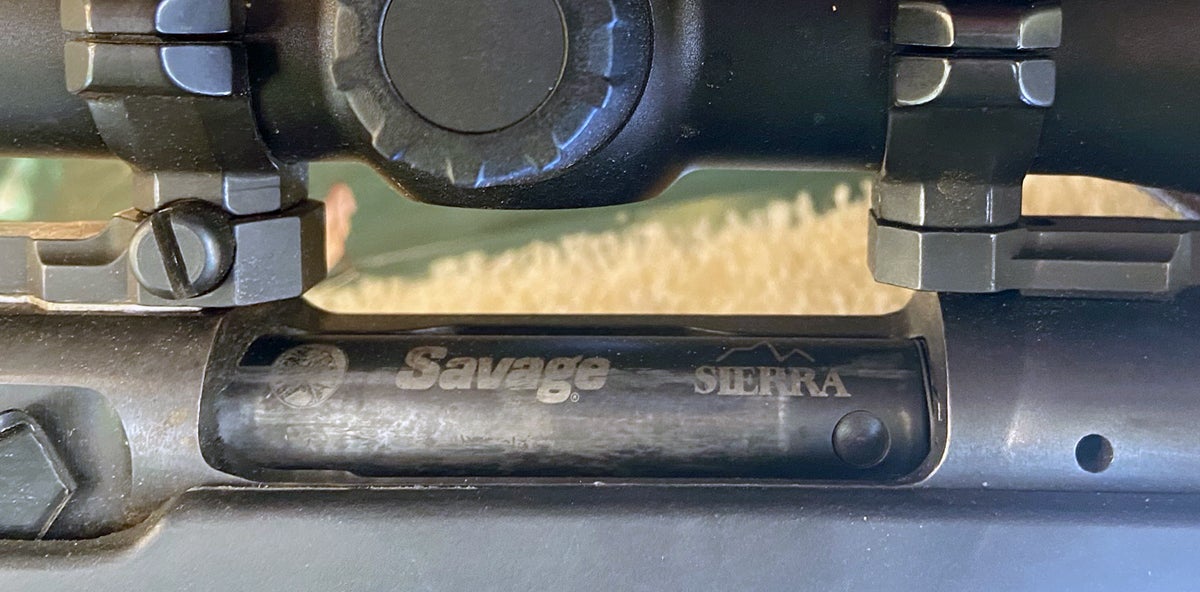 The little 308 Win "mountain rifle" felt particularly light and handy after toting the SpringMaus, being almost 5 inches shorter and a full two pounds lighter. And she must have been itching to do what she does best, because my fortunes took a turn for the better just as soon as I put away the '06 and toted the 308 afield.
I stoked the little rifle with Sierra's GameChanger load A4667–01, which features a 165-grain Tipped GameKing (TGK) bullet at an advertised muzzle velocity of 2680 fps. With a cold barrel, I had obtained minute-of-angle groups when zeroing the rifle a week earlier.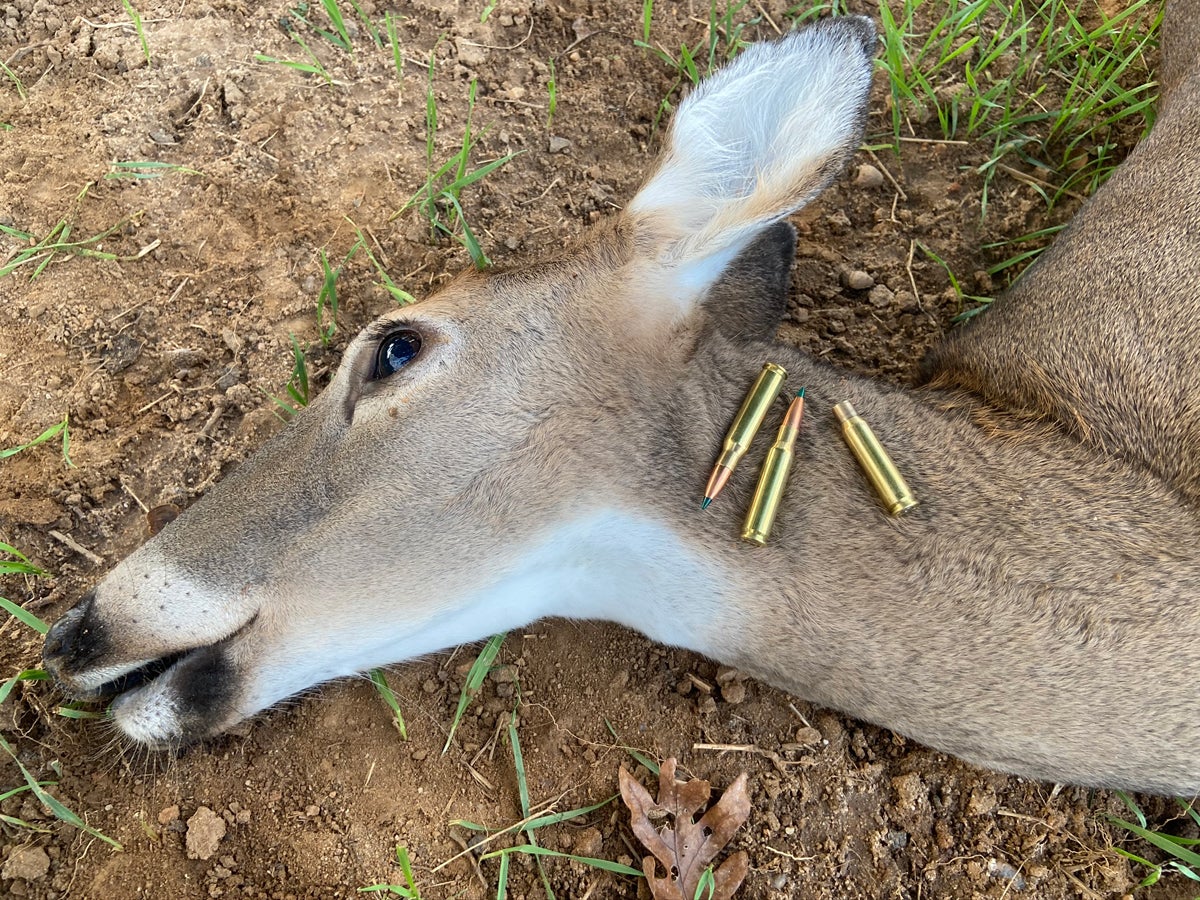 The first evening hunt with the 308 resulted in the harvest of a 120-pound doe, which was mostly facing me when I sent a TGK into its chest. The deer dropped instantly and after a few reflexive twitches, lay still. You would be hard pressed to get a cleaner kill. The recovered bullet showed textbook performance and weighed 94.5 grains, or about 57 percent of its original 165 grains. After expansion, the largest diameter was right at .60 inch. The range was 117 yards.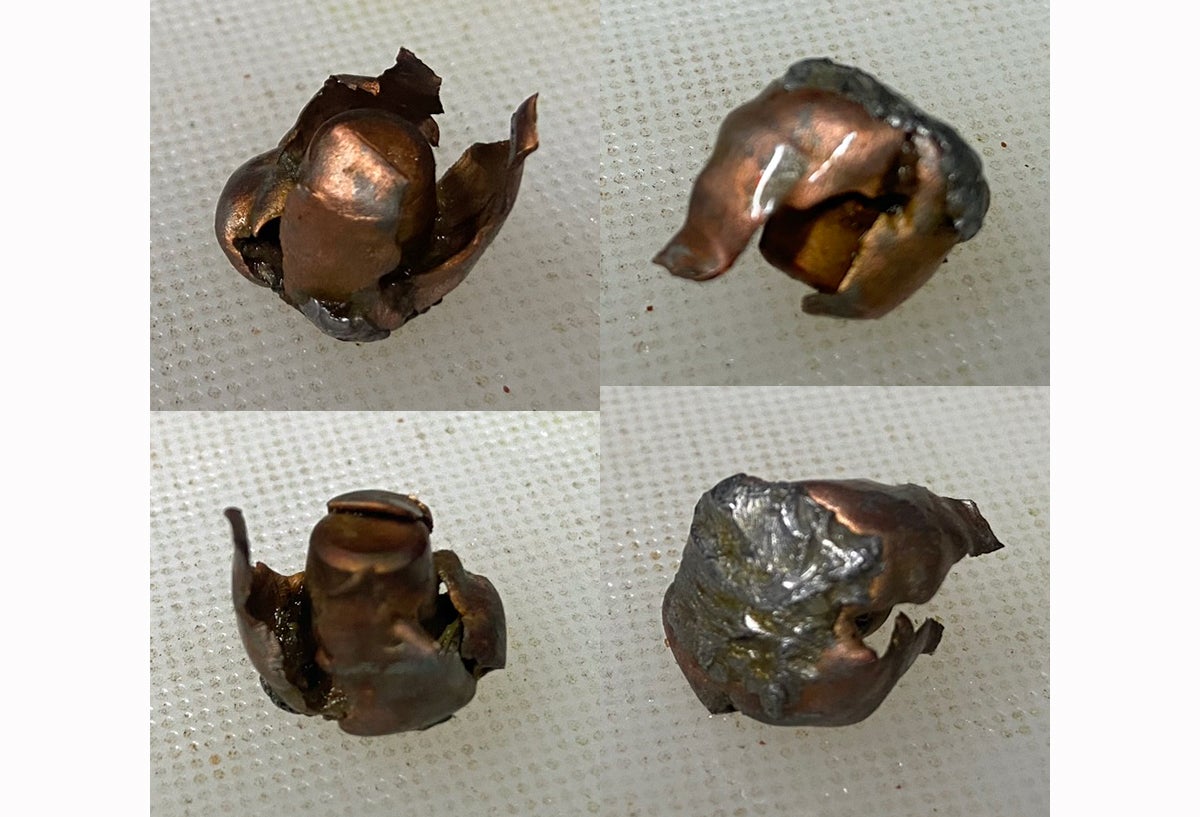 Obviously pleased with its performance, I headed to the woods the following morning and 4.5 hours later sent another TGK into a whitetail — this time a 185-pound buck, also shot in the chest as it faced me, which also dropped dead at the shot and twitched even less than the doe did. The range was 98 yards and I was unable to find the bullet, though I'm certain it didn't exit on its own.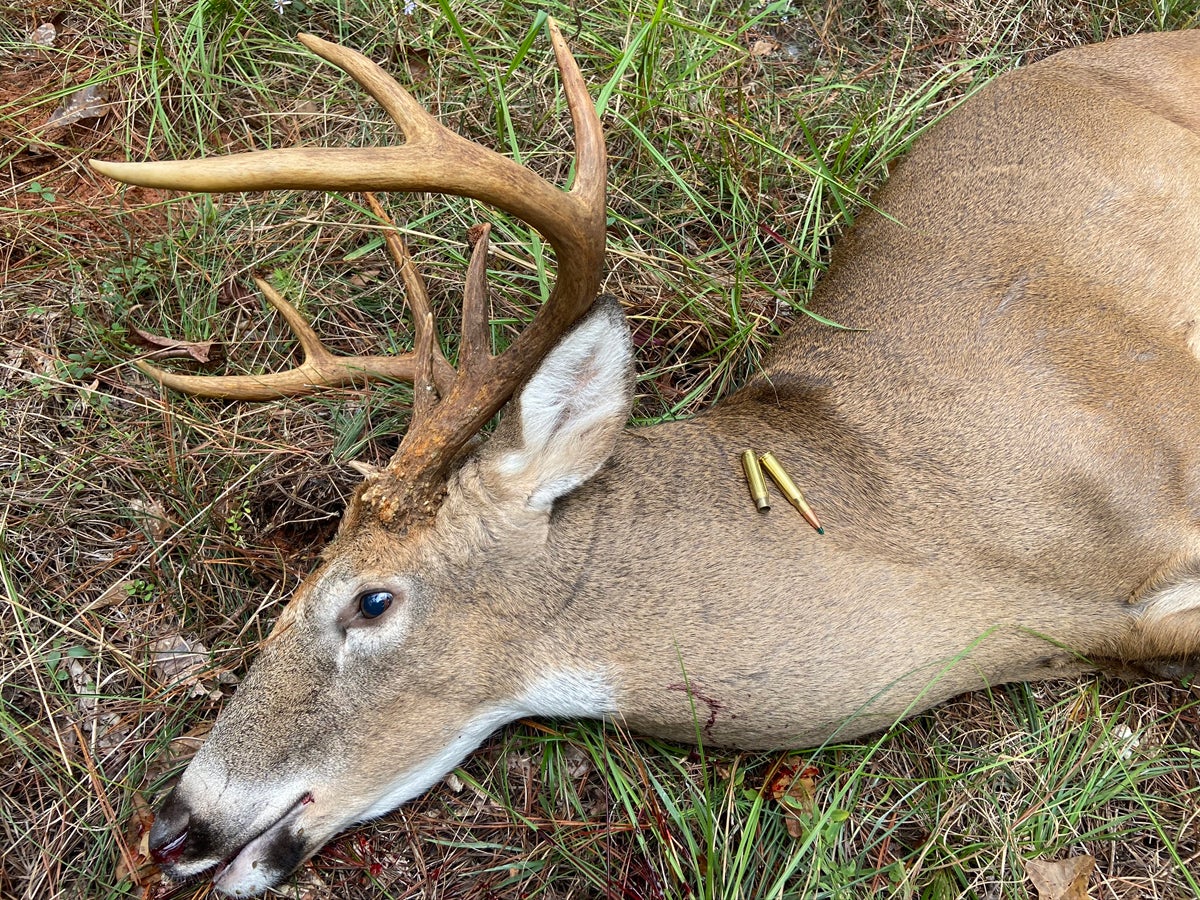 By that time I was fat and happy, having never expected to bag a mature buck that early in the season. But roughly 30 minutes after dawn the next morning, I slew a 200-pound buck from the same stand.
This time the buck stood broadside and fell instantly at the shot, only occasionally making small movements. But the placement was a bit high, through the spine above the shoulder, and although paralyzed the buck was not instantly dead. After making sure it wasn't going to get up and skedaddle, I approached and gave him another one through the boilerworks at essentially point-blank range.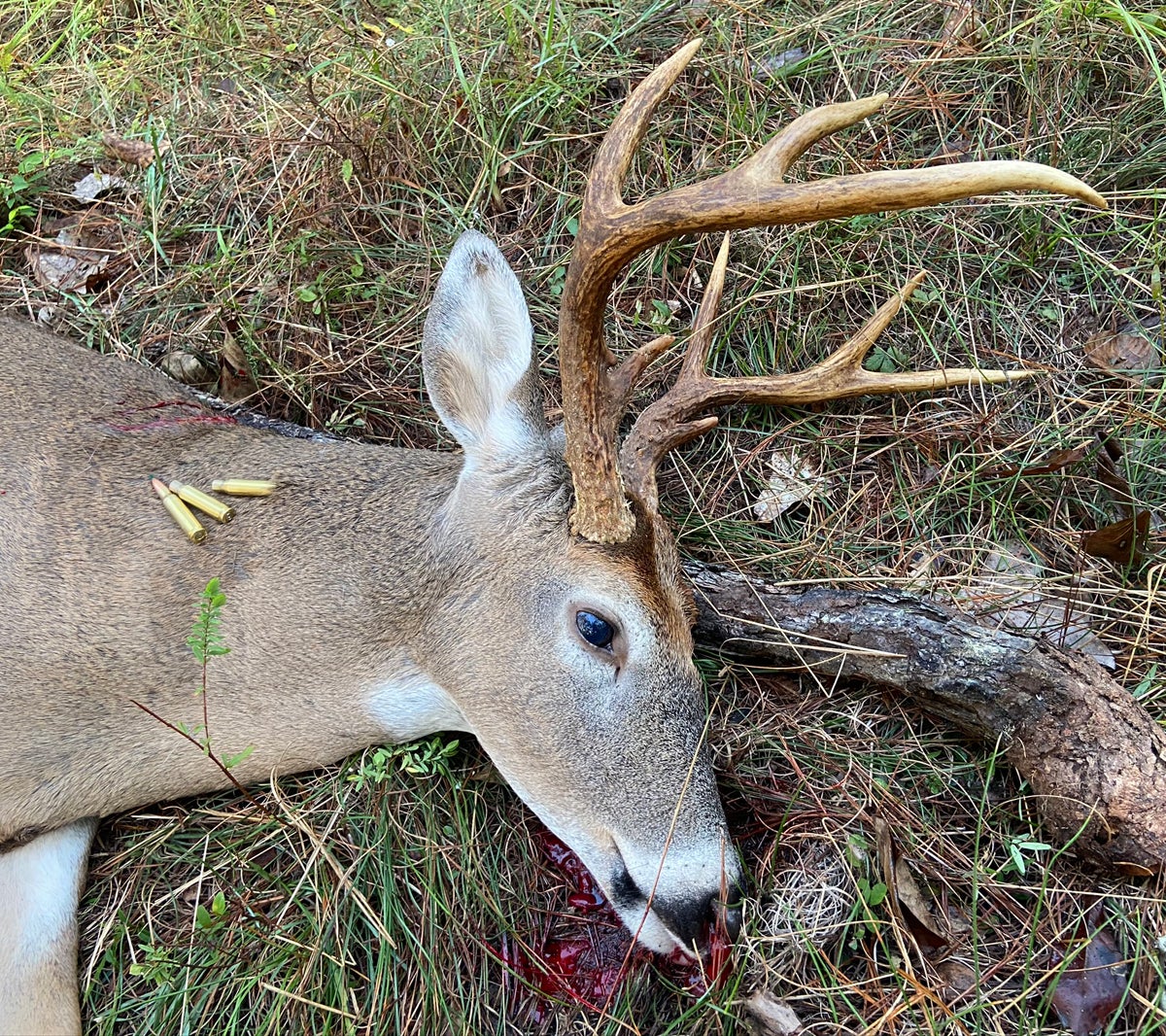 Both bullets passed through the animal and were not recovered. The first shot was at 105 yards.
The bucks died within 7 yards of one another, and I was able to drive a UTV to all three deer so I could load them up without a hassle. No stressful blood trailing and no long drags; gotta love that!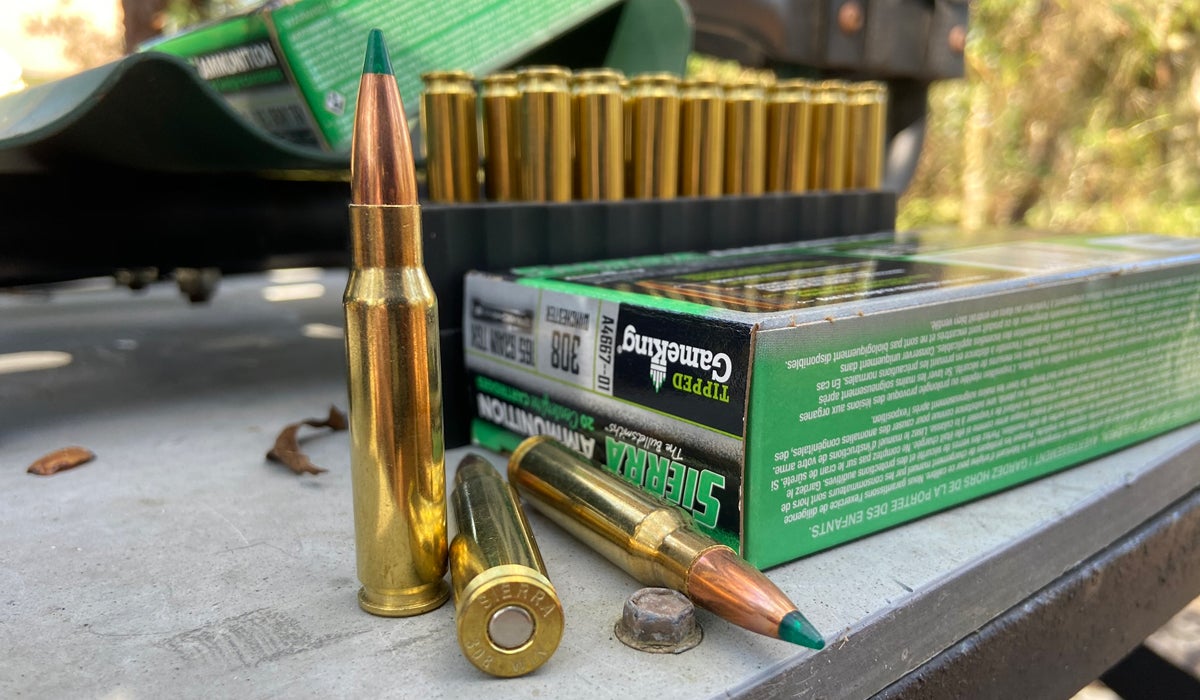 So, how do I like Sierra GameChanger 308 ammunition and their .308-cal 165-grain TGK bullet? One heck of a lot, that's how. Thanks to good fortune, experience, and that ammo I had one of the best deer hunts of my life and bagged my two heaviest-so-far whitetails back-to-back.
I can heartily recommend Sierra GameChanger 165-grain TGK ammo in 308 Winchester for big game hunting.