Eliminate the Unknown! Vortex Fury HD 5000 AB – Applied Ballistics Elite
Adam Scepaniak 01.08.21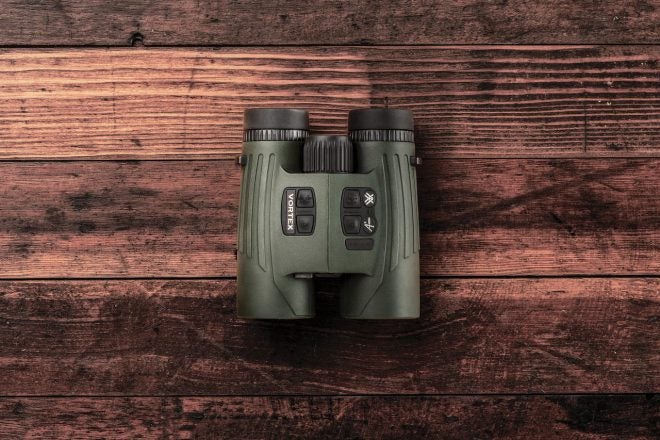 Binoculars have fully jumped into the 21st century by blending technologies from multiple sources to give hunters and long-range shooters the edge of a lifetime. You now have range-finding capabilities, the ability to input wind speeds, pairing with Kestrel products, and the Applied Ballistics Elite Solver app – all in one binocular. It does nearly everything except make you coffee in the morning. All of the features and benefits to the New Fury HD 5000 AB binocular with Applied Ballistics Elite Solver can be read below as presented by Vortex Optics:
IN-DISPLAY WIND/DROP SOLUTIONS: Equipped with the accurate Applied Ballistics® Elite ballistics solver backed by a full up-to-date bullet database
CUSTOMIZE BALLISTIC PROFILES: Customize profiles via the Fury HD App, or use one of three preloaded profiles for popular cartridges
ON-BOARD ENVIRONMENTAL SENSORS: On-board compass, humidity, barometric pressure and temperature sensors
TWO WIND MODES: Manually enter speed and direction with Full Cross Wind Mode and the patent pending Wind Bearing Capture Mode
PAIRS WITH THIRD PARTY DEVICES: Pairs directly with Kestrel® wind meters and Applied Ballistics® Garmin® devices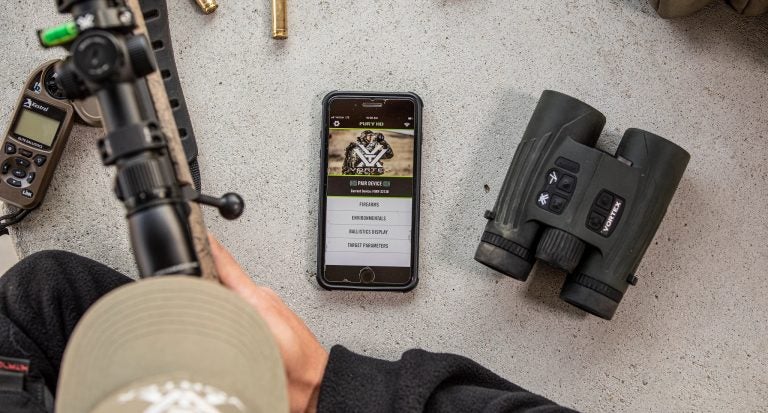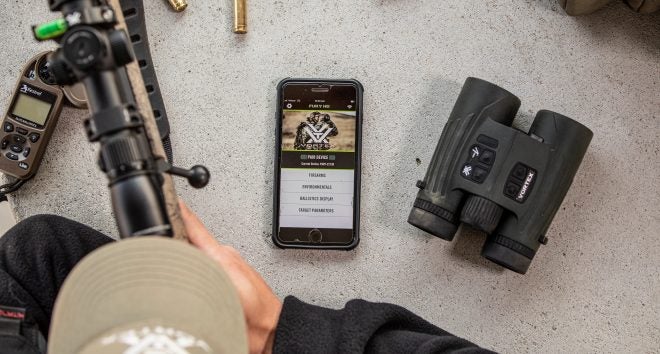 "What's in the Box"

GlassPak™ Binocular Harness
Comfort Neck Strap
Tethered Objective Lens Cover
Rainguard Eyepiece Cover
CR2 Battery
Case Strap
The MSRP is currently $1,999.99 for a pair of these binoculars which is definitely not cheap by any means, but shooters and hunters will need to bear in mind that you are receiving a whole host of tools neatly bundled into one. Also, like all Vortex Optics products, these binoculars carry the VIP Lifetime Warranty in the rare event you run over your binos or they fall down the side of a mountain. Vortex Optics goes on to explain these new, high-end binoculars a little further in their Press Release statement below:
"Carrying your binos and rangefinder in one package is smart. What's smarter? The next generation Fury HD 5000 AB. This rangefinding binocular takes the guess work out of dialing long-range shots with in-display ballistic data and built-in environmental sensors, which means less time calculating ballistics and more time putting rounds down range. With the Applied Ballistics® Elite solver built right in, you can pair with the Fury HD App to create custom ballistic profiles, and with popular Kestrel® and Applied Ballistics® Garmin® devices for the ultimate in real-time precision. Put simply, it's a smarter way to shoot."
While the $2K asking price for the Fury HD 5000 AB binoculars with Applied Ballistics Elite Solver might scare some consumers away, these binos authentically boast a lot of tech and value in an extremely small package. As opposed to hauling multiple shooting items to the range or field with you, you can now carry less and accomplish more. The true question that needs to be answered though is what do you think? Could you find value in these binoculars? Would you be willing to pay the $2K asking price? As always, let us know all of your thoughts in the Comments below! We always appreciate your feedback.