Vortex Optics Rolls Out 4 Tripod Models for Glassing and Shooting
Adam Scepaniak 01.08.21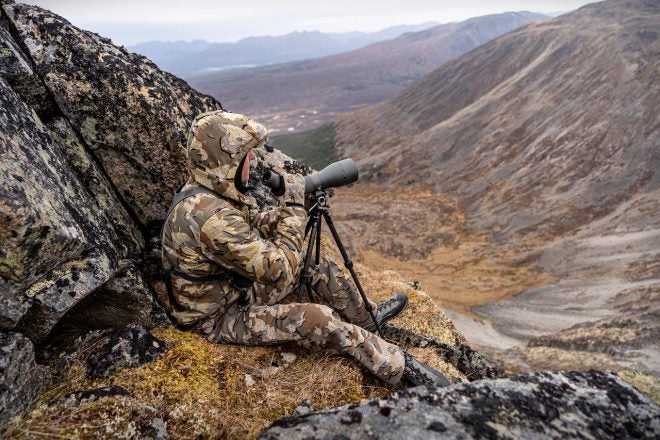 Vortex Optics has surprised the shooting industry by unveiling 4 new tripod models for 2021 to make glassing for game and shooting much more stable. There is a bit of a misconception (partially) within the shooting community where some firearm owners think tripods are only meant for photography while others understand the value and merits of utilizing them for hunting and shooting. The ability to more comfortably glass for game, shoot more stably on rough terrain, and watch impacts on targets at long distances are all phenomenal examples of how to deploy a tripod to your benefit. With Vortex Optics rolling out 4 new models of tripods we will jump right in and show you what they are all about.
Vortex Optics 

HIGH COUNTRY™

II Tripod
The NEW High Country II tripod from Vortex Optics will be their most affordable option with an MSRP of $299.99 which includes a few accessories listed below. It is a lightweight aluminum construction with a 2-way pan head design that supports the Arca-Swiss system. Vortex Optics gives a better explanation of the High Country II tripod in their Press Release statement below:
"Need a tripod with the ideal combination of stability and packability? The High Country™ II delivers, with a machined aluminum design offering outstanding durability in a lightweight package. In-the-field adjustments are smooth and precise, thanks to a 2-way Pan Head, and you can switch out your long range tools with ease, thanks to the Arca-Swiss compatible quick-release system. Whether you're working grasslands, forests, or mountains, the High Country™ II is rock-solid on any surface, with rubber feet for a non-slip grip. For reliable, packable performance, grab a High Country™ II and take the high ground with you."

Vortex Optics SUMMIT™ CARBON II Tripod
The Vortex Optics Summit Carbon II tripod is the smallest, or most compact, offering to come out where it weighs a totable 2.5 pounds. If someone is looking for the stability of a shooting tripod, but don't want to burden themselves with a lot of extra weight then this is the tripod for you. The MSRP is $549.99 for the Summit Carbon II and Vortex Optics expands on what this little tripod is all about in their Press Release statement below:
"When every ounce in your pack out counts, count on the Summit™ Carbon II to keep you moving without sacrificing stability. Carbon fiber construction keeps it light and strong, while the four leg sections provide the ultimate in packability, letting the Summit™ Carbon II collapse to a smaller size, yet still go tall enough to get you the height you need. To cut down on weight even more, Summit™ Carbon II comes with a detachable center column to go taller when you need it and stow away for lower viewing and packability when you don't. Make light work of your next adventure with Summit™ Carbon II."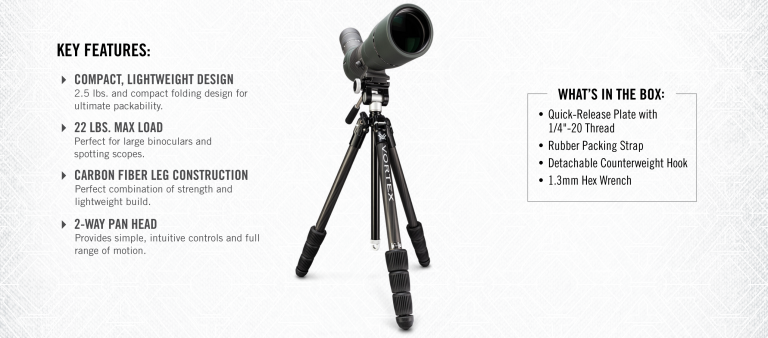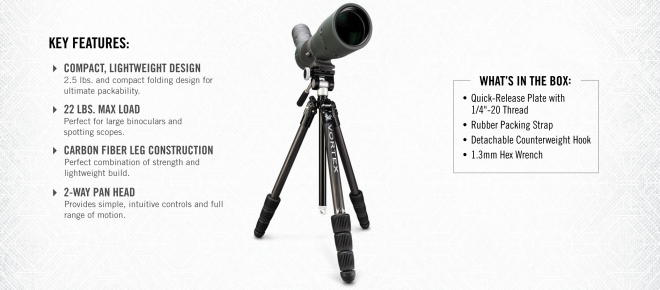 Vortex Optics RIDGEVIEW™ CARBON Tripod
The claim-to-fame for the Ridgeview Carbon tripod model is that it is Vortex Optics' tallest tripod out of the 4 new models being introduced. Of course, it is also lightweight being fabricated from carbon fiber as well. The MSRP of $649.99 puts it right in the middle as well for an asking price. A more in-depth explanation can be had through Vortex's Press Release statement below:
"Ridgeview™ Carbon raises your long-range tools to new heights without sacrificing stability or strength. Our tallest tripod, the Ridgeview™ Carbon is perfect for stand-up glassing, and its built on a carbon frame for higher performance at higher heights. Adjustments are smooth and precise, thanks to a 2-way Pan Head, and you can quickly switch out your long-range tools with the Arca-Swiss compatible quick release system. When you need stability and strength you can stand behind, put Ridgeview™ Carbon in your pack."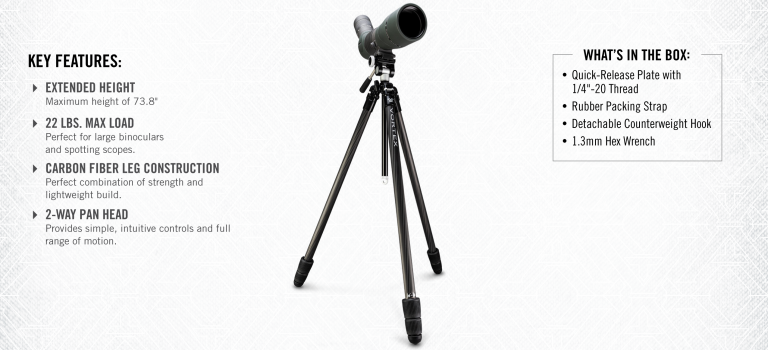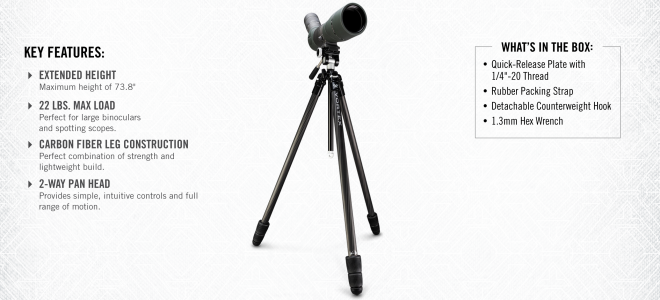 Vortex Optics 

RADIAN™

CARBON Tripod
The most expensive tripod that Vortex Optics is unveiling is their Radian Carbon that comes in 2 different configurations. One has an MSRP of $1,099.99 for the Leveling Head version and an MSRP of $1,199.99 for the Ball Head variant. This model boasts the heaviest load bearing weight, is carbon fiber, and affords you the most freedom of movement out of all of the new tripod models. Vortex elaborates upon it more below:
"There's no way something this precise should be this tough, but the Radian™ Carbon changes the rules when it comes to getting the utmost finesse out of a rock-solid platform. Fully carbon fiber legs and aluminum construction make for an extremely high strength-to-weight ratio, supporting heavy loads while keeping the Radian™ Carbon easy to pack. Along with great strength, you get great precision with an integrated level. Choose between a ball head or a leveling head so you can swap out all your long-range tools quickly with the features you need, including Arca-Swiss compatibility and quick release. Whether you're calling shots, or looking for a solid base for your rifle, the Radian™ Carbon makes sure you're ready."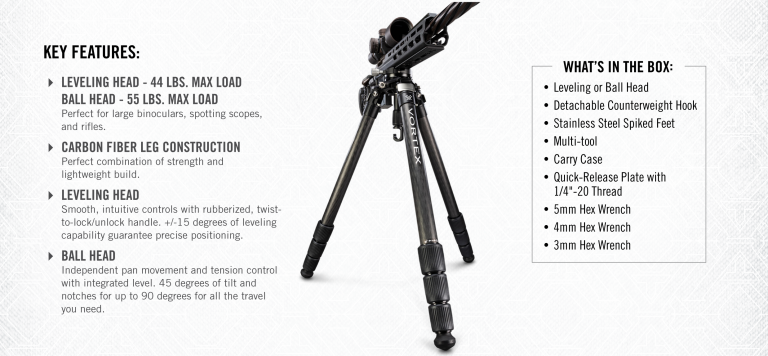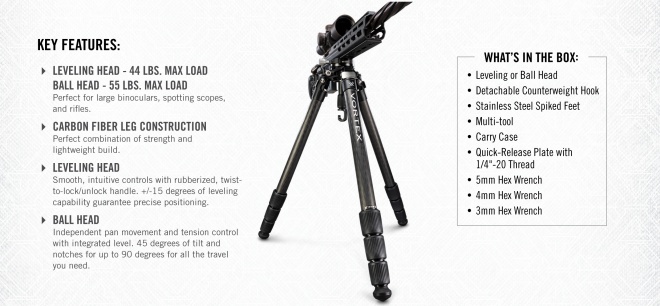 All of the tripods listed here today have Vortex's VIP Lifetime Warranty where under any circumstance they stand behind you and will replace or repair your product. This is pretty exciting news to see a mainstream, household brand like Vortex Optics carrying tripods because it brings them centerstage into the shooting community and shines more light on exactly how valuable they are. I honestly would contemplate buying one of the more affordable options to learn and become more well-versed in tripod shooting. Would you? As always, let us know all of your thoughts in the Comments below! We always appreciate your feedback.