Classic Blade: Schrade 498 Fixed Blade Hunting Knife
Russ Chastain 01.19.21

This Schrade 498 fixed blade hunting knife has sentimental value to me. (Photo © Russ Chastain)
Many moons ago — at least a quarter-century — I found a knife while surveying a long-abandoned industrial property. That was not unusual; I found stuff all the time, and that's what I miss most about my days in the field. But anyhow, there this knife was, long forgotten, stuck into an old board with its blade covered in rust. I was struck by its graceful shape and attractive, practical handle so I took the old blade home with me.
Schrade 498 with homemade sheath. (Photo © Russ Chastain)
The rust has almost erased portions of the tang stamp, and what looks like "495" to the naked eye is actually "498." I've talked some about this old knife here before, in my "6 favorite hunting knives" post.
Back home, I went to work removing rust from the blade with oil and steel wool; rub, wipe, repeat.
Tang stamp reads SCHRADE U.S.A. 498 . (Photo © Russ Chastain)
After I cleaned up the knife and restored its edge, I set about making a sheath for it. After all, I was young and poor and I liked to make things. Why buy? My first attempt at a sheath was made from pieces of an old leather work boot — no, I ain't kidding — and it pretty much sucked. I took what I'd learned and built myself a new sheath using some brown suede cow hide left over from the sweet leather case I'd made for my muzzleloader.
I had no sheath, so I made this one. (Photo © Russ Chastain)
Homemade leather sheath. (Photo © Russ Chastain)
I didn't get fancy. Heck, I didn't know how to get fancy. I whip-stitched the edges with some heavy-duty upholster's thread, then added rivets in strategic locations. Did I use rivets intended for leather work? Heck no! First of all I didn't have any, secondly I went with what I knew as the son of a metal worker: pop rivets. With some star lock washers and a bit of judicious peening, they did the job — and have held up pretty well for more than 25 years.
The original sheath looked like this. (Image source: eBay)
The 498 was part of Schrade's "49ers Bench Made Collection" and was available in two configurations; my knife is the 498S with Staglon synthetic handle, and a 498L was also available with stacked leather handle.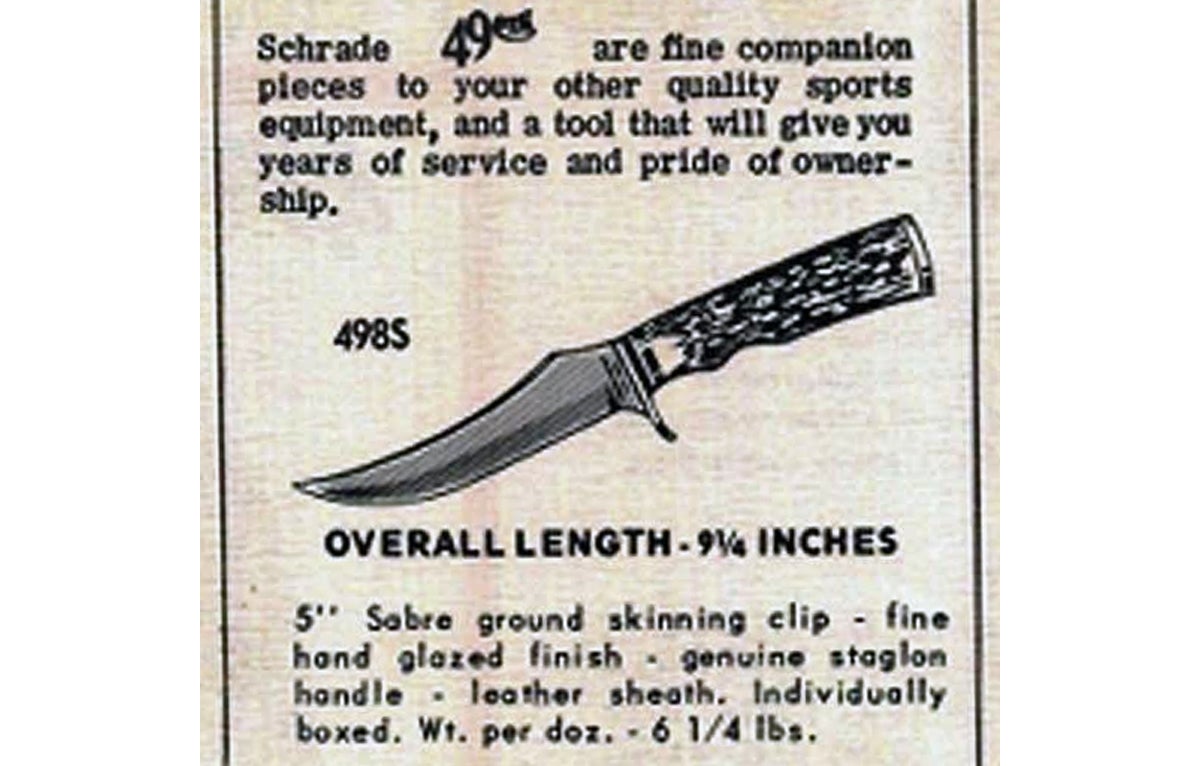 The texture on the brass guard and pommel cap (which they call the butt plate) is meant to imitate that of a gold nugget. Not all Schrade 498s were marked on the butt plate, but one ad says to "Look for the Bench Mark on each knife," indicating the anvil is a "cutlers mark" and the other mark is for the year of manufacture. Mine has a flag to the left of the anvil, but I'm not certain just what that means. Maybe some of you knife guys can help me with that?
Brass butt plate and guard have "gold rush" texture. (Photo © Russ Chastain)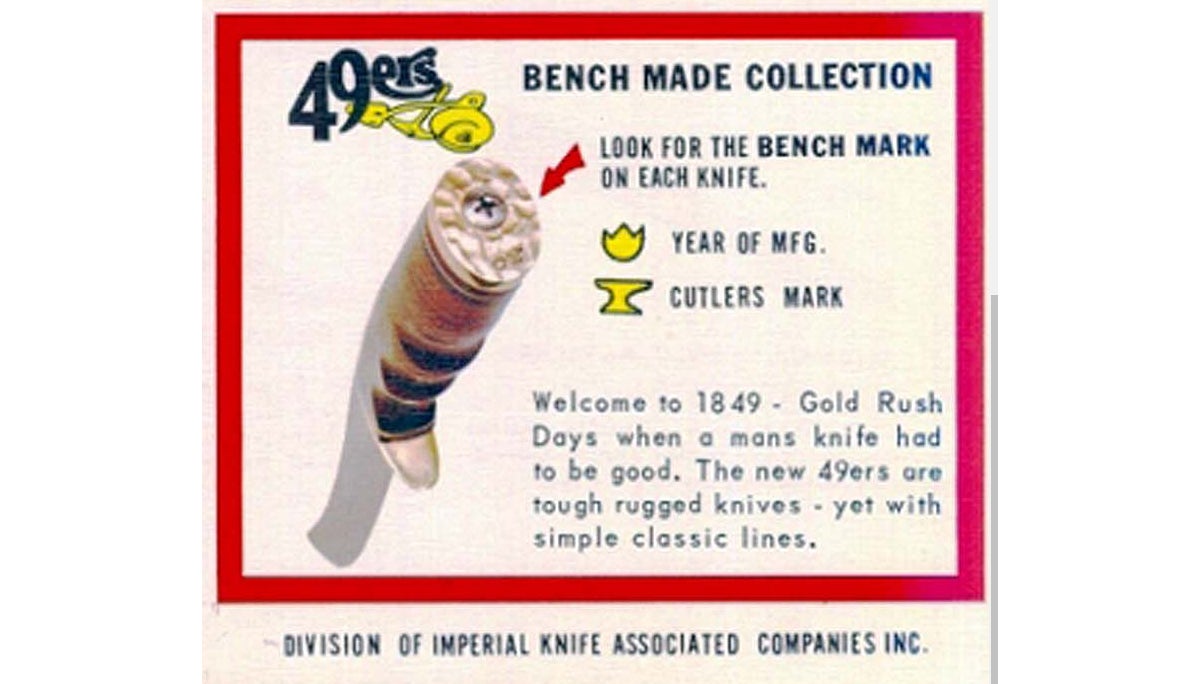 There are plenty of these 498s on eBay in amazing condition — some amazingly good, some amazingly terrible with much of the blade ground away. My 498 lives up to its original specs, with an overall length of 9-1/4″ and a five-inch blade. The weight is right at 6 ounces.
Classic lines and practical materials make the Schrade 498 a great hunting knife. (Photo © Russ Chastain)
Everything about this knife makes it a superb hunting knife: handle shape and texture, thumb spot with jimping, understated but perfectly-placed guard, blade shape, and the fine carbon steel blade that holds an edge like crazy. It's no wonder I began to love it at first sight.
I think some photos make the knife appear worse than it is. (Photo © Russ Chastain)
When I showed Dad my "new" Schrade 498, he too fell in love straightaway. One reason was its strong resemblance in overall shape to the old Case knife his maw-in-law had given him years before, which had recently been stolen. I believe it was probably a Case XX 523-6, and if only I could put my hands on that knife now… well let's just say that old Case knife meant a lot to me, and far more to Dad.
Dad had a certain way; he would want something you had, and set right out telling you how much he needed it and you didn't. It was all in good fun and of course I gave him a hard time and told him I was going to keep this knife forever and maybe let him hold it sometimes if he said "please," and all that.
The Staglon handle is fake antler; tough, practical, and (to me) good-looking.
Then deer season came, and I got a buck. It was just Dad and me at camp, and I happily set about the chore of dressing out my deer. Once I got my critter quartered up and into a cooler on ice, I cleaned up the knife, which had performed well. I dried it off, slipped it into its handmade sheath, and handed it to Dad.
The look on his face was priceless; he was speechless.
"I was always gonna give you the knife," I told him. "I just wanted to shuck a buck with it first."
The old Schrade 498 was instantly one of his most prized possessions, and remained so until he passed away more than a decade later. When I ran across this knife packed with some of Dad's favorite hunting gear… well all I can say about that is, "Dang leaky eyes."
Can a man love a knife? Oh yes… yes he can. (Photo © Russ Chastain)
I have used this nice old knife on several deer since my father's passing and it continues to perform well, while bringing back strong memories of that first buck I skinned & quartered with it before handing it to Dad. That is likely to remain the only time I ever give this knife away.
I hope you have enjoyed this stroll down memory lane with me, a working-class hunting knife left to rust, and my much-missed father. Now I can't wait until deer season rolls around again, so I can put this good old knife back to work.