Streamlight's New Tactical Rail-Mounted Lights for 2021
Russ Chastain 01.26.21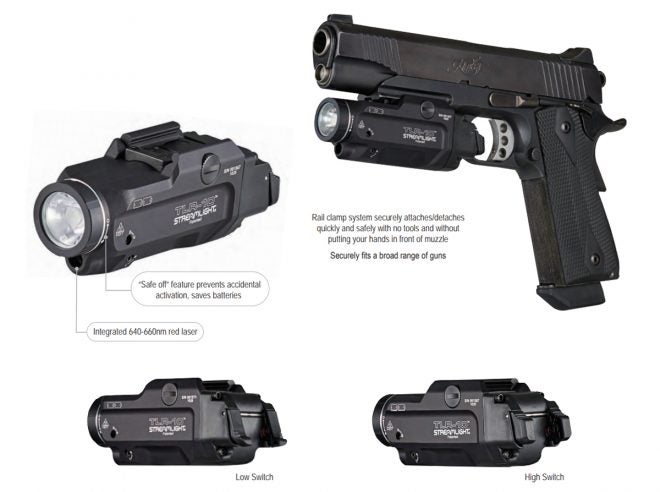 Streamlight TLR-10 tactical rail-mounted lights (Image © Streamlight)
Streamlight has brought out some new lights for 2021, which would normally have been unveiled at the SHOT Show. The main news for EDC is the Wedge, which our own Eve Flanigan covered here last week; click or tap here to check it out.
Aside from that, Streamlight is bringing out some new tactical rail-mounted lights in their TLR lineup, for both handguns and long guns. Here's the skinny on those, beginning with the handgun models:
TLR-6 Handgun Light for Subcompact Handguns
The TLR-6 looks really nice. It's a low-profile light which takes up very little space and provides 100 lumens of white light from an LED, and most models also include a red laser. One nice touch is that you can change batteries without using a tool, and without removing the light from your popper. Sweet!
Streamlight TLR-6 (Image © Streamlight)
For 2021, three new versions of the Streamlight TLR-6 are available:
GLOCK (43X/48MOS and 43XRAIL/48RAIL)
Springfield Armory Hellcat
SIG SAUER P365/XL
TLR-6 Features:
High Lumens: 100
Run Time (LED only or LED & laser): 1 hour
Run Time: (laser only): 11 hours
Beam Distance: 89 meters
Max Candela: 2,000
Battery Type: CR-1/3N Lithium
Battery Quantity: 2
Length: 2.20 inches (5.59 centimeters) – 2.97 inches (7.54 centimeters)
Weight: 1.12 ounces (31.75 grams) – 1.27 ounces (36.00 grams)
Colors: Flat Dark Earth Brown, Black
Water resistance: IPX4
Limited Lifetime Warranty
MSRP with laser: $187.43
MSRP without laser: $131.30
TLR-7 sub, Ultra-Compact Tactical Handgun Light
Streamlight TLR-7 sub 500-lumen tactical rail-mounted lights are designed for subcompact handguns, included these models:
GLOCK 43XMOS
GLOCK 48MOS
GLOCK 43XRAIL
GLOCK 48RAIL
SIG SAUER P365/XL
Pistols with 1913 short rail (S&W M&P M2.0, Beretta PX4 Storm, SA XD-E/S and HK 45c)
It has a "one-handed snap-on-and-tighten" interface which allows you to keep your hands away from the muzzle while you mount or remove it.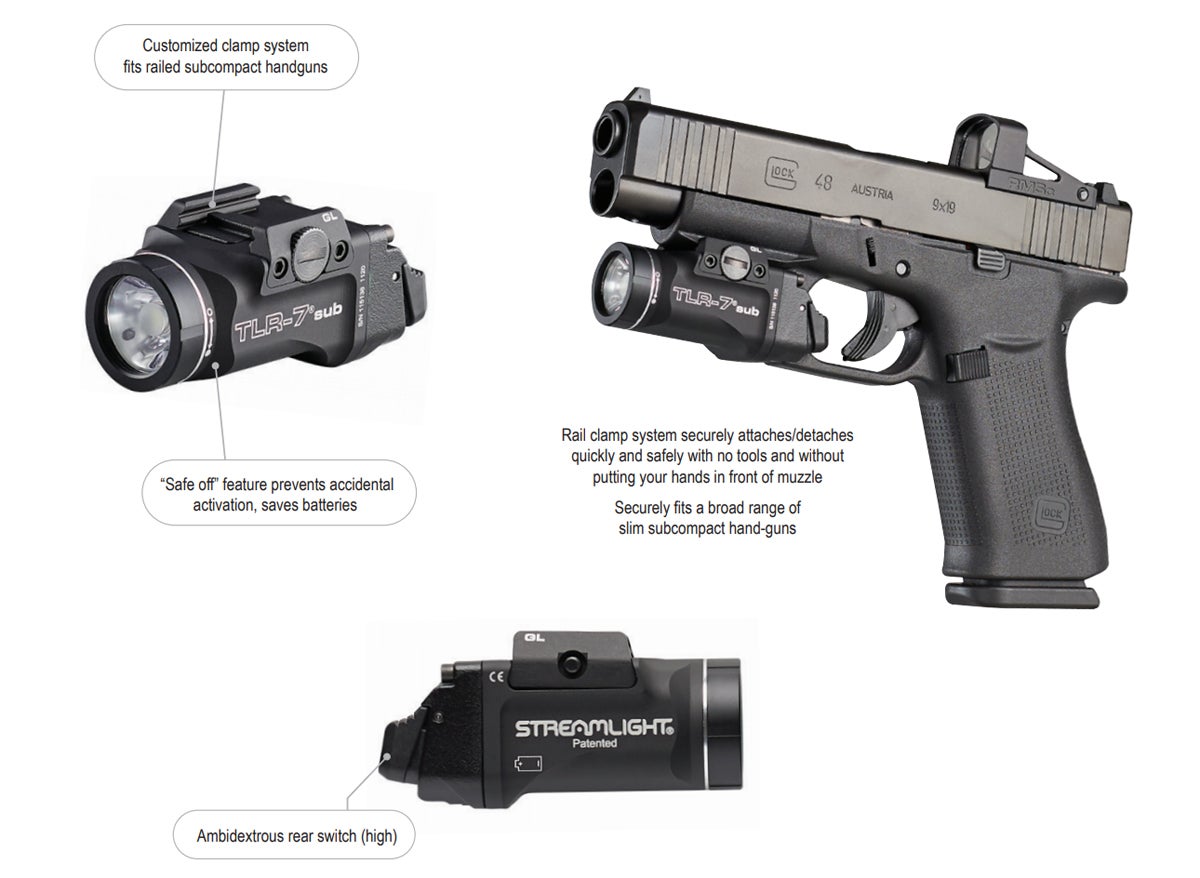 Streamlight TLR-7 sub (Image © Streamlight)
TLR-7® sub Features include:
Ergonomic rear switch
Safe off feature
500 lumens
Run Time: 1.50 hours
Beam Distance: 105 meters
Max Candela: 5,000
Battery Type: One CR123A Lithium
Length: .51 inches (6.38 centimeters)
Weight: 2.39 ounces (67.76 grams)
Color: Black
Water resistance: IPX7
Limited Lifetime Warranty
MSRP: $225.75
TLR-10 Tactical Handgun Light for Full-Frame Handguns
The TLR-10 is a rail mounted tactical light with rear switch options and integrated red laser, designed to be used on full frame handguns. The rear-mounted switch is ambidextrous, and you can change out the buttons to match your shooting style; both high and low are included.
It's designed to fit a "a broad range of full-sized handguns," and has a "safe off" feature to save batteries. It also has a "fast rail clamp" which allows easy mounting or removal while keeping your hand away from the gun's muzzle.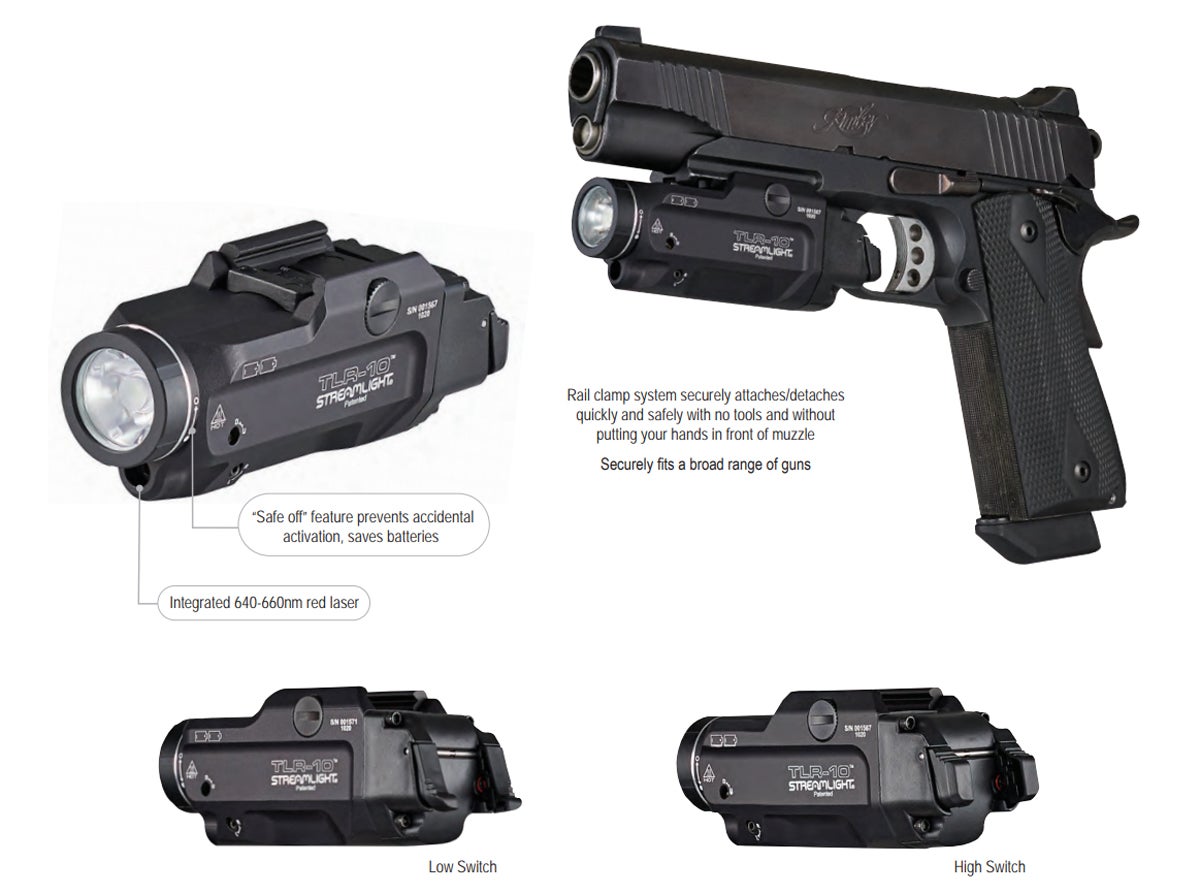 Streamlight TLR-10 (Image © Streamlight)
TLR-10 Features:
High Lumens: 1,000
Beam Distance: 200 meters
Battery Type: CR123A Lithium
Battery Quantity: 2
Length: 3.87 inches (9.83 centimeters)
Weight: 4.26 ounces (120.77 grams)
Color: Black
Water resistance: IPX4
Limited Lifetime Warranty
MSRP: $385
TLR RM 1 & TLR RM 2 Laser for Long Guns
The Streamlight TLR RM 1 and RM 2 (RM = Rail Mount) light systems for long guns have been enhanced with the addition of a red aiming laser and toggle switch for mode selection, into new models logically called the TLR RM 1 Laser and the TLR RM 2 Laser.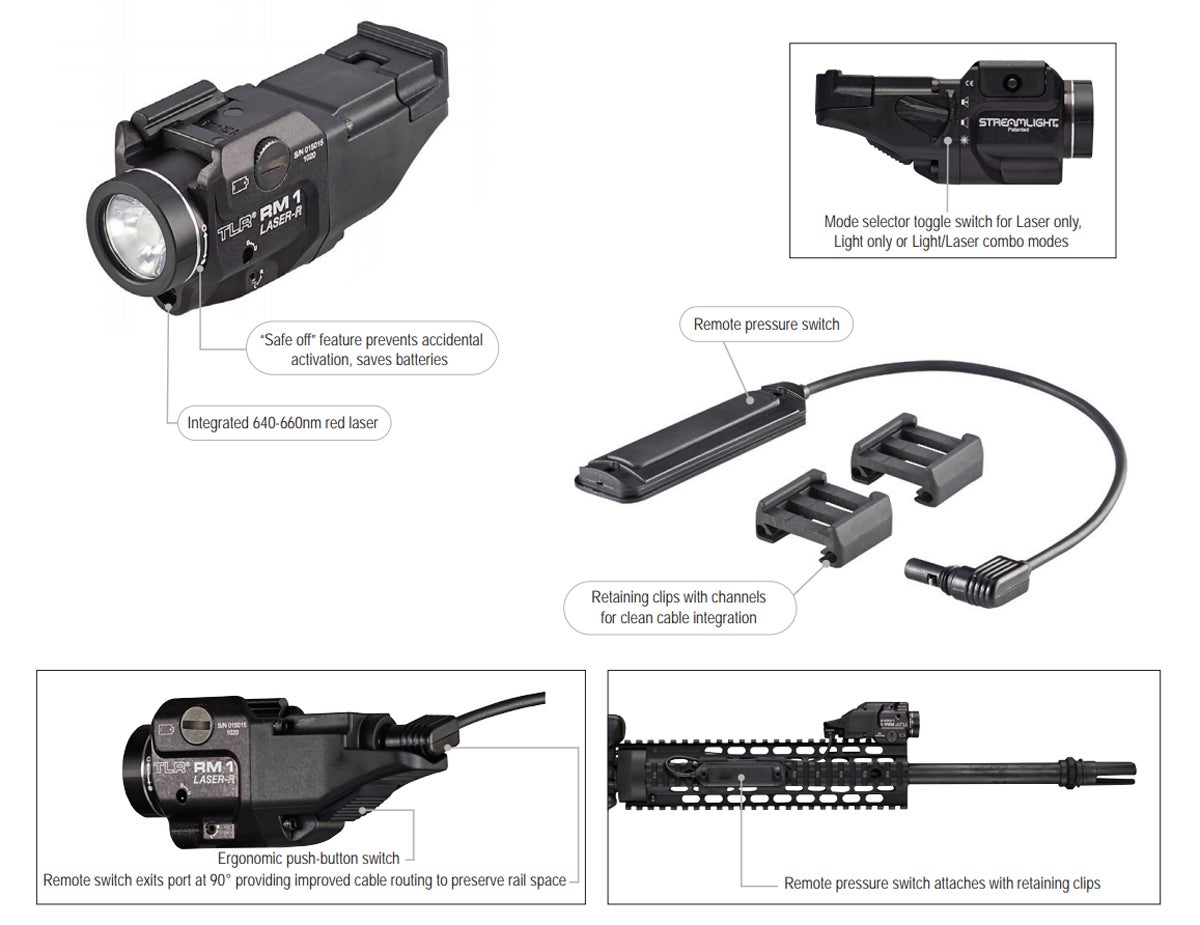 Streamlight TLR RM 1 Laser (Image © Streamlight)
The two versions share many features, but the RM 2's white light is twice as bright at 1,000 lumens vs 500 lumens for the RM 1. Each light comes as a kit with everything you need to mount it to a a long gun — provided the firearm already has a MIL Standard 1913 (picatinny) rail.
The RM 1 takes one CR123A Lithium battery, while the RM 2 takes two of them. Water resistance is rated at IPX4. This looks like a pretty sweet system from here.
MSRPs are $360 for the TLR RM 1 Laser and $378 for the TLR RM 2 Laser.
Naturally, all of these lights are covered by Streamlight's Limited Lifetime Warranty.