Buck Knives Introduces the New 2021 Legacy Collection
Luke Cuenco 02.15.21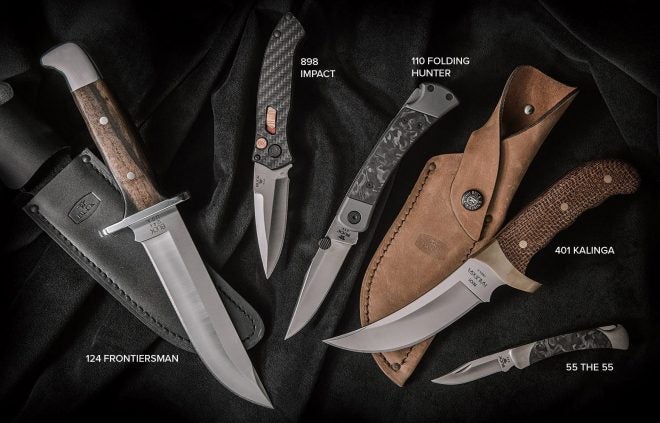 The new 2021 Legacy Collection by Buck Knives is almost here! The new five knife collection intends to show off the best that Buck Knives has to offer including some refreshed yet older designs as well as some of their more popular modern offerings from the Buck Knives catalog. Full details for each knife in the collection can be found below.
Buck Knives Introduces the New 2021 Legacy Collection
"Post Falls, ID – Monday, February 8, 2021 – With a dedication to providing high performance products of uncompromising quality, Buck Knives is excited to introduce the 2021 Legacy Collection, including an upgrade to the famous 110 classic and an ebony 124 Frontiersman."

124 Frontiersman
With roots dating back to the 1960's, this highly revered Buck classic is crafted with Crelicam™ genuine ebony handles. The rich woodgrains found in natural ebony make each handle unique; no two are alike. The famous straight back bowie blade is 420HC steel, while the guard and pommel are aluminum. Includes a black leather, USA made sheath. $275.00 MRSP. Available in March.

401 Kalinga
One of Buck's most legendary blades, this 401 Kalinga is built for ultimate performance. This 401 features a satin finish S35VN blade with a brown burlap Micarta® handle and a classic brass guard. Includes a brown distressed leather, USA made sheath. $400.00 MSRP. Available in March.

898 Impact
The Impact was launched as Buck's first automatic model. Now, as a custom, this 898 Impact's blade is premium S35VN steel, instantly opened with a copper launch button. The safety slide is also copper, and the handle is twill Carbon Fiber. The belt clip and fasteners are black Cerakote® coated stainless steel. $280 MSRP. Available in March.
"The Legacy Collection showcases some of our most classic pieces partnered with a modern design. This collection is a representation of Buck's history and future as demonstrated through the enrichment of our featured timeless products, such as the 110, a modernized take on Buck's most famous model. This Legacy Collection validates the craftsmanship and care that go into the products we produce for our customers," said Chris Bourassa, Director of Marketing and Product Development for Buck Knives.
110 Folding Hunter
This 110 is an ultra-modern version with added features to enhance performance. Customized with high tech materials, the blade is S45VN stainless steel boasting dual, black Cerakote® coated thumb studs. The handle sides are gray anodized aluminum screwed together with marbled carbon fiber inlays. Using aluminum instead of brass created a noticeable weight difference, this modernized version weighs only 4.8 oz while the standard 110 weighs 7.2 oz. A pocket clip coated in black flash nitride was added for carry convenience. Opened with one hand and carried with a clip, this 110 was designed around many customer requests. $250.00 MSRP. Available in March.

055 The 55
Little brother to the 110 Folding Hunter, the 55 is a famous gentleman's knife. Customized with modern materials, the blade is S30V stainless steel with a nickel silver handle featuring marbled carbon fiber inlays. $175.00 MSRP. Available in March.

Hours of hand craftsmanship go into each Legacy Collection knife. From modern, high-end designs to timeless pieces, this collection features unique versions of classic and automatic models, each Legacy knife is specific to the year it's created and marked with a date code stamp. New for 2021, annual quantity will not be limited to a specific amount of knives, but will instead limit these pieces to the 2021 calendar year of production. Each Legacy knife is made in the USA and guaranteed for life by Buck's respected Forever Warranty.
While I'm not a huge knife collector myself, Buck Knives has always been one of the first names that come to mind when it comes to what is most popular. The 2021 Legacy collection seems to be a good combination of different types and styles of knives with everything from full tang knives down to small frame locking pocket knives. The 2021 Legacy Collection will be made available starting March of 2021.