Come on in Gobblers! NEW Avian-X HDR Feeding Hen Decoy
Russ Chastain 02.18.21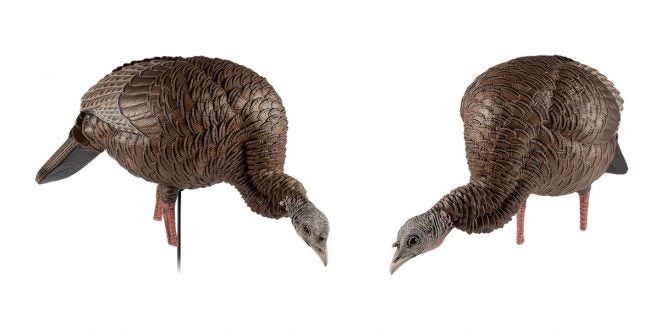 Back in 2019, I reviewed the Avian-X HDR Jake Turkey Decoy here on AllOutdoor. It's the most-realistic turkey decoy I have ever seen or used, and I've seen more than a few. Avian-X recently announced a new turkey decoy in their HDR line of ultra-realistic decoys, the HDR Feeding Hen Decoy.
Everyone knows turkeys don't feed when they're nervous, so a feeding hen decoy sends a good message to other turkeys: Everything is okay here and there's nothing to fear.
That's exactly how you want that big gobbler to feel — right up until you drop the hammer on him. That makes this feeding hen decoy a natural fit for spring turkey hunting, especially later in the day when gobblers are out trolling for single gals. Here are some manufacturer specs:
Durable blow-molded design for many seasons of use
Relaxed feeding posture signals contentment
Authentic rubber-molded leg stubs
True-to-life paint scheme and feather detail
Flocked rump section for added realism
Lightweight composite stake that stores in the tail
Realistic movement without unnatural spin
Includes: Feeding Hen Decoy, Composite Stake, Decoy Bag
MSRP: $139.99
"The new HDR Feeding Hen decoy by Avian-X perfectly imitates a mature hen feeding with her high exposed back and lowered primary wing feathers. Place her with the new HDR Strutter following behind for the ultimate mid-day to late-morning decoy set up. When turkeys are still in larger flocks, another deadly early season tactic is to add a few hens to the decoy mix. The HDR Feeder's natural posture is perfect for this ploy, and adding two or three decoys creates a natural-looking flock.

"The HDR decoys' blow-molded construction from hand-carved designs provides unbeatable detail and durability in this premium turkey decoy. Like all HDR decoys, the HDR Feeder features rubber-molded leg stubs for a natural appearance. Her lifelike paint scheme, feather detail and flocked rump section leave nothing to chance.

"The decoy comes complete with a carry bag and lightweight composite stake that safely secures and stores in the tail. Like all Avian-X HDR decoys, the Feeder has a realistic movement without an unnatural spin."
That last part is important; if you have ever hunted turkeys on a windy day with cheap decoys, you know they love to spin around like a top; not exactly natural. I found this new decoy listed here for well below MSRP.