The Path Less Traveled #004 – ALPS Mountaineering Mystique 1.5 Tent Review
Andrew D 02.22.21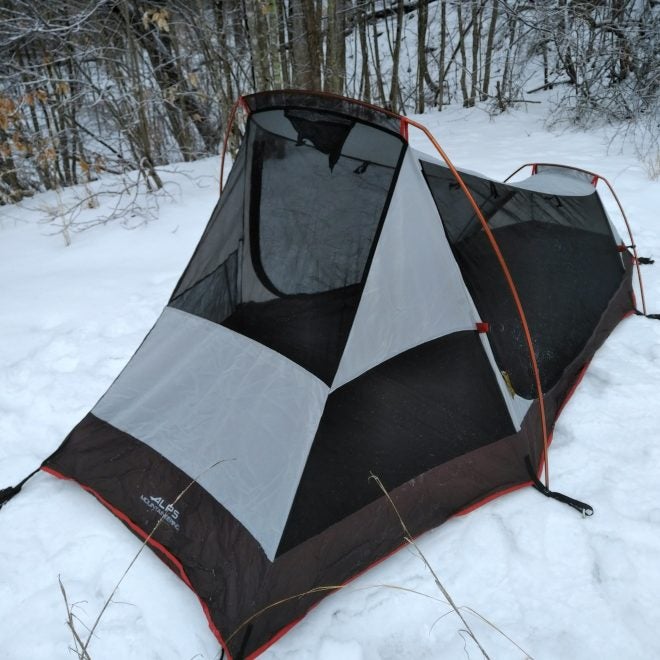 ALPS Mountaineering Mystique 1.5 Tent Review
ALPS Mountaineering – An "OG" Innovator
This review is going to cover my experiences with the ALPS Mountaineering Mystique 1.5, a three season double walled tent meant for someone who is ready to throw a little more than a hundo on a place to sleep comfortably while outdoors.
---
Welcome to our recurring series of "The Path Less Traveled." In this series, we want to take you along for our exploits out in the wilderness while hiking, camping, exploring, and general adventuring. This will include our small daily victories, foibles, tips, tricks, and reviews of gear we authentically appreciate and frequently utilize. While a well-worn trail can often be the pathway to a leisurely day, the paths less traveled can often spur on some of the greatest memories, misadventures, and fun we could imagine. Join us in the Comments as we share our travels and hopefully, we can all come together for a greater appreciation of the outdoors.
---
Company Info
Active Lifestyle Products & Services [ALPS] is a company that has been around for nearly 30 years and was created by renowned Kelty tent designer, Dennis Brune. Dennis was making five pound two-person tents in the late 70's and 80's, back when Kelty was one of the big innovators of the camping/outdoors market.
These days, ALPS makes gear for a variety of markets under various sub-brands, but the original ALPS remains in the mid-range (price) long lasting durable gear that holds a solid limited lifetime warranty. The company is still operated by Brune and family, it seems there is a strong tie to keep the name untarnished.
Product Info – ALPS Mountaineering Mystique 1.5
The ALPS Mountaineering Mystique 1.5 is a 1,871g – 2,182g (4 Lbs, 2 Oz – 4 Lbs, 13 Oz) tent, depending on the configuration. The tent itself is mostly no-see-um mesh with a poly taffeta (think tarp material "bath tub" floor) and a 75D 185T polyester rain fly which is optional on nights with no expected rain.  It comes with two collapsible aluminum poles, 14 tent stakes (14 gr [0.5 Oz] each) and guy lines for tensioning the rain fly. The rain fly is a standard polyester fly, but 75D, which will potentially last longer (while being heavier) than other materials.
ALPS Mountaineering's Mystique 1.5 tent is primarily constructed of 75D 185T polyester, and 75D 185T poly taffeta tub that has been coated to retain a 3000mm hydrostatic head.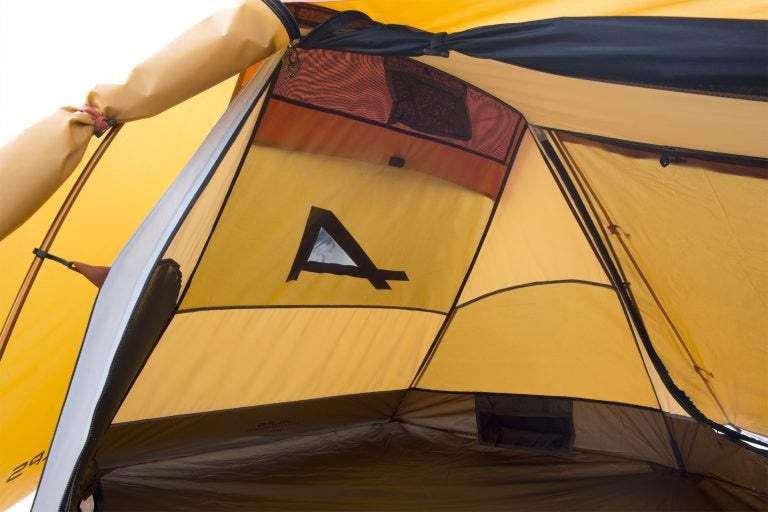 As stated, the ALPS Mountaineering Mystique 1.5 is the "Goldilocks" of the Mystique line. I have superimposed all three Mystique tent sizes onto one image. I admit, it is a little difficult to look at due to the low quality, but it gives a good understanding of how the 1.5 stacks against the others.
1.0 – Red
1.5 – Black
2.0 Green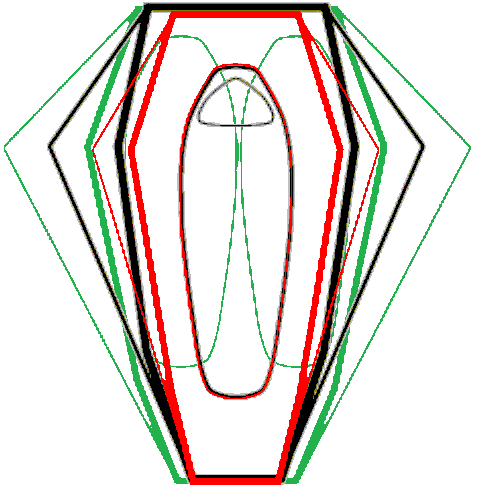 Additionally, with my purchase, I received the Mystique 1.5 Floor Saver. This is a 200g (7 Oz) ground sheet to protect the bottom of your tent in sketchy terrain (some say that it also keeps you warmer). It is nearly identical to the bottom "tub" shape of your tent. Ground tarps that cover much more ground than the tent itself can retain water on top of itself, in-between it, and the bottom of the tent leading to water soaking in once the material has saturated. ALPS says this about their tent:
"The Mystique is a 2 pole, non-freestanding tent and is one of the most lightweight models in our line. But just because it is lightweight does not mean that we've cut any corners or left out any ideal features. The Mystique comes equipped with #8 zippers, factory sealed fly and floor seams, and 2 mesh doors for great ventilation and easy entry and exit. The weatherproof fly provides a vestibule over each door and has a vent that you can keep open or closed. So, if weight is an issue and quality is a must, there's no better choice than the Mystique."
Observations
I find the Mystique line of tents to be supremely better than the mass-market $39.95 dome tents found at Wally World, Aldi, and wherever else contracts a few shipping containers from a random manufacturer every year. While the materials are durable and not heavy, they are being outclassed by many small names in the game; albeit, rarely at this price point. I find this tent to be the threshold of what I would classify as an adequate "first serious tent." Not entirely heavy, not very light… just good in all measurable ways.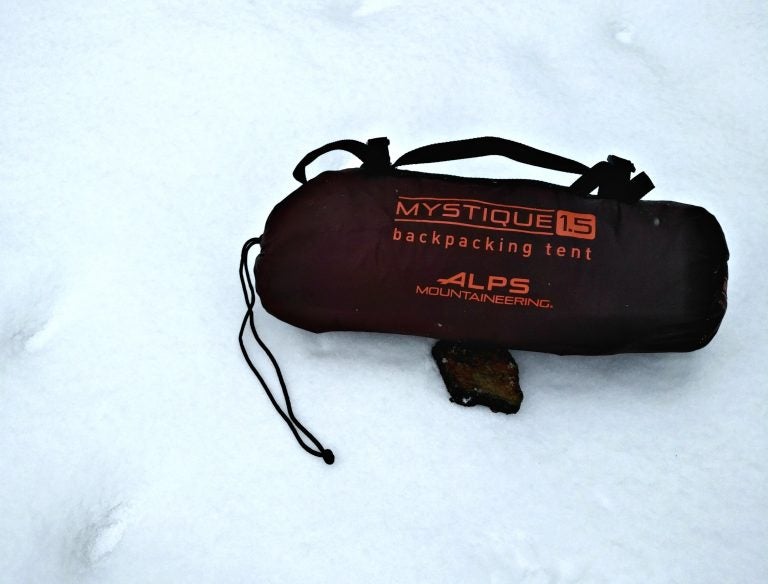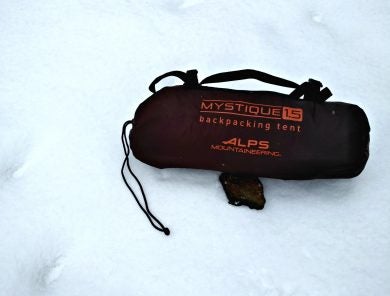 The Mystique 1.5 Ground cover is a well-constructed piece of equipment that I believe came in its own drawstring bag (I bought this tent used). It has longer than necessary webbing loops and is double stitched in a lot of places. The ground cloth feels sturdier and more refined than my typical Tyvek sheet cut to size (Tyvek is 62.7 grams per square meter [1.85 Oz per square yard]). For a company-made, dedicated item, the only thing I can knock it for is the weight, which is nearly double what I'm used to.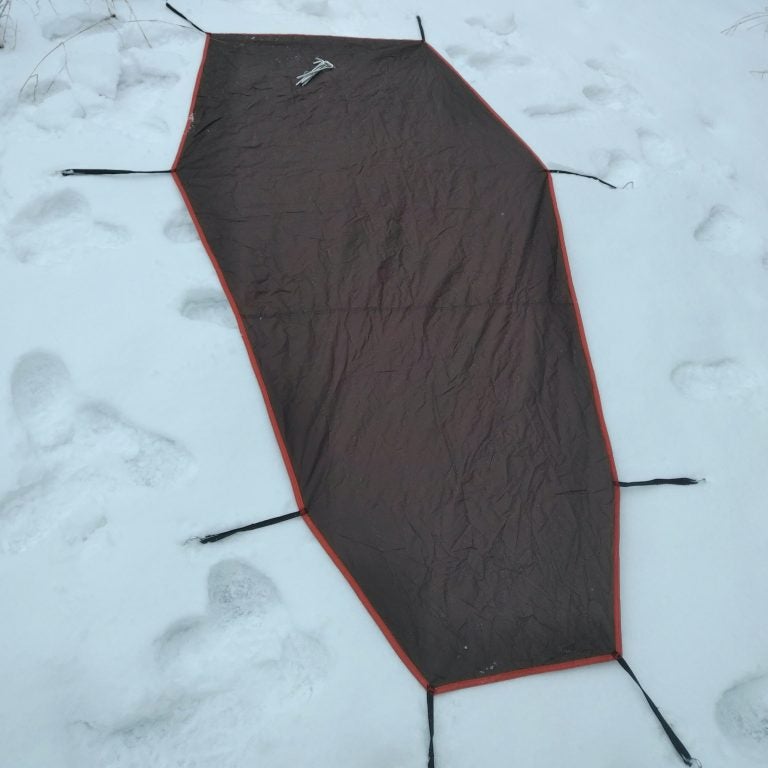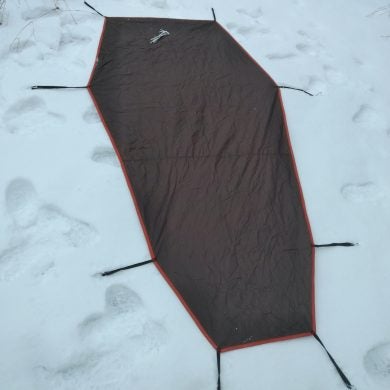 When ALPS designed this tent, I really wonder how the designer decided on placing the side entrances when a front entrance could have probably saved a lot of weight on zippers and rain fly material for two vestibules. I know this is purely preferential, but side entry tents are not my favorite. I can clearly see the benefit of the longer entryway on either side. At the range, my friends call me the Glock 26L, because I'm short in height (170 cm [5'7″]), but long in… storytelling? Being vertically challenged, I don't mind a front-entering tent that may only have a 28″ entry height. Speaking of zippers, both side door zippers had no difficulty in opening or closing. There were no snags, stutters, or turbulent areas needing additional attention.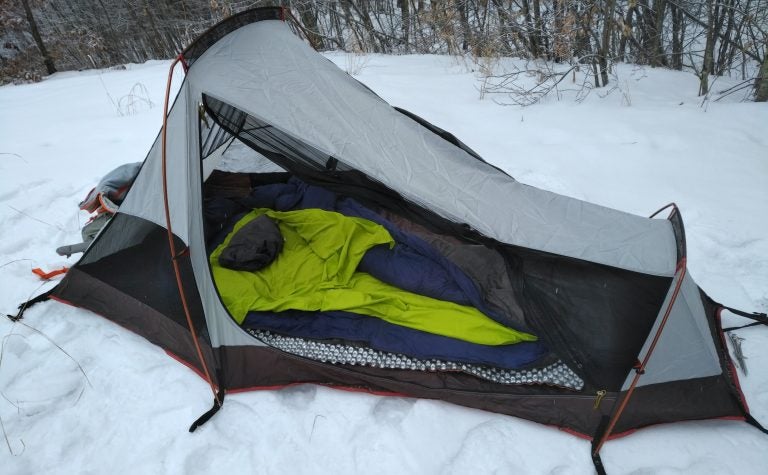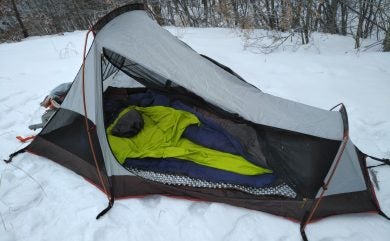 Tent setup is under five minutes when in single wall mode. I also noticed while the tent is classified as a non-freestanding tent – it sure did a decent job of staying upright while staked. Now, I wouldn't expect it to stay this way for long, but well… this might be something I look into on a warmer day!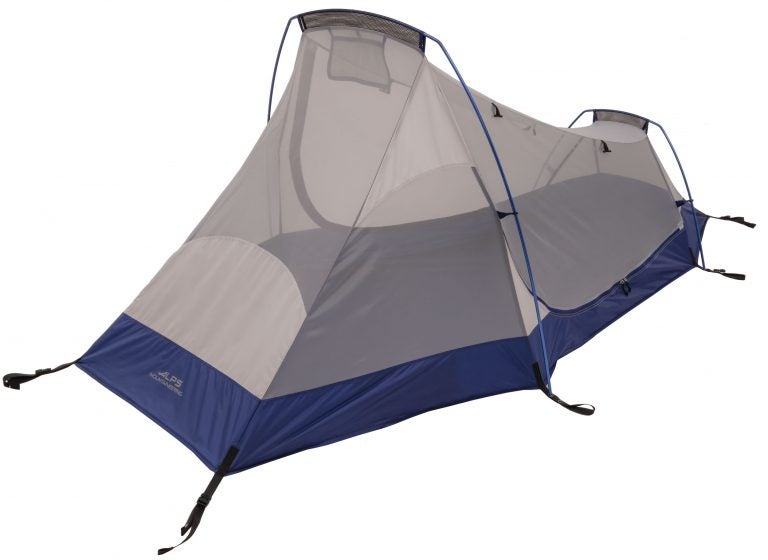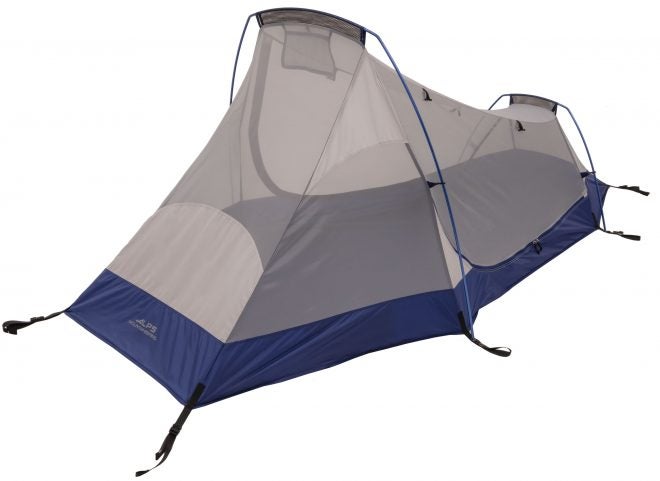 The rainfly for the Mystique 1.5 may be its aesthetic downfall. There are two pieces of stitched line on the underside of the rain fly that are supposed to be threaded onto the tent poles when installing. If your tent is already established as a single wall, I find these non-Velcro based loops to be an annoyance due to having to take the pole out of the grommets on the tent body just to have these two connections secured. This could have clearly had a better option, right ALPS? The zipper for the right side of my tent's rain fly did not want to comply with opening without finely caressing it. You know those times at two in the morning where you've had a few beer bottles of water and can't get out of the ten fast enough? Yeah, that is not the time to figure out that you have to whisper sweet nothings into the zipper's ear and finagle with it so awkwardly that even nineteen-year-old you would have gotten Becky's triple-clasp bra off faster than you got out of your own gosh darned tent. This may be remedied with some sort of zipper lubricant (this will be investigated and updated when determined). In addition to this, the rain fly's zipper starts at your feet. This requires a near-full opening of the inner tent to reach. On the plus side, the rain fly is well made and seam taped better than I could do on my own. I will likely still silicone spray the rain fly, as I do all my tents… just for redundant ease of mind.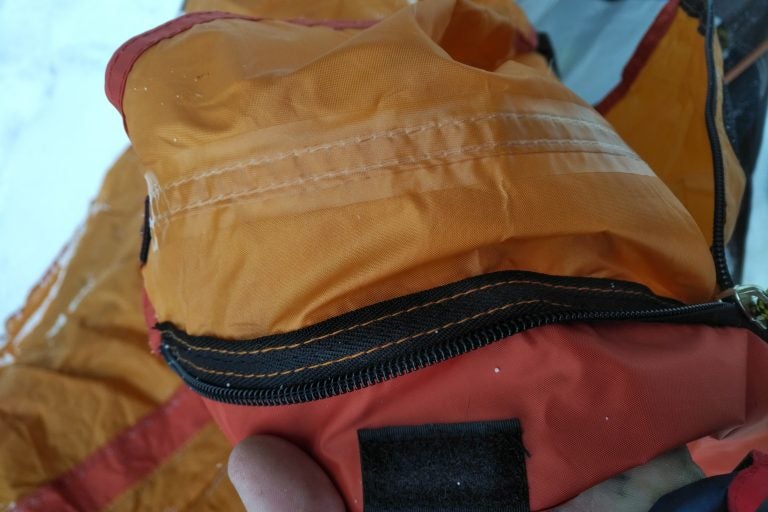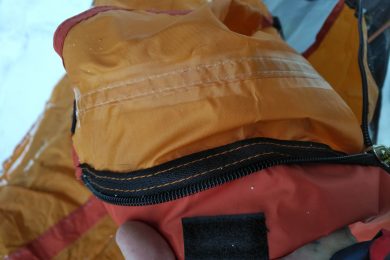 On my first outing with this tent, I was not able to get the rainfly to be taut in any manner. I'm not sure if this is my fault or whether the materials have stretched after getting wet a few times. I doubt it, as the tent seemed nearly-new. Additionally, and retrospectively, the used tent did not have the supplied guy-lines with it. I jerry-rigged two stretches of paracord (who doesn't carry 10m of cordage with them while camping??!) to keep the more vertical portions of the rain fly from touching the mesh walls of the inner tent. The imperfect setup was likely me, and I'll look more into this next time camping with better weather.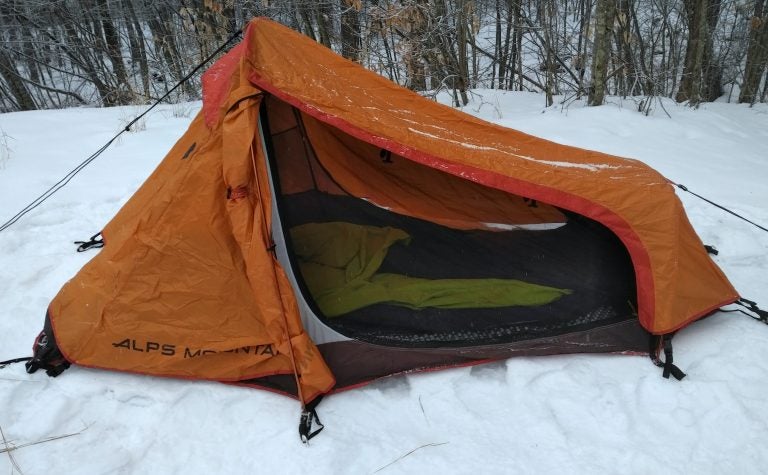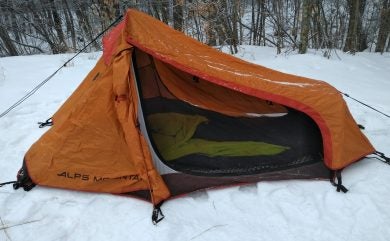 The tent fared well in my first test which is very much out of its window of 3-season expected use. With the higher canopy, touching the tent walls did not occur when I did not want it to, and I had no major issues with condensation. I did shake off the rain fly in the morning to remove condensate, but this is expected. With the Mystique being a tent for one and a half people, I still was able to remain warm inside, along with my Lithic 20* down bag, liner, with a used emergency blanket stuck in-between the bag liner and sleeping bag. Around 03:00am, my toes were getting cold, so I decided to wrap a decent amount of my body in the emergency blanket while still inside my sleeping bag. If anyone was watching, they probably would have thought I was a convulsing man-sized caterpillar trying to eek its way out of a cocoon…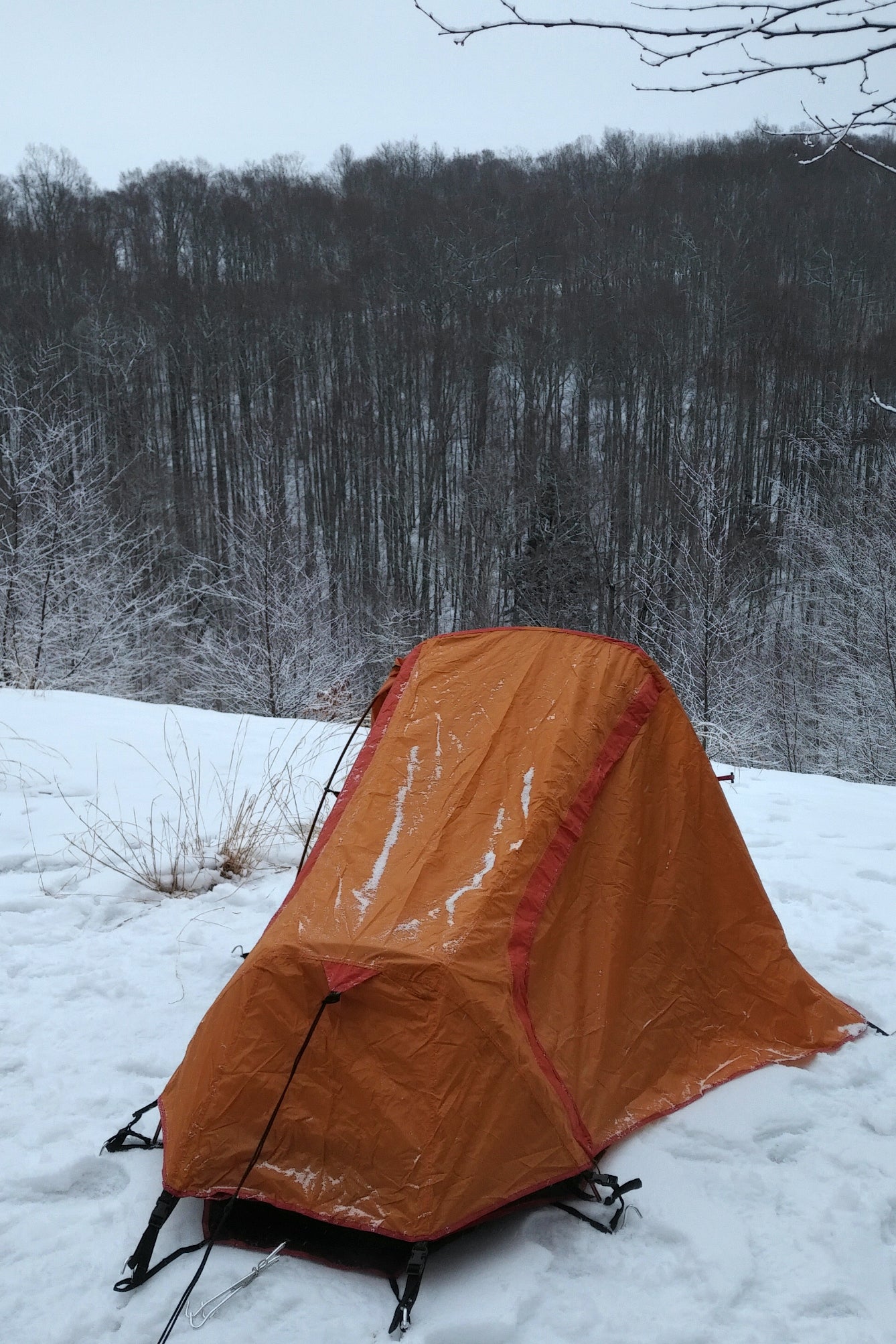 Comparison
The outdoors camping market is moving to higher tech materials at a breakneck speed which we haven't seen since the mid-80s – 90s when processing aluminum became cheap enough everyone started to do it. We've seen the wave of carbon fiber doo-dads, and even the democratizing of Cuben Fibre Dyneema, which is one of the most "space age" cloth materials out there in 2021. ALPS Mountaineering seems to be easing into a realm of designing safe and reliable products that meet the standard of lightweight gear. There aren't too many dynamic or game-changing aspects in the Mystique line, nor the Lynx series of tents also reviewed on AllOutdoor. I don't see this as a bad thing, per say, but I am betting that the foreign manufacturers/suppliers of their products will slowly be chipping away at their market share by flooding eCommerce sites with tons of amazing light, but sketchy gear that will get rave reviews for being half the weight of the established brand tents.
Looking at the current market in 2021, Kelty, REI, Mountainsmith, Six Moon Designs, Lithic (If they continue to exist much longer, I will be surprised), or maybe some of MSR's gear comes in at similar weight and cost as the ALPS Mountaineering Mystique 1.5.
This again is where ALPS shines – they're making a light and non-expensive product that will last. Consistently. If you want lighter, get ready to chuck another Benji at the cashier, because as I will say again, outdoor activities are getting expensive. This tent is a perfect entry point into serious camping; one you'll not regret growing out of.
Specfications
PRICE
Tent – $169.99 MSRP as well as Amazon's price (as of Feb 19, 2021)
Ground Sheet – $26.99 MSRP. $25.46 on Amazon (as of Feb 19, 2021)
As per ALPS Mountaineering's site:
FEATURES
Lightweight two-pole design with 7000 series aluminum poles
75D 185T polyester fly with 1500mm coating resists UV damage and stays taut
Factory-sealed fly and floor seams provide best weather protection
75D 185T poly taffeta floor with 3000mm coating
Extra-large #8 zippers on doors and vestibules
Easy entry and great ventilation with two mesh doors
Weatherproof fly provides a vestibule over each door
Fly vent can be kept open or closed, depending upon the weather
Includes 7075 aluminum stakes, guy ropes, and mesh storage pocket
Floor saver available
Base size: 4′ x 8′
Center height: 3′
Vestibule depth: 20″
Tent area: 25 sq. ft.
Vestibule area: 13 sq. ft.
Minimum weight: 4 lb. 2 oz.
Total weight: 4 lb. 13 oz.
Packed size: 5 " x 18″
Pole diameter: 8.5 mm
Use rating: 3 Season
Sleeps: One plus gear
Item: Mystique 1.5 Gray/Navy
Product Number:  5122750
Mystique 1.5 Ground Sheet
Dimensions: 7'9 x 3'9 x 2'3
Weight: 7 oz.
Fabric: Polyester
Corner Attachment: Webbing Loop
PRODUCT NUMBER
Item: Mystique 1.5 Floor Saver Navy
Product Number: 7711901