Benelli's New All-Weather Performance 20-Gauge Super Black Eagle 3
Luke Cuenco 03.03.21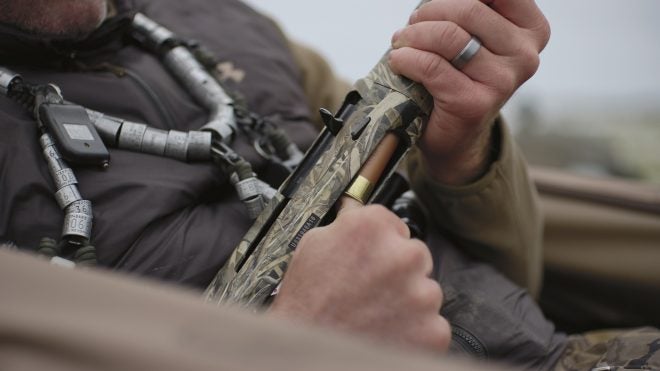 Benelli is offering a new, lightweight 3″ shell capable semi-automatic shotgun for all avian hunters. The New 20-Gauge Super Black Eagle 3 is available in black synthetic, Mossy Oak Bottomland, Realtree Max-5, and Gore Optifade Waterfowl Timber. All-new Super Black Eagle 3 20-gauge shotguns will come with the Combitech & Comfort Tech 3 synthetic recoil pad and cheek comb pad. The new shotguns are also now available in a left-handed configuration.
Benelli's New All-Weather Performance 20-Gauge Super Black Eagle 3
SBE 3 – the full redesign of our venerable Super Black Eagle platform. With carefully considered insights from our pro-staff and veteran hunters, Benelli design engineers have spent nearly 10 years in development with a focus on three areas of critical importance to the serious waterfowler: Improved ergonomics, intuitive, flawless functionality and an updated design, style and feel for the latest in modern waterfowling reliability that's all about the end game: Absolute superiority in the most unforgiving conditions.

All the amazing attributes that made the Super Black Eagle 3 America's favorite 31/2-inch chamber shotgun are now also available for southpaws in a firearm specifically engineered for those who shoulder firearms on the left side. Choose either a Realtree® Max-5™ camo pattern or a black synthetic stock.

Comfort Tech™ was the first of its kind. By splitting the stock diagonally and utilizing shock-absorbing chevrons, the entire stock was essentially turned into a recoil pad. This chevron system, now 13 years old, is still the most efficient design possible, and was the basis for the SBE 3 stock. The chevron size and location has been optimized on Comfort Tech 3. Furthermore, Benelli engineers have developed a new cheek comb pad, Combtech, which greatly reduces facial impact and vibrations.
Once again we can see that a reputable company is improving on old designs and further expanding the product lineup to accommodate for a wider array of shooters such as left-handed ones. The Super Black Eagle 3 runs on Benelli's clean-burning Inertia-driven system which is purported to go upwards of 500,000 rounds without a hiccup. Now that same technology is available in 20-gauge for those who prefer or need a little bit less aggressive recoil out of their hunting shotguns.