Introducing The Mute Lightweight Polymer Rifle and Pistol Suppressor
Luke Cuenco 03.05.21

If you're looking for a new plinking suppressor or perhaps even a new suppressor for your favorite AR-15, 22LR, or 9mm then The Mute is a new lightweight option now available.
The Mute uses a proprietary polymer called D28 as part of its construction making each version of its suppressor extremely light as well as giving the shooter the benefit of reduced mirage effect. The suppressor is now available in both 5.56, 9mm, and 22LR, but versions will be out soon for both .30 caliber and .45 caliber so you can expect to be able to place one of these lightweight suppressors on your favorite hunting rifle soon.
Introducing The Mute Lightweight Polymer Rifle and Pistol Suppressor
"REVOLUTIONARY DESIGN AND MATERIAL
The Mute integrates self-thermal regulation via the Thermal Shroud function that regulates heat for less mirage and reduced muzzle rise, recoil, and sound compared to an unsuppressed weapon.

SUPERIOR MANUFACTURING
Our proprietary D28 material and next-gen unibody construction methods deliver the highest level in all details and ensure best-in-class performance."
I'm quite impressed with the fact that their 22LR model suppressor weighs in at only 2.5oz. The 5.56 variant of the Mute weighs in at just over 11.4 oz. The mute is currently on sale for $599 for introductory pricing which is expected to last until May 31st.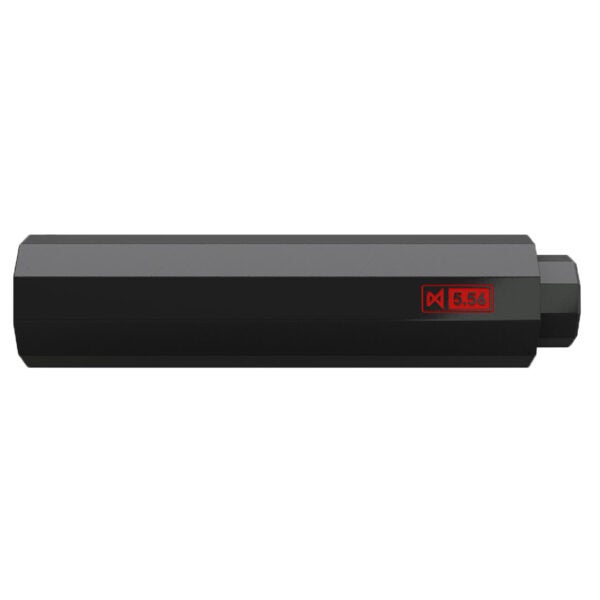 The Mute 5.56
CALIBER: 556
MODEL: F4-M556
LENGTH: 7.89in
WEIGHT: 11.4 oz
DIAMETER: 2.15 in
DB: 119
MATERIAL: D28
MINIMUM BARREL LENGTH: 5″
Available in 1/2″ x 28 TPI and 5/8″ x 24 TPI
The Mute 22LR
CALIBER: 22 LR
MODEL: F4 -M22
LENGTH: 5 in
WEIGHT: 2.5 oz
DIAMETER: 1 in
DB: 108
MATERIAL: D28
Available in 1/2″ x 28 TPI
The self-thermal regulating aspect of the suppressor's design is quite interesting as it would provide the end-user with a safer device to use (cool to the touch) and also reduce any heat mirage produced by the suppressor. My biggest question in regards to this particular design is the proprietary D28 polymer material. Polymers aren't well known for holding up to repeated high pressures or temperatures and 5.56 ammunition isn't exactly the least aggressive cartridge currently on the market.
I could see this design working out perfectly well in the 22LR configuration as well as the 9mm offers; however, I will have to see some more testing done on the rifle caliber models to see if they can handle the abuse of intermediate rifle cartridges.
At the time of writing, The Mute is available in 22LR and 5.56 only. Eventually, .30 caliber and .45 caliber versions of the Mute will be made available sometime in the future. If these turn out to be durable enough to sustain frequent use, then I would probably take one of the 30 caliber options and put it on a 300 blackout rifle which would make a great hog hunting gun.