Guns, Bows and Knives Being Auctioned off By Ted Nugent
Luke Cuenco 03.11.21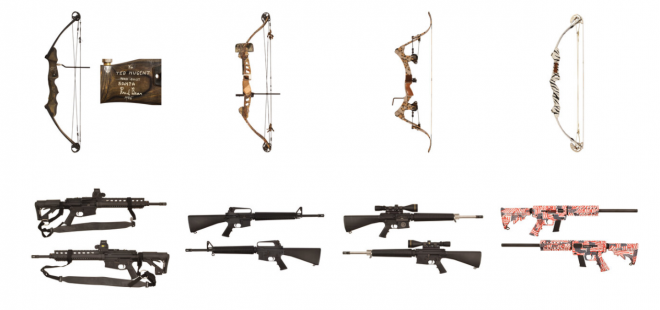 Ted Nugent is auctioning off many firearms, bows, and other items from his personal collection. As an avid hunter and sportsman, Ted has a wide variety of hunting bows, shotguns, and rifles that he has now added to his list of auctioned items, as well as a few other neat items like hot rods, albums, and custom decor.
I picked out a few interesting items I found on the tednugentauction.com website in their online catalog. There will be a live in-person auction held in Waco, Texas at Tucker Hall located at 7767 N State Highway 6. The auction is on March 27th at 10:00 am. You can reserve a seat for the auction here. Here are some of the interesting firearm related items from the auction:
Ted's Custom Renegade Compound NugeBow
This compound hunting bow is 39″ in overall length and features a right-handed draw and snakeskin Illusions camo.
Ted Nugent's Carried .357 Magnum Colt Python
The Colt Python made a return at the beginning of 2020, but now you can own an authentic original that was personally owned and carried by Ted. This Colt Python features a 6″ barrel and Pachmayr grips. 
Chiappa Triple Threat Tri-Barrel Shotgun
I've always wanted to own one of these odd Italian firearms; however, I could probably do without the camouflage. This shotgun is 28″ in overall length and comes in its original case with spare chokes for each barrel.
Custom AMT Automag .22 Rimfire Magnum
This custom AMT Automag was made personally for Ted Nugent from Larry Grossman (also known as the Godfather of the .44 Auto Mag). The Automag 22 was personally engraved and addressed to Ted as a gift.
There are a lot more firearms featured in the auction catalog featuring many hunting shotguns, rifles, and pistols as well as many of Ted's personal hunting bows and knives. Even if you're not a huge fan of Ted Nugent, this might be a good opportunity to snag some interesting guns while they're up for auction.