AllOutdoor Review: Pelican Vault Handgun Case Model V200
Russ Chastain 03.16.21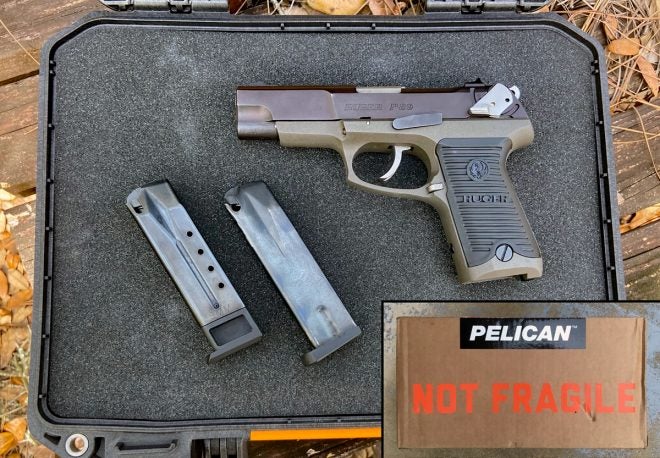 When a gun case shows up in a box marked NOT FRAGILE, you know that someone, somewhere expects it to be mighty tough, and that's exactly what I found inside the box when this Pelican Vault V200 pistol case arrived at my doorstep a while back: a tough case that is not interested in compromise. Pelican calls this sizable case a "medium." Here are some specifications for it:
Ideal for a large handgun, or multiple handguns with extra magazines
High-impact polymer assures protection of your firearm, via road, trail, or air
Crushproof, dustproof, and weather resistant
Heavy duty handle is ergonomic and tough
Five layers of protective foam
Two push button latches offer secure closure with easy-open access
Two 5/16″ diameter stainless steel padlock loops for extra security
Interior: 14″ × 10″ × 5.5″
Exterior: 15.41″ x 13.08″ x 6.16″
Lid Depth: 1.57″
Bottom Depth: 3.93″
Total Depth: 5.5″
Interior Volume: 0.45 ft³
Body material: Polyethylene
Latch material: ABS
Weight with foam: 5.1 pounds
MSRP: $57.95
Pelican Vault V200
The Pelican Vault V200 is tough which is almost a given for anything bearing the Pelican brand. From the outside you see it has large latches, a large stay-folded hinged handle, burly steel-lined holes for padlocks, and reinforcement around the edges of both lid and base. It also stands nicely on edge when you set it down, which is always nice.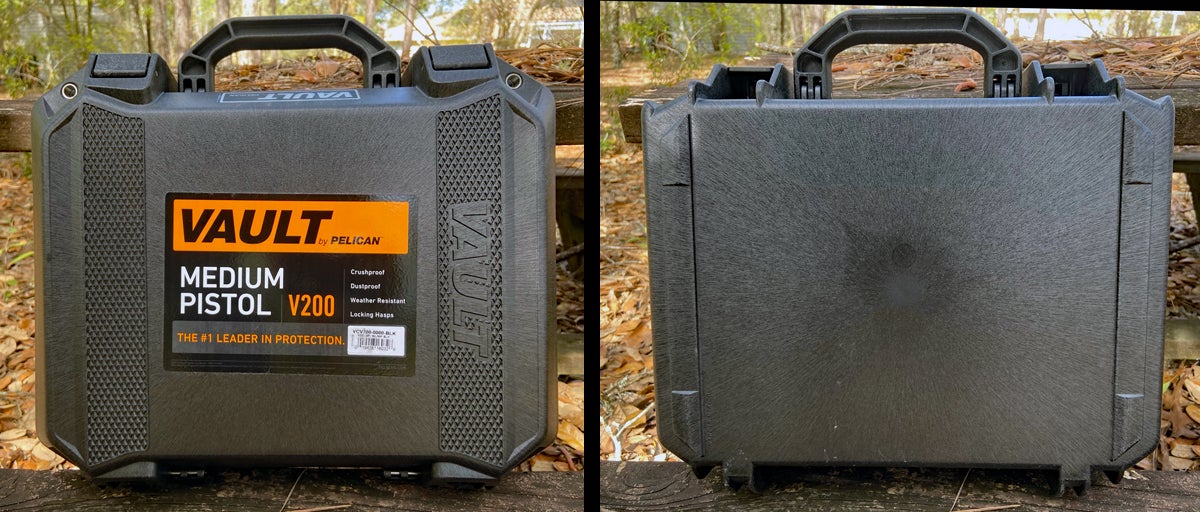 This is a good-sized case even though they call it a "medium." Reinforcement and protective structure is built in at latches, handles, and hinges. If you wish to remove the large sticker on the lid it will peel off without leaving behind any sticky goo.

I really like the latches on this Pelican Vault case. They are much easier to use than the latches usually found on Pelican cases, and perhaps best of all, there's no "slack" in this latch design. It stays closed fully unless the button is pressed. Depress the button and pull the latch out, and it will open easily. The latches also close with much less force than typical Pelican latches require.
Pelican says this case is crush proof, dust proof, and weather resistant. The handle stays folded when you push it into that position, and when the handle is open it can move freely on its hinges, but not so much that it will pinch your fingers.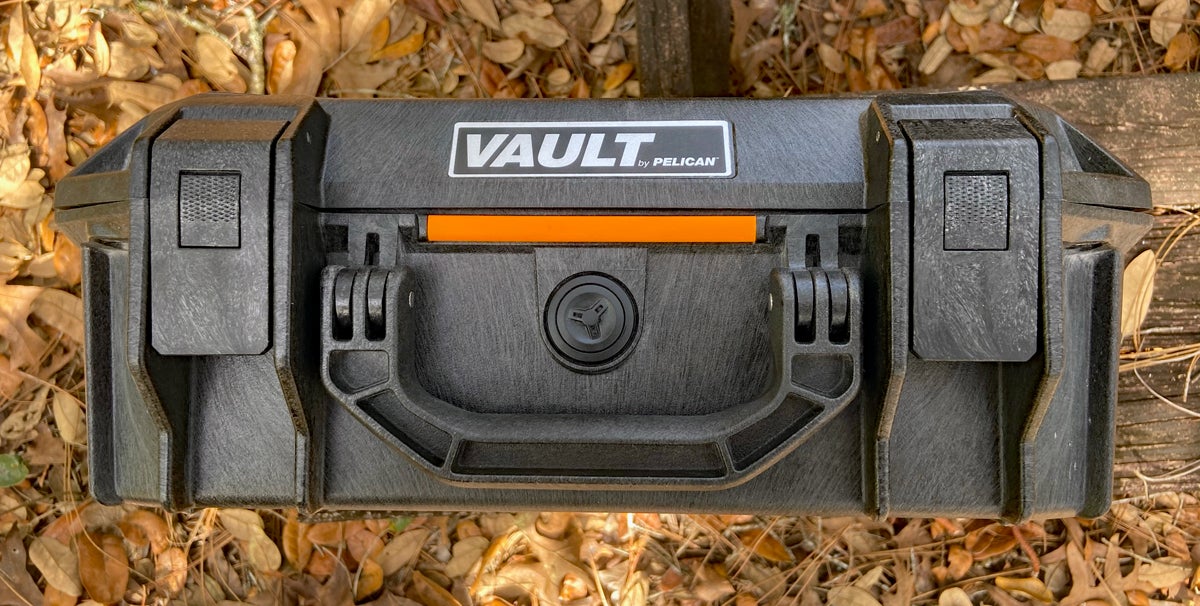 When you open the Vault V200, you see foam; not convoluted egg crate foam, just plain ol' foam. The lid has two tiered layers (see photos) while the bottom has three layers. This means you could easily fit in two layers of handguns. The sturdy pair of hinges allow the lid to open a little more than 90 degrees, so it should stay open on a calm day.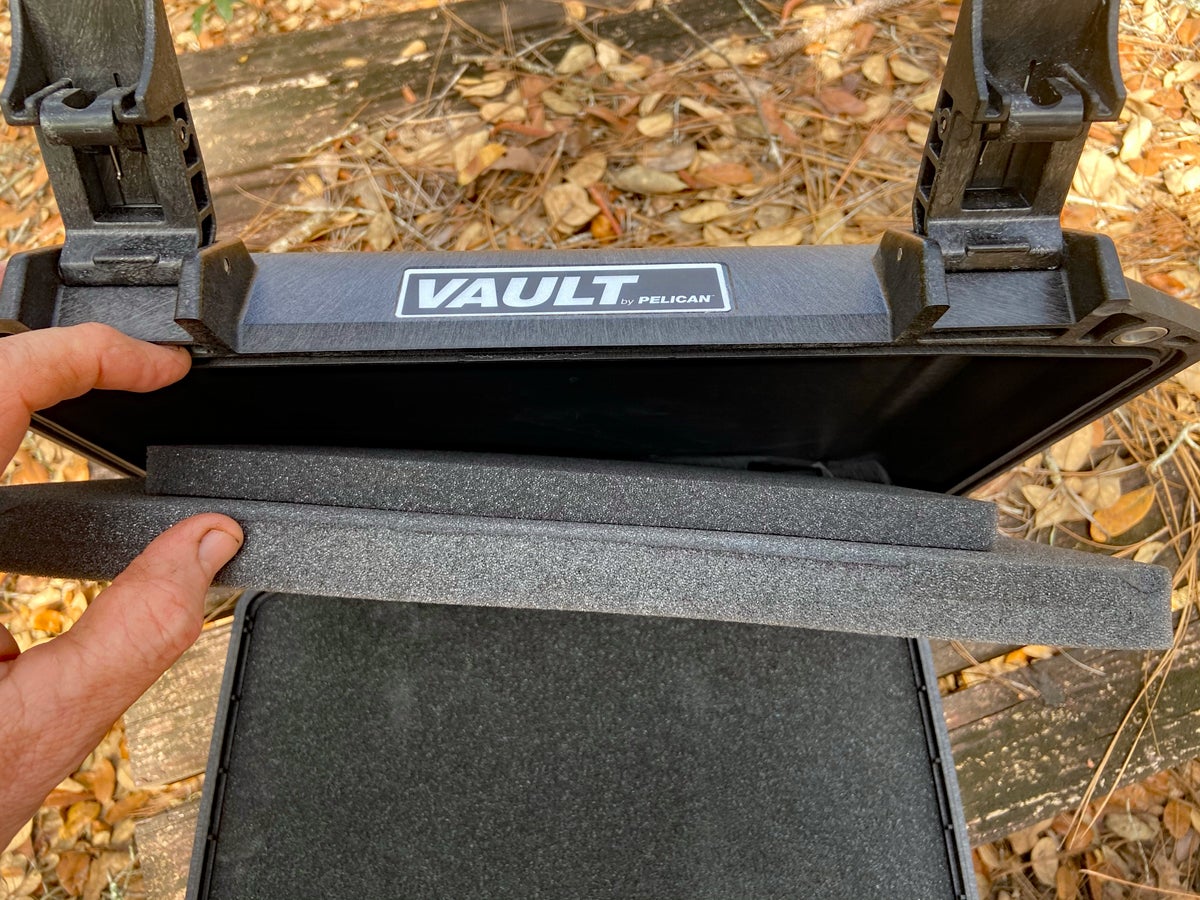 You can arrange the base layers of foam to suit your needs. I included pics of a full-size Ruger pistol and a couple magazines to give you an idea of scale. You could easily fit four full size pistols and spare mags in this case, and of course if you wish to give a gun more protection you can always cut its profile out of a foam layer to better prevent it from moving.
Final Thoughts on the Pelican Vault V200
The Vault V200 is a tough handgun case, and it should hold up for many years. I like the latches because they operate more easily and lock more securely than Pelican's typical latches, and I like the customizability of the foam. The hinges are tough and should last a long time, but it would be nice if the lid opened up all the way to lie flat to provide some padded room for you to spread your gear out a little. The stainless steel padlock rings are a nice touch, and I'm not sure they are any tougher than the metal lock rings on other Pelican cases such as the 1535 Air case, but they look tougher to me. At the time of this writing, you can pick up a Pelican Vault V200 pistol case at their website for $57.95.