New Phantom Black Editions Available for Rock62 and AX1 Blades
Luke Cuenco 03.31.21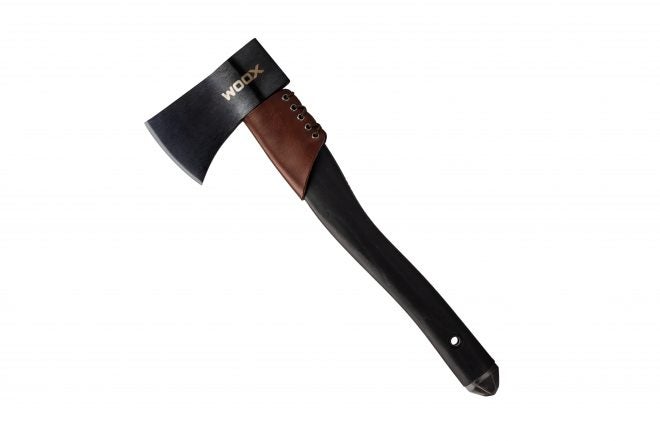 If you're looking for a new axe or knife to spend your stimulus money on for the spring outdoors season then WOOX has just introduced a fresh new look for their AX1 axe and Rock62 knife with the Phantom Black treatment. The Phantom Black Editions of both the knife and the axe feature a murdered-out black treatment making them appear more stealthy and modern.

Phantom Black Editions of WOOX AX1 and Rock62 Now Available
"Hickory, North Carolina – March 30, 2021 – In 2020, Italian-American outdoor gear company, WOOX, introduced the AX1 axe and Rock62 knife. WOOX has now launched the Phantom Black edition of both product lines.

The new Phantom Black editions feature new visual elements, including a blacked-out finish of the handles, blades, and other metal components.

The AX1 combines stunning craftsmanship with an innovative tomahawk-style design. The octagonal Appalachian hickory handle adds durability and ergonomics. The wedge-shaped head is made of tempered carbon steel and is cerakoted to offer even greater durability and weather resistance. Rounding off this great piece of gear is a heavy-duty steel, diamond heel in the pommel.

All WOOX Rock62 knives feature superior Sleipner Steel (Rockwell HRC 60-62), custom fitted screws, and German Micarta handles.

Both the Rock62 knives and AX1 axes are designed in Hickory, North Carolina and made in Italy. The new Phantom Black editions are available now and have a retail price of $179.00 for the Rock62 knife and $199.00 for the AX1 respectively."
Although I do like the classy craftsmanship of the wood that WOOX puts on their stocks, axes, and knives, I can also see how some people would want a different-looking set of furniture for their Axe and Knife if they are planning on deploying them for daily use. The Phantom Black series might be for those who like the style and craftsmanship of the two WOOX blades, but don't want to run the risk of damaging their walnut grips out in the wild.