NEW Comp-Tac Ruger MAX-9 Holsters for OWB and IWB Carry
Luke Cuenco 04.27.21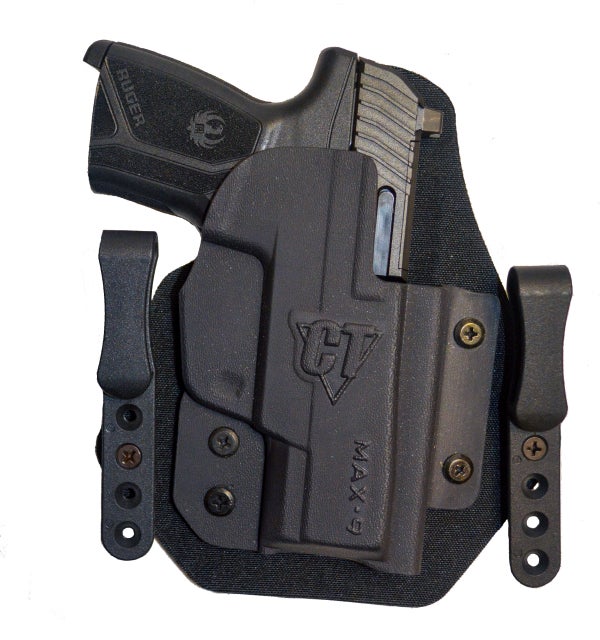 If you've recently picked up a Ruger MAX-9 sub-compact pistol and are still in search of a holster, then look no further. Comp-Tac has just released 3 new Ruger MAX-9 holsters by adapting some of their popular existing holster setups. Comp-Tac has both Inside-the-Waistband (IWB) and Outside-the-Waistband (OWB) holster options depending on your style of carrying.
Comp-Tac Introduces New Holsters for the Ruger Max-9
HOUSTON – Comp-Tac® recently added new Ruger® MAX-9™ fits for the Sport-TAC™, Infidel Max™ and Warrior™ holsters.

These holsters give Comp-Tac customers choices in both inside-the-waistband (IWB) wear, hybrid holster (foam backing and Kydex® shell) or all-Kydex wear, and outside-the-waistband (OWB) wear.

"As new weapons come out, Comp-Tac strives to expand their holster selection to match," said Gordon Carrell, Comp-Tac general manager. "The Ruger MAX-9 is the latest weapon released that is built to accommodate a micro red-dot sight. As we design and release new holsters, we make sure to accommodate the newest features. All the holsters for the MAX-9 come with optics compatibility. For concealed carry, range use or even competition, we want our holsters to work with the most popular gear that is available."

The Sport-TAC Holster is a hybrid, inside-the-waistband holster designed to comfortably carry a 4" handgun at the 4-5 o'clock position. The Sport-TAC features a 600D interlock padded backing that provides cushion and flexibility for extreme comfort, while the Kydex shell holds your handgun securely with adjustable retention.

The Infidel Max Holster is an all-Kydex IWB holster designed to be worn behind the hip at the 4 o'clock or 5 o'clock positions. With an easy-on, easy-off single clip, this holster is a favorite for users who want the ability to put on their gun or take it off as their environment changes.

The Warrior Holster is an outside-the-waistband holster that was recently tested and recommended by the National Training Officers Association (NTOA). The all-Kydex, pancake design is excellent for concealed carry or general range use.

All holsters can be seen at www.comp-tac.com. To see all holsters available for each make and model, use the "shop by gun" feature at the top of the website.