KlikBelts' collaboration shows off NEW Modular Klik Sling
Eve Flanigan 05.05.21

Modularity's been all the rage in the gun industry for the past few years. Interchangeable backstraps, reversible magazine releases, and self-customized AR platform rifles and pistols are now the norm, but shooting accessories have lagged in this regard, and slings are no exception.
Aside from one model that can go from one- to two-point configuration without a fuss, slings have lacked what might seem like a logical step into modular configuration. No longer is that the case. A collaboration between KlikBelts and fellow Austin company Black Collar Arms has produced a modular sling called the Klik Sling. It uses the most popular and broadly practical two-point configuration. Like many modular products, the sling is really a system of components rather than a single item.
Each Klik Sling system has three main parts. The biggest and most obvious is the body of the sling itself. The base is webbing, but there is also padding, a bit of elastic, and breathable lining for comfort.
Keeping with modern expectations and design, the body has a quick-adjust function. Rapid adjustments are ideal when transitioning from using the sling as a carry device to a shooting support, when changing positions from, say, standing to prone, or when changing the firing shoulder. Hung up in a barbed wire crossing and need to use two hands? Just fling the whole thing free with a squeeze of the buckle ears.
At each end of the sling are two AustriAlpin COBRA buckles (hence the Klik name). Those buckles match "tails," which stay attached to the gun and are ordered piecemeal in order to fit whatever attachment hardware it bears. There are four choices of attachment types, to match every long gun in the safe. There's a quick detach plunger, a standard swivel, an HK style hook, and a traditional thread-through webbing tail.
While the entry level price is substantial, it is possible to have one Klik Sling that easily transfers to every long gun you use with the simple "Klik" of its COBRA buckles into the tails, which stay attached to the gun. If you're fashion-conscious, there's a KlikBelt to match the sling – in black, multicam, or coyote.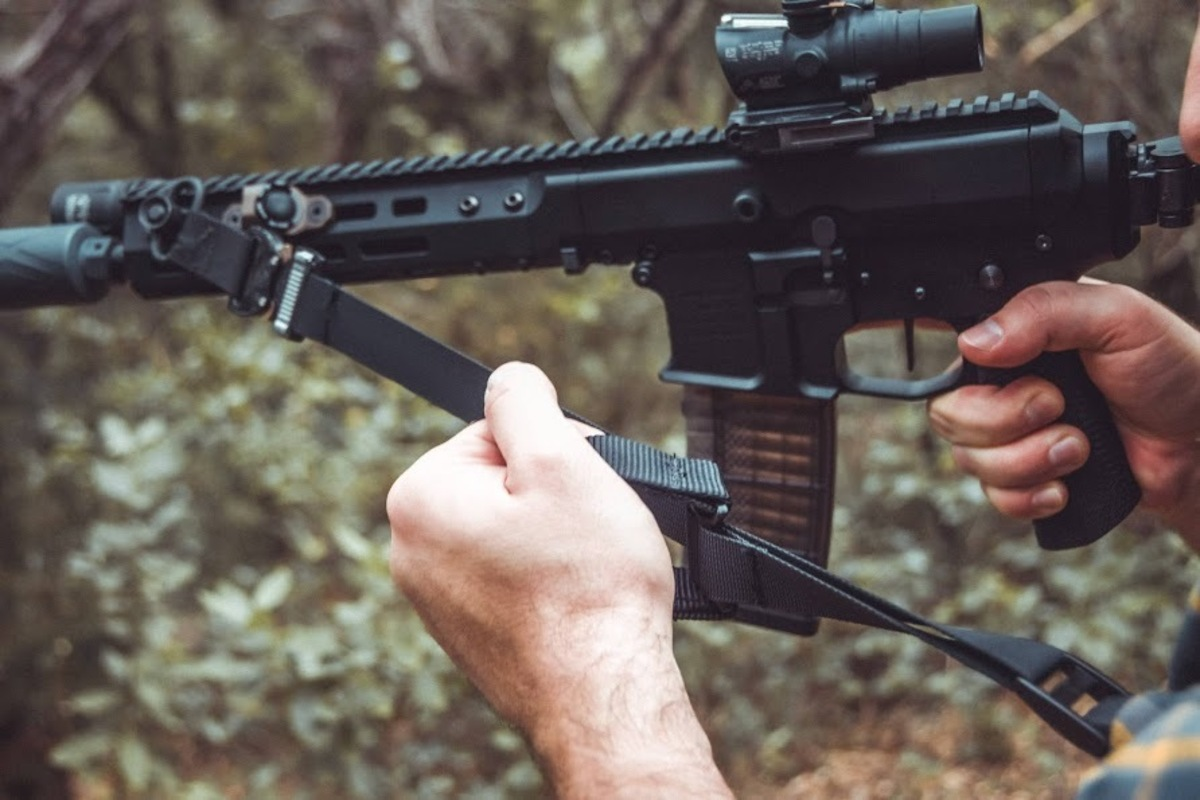 Specifications – Klik Sling
Minimum Length: 40″
Maximum Length: 67″
Padded Strap Length: 23″
Quick-Adjust Range: +/- 7.75″
Body Material: 1.75″ width, mil-spec nylon webbing with perforated body-side padding and 1″ nylon webbing adjustable sections. Zytel adjustment sliders, aluminum COBRA™ buckles
Tails Material: COBRA™ buckle, 1″ nylon webbing, U.S. made firearm attachment hardware
Made in the USA
Features – Klik Sling
AustriAlpin COBRA™ quick release buckles front and rear
Padded, mil-spec nylon webbing strap available in multiple colors
Webbing pull loop for quick, one-handed length adjustment
Additional front and rear length adjustment sections with elastic tail tamers integrated into Body
Tails available in QD, Sling Swivel, HK Hook, and Universal Strap attachment styles
The sling body is $119. Tails are priced individually by type and range from $19 to $27. Currently, direct order is the only way to purchase Klik Slings.