Affordable & Concealable – NEW Taurus GX4 9mm Micro-Compact
Adam Scepaniak 05.26.21

In the world of concealed carry – whether it is for hiking, camping, or your everyday errands between work – there is an entirely new category of firearms that has sprung up in the past couple years. That category that firearm owners can now peruse is that of the micro-compacts. SIG Sauer kicked it off with their P365 and Springfield Armory was soon to follow with their incredible Hellcat. Now even Smith & Wesson has an offering with their M&P-9 Shield Plus as well as Ruger in their Max-9. One of the latest entries to the party is the Taurus GX4 which punches in as one of the most affordable options yet.
Taurus News Coverage on AllOutdoor
Taurus is known for a few things within the firearms industry with affordability and good quality for their asking price being at the top of that list. If you want a firearm that doesn't break the bank, and it still flatly performs, then you absolutely want to take a look at Taurus. The Taurus GX4 will continue that trend as their newest micro-compact. All of the specifications for that pistol can be read below as presented by Taurus:
Caliber: 9mm Luger
Capacity: 10 Round, 11 Round, or 13 Round Option
Magazines: 2 × 11 Rounds | 2 × 10 Rounds
Firing System: Single-Action Only, Striker-Fire
Frame: Micro-compact
Grip: Polymer
Slide: Alloy Steel w/ Gas Nitride Coating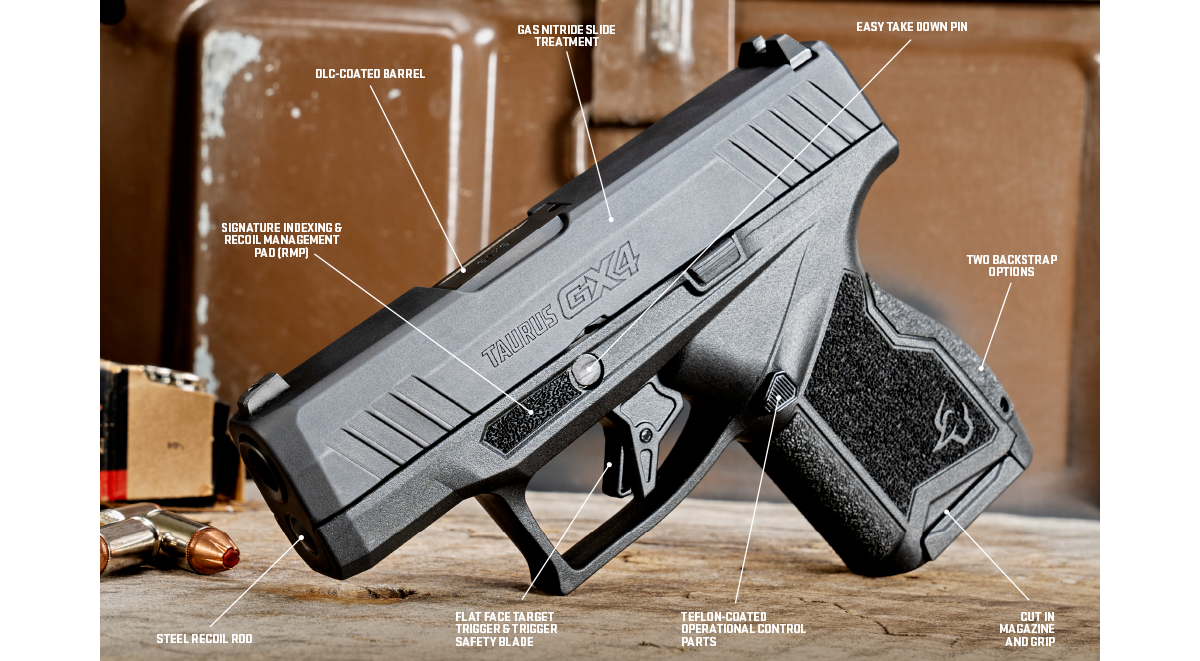 Barrel: 3.06″ Satin Black w/ DLC Coating
Overall Length: 5.8″ w/ Backstrap Small | 6.05″ w/ Backstrap Large
Overall Width: 1.08″
Overall Height: 4.4″
Weight: 18.5 Oz.
Sights: Fixed Steel White Dot Front w/ Serrated Drift Adjustable Rear
Safeties: Striker Block, Trigger Safety & Visual Loaded Chamber Indicator
The MSRP is benchmarked at $392.42 for all of the various magazine capacity variations offered (depending on the state you live in and what is legal for ownership there). This pistol is believed to have Glock compatible sights (if you desire to trade them out for something different), and as previously stated, it is incredibly affordable compared to its competitors that $600+ street price. Taurus shares some additional information through this Press Release statement below:
With the introduction of our first-ever micro-compact 9mm, the all-new Taurus GX4™ boldly outclasses anything else in its class—reaching unprecedented new heights in concealed carry firearm engineering, ergonomics and innovation. On the outside, there can be no doubt that every streamlined inch of this rugged striker-fired semi-auto was meticulously crafted for EDC readiness and reliability. While a game-altering combination of full-sized capacity, accuracy and power resides within its ultra-concealable one-inch-wide reinforced frame. The exceptionally affordable Taurus GX4™ is backed by our Limited Lifetime Warranty and industry leading customer service for added peace of mind when it matters the most.
Long gone are the days of carrying full-sized pistols or even a mid-size Glock 19 due to lack of options. With new micro-compacts like the Taurus GX4 you can "have your cake and eat it, too." Have something controllable with capacity, too. Would you be willing to jump in and buy one of the new Taurus GX4 pistols? Are you eyeing a different micro-compact? As always, let us know all of your thoughts in the Comments below! We always appreciate your feedback.