New Mini Leatherneck Fixed Blade EDC Knives from Cold Steel
Luke Cuenco 06.23.21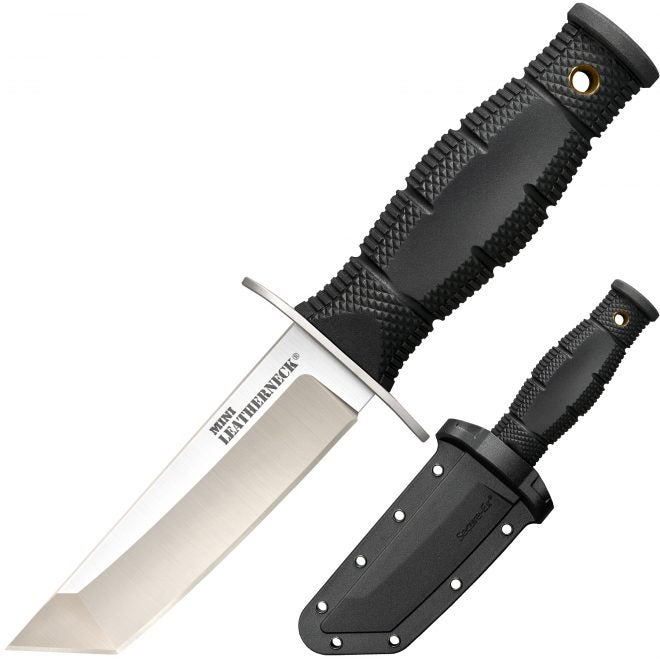 There are 3 new blades to be had underneath the Cold Steel name with their new lineup of Mini Leatherneck fixed blade knives. Resembling the shape and relative dimensions of full-sized fixed blade knives, the Mini Leatherkneck takes all of that and shrinks it down into a compact everyday carry (EDC), compatible set of knives that are also extremely easy to sharpen on account of their 8Cr13MoV steel.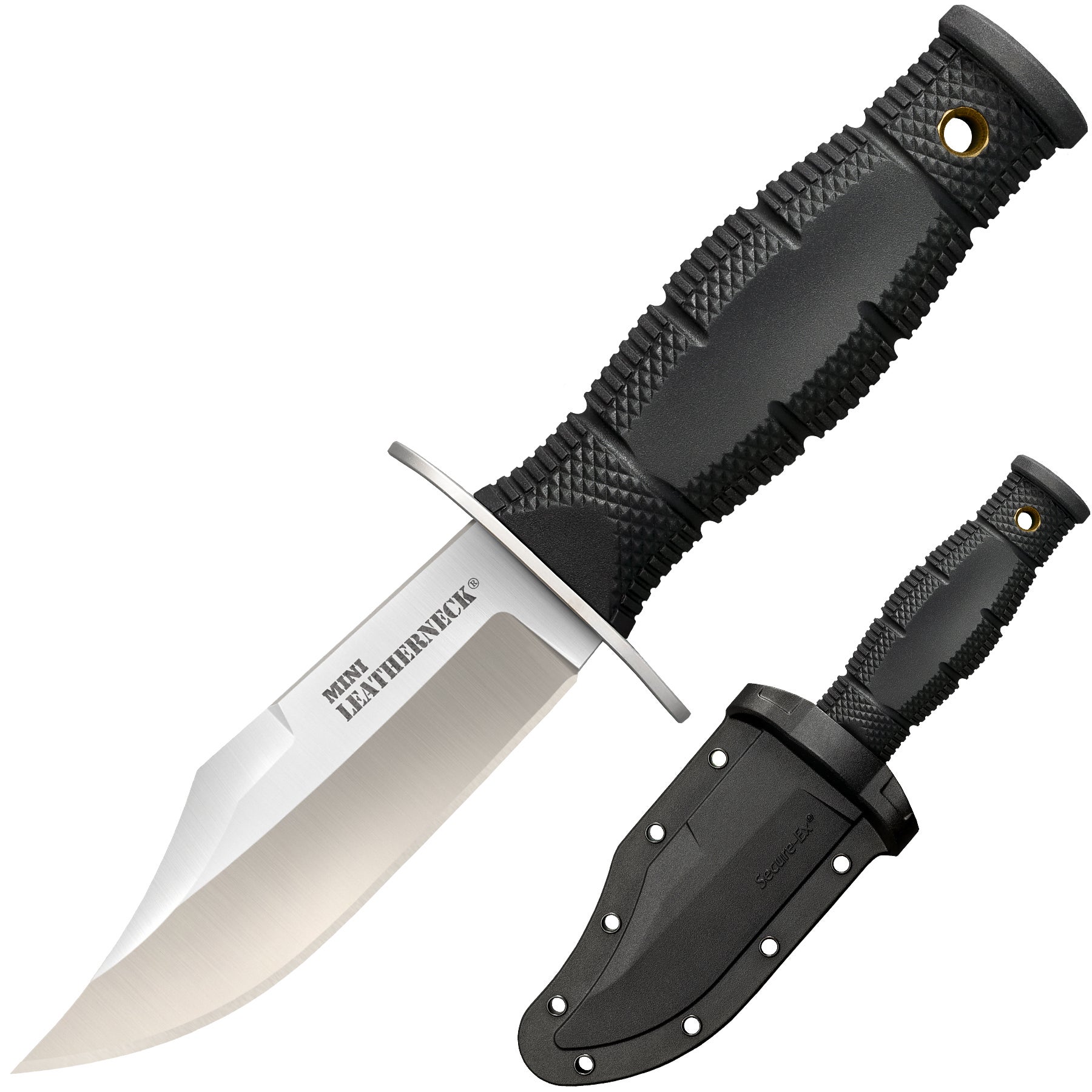 New Mini Leatherneck Fixed Blade EDC Knives from Cold Steel
"With its compact size, sturdy build, and robust grip, the Mini Leatherneck is an optimal balance between traditional fixed blades that may be too big and folders that may be too small for the mission. The Mini Leatherneck is easy to carry, diverse in function, and perfect any time you need a manageable knife with a big attitude."
Weight: 3.1 – 3.3 oz.
Blade Thickness: 3mm
Blade Length: 3 ½ inches
Handle Length/Material: 3 1/4-inch Long Kray-Ex™ Handle
Blade Steel: 8Cr13MoV
Overall Length: 6 3/4 inches
Additional Features: Secure-Ex™ sheath, lanyard hold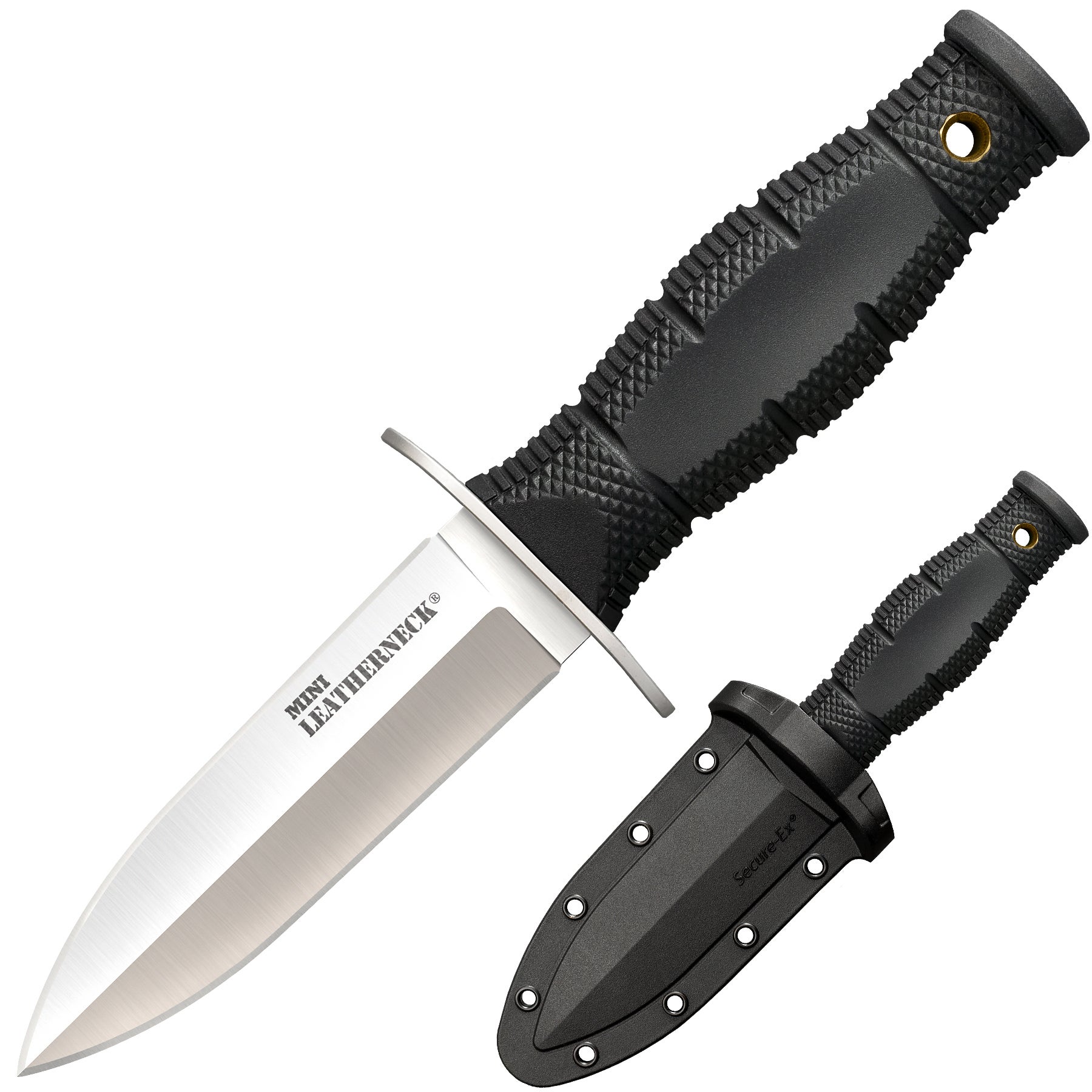 Cold Steel says the new knives are geared towards tactical, hunting, and everyday carry applications with three different blade styles to choose from. The Mini Leatherneck will be made available with a Tanto, Double Edge Spearpoint, and a stout Clip Point. Each blade will be 3.5″ long with an additional 3.25 inches worth of handle made from Kray-Ex material making them both compact and ergonomic. You can think of the Kray-Ex material as being a sort of hard rubber that has just a little bit of "give" to it making it easy to grip, but incredibly compact.
The new Leatherneck knives are not currently available for sale from Cold Steel yet, but are coming soon. The Mini Leatherneck Clip Point and Tanto will be sold for $29.99. While the Double Edge Spear Point will be sold for $25.99. I think my favorite of these new models has to be the Tanto point. I do a lot of box opening and cutting and Tanto point blades tend to do a very good job at piercing things while still maintaining a nicely shaped un-serrated blade for slicing. I wouldn't recommend this blade for skinning your next deer though!