AllOutdoor Review: Riton 1 Primal 3-9x40mm Riflescope
Eve Flanigan 08.24.21

Last year I wrote about the revamping of the Riton Optics brand and their easy new-purpose/price-structure for scopes. Lately I've had the chance to test one of those scopes, the Riton 1 Primal 3-9x40mm. The name is indicative of price (1 indicates entry level pricing) and purpose: Primal is Riton's hunting-oriented scope line. I soon discovered that, while the price may be entry-level, this scope offers more than I expected.
For purposes of this test, the scope was mounted on a Henry Long Ranger chambered in 6.5 Creedmoor. Unfortunately, the opportunity to hunt with the rifle did not come to fruition; however, the time spent behind it and the Riton 1 Primal for sighting-in and target shooting delivered a satisfying time. The smooth lever-action, handsome traditional wood stock, and 22″ barreled Henry provides a well-proportioned match for the Riton 1 Primal 3-9x40mm.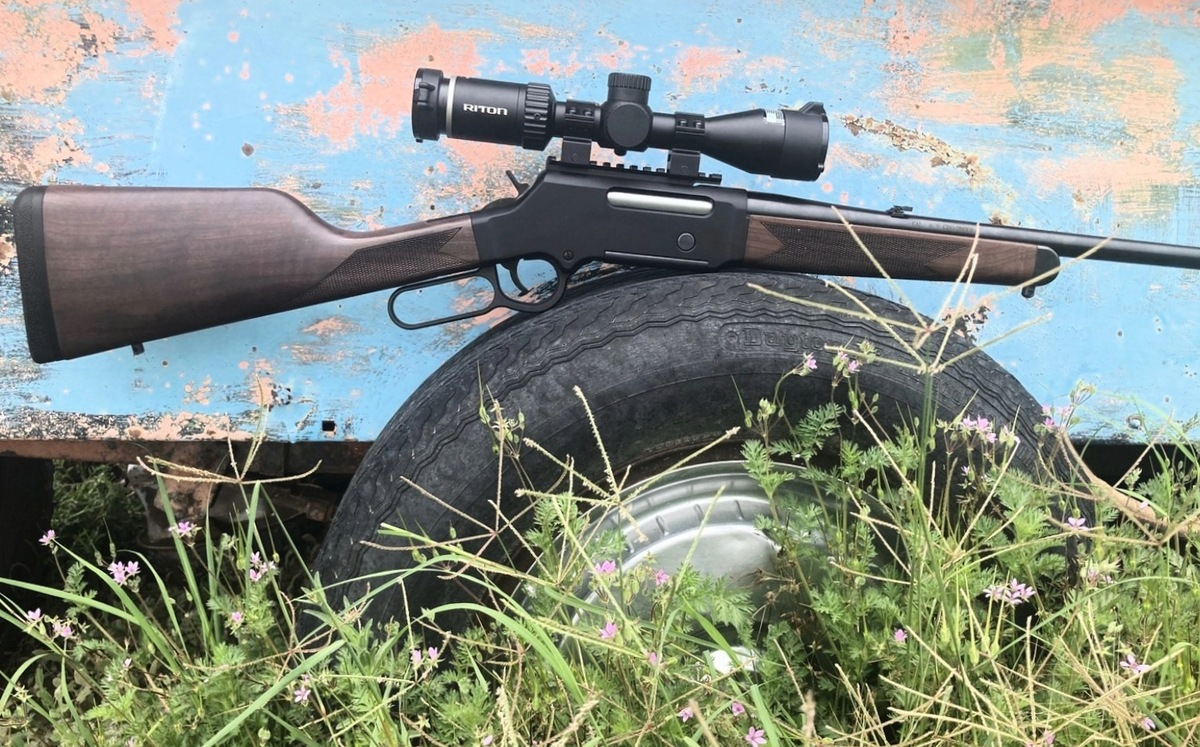 Mounting a scope well is more than half the equation when evaluating it. Riton provided their made-by-Contessa rings for this purpose. The company offers three 30mm Primal ring choices made of hardened steel or 7075 aluminum with two holes per side in two or three heights. The rings are equipped with clamps to mount directly to a Picatinny rail. In this case, the rings were the medium aluminum – nice and lightweight, made more so by cut-outs under each ring. Chances are they weren't designed to do this, but conveniently, the cut-outs also serve as a window through which, with a little effort, the iron sights can be aligned. A little practical, tactical touch on a hunting rifle never hurts.
With the scope mounted, it was time to give the Riton 1 Primal a test. Anyone who likes a clean sight picture, but clearly demarcated hash marks on a reticle should like the view through this one. The RAK reticle offers a clean intersection of the "X" and "Y" axes for great visibility. Elevation hash marks alternate every 2 MOA with a dash for 2 MOA; a dot for 4 MOA, a dash for 6 MOA, and so on, keeping the most commonly used axis visually clean while allowing for precise holds. The reticle is on the second focal plane so users will need to keep a chart or app data to remind them of adjustments made at magnifications other than the one they used to set zero. Of course, being handy with simple division is also an asset; just not one yours truly possesses when the desired animal is visible through the scope and adrenaline is flowing.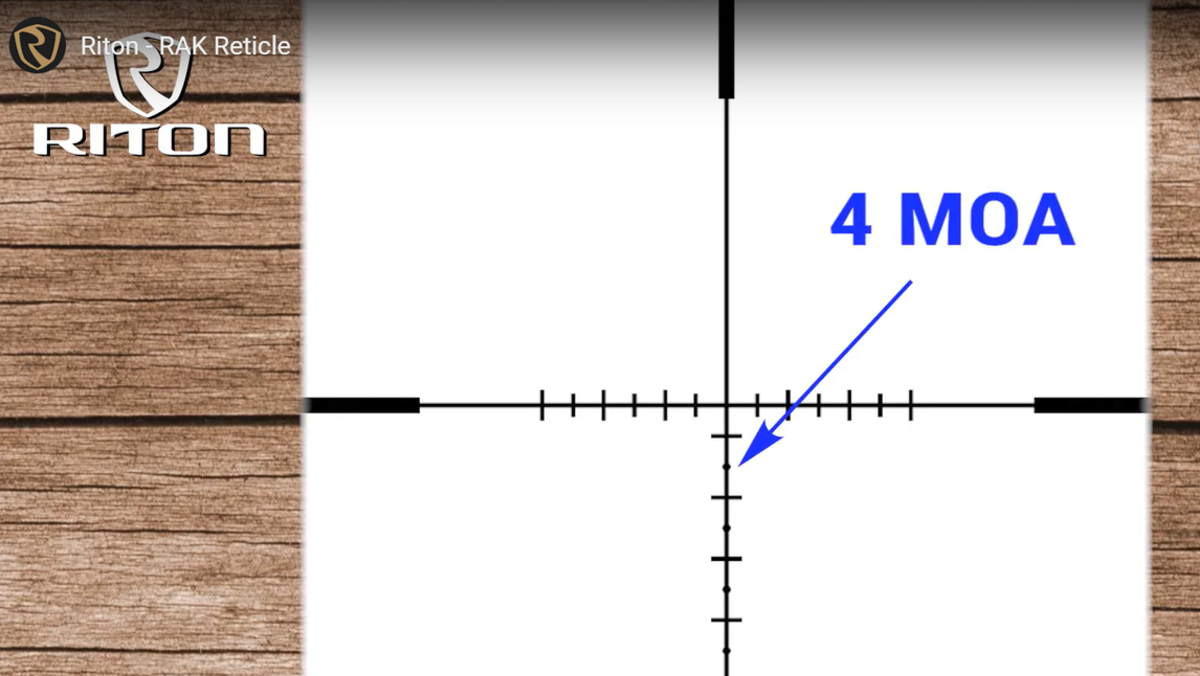 Unlike most scopes in this price range (and even many that are double the price), the Riton 1 Primal offers a formerly exclusive and useful asset: zero-stop turrets. This means the user can set his or her windage and elevation at true zero, and set the windage and elevation dials to match at -0-. This eliminates a lot of fussing and guesswork, so long as the operator remembers the number of full revolutions they may have added or subtracted, and to turn the dials back to their chosen zero point at the end of the engagement or day's end depending on the situation.
Riton has really changed the game in the affordable scope arena with the choice of zero-stop turrets. They work well. In a brief range test using the scope (zeroed at 100 yards) to stretch out to 575 yards while dialing-in elevation at 575 and points between, zero was still reliable at 100 yards after these adjustments. Due to a shortage of ammunition and conserving ammo for possible hunts later this fall, I didn't conduct the usual seven-rounds per test, scope-tracking drill I normally do. Nevertheless, the Riton 1 Primal leaves me with confidence it'll return to zero under normal environmental conditions.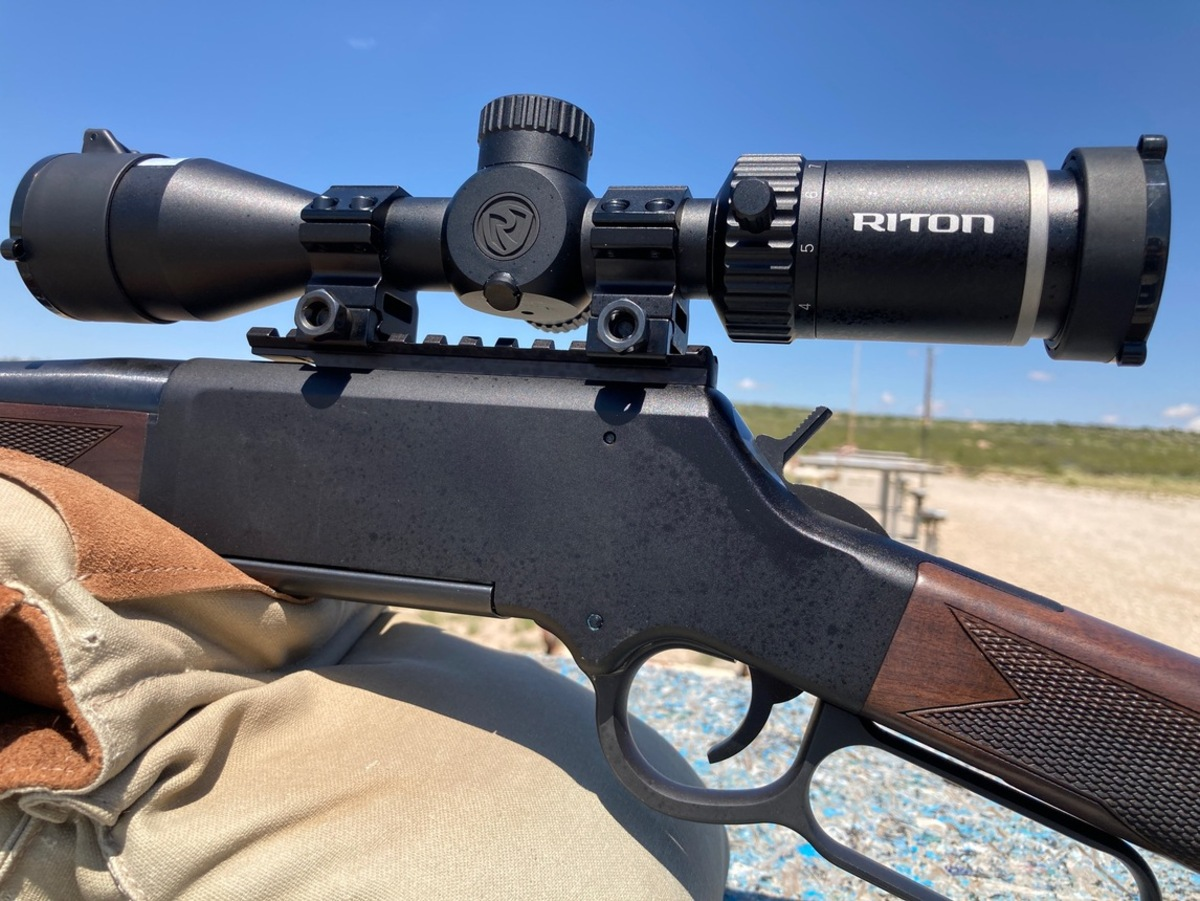 The glass in this scope does not disappoint. Riton claims 99.5% light transmission. I did not miss having illumination of the reticle; it is thin enough to see the target even at longer distances, but not so thin as to disappear when looking at dark-streaked terrain as many reticles seem to do for me. With a great reticle, lightweight rings, and easy adjustments, the Riton 1 Primal 3-9x40mm represents a superb choice for most North American medium- and large-game pursuits as well as being a great choice for target shooting.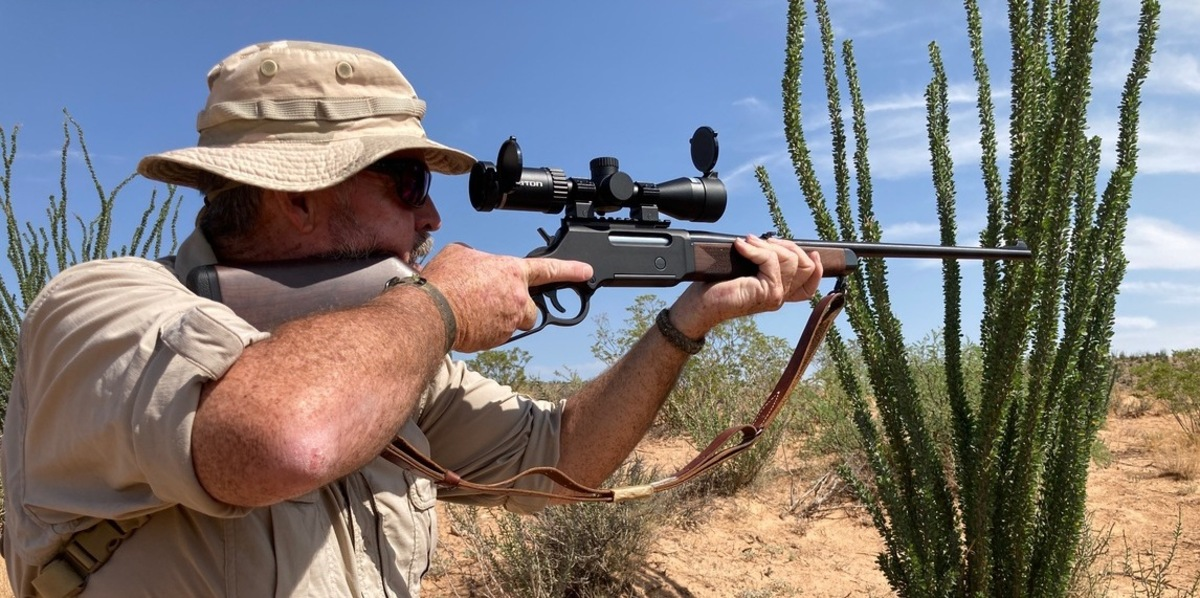 Riton 1 Primal – Features
Featuring Capped, Zero Resettable Turrets
Integrated Removable Throw Lever
1/4 MOA Windage and Elevation Adjustment
Fast-Focus Eyepiece
Assembled in EP-Level Clean Room
100% Waterproof, Fog Proof and Shockproof (tested up to 1200 G's)
Riton 1 Primal – Specifications
Magnification: 3-9x
Parallax Adjustment: Fixed at 100 yards
Tube Diameter: 1 inch
Objective Lens Diameter: 40mm
Focal Lens Position: Second Focal Plane
Lens Coating: Fully Multi-Coated, Full Wide Band, Waterproof Coated, Low Light Enhancement
Reticle: RAK
Field of View at 100 Yards: 13-41 feet
Material: 6061-T6 Aluminum
Eye Relief: 3.3 inches
Exit Pupil: Low 10.6mm | High 3.5mm
Click Value at 100 Yards: 0.25 inches
Adjustment Range: 80 MOA
Mounting Length: 4.25 inches