NEW N8 Tactical Xecutive IWB Holster: Innovative, Inside-the-Waistband
Adam Scepaniak 10.07.21

The world of everyday carry (EDC) is constantly evolving especially with the explosion in demand for micro red dots, threaded barrels, and flashlights now becoming standard practice on smaller carry pistols. All these tools might make you a more capable concealed carry individual, but it is difficult for holster manufacturers to accommodate so much hardware. One company who looks to cover all of those bases is N8 Tactical with their Xecutive holster now available.
Coverage of N8 Tactical on AllOutdoor & TFB
On the N8 Tactical IWB holster you have the ability to adjust the amount of tension, your choice of clip style, and the location you place them on the holster for a more customized fit while carrying. It also features dual, strong Chicago screws and rubber supportive pillars for more balance and security while drawing. N8 Tactical goes on to explain more about this holster through their Press Release statement below:
Built around a firearm-specific, single-piece Kydex molded pocket, the Xecutive holster features an optic-compatible cut and generously proportioned sight channel along the spine to accommodate most red dot optics and elevated front open sights to ensure smooth drawing and reholstering. The Xecutive can also be used for handguns without optics and those sporting standard-height open sights, making the holster "scalable" for custom firearm configurations.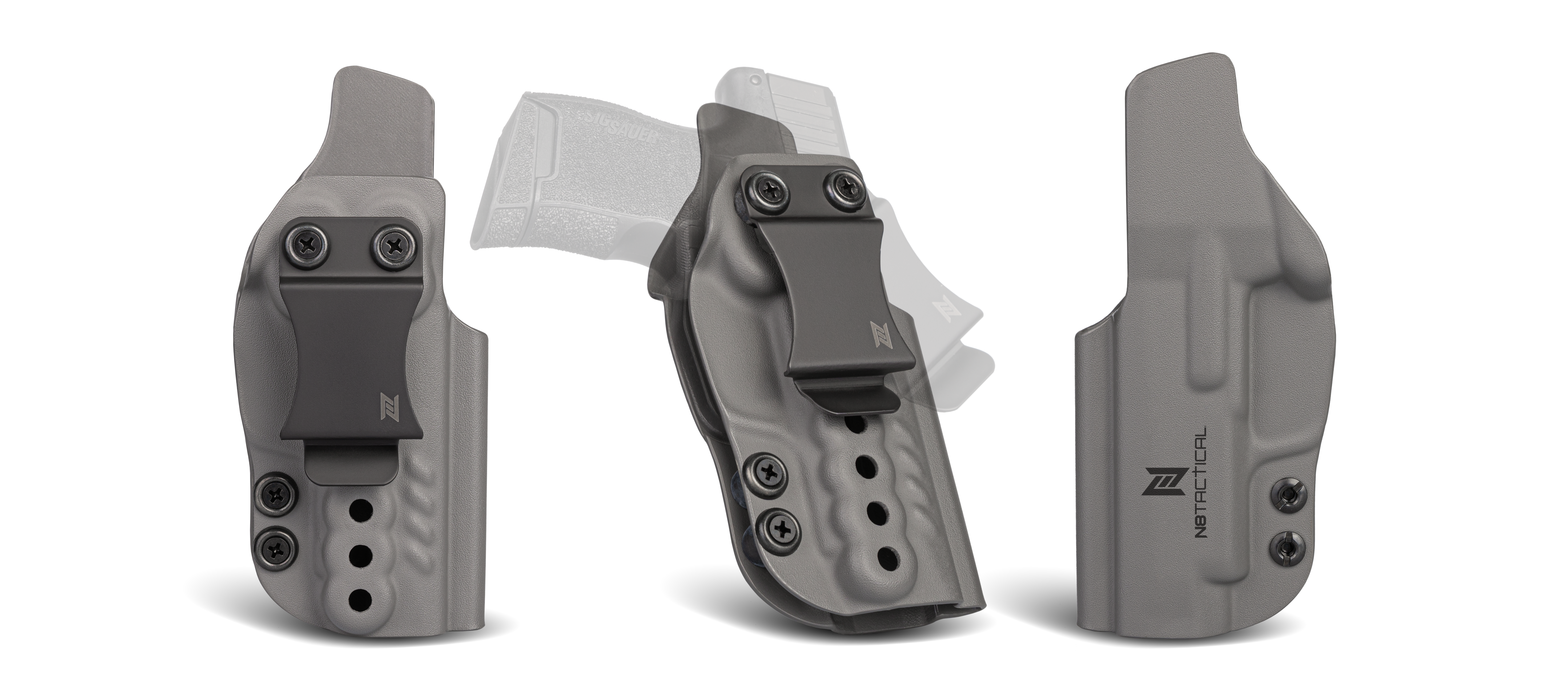 From the outset, N8 Tactical is covering a lot of the most popular makes and models of handguns with their Xecutive holster release. Also, as previously mentioned, they are accounting for suppressor height sights, micro red dot optics, and threaded barrels as well. Some of the most common manufacturers that will be covered are listed below:
GLOCK
Springfield
Sig Sauer
Taurus
Smith & Wesson
Walther
Ruger
4″ and 5″ 1911s without a Rail
It is definitely nice to see name brand holster manufacturers like N8 Tactical being forward-thinking and accommodating for all of the elements current CCW holders are looking for in their carry pistols. Mainly, to be able to trick out their firearm and still have holsters suitable to carry them without needing to pay a custom holster fabricator. As always. if you own an N8 Tactical holster or have some feedback about the Xecutive, let us know all of your thoughts in the Comments below! We always appreciate your feedback.