The Path Less Traveled #30: Timex Expedition Scout Chronograph Review
Andrew D 10.19.21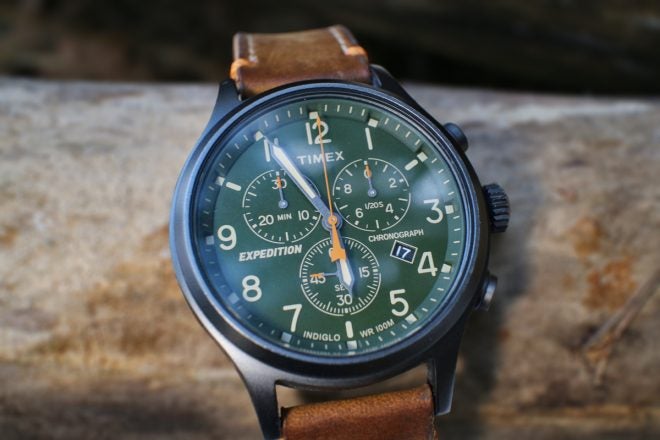 As you can tell with my review writings, I'm always looking for the best bang for the buck. My own preferences and history innately skew final decisions on what to choose and how I perceive it. The Timex Expedition Scout Chronograph Review is a minimally biased review, with data still leading the way. Emotions for inanimate objects do occur, but I find experiences hold deeper lasting influence on our shopping choices than the item merely looking cool.
Timex does a lot of things well. If you haven't considered their watches since the last time you were in a K-Mart… you should probably have a look at what they're making these days.
---
Welcome to our recurring series of "The Path Less Traveled." In this series, we want to take you along for our exploits out in the wilderness while hiking, camping, exploring, and general adventuring. This will include our small daily victories, foibles, tips, tricks, and reviews of gear we authentically appreciate and frequently utilize. While a well-worn trail can often be the pathway to a leisurely day, the paths less traveled can often spur on some of the greatest memories, misadventures, and fun we could imagine. Join us in the Comments as we share our travels and hopefully, we can all come together for a greater appreciation of the outdoors.
---
Company Info – Timex Group / Timex Group USA – AKA Waterbury Clock Company
Timex has been around for a long time. Wikipedia and their own site states since 1854 (in one formulation or another). They are renowned for some of the most memorable everyday horological landmarks and slogans ever.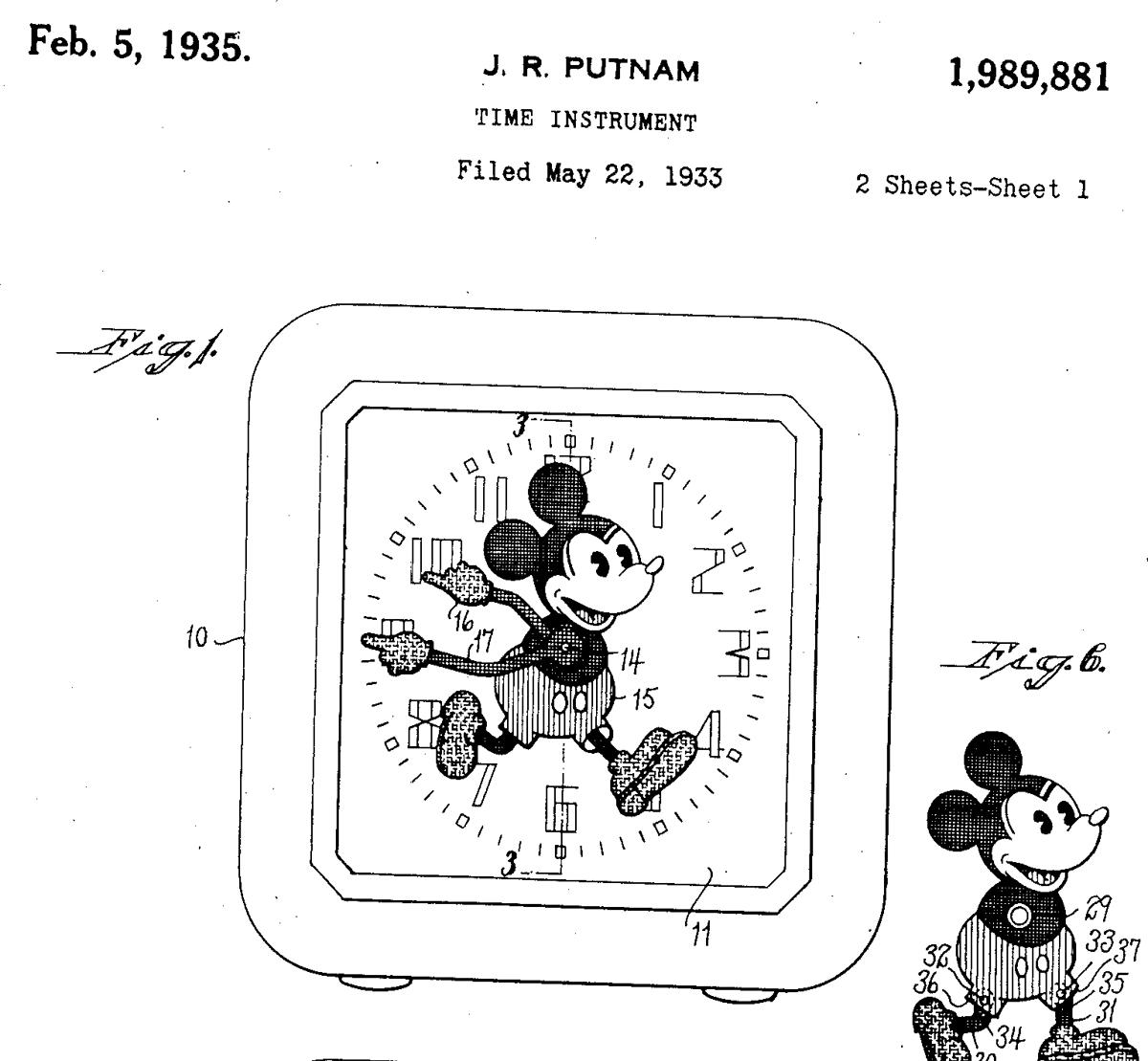 "It takes a licking and keeps on ticking."
Ironman (Not you, Robert Downey, Jr.)
Data Watches certified by NASA, before Smartwatches were a thing.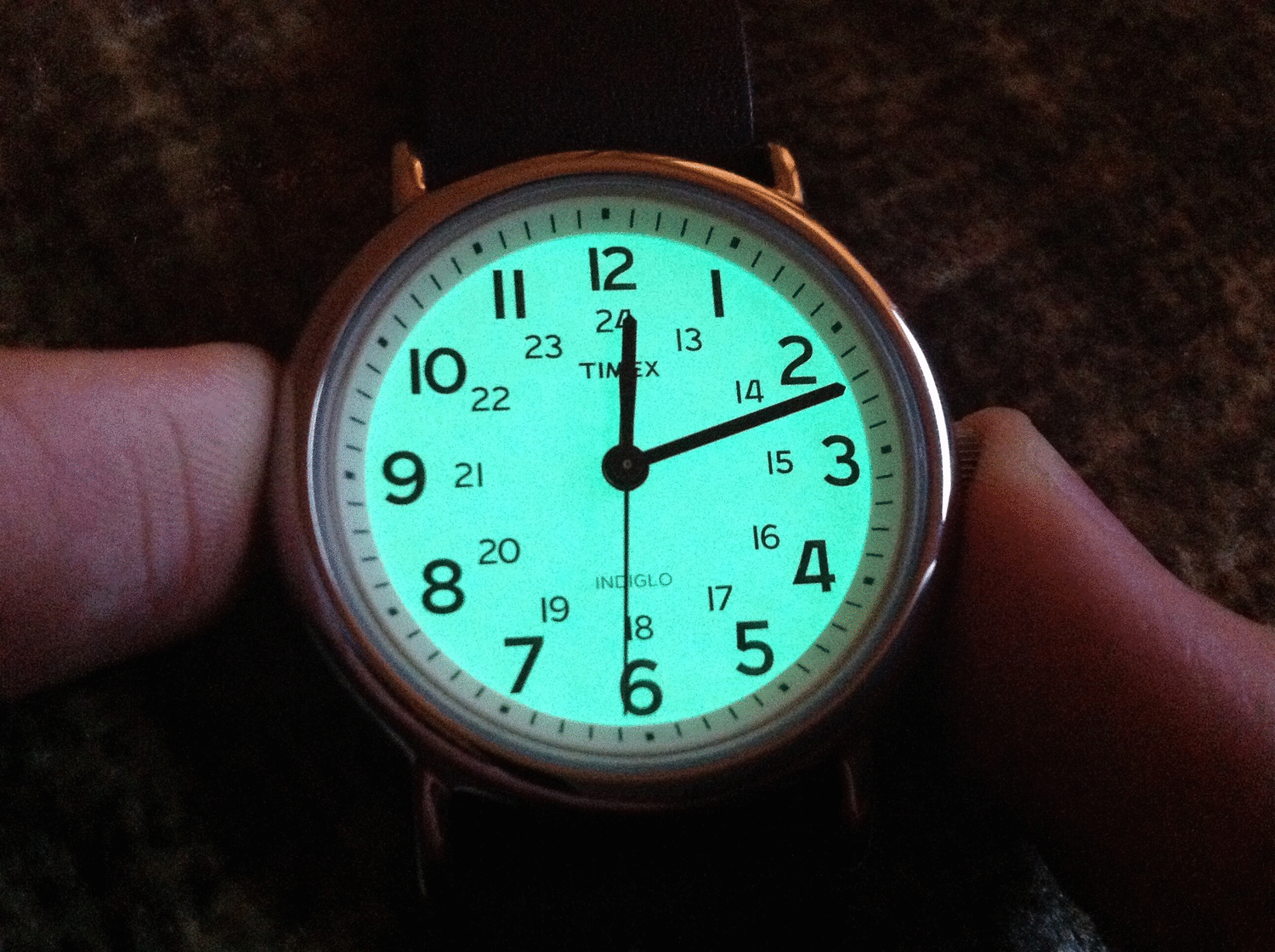 Indiglo has been the pivotal game changer in Timex's tool belt. Nothing else provides the clarity and luminosity of Indiglo without being an OLED Apple Watch or other smart wrist screen thing that requires charging more often than your uncle's clapped out C10.
Made in America, Again***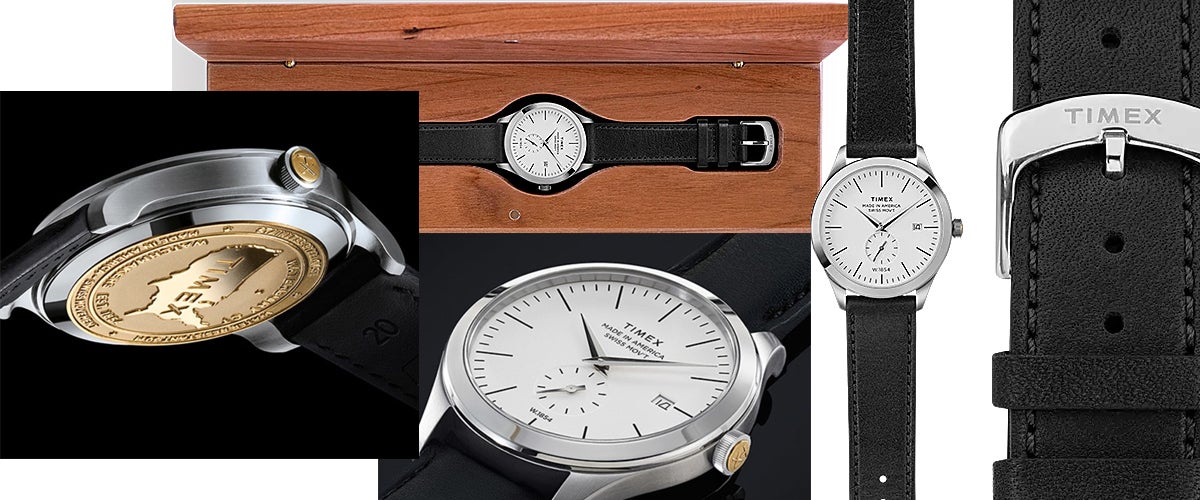 In 2016, Timex released an American made watch with Swiss-made movements. The watches are named American Documents. Non-movement metals and leather are sourced here in America.
Fred. Olsen & Co. is the current holding company owning Timex among various companies since the 1940s. The Holding company also owns Guess, Versace, and others.
Love is the one thing that transcends time and space. Click these links for timepieces you'll love.
Product Info – Timex Expedition Scout Chronograph
The Expedition line has been around since the mid-to-late 1990's. Kathleen McDermott's out-of-publication book Timex: A Company and its Community 1854-1998 claims since 1997, but the earliest I could find was 1998. This series of watches tend to flirt with "everyday watch" and "field watch" genres equally. This watch includes Indiglo, date window, chronograph options and a leather strap. Weather resistance indicates it to be 100 meters, but we all know that these numbers are to be taken with a grain of salt.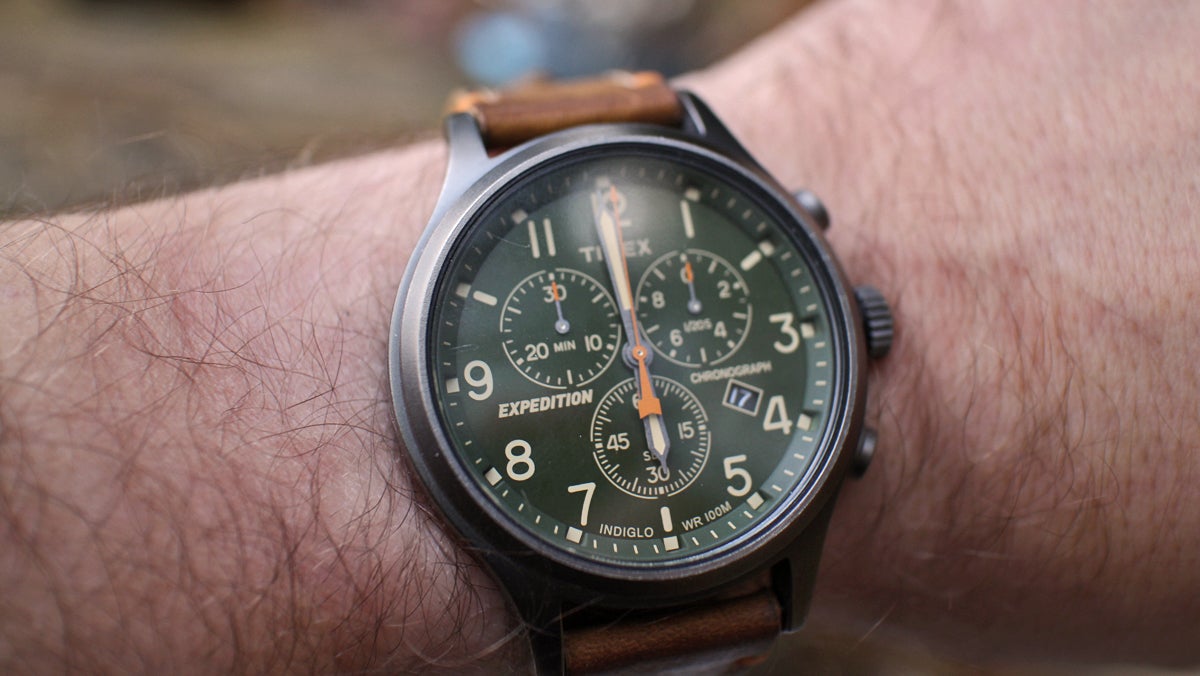 Observations
Timex Expedition Scout Chronograph 42mm made by Timex is not an American made watch, nor is it expected to be at less than $75USD (As of June 11, 2021).
This specific model seems to be reaching the end of its production run (guessing), as prices are beginning to increase (or is this 2021 supply shortage?). Walmart's inventory options are lower than when purchased in June 2021, and Amazon's prices are higher than Walmart's. Timex's site as of October 17, 2021 no longer shows this model or line.
Versatility of this watch is where it excels compared to many other watches in a $50-75 field. Function and simplistic charm are it's strong point. The machined brass case has trivial marks on it even after the factory likely polished it.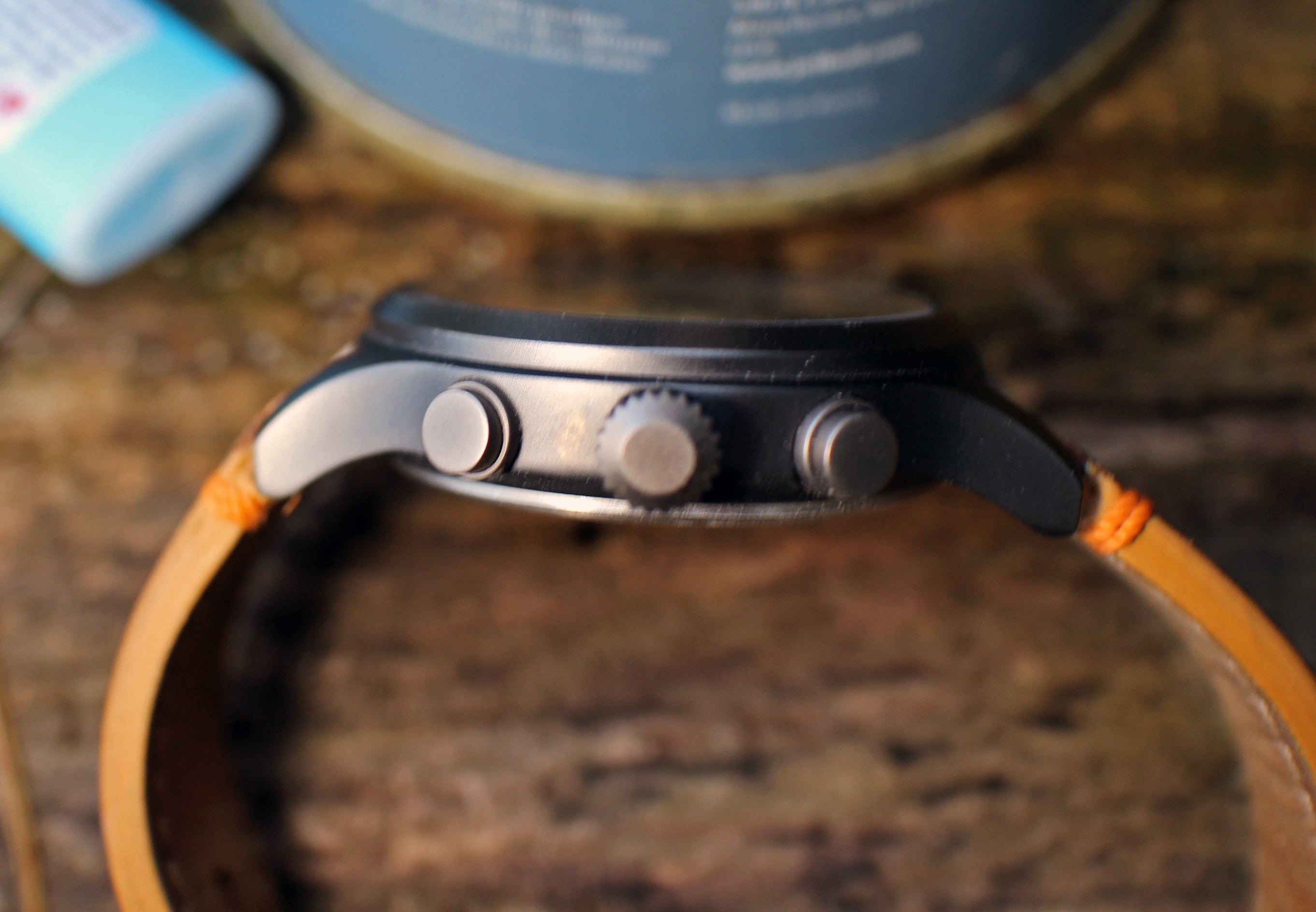 Indiglo is synonymous with Timex
The Indiglo lighting feature on this watch is fantastic and the #1 selling point for me.
You ever wake up at Zero-dark thirty while camping because you heard some animal sniffing and snooping around?
This is the watch that helps you find your flashlight or pistol so you are not peeing yourself while worrying whether it's a bear or a little old possum scurrying around outside your tent.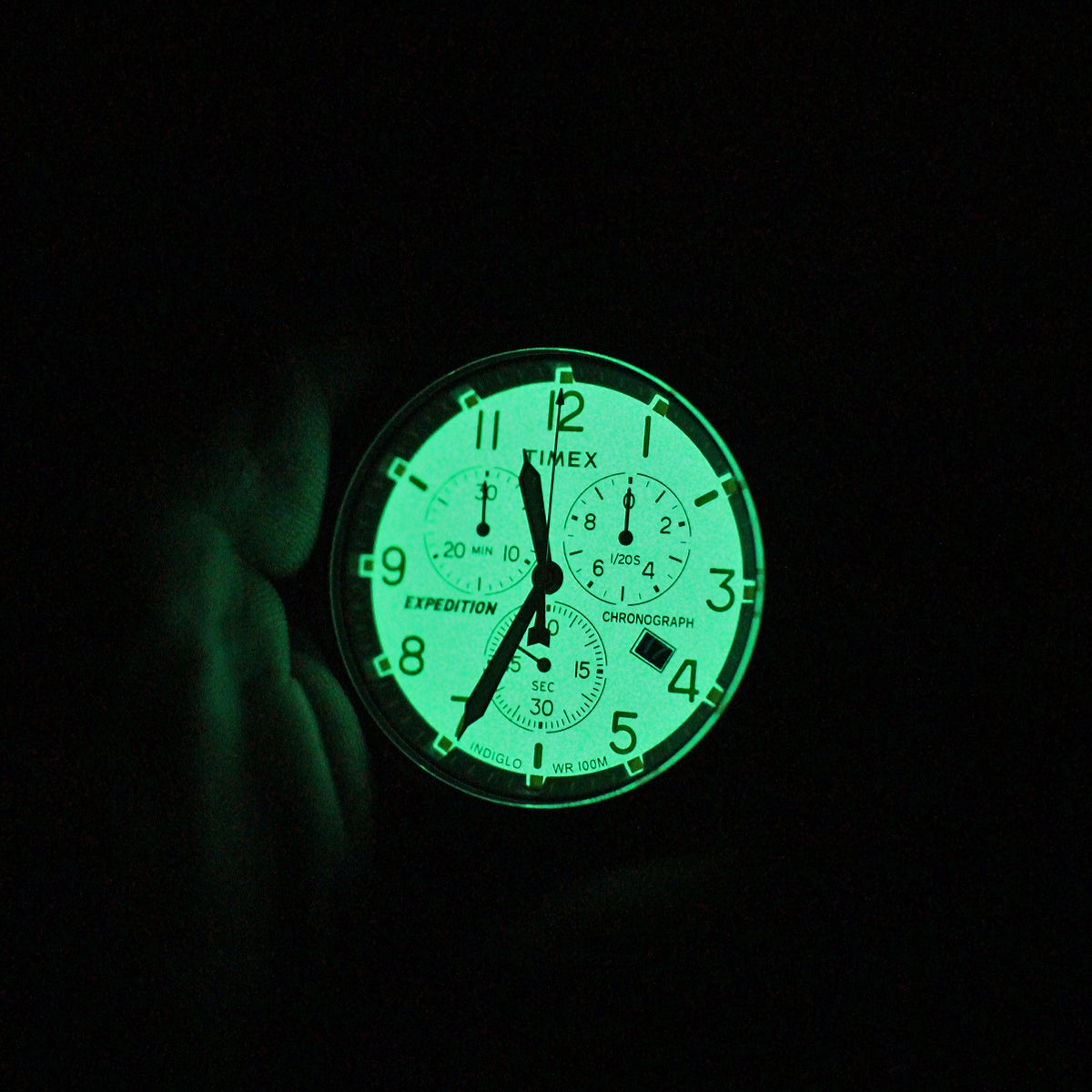 Having a date window is nice, especially if you are frequently signing and dating documents. I mean, what kind of person are you if you're not signing off on purchase orders, maintenance records, or petitions for involuntary commitment on a regular basis?
Accuracy of this watch is satisfactory. On a day-to-day, week-to-week basis, you will not notice the incremental time creep. I believe if modern society didn't have Atomic Clock corrected digital devices, we'd still be satisfied with a watch that gains/loses less than three minutes per season when accounting for the price of the watch. In the four months I've used this watch, it has gained two minutes. The chronograph has been a great benefit for gauging the speed of animals, vehicles, and moving water. Did that deer start at 100 or 150 yards away before jautning off? Ever throw a log in the water and measure how long it takes to get to a certain distance? If so, you're calculating speed.
Battery life expectations are not documented. If my prior Timex watch is a strong indicator, I would predict two years.
The watch dial's numbers and marking sit true with the hands of the watch. Thickness of the watch is quite noticeable at 12.5mm, but I'll allow it with all the features it packs. (Note: Apple Watch 6 & 7 are 10.7mm) I've caught my wrist on things about once or twice a month.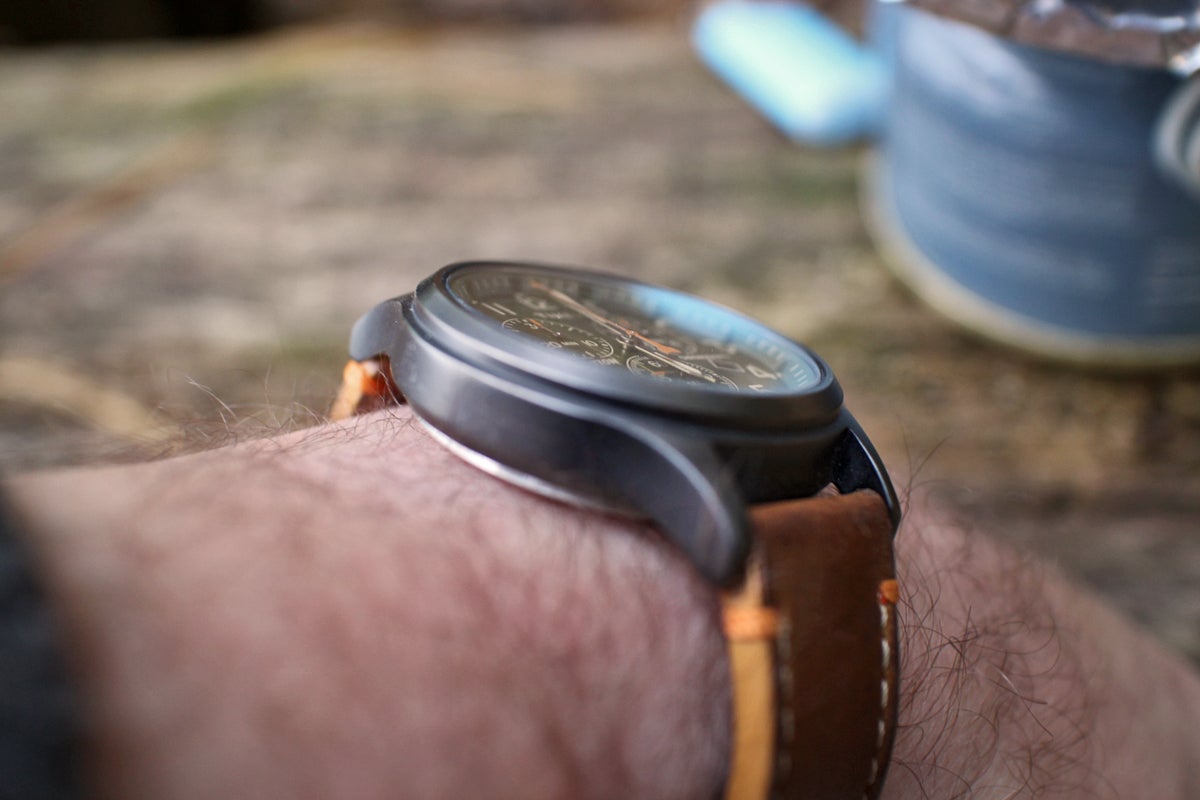 Leather Straps have a polarized fan base. But so do rubber and cloth strap. "Watch people" can be weird, right? If you keep the leather band conditioned, they're pliable, soft, and last a long while. They also develop a nice patina over time. The Timex leather bands seem to be made from pieces glued together. With their typical lifespan, I'd tease and say they're bonded with similar chemicals as chicken nugget pink goo. What can you expect at this price-point? The laminated leather's edges have a sort of painted silicone strip. The lower portion of the strap's silicone strip has already begun separating from the band after four months.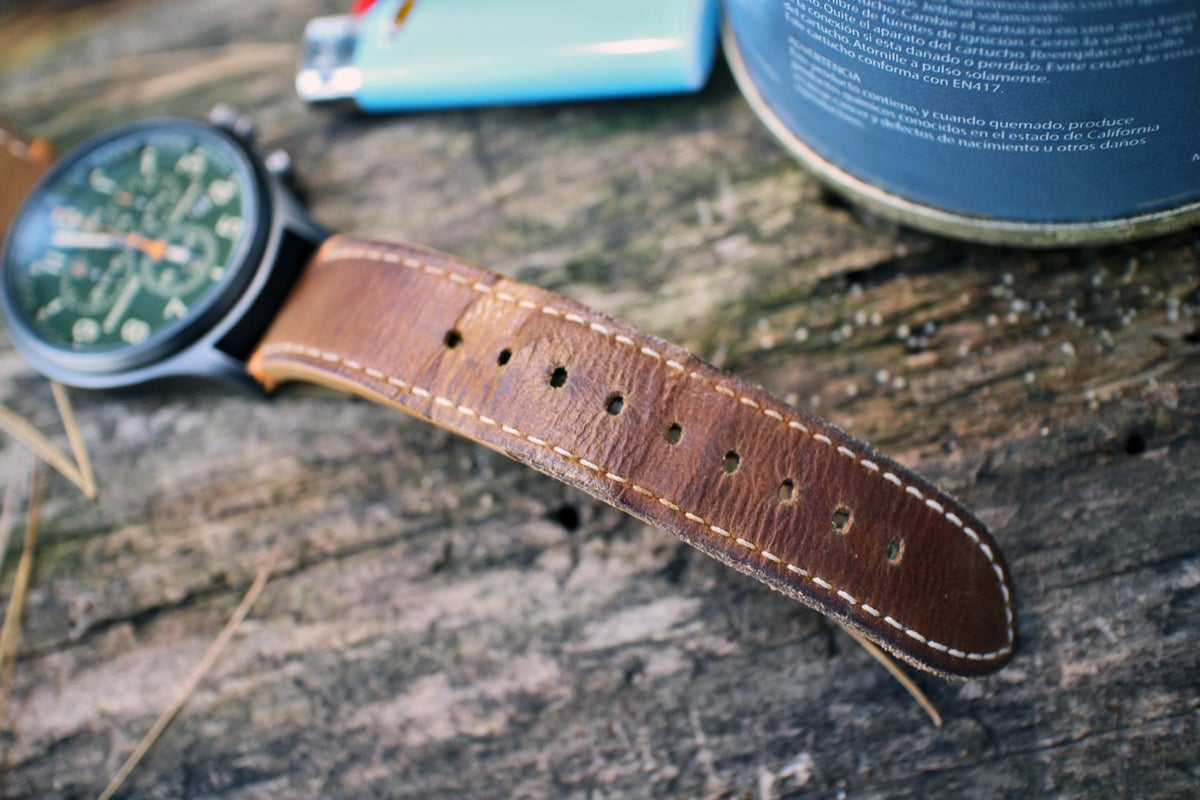 If you're a Billy-badass, I'd recommend you to get a NATO strap for this watch after the first is no longer viable.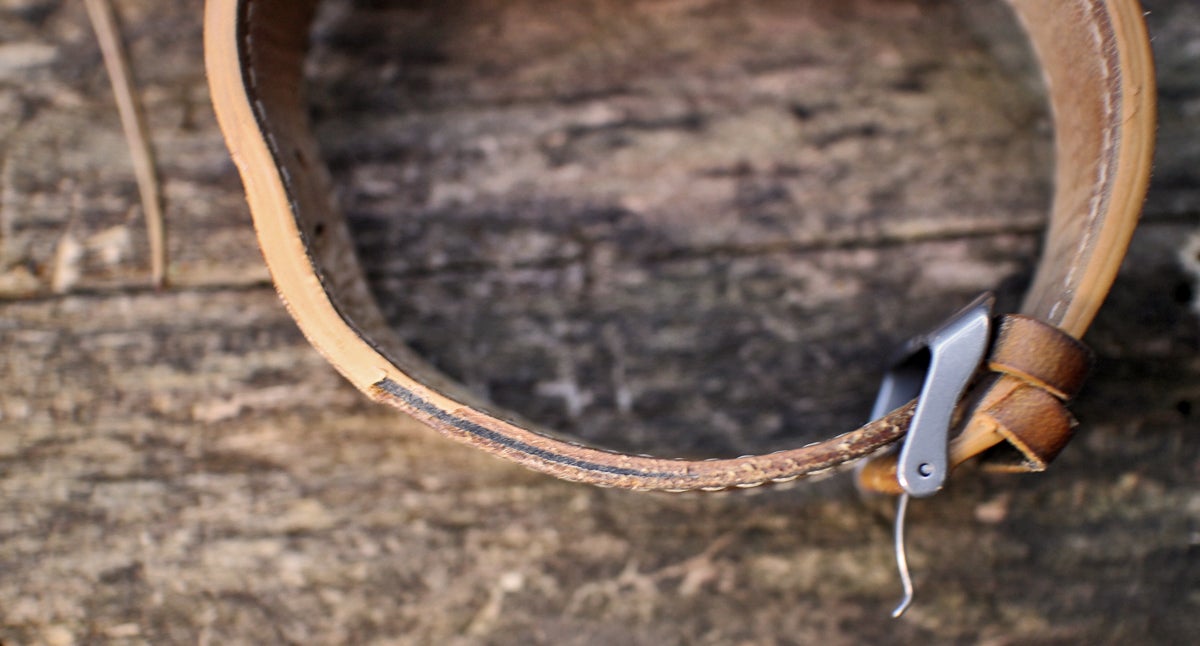 Movement of the watch is audible, but only when sleeping with your hand close to your head. Some people get irked by loud ticking watches. I'm one of them and this watch doesn't bother me.
"YOU HEATHEN!!! You wear your watch to bed???"
Yeah, when camping 50+ days a year, and being as forgetful as I am… If I took this watch off for any reason, it would be lost for days, weeks… or more than likely forever.
This reminds me of a story…
Hoplopfheil of TFB once asked me what kind of sunglasses I wear.
The conversation went something like this:
10/25/2019 – 01:42pm-01:51pm
Hop: Andrew, you are a fancy man right? Where do you buy sunglasses?
Me: Dollar Tree.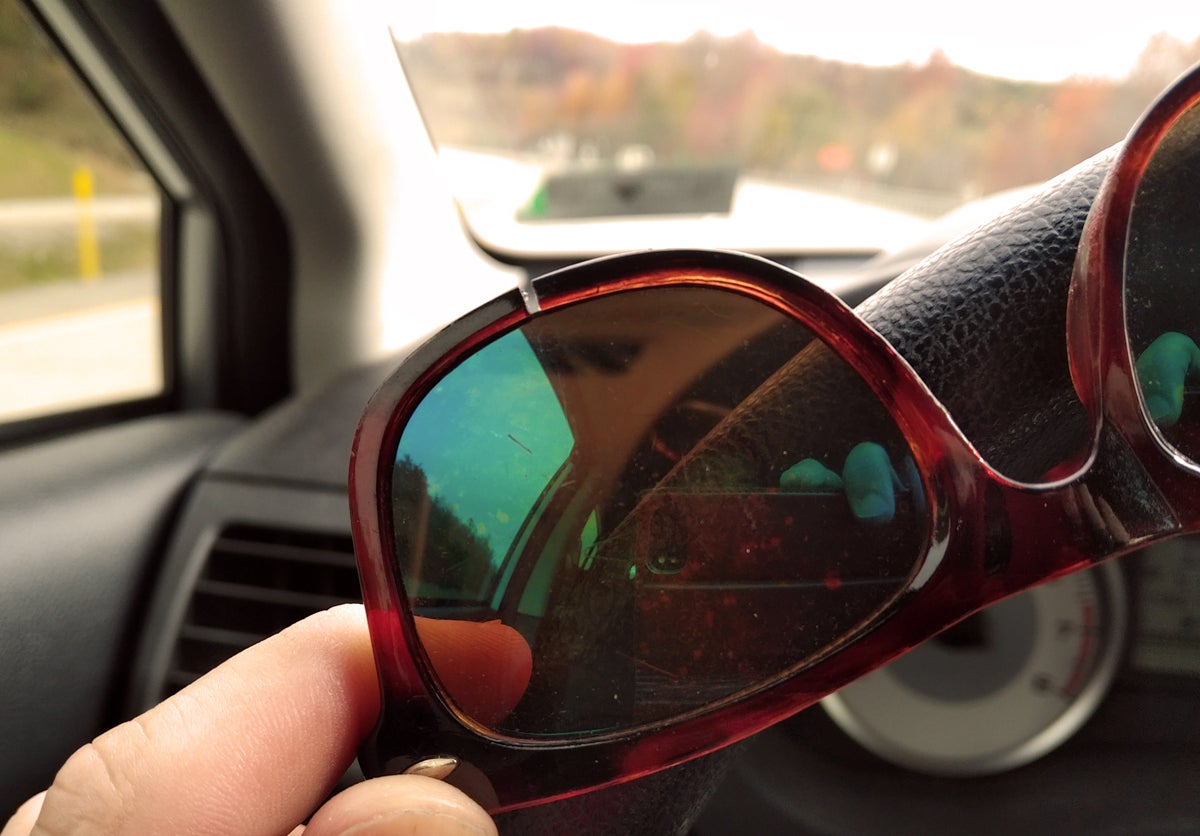 Hop: ?Those don't sound like they're ballistic rated.
Me: I break or lose my sunglasses so frequently that I cannot or will not buy fancy sunglasses.
Hop: Ahh I never lose anything.
Any cheap UV safe polarized wayfarer-style glasses are suitable since I lose them so often. Same with the frequency of misplacing car keys, phone and wallet.
It is a problem.
Seriously, a PhD at the end of my name will be the only way to justify my absentmindedness.
This same philosophy holds me back from getting a real time piece; sticking to reliable, inexpensive watches. I think the longest I've been able to keep track of a watch is 4.5 years.
The "long-surviving" watch was a basic $35 Timex Expedition bought in 2016. I replaced the battery after it died (2018?). The band pin(s) bent when my watch was caught by a tree, those were replaced in 2019. The bottom strap broke in May 2021, I used it as a lanyard-style watch for a while until the battery died again in early June 2021. To replace band and batterywould have come near the MSRP of the watch. Now you know why my new Expedition Scout Chronograph is on my arm.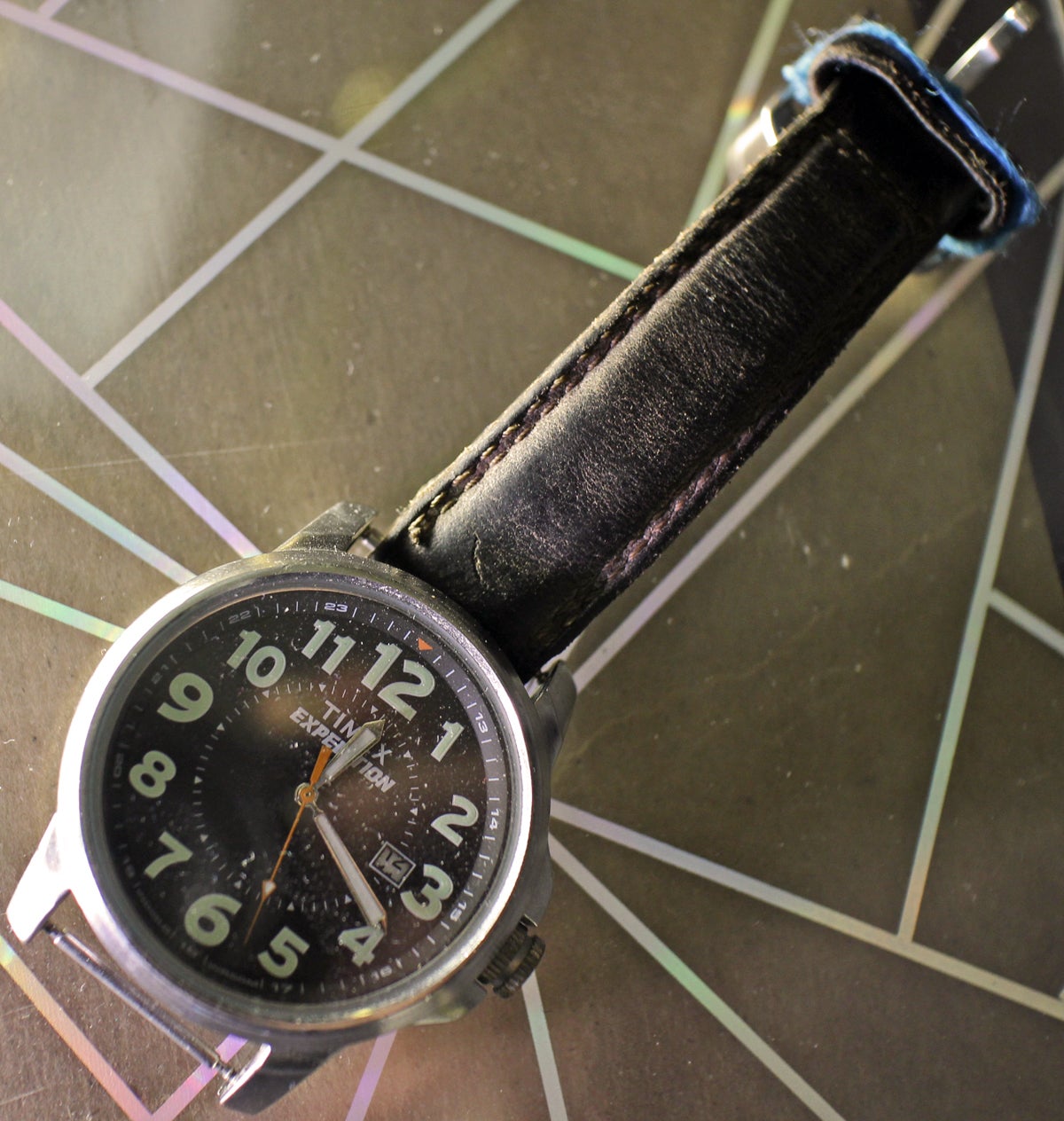 My gut feelings on this watch is the function, cost, and quality are right up my alley. It's not Omega, but it's not a bubblegum vending machine watch either.
Despite the Timex Expedition Scout Chronograph claiming an Expedition watch pronoun, I would have no problem claiming this is a Working Man or EDC watch too.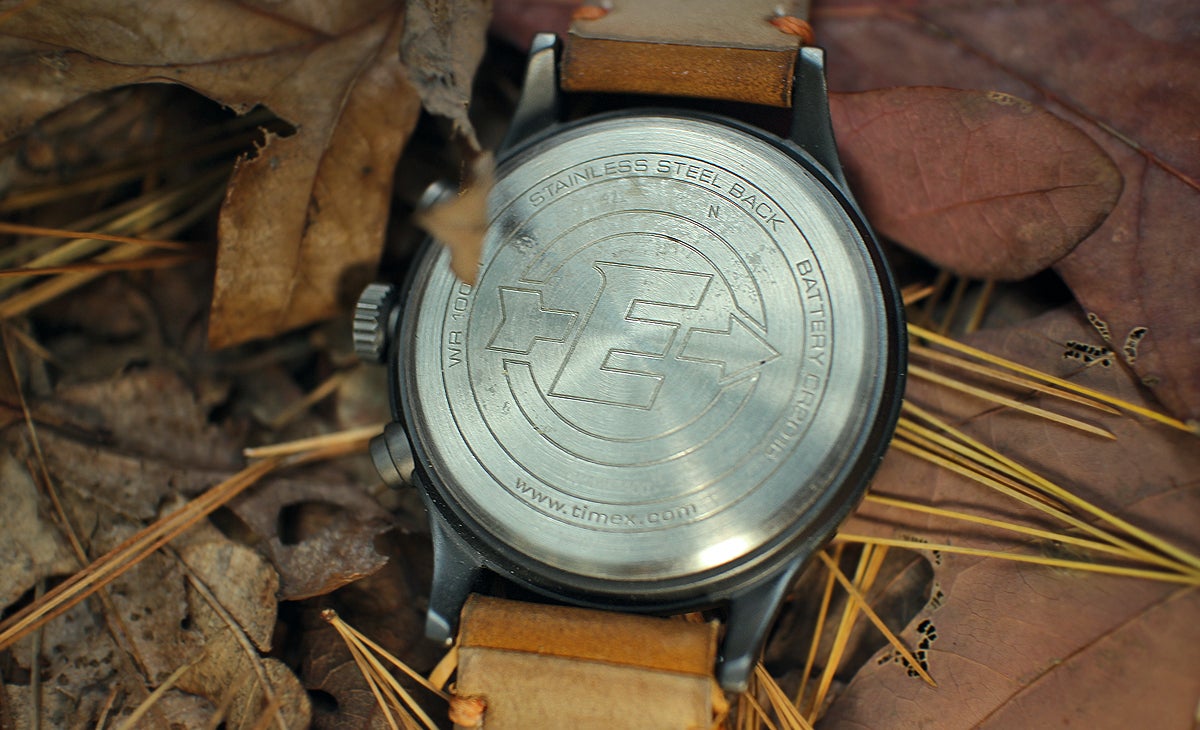 (Athough… a Seiko SRPG35 calls my name more than your mom does at night… But it's $260 and no quality illumination; that 5-series movement though. Ouch.)
Comparison
Watches in the $50 to $75 range including date, chronometer, and some kind of night time luminescence all together is like finding the end of a rainbow. I think this is where the Timex shines. (P.S. Never buy an Invicta watch, please.)
Anyways, here are three comparable watches: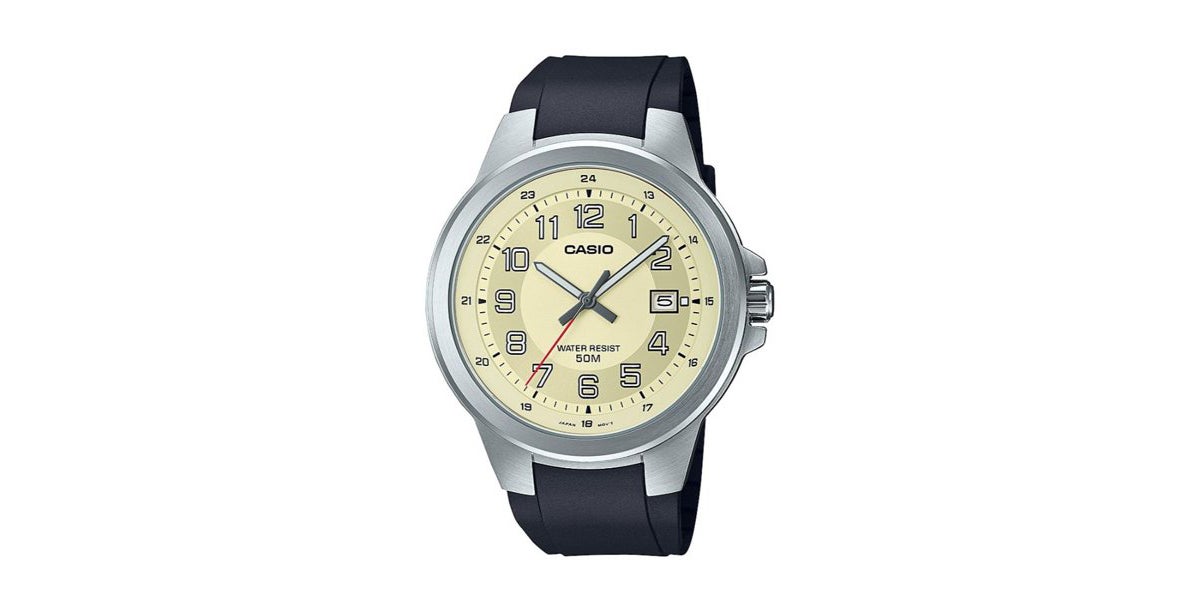 46mm case.
Luminous hands.
Stainless steel case, leather band.
Quarts date and time.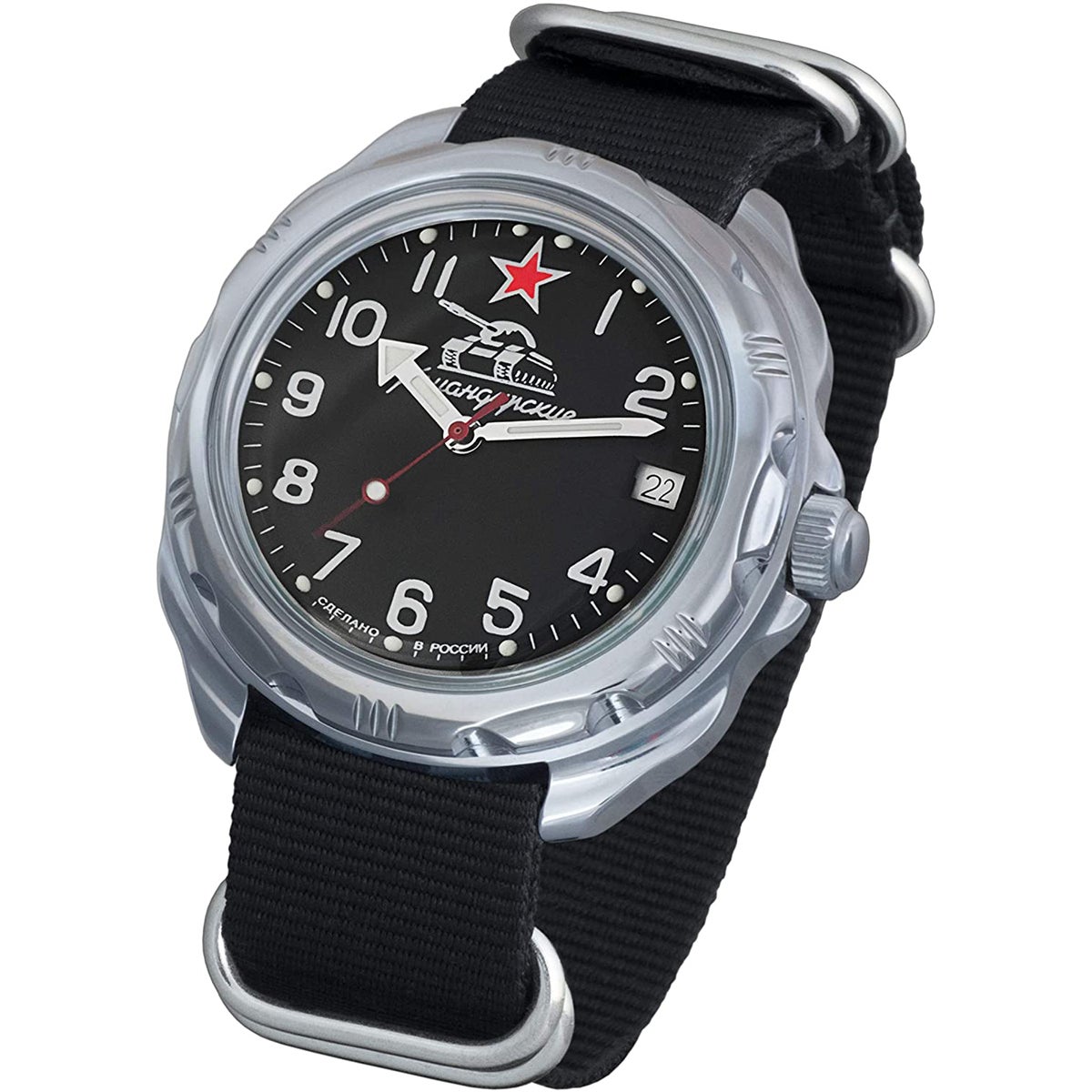 39mm case with 30m water resistance.
Cool Russian look "made by the official supplier of the Defense Department of the Soviet Union and modern Russian Army."
Mechanical hand-wound movement for date and time.
Luminous hands and dial marking dots.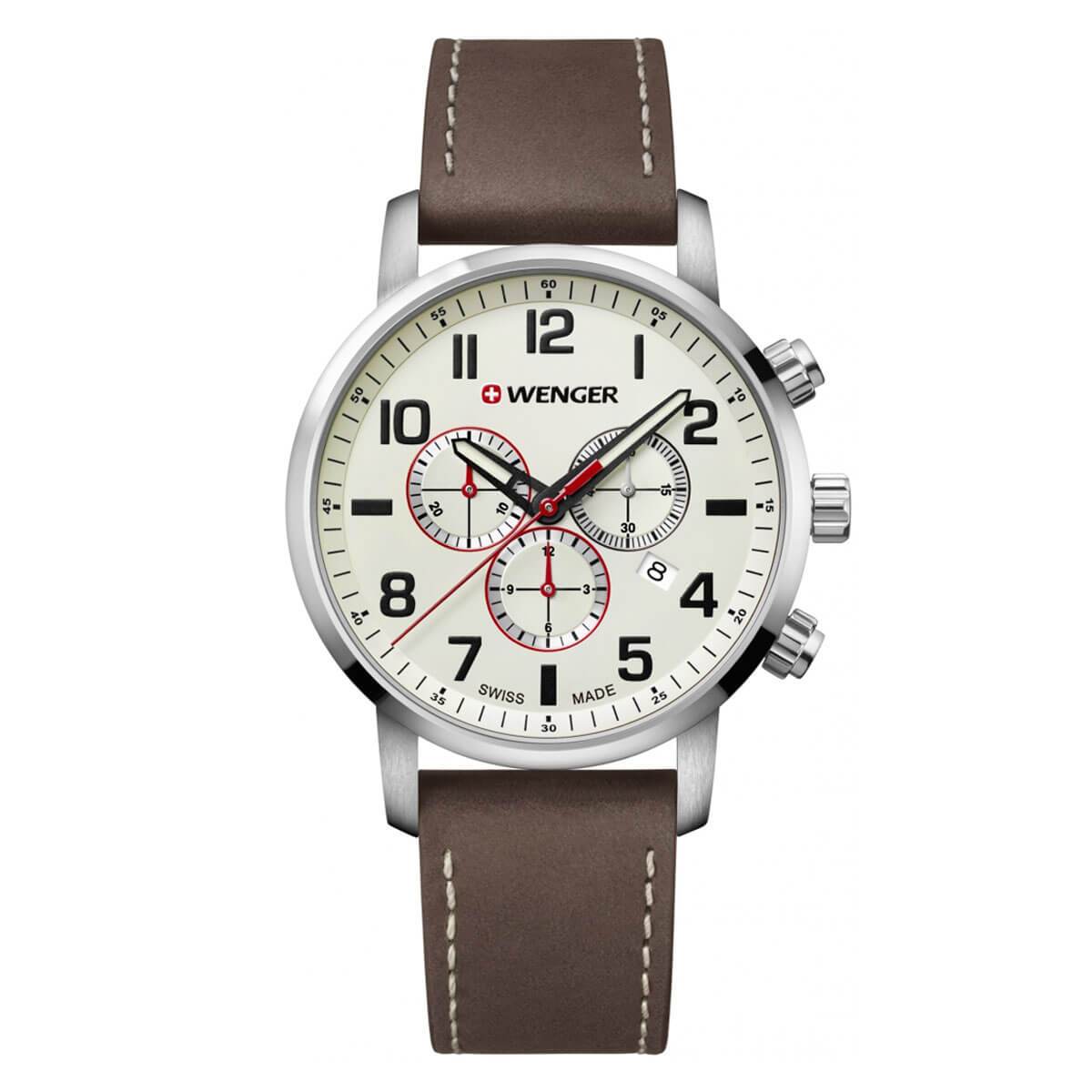 44mm case with 100m water resistance.
Swiss quartz movement.
Date, time, and chronograph.
Luminous hands.
Specifications – Timex Men's Expedition Scout Chronograph 42mm Watch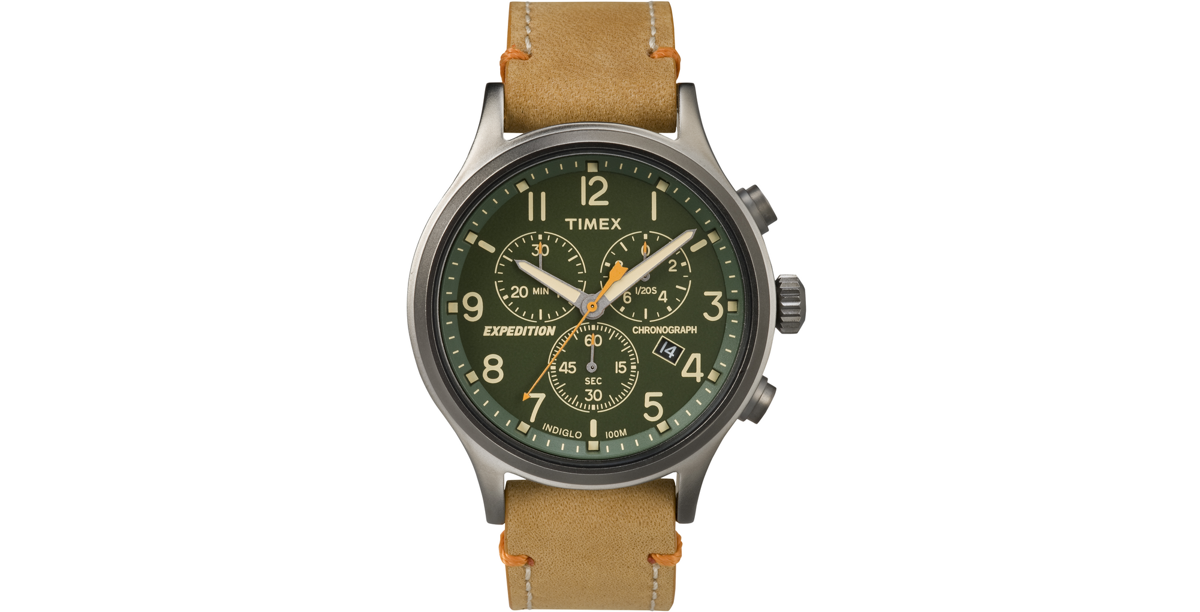 As Per Walmart's site:
Our best selling Scout design just got upgraded. The Expedition Scout Chronograph maintains the classic outdoor design of the original and enhances it with chronograph functionality. It is now as appropriate for the office as it is for the trail.

Adjustable tan 20mm genuine leather strap fits up to 8-inch wrist circumference
Green dial with date window at 4 o'clock; full Arabic numerals
30-minute chronograph measures to 1/20th second
Gray 42mm brass case with mineral glass crystal; Indiglo light-up watch dial
Water-resistant to 100m (330 ft): In general, suitable for snorkeling, as well as swimming, but not diving
As per Timex's site:
Manufacturer Part Number: TW4B044009J
Case Width: 

42 mm

Case Material: 

Brass, Stainless backing.

Band: Buckled Leather, 20mm
Crystal/Lens: 

Mineral Glass

Watch Movement: 

Quartz Analog

Water Resistance: 

100 meters

Case Height: 

12.5 mm

Strap and Lug Width: 

20 mm

Warranty: 1 Year
Chronograph Measures to 1/20th Second
Date Feature
Classic Outdoor Design
Chronograph Measures Up To 30 Minutes
100m Water Resistance
INDIGLO® Night-Light