AllOutdoor Review: Savage Arms 110 Timberline 6.5 Creedmoor
Adam Scepaniak 11.08.21


There is a growing trend in the bolt-action rifle segment of the firearms market, and that is a rush to design some of the most wickedly light yet accurate hunting rifles we have ever seen – and we at AllOutdoor are loving it! For Savage Arms, they have dedicated an entire series to this goal with their BackCountry Xtreme Series. This includes a handful of rifles that – you guessed – are shockingly light and superbly accurate. We will review one of them here today in the Savage Arms 110 Timberline chambered in 6.5 Creedmoor.
Savage Arms Coverage on AllOutdoor
What sets the 110 Timberline apart from the rest of its counterparts in the BackCountry Xtreme Series is that it boasts a Realtree Excape Camo AccuFit™ Stock and OD Green (Olive Drab) Cerakote among other elements. Let's dive in to see what else is unique about this rifle and if it is something you should be adding to your stable of hunting rifles for this fall and beyond!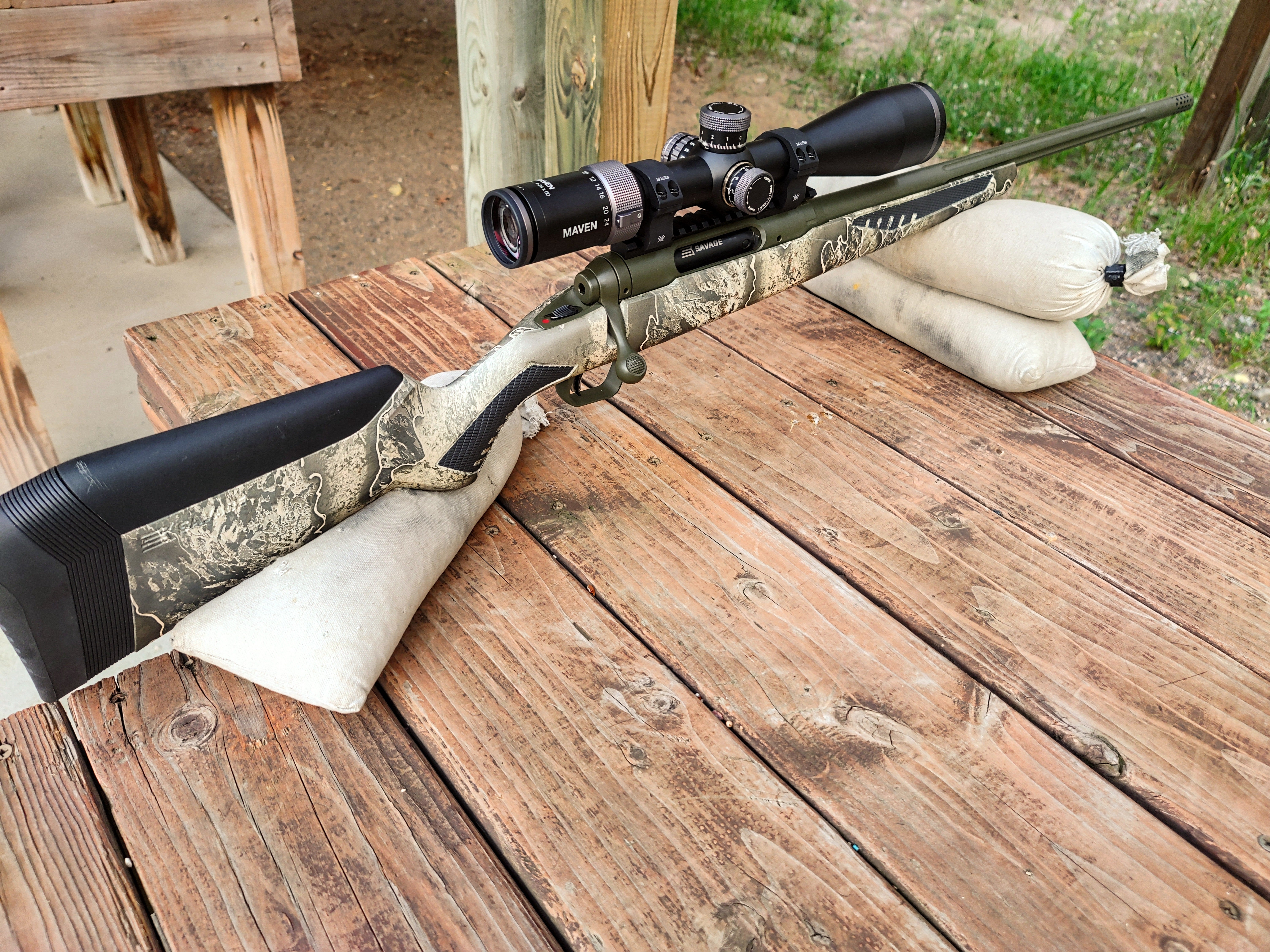 The Savage Arms 110 Timberline is chambered in some of the most popular big-game hunting cartridges for North America: .243 Win, 6.5 Creedmoor, .270 Win, 7mm-08 Rem, 7mm Rem Mag, .308 Win, .30-06 Sprg, .300 WSM, and .300 Win Mag. All of these would be suitable for a multitude of game from coyote up to grizzly bear or elk. Some of the essential specifications for the 110 Timberline chambered in 6.5 Creedmoor can be read below as presented by Savage Arms:
Cartridge: 6.5 CREEDMOOR
Barrel: 22″ Carbon Steel OD (Olive Drab) Green Cerakote w/ 1 in 8″ Twist
Receiver: Carbon Steel OD (Olive Drab) Green Cerakote
Stock: Synthetic, Sporter Matte Camouflage
Magazine: 4 Round Detachable Box Mag
Length of Pull: 12.75″ – 13.75″
Overall Length: 42.375″
Weight: 8.1 Lb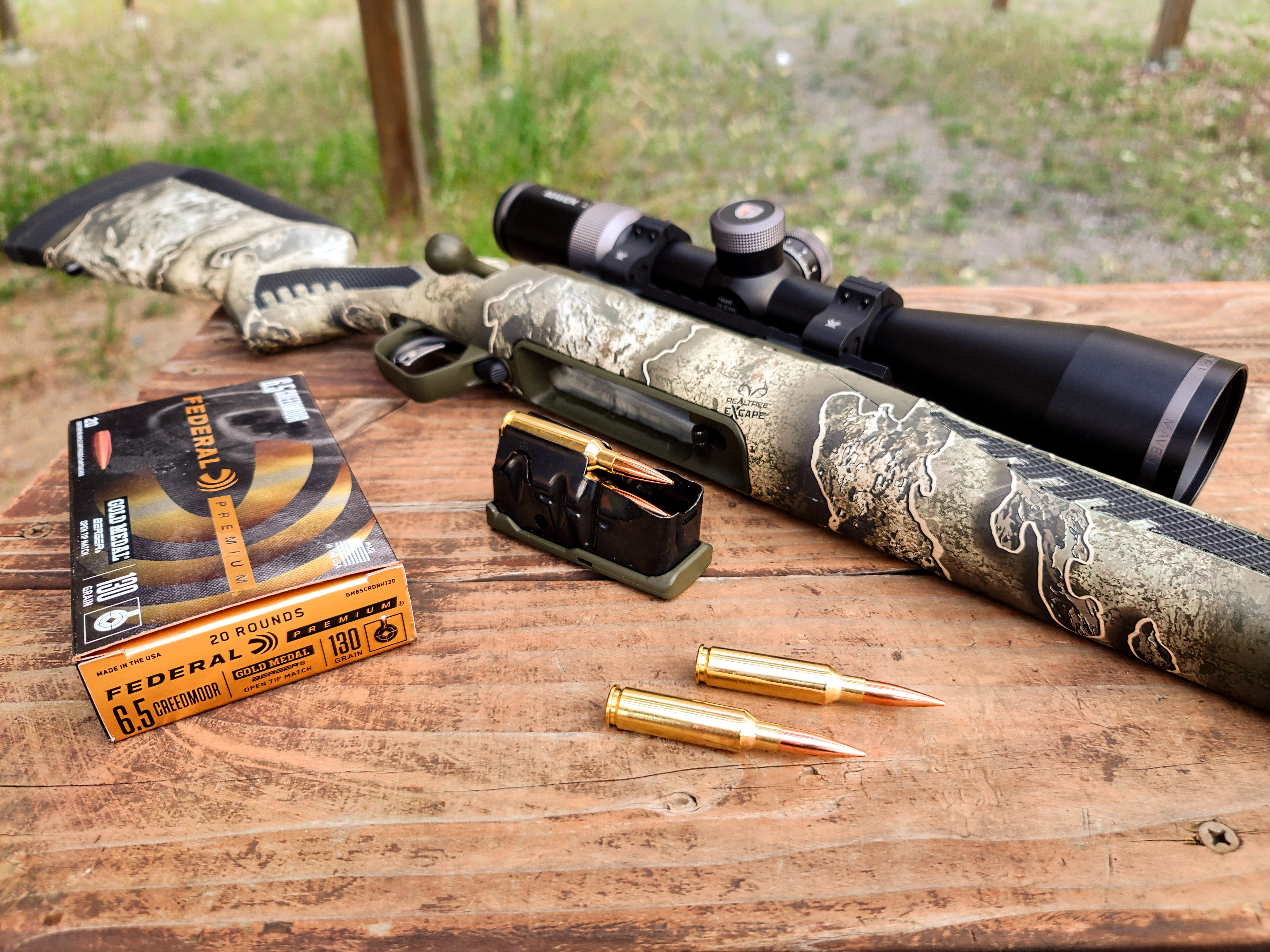 Those are some of the nitty-gritty specs, but this rifle is comprised of much more than a white sheet of details. Being as this rifle hails from the BackCountry Xtreme Series, the 110 Timberline will have significantly more enhancements poured over it to make it a hunter's and huntress' potentially favorite choice to hit the woods with. Those premium upgrades are specified below:
Factory Blueprinted Action
Medium Profile Barrel Contour with Straight Fluting, Threaded (5/8″ x 24 TPI) with Omni-Port Muzzle Brake
Target Crown
Available in Right- and Left-Hand Configurations
Realtree Excape Camo AccuFit™ Stock with Adjustable Comb Height, Length-of-Pull, and Overmold Surfaces
OD Green Cerakote Barrel, Receiver, and Critical Components
1.5 – 4 Lb User-Adjustable AccuTrigger
Detachable Box Magazine
Drilled & Tapped Receiver (8-40)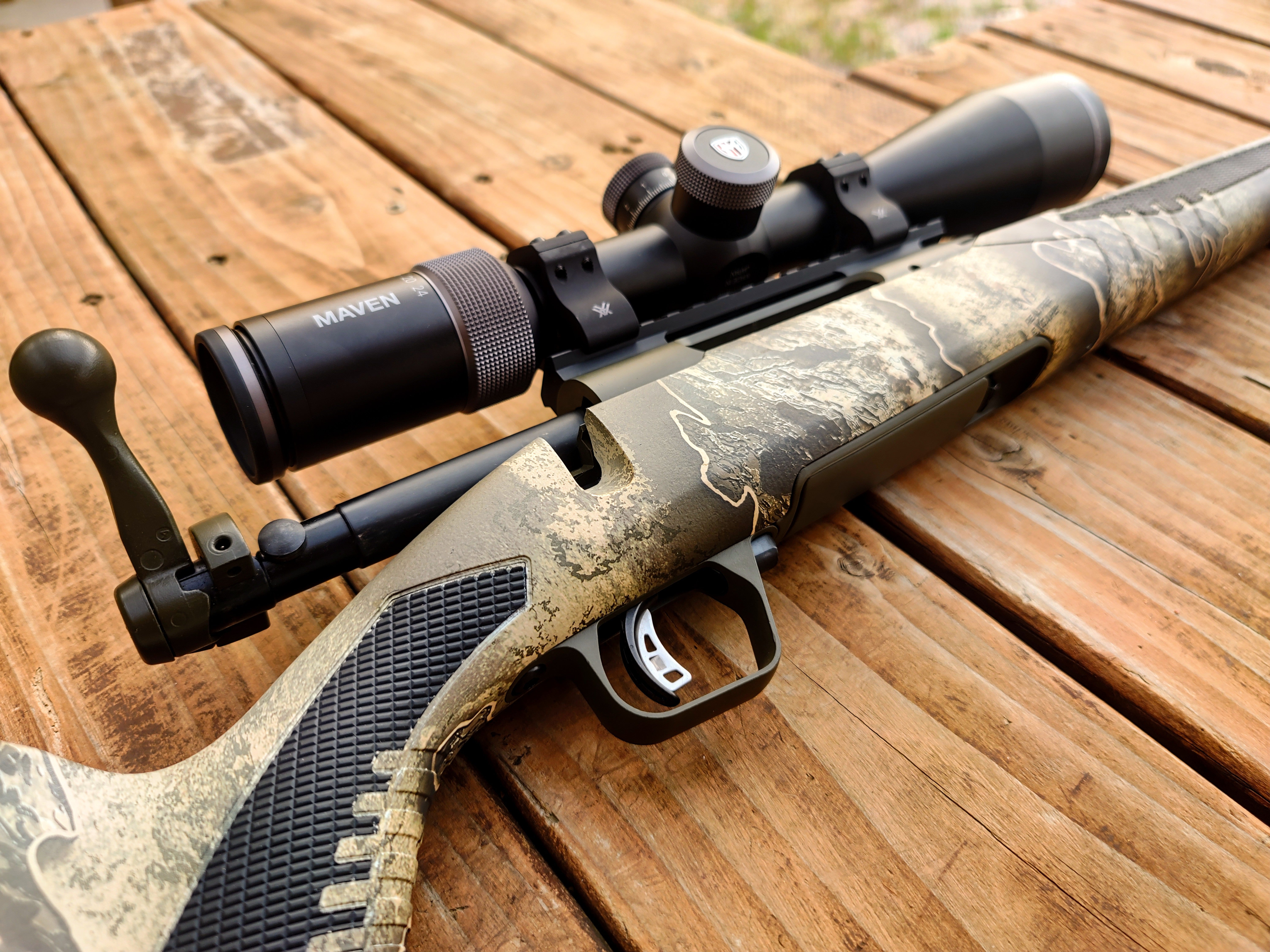 The MSRP for the Savage Arms 110 Timberline 6.5 Creedmoor is benchmarked at $1,199 which sounds pretty affordable for the bevy of features it carries. Moreover, in the rare event that you should ever need service for your firearm Savage Arms has a Lifetime Warranty that stands behind all of their firearms. One final snapshot into what the 110 Timberline 6.5 Creedmoor is all about can be read below in Savage Arms' Press Release statement:
Low temperatures. Dry air. Low pressures. Long shots. With the new Savage® 110 Timberline, they're all attainable. The rifle is built to maximize accuracy with a fluted barrel, overmold surfaces, target crown, and omni-port muzzlebrake. The Model 110 action is secured three-dimensionally along its entire length within the AccuStock™ internal chassis and AccuFit™ system lets hunters customize length-of-pull and comb height of the Realtree® Excape synthetic stock. Plus, the user-adjustable AccuTrigger™ offers a crisp, clean pull critical for making precise shots at any distance. The OD Green Cerakote on the barrel, receiver and other critical parts protects against corrosion and harsh terrain for closing out the perfect hunt.
First Impression: Savage Arms 110 Timberline 6.5 Creedmoor
Taking the Savage Arms 110 Timberline out of the box for the 1st time it is an impressive looking rifle. The OD Green Cerakote is an attractive look with the Realtree Excape Camo housed in an AccuFit™ Stock. The AccuFit™ Stock is nice because I was able to achieve an appropriate comb height for my physique/size, and the generously padded butt pad makes this gun incredibly light recoiling when coupled with the muzzle brake.
The only disappointment in the entire rifle that I could glean before shooting is you only have a 4-round detachable box magazine. It would have been nice to see it be compatible with AICS pattern magazines or to take a Magpul magazine of some kind so you could at least have 5 – 10 rounds with you at all times.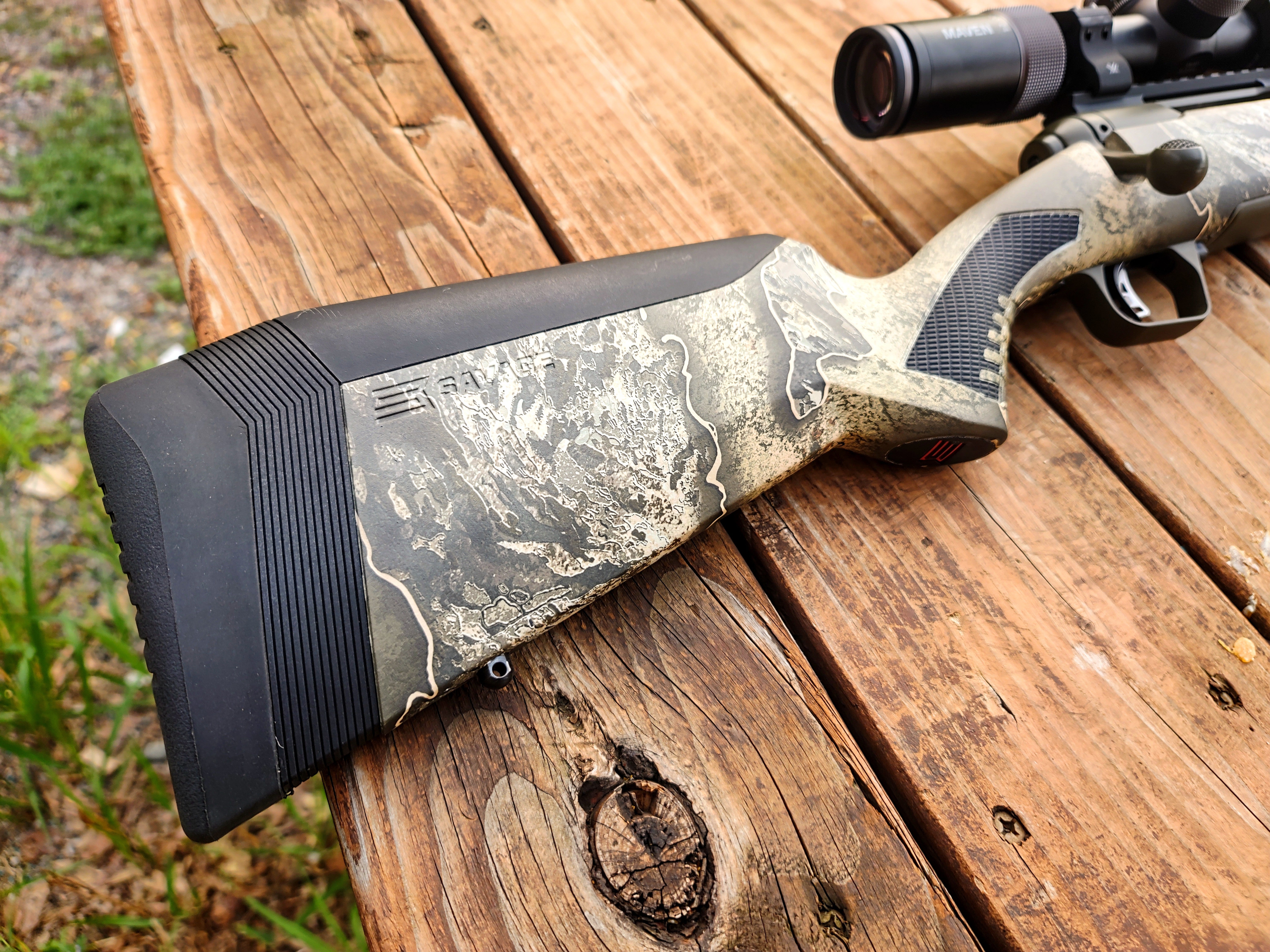 Once I was able to get the Savage Arms 110 Timberline out to the range the real test began. First off, I noticed that the magazine needs to be rocked into place to be seated properly. Not necessarily good or bad, but something to make note of if you own one. When running the bolt the action is buttery smooth pushing rounds into the chamber.
The AccuTrigger system is nice because the safety blade you can pull in to prepare yourself for the shot, and then gently touch it off. The AccuTrigger has an incredibly soft, smooth break. Once I finally sent a round down range it was game over – lights out accuracy. It took me three shots to sight in at 100 yards after a simple bore-sight, and from there I was shooting sub 1″ groups all day long. I have never sighted in a gun so quickly and achieved sub-MOA accuracy so easily.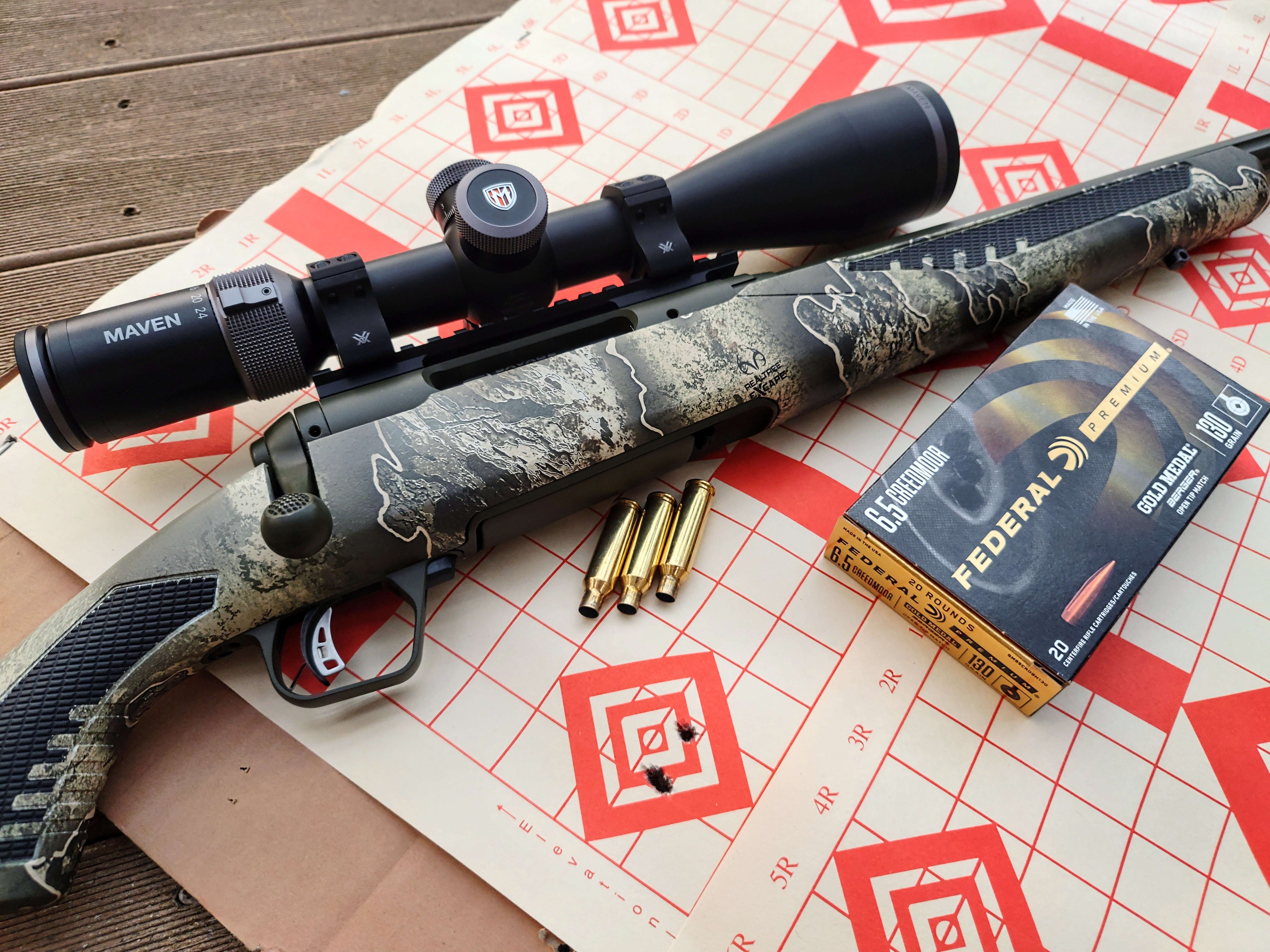 The Omni-Port Muzzle Brake is pretty thunderous, but is worth its weight in gold for the recoil reduction. In an active hunting situation you'd be able to see your impacts and know whether or not a follow-up shot is necessary. Overall, an incredibly enjoyable rifle to shoot.
The scope I chose was a little bit on the heavy side so as a package it is moderately heavy, but understanding the confidence and accuracy this can achieve together I would gladly carry it in the field. Also, if someone opted for a lighter, leaner scope the rifle alone is very competitive in weight.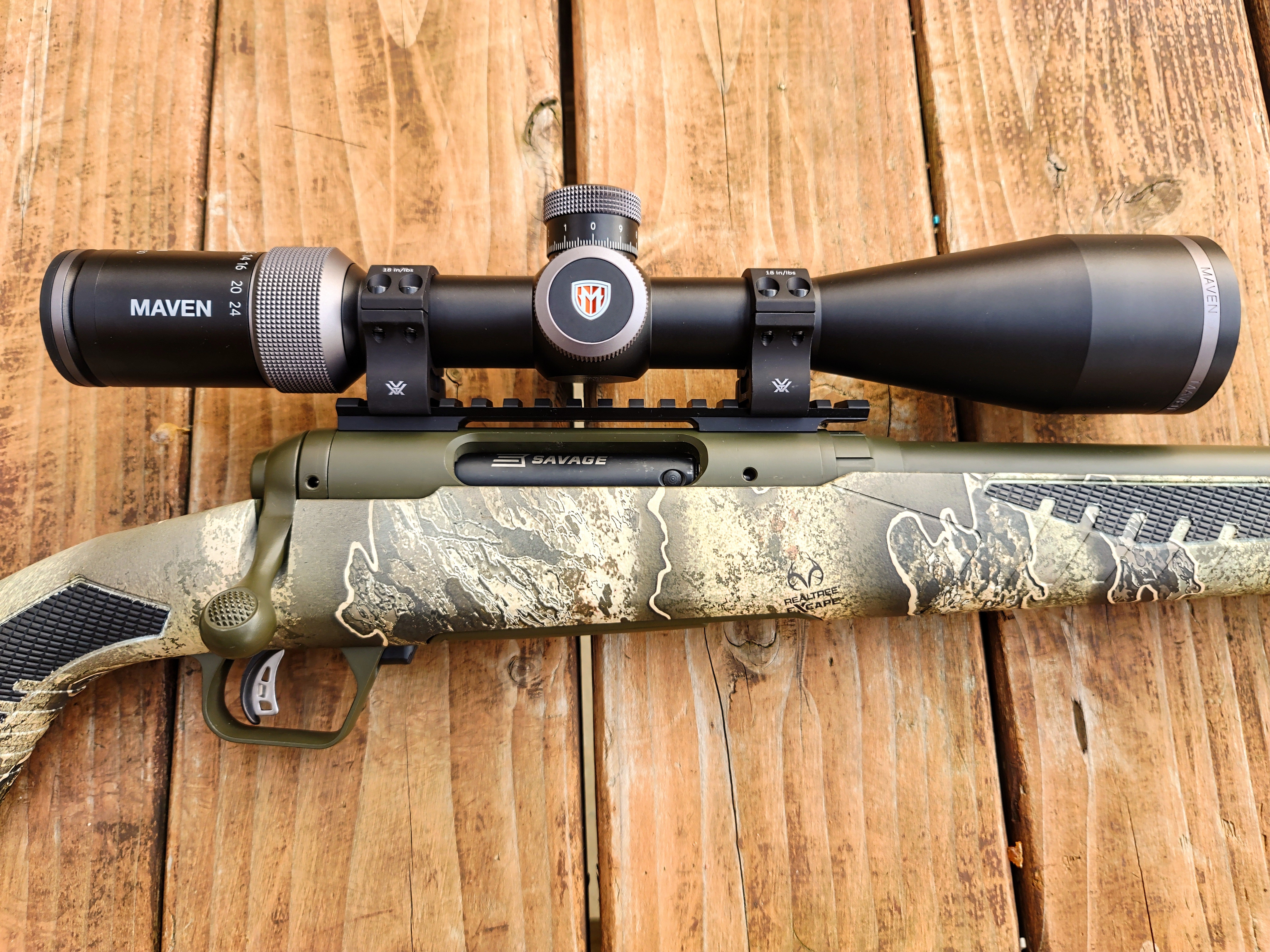 Final Thoughts: Savage Arms 110 Timberline 6.5 Creedmoor
So, what are my final thoughts on the Savage Arms 110 Timberline in 6.5 Creedmoor?… Well, the groups we achieved were consistently around 1.00″ – 1.11″ with our smallest test groups punching in under sub-3/4 MOA (0.681″). So, the accuracy with boxed ammunition is superb for this rifle. I would imagine that with a little bit of reloading you could be sub-3/4 MOA all day long. The AccuFit™ Stock, I believe, is an often overlooked feature of Savage rifles, but it is really nice to be able to get a gun to fit you perfectly. It instills confidence and passively improves accuracy. The OD Green Cerakote matched with the Realtree Excape Camo is a nice look as well. Overall, at an MSRP of $1,199 I would absolutely recommend this rifle for anyone who is looking for an accurate, feature-rich hunting rifle.
In closing, I want to say thank you to Savage Arms for allowing AllOutdoor and myself the opportunity to try out their Savage Arms 110 Timberline 6.5 Creedmoor. Also, a huge thank you to Federal Premium for providing some of their quality ammunition for this review. That is greatly appreciated. Also, we would like to know what all of you guys and gals think? Do you believe that the Savage Arms 110 Timberline 6.5 Creedmoor is something worth spending your money on? Would you add one to your gun safe? Hunt with it? As always, let us know all of your thoughts in the Comments below! We always appreciate your feedback.