Federal Announces Monthly Ammo Delivery Subscription Service
Nicolas Lenze 12.06.21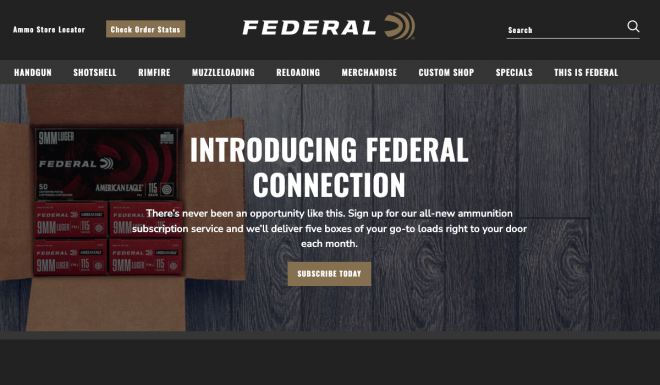 One of the things I often struggle with when buying ammunition is consistency. Certain guns like specific ammunition and they deserve to be fed what they like, but we're often beholden to what our local gun store has in stock. To remedy this, among other reasons, Federal Premium has centralized your ammo shopping needs and bringing it right to your doorstep. This is Federal's new monthly ammunition subscription service, Federal Connection.
Federal Premium Coverage on AllOutdoor
Never worry about running out of your go-to loads again. Through Federal Connection, our all-new ammunition subscription service, you can sign up for a one-year contract and we'll deliver five boxes of your favorite ammunition right to your door each month—shipping is free.
Federal Offers Ammo Delivery Subscription Service

A subscription to Federal Connection means that every month, 250 rounds of your caliber of choice will arrive at your door. Only three calibers are currently available (9mm Luger, .40 S&W, and .45 ACP), but with success, we're sure to see that list expand in the future. Subscribers are limited to one subscription per caliber per household. Shipping is included in the monthly due and purchases are eligible for Federal Rewards points. If you subscribe, you must commit to a full year of service. If you decide to cancel early, the act will incur a $300 fee.
PRICING
American Eagle Handgun (250 Rounds) 115-grain 9mm Luger: $139.99 per month
American Eagle Handgun (250 Rounds) 180-grain 40 S&W: $151.99 per month
American Eagle Handgun (250 Rounds) 230-grain 45 Auto: $169.99 per month
If you'd like to subscribe and have your ammo of choice show up every month, you can do so on Federal Premium's website. be sure to follow the ammunition company on their social media pages. Hit them with a like, subscribe, or follow on Federal's Facebook, Instagram, Twitter, and YouTube pages. Keep on training!