Primed Nutrition Debuted by Federal for Hunters and Outdoor Enthusiasts
Adam Scepaniak 09.20.21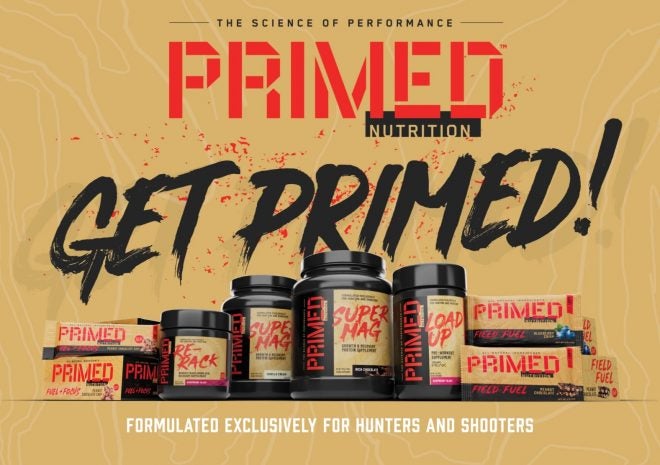 Federal Ammunition has announced a new line of nutritional products – Primed Nutrition – by partnering with Go Condition nutrition brand with a focus on hunters, shooters, and outdoor enthusiasts alike. Primed Nutrition, upon its debut, has a full portfolio of nutritional products in energy bars, pre-workout, protein powder, and more. For competitive shooters and hunters who need stable energy and focus all day long, Primed Nutrition looks to offer exactly that both out in the field and during your times of preparation.
Federal Ammunition Coverage on AllOutdoor (AO)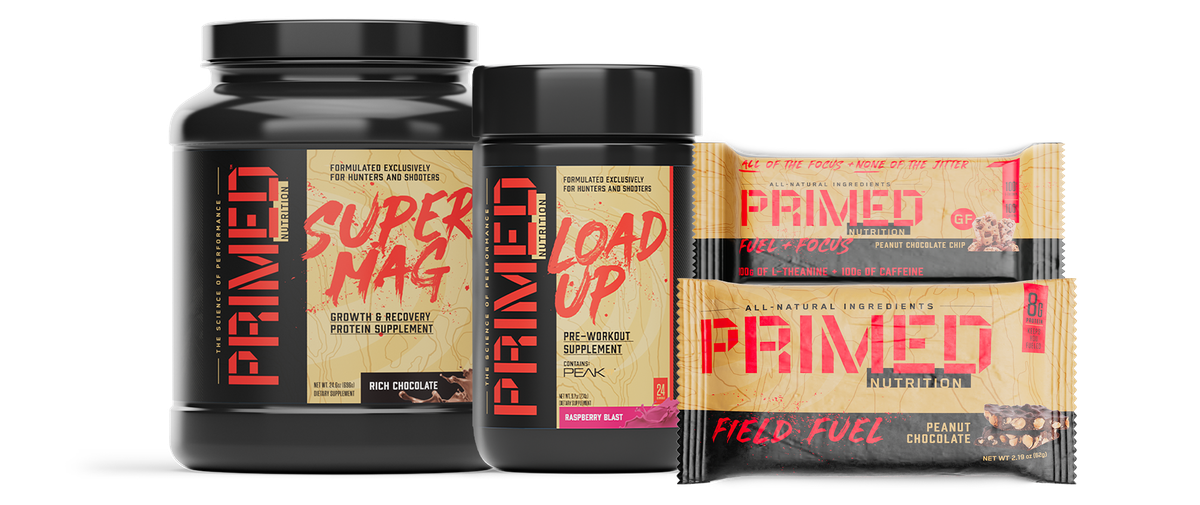 When it comes to outdoor adventures hunters can be some of the most fanatical people around. From stalking elk across canyons for miles, logging upwards of 20 miles per day pursuing grouse, and/or backpacking hundreds of pounds of meat upon a successful day's exploits. With this motivated grind you will have lots of calories and fuel burned that needs replenishing. Federal's Vice President of Marketing, Jason Nash, explains how pairing with Go Condition was an intelligent partnership that can deliver on those aforementioned needs for hunters:
"We partnered with the team at Go Condition to come up with a great new line of nutritional products for hunters and shooters. They are experts in what they do, and they closely worked with us to match the right product to our pursuits. Primed is formulated with the same dedication to quality, accuracy and effectiveness that we apply to the development of all of our products. As active participants in shooting sports ourselves, we know how important it is to stay awake, energetic, focused and alert when it comes time to make the shot."

Instead of picking up a Snickers bar at a gas station in between checking trail cameras or property fence lines, it would be more affordable, nutritious, and provide more consistent energy if you fueled up with something like Primed Nutrition's "Field Fuel" bar. If it has an ingredients list you can pronounce with real foods you have heard of that is a great start in the right direction for better health and better days afield. Go Condition's Vice President and General Manager, Andrew Heddle, excitedly elaborates on all of this:
"The Federal team approached us to create a range of supplements and bars that delivered on the unmet needs of hunters and shooters both in the field and on the range. Federal has exacting standards for everything they do, and this extends to these nutrition products as well. These new products deliver a balance of effectiveness, energy and alertness when the outdoorsman needs them, without over stimulating them or causing an energy crash. Together, we created a range of products with easy to understand ingredients in quantities that make a difference without artificial and unnecessary stimulants to get in the way of the perfect shot."
There have been many days hunting where I am up far before the sun rises and I am field dressing my harvest long into the next morning. Those grinding and successful days afield can be brutal on your mental clarity, energy, and stamina. Worse yet, hunters on those long days often do not get proper nutrition to support such a grueling lifestyle. I, personally, look forward to trying some of these new energy bars and even the protein powder to see what the taste is like. Overall, what do you think of Federal Ammunition going after the nutrition market with Primed Nutrition? As always, let us know all of your thoughts in the Comments below! We always appreciate your feedback.
---
Primed Nutrition
Primed Nutrition products are available at the company's website and at retail partners nationwide. To learn more about this new product line, visit www.primednutrition.com.
---
Federal Ammunition
Federal Ammunition can be found at dealers nationwide or purchased online direct from Federal. For more information on all products from Federal or to shop online, visit www.federalpremium.com.