Curious Relics #028: The Remington Nylon 66 – Dated Design Part III
Sam.S 12.15.21

Welcome, if you are a newcomer to this fun bi-weekly segment of AllOutdoor.com! The last time around I covered the history of the Remington Nylon 66 along with all of its variations throughout the years. Today we are jumping back into the often well-regarded Remington Nylon 66. This rifle has a vast history that includes a whole host of plastic plinker lineage. Let's dive right into the rabbit hole!
---
Welcome to our recurring series of "Curious Relics." Here, we want to share all of our experiences, knowledge, misadventures, and passion for older firearms that one might categorize as a Curio & Relic  – any firearm that is at least 50 years old according to the ATF. Hopefully along the way you can garner a greater appreciation for older firearms like we do, and simultaneously you can teach us things as well through sharing your own expertise and thoughts in the Comments. Understanding the firearms of old, their importance, and their development which lead to many of the arms we now cherish today is incredibly fascinating and we hope you enjoy what we have to share, too!
---
Dating: Remington Nylon 66
A very fine relief about these guns is it is relatively easy to determine the date of manufacture. The earliest guns did not have serial numbers because it was not needed. During the middle of the Nylon 66 lifespan, the serial numbers did not have a prefix, and later they did. Besides narrowing down time frames by using my Variations article for example there is a code that you can use! Here we can actually ignore the serial number and go straight to the stamping on the barrel like pictured below. There should be two letters. The first is a month and the second a year.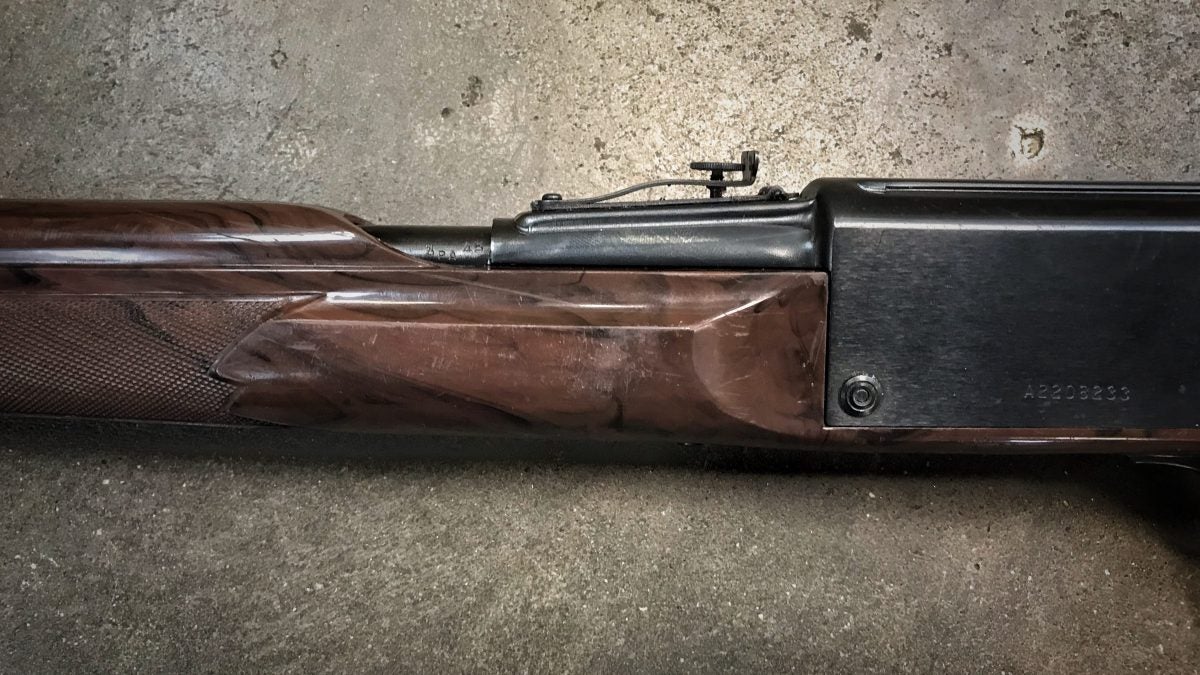 The month letters have an easy way of remembering what is what. All possible letters in order from January to December spell out BLACKPOWDERX. "B" is January and "X" is December. The second letter being the month unfortunately does not have an easy method of remembering and on top of that the letters would be recycled over time. By looking at the year codes below and the month ones above you can see that this gun being "PA" means it was manufactured in June of 1980.
1958: E
1959: F
1960: G
1961: H
1962: J
1963: K
1964: L
1965: M
1966:N
1967: P
1968: R
1969: S
1970: T
1971: U
1972: W
1973: X
1974: Y
1975: Z
1976: Date Code Unlisted. Bicentennial Models.
1977: O
1978: Q
1979: V
1980: A
1981: B
1982: C
1983: D
1984: E
1985: F
1986: G
1987: H
1988: I
1989: J
1990: K
Specifications: Remington Nylon 66
The Remington Nylon 66 is a very lightweight and compact rifle. The stock has checkering on both the pistol grip and handguard portion. The sights are very discernible but the rear sight can be cumbersome to adjust using a Phillips style screw head. Loading is done with its tube-style magazine hidden in the buttstock. The large tube handle is twisted 90 degrees and then pulled out. From there 22 long rifle rounds are inserted facing forward into the recess where the tube once was. Then the tube can be reinstalled but there may be some hangups on the rims of the cartridges before it is all the way in.
Years Produced: From 1959 to 1991
MSRP In 1959: Roughly $49.95 ($477.10 in 2021)
Chambering: 22 Long Rifle
Barrel Length: 19.5 inches
Overall Length:38.5 inches from buttpad to muzzle crown.
Weight: Roughly 4 lbs
Operating System: Straight Blowback
Action: Semiautomatic
Capacity: 14 Rounds of 22 Long Rifle
Front Sight: Fixed Front Ramp
Rear Sight: Elevation Adjustable Rear Square Notch
Stock: Nylon Zytel-101, One Piece, Various Colors
After Market Parts & Accessories: Remington Nylon 66
Disassembly and reassembly of the Remington Nylon 66 is not for the faint of heart. If necessary I highly recommend bringing it to a competent gunsmith. As far as aftermarket parts go there are the usual avenues. You have Numrich, CFN Parts, eBay, etc. most parts seem to be available which is a pleasant surprise. The hardest thing to get ahold of would be a replacement stock so make sure to take care of yours if you own one. When you can find them they are $300+. May as well buy another Nylon 66 at that point.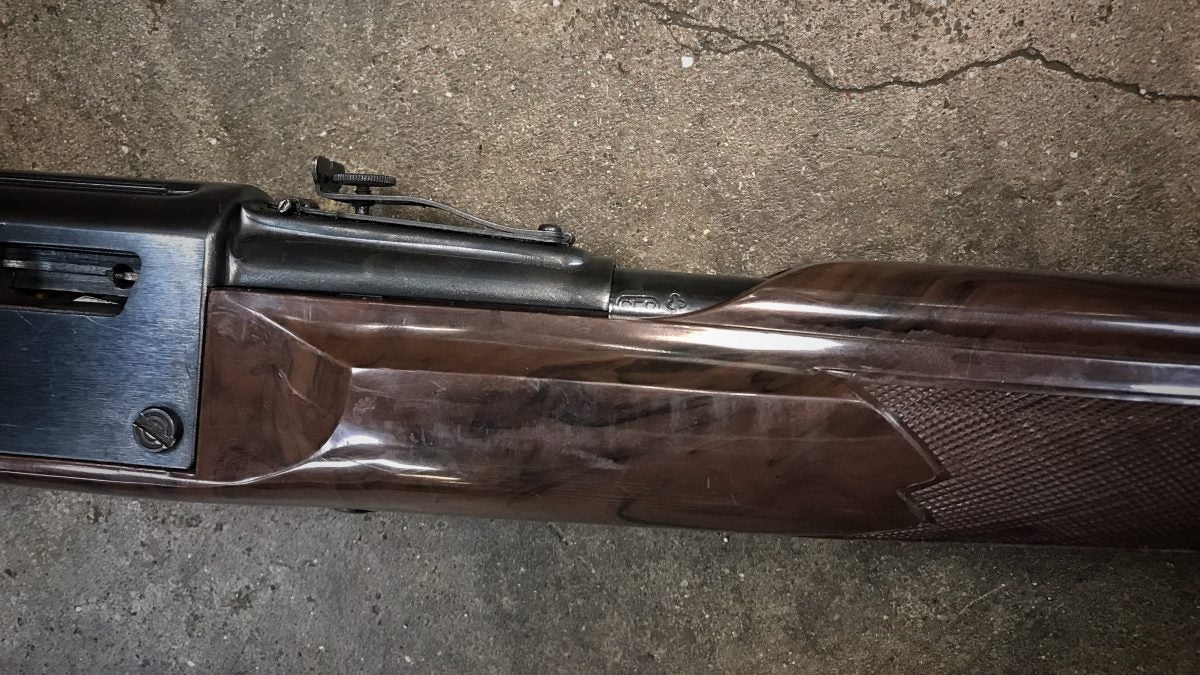 Final Thoughts: Remington Nylon 66
Unfortunately, this is one of those times where I only had contact enough with a firearm to take pictures. No range time for this old gun. Fortunately, this gun was so well circulated and sold that most people have had experience with them. A majority of those experiences are positive unless they ever had to take one all the way apart or put one back together. The Remington Nylon 66 has its place in history as one of the best-selling, reliable, and durable 22 semiautomatic rifles out there. It is a fascinating rifle and hopefully, someday I will get some more hands-on experience to show you all more findings! Till next time make sure to stay safe out there!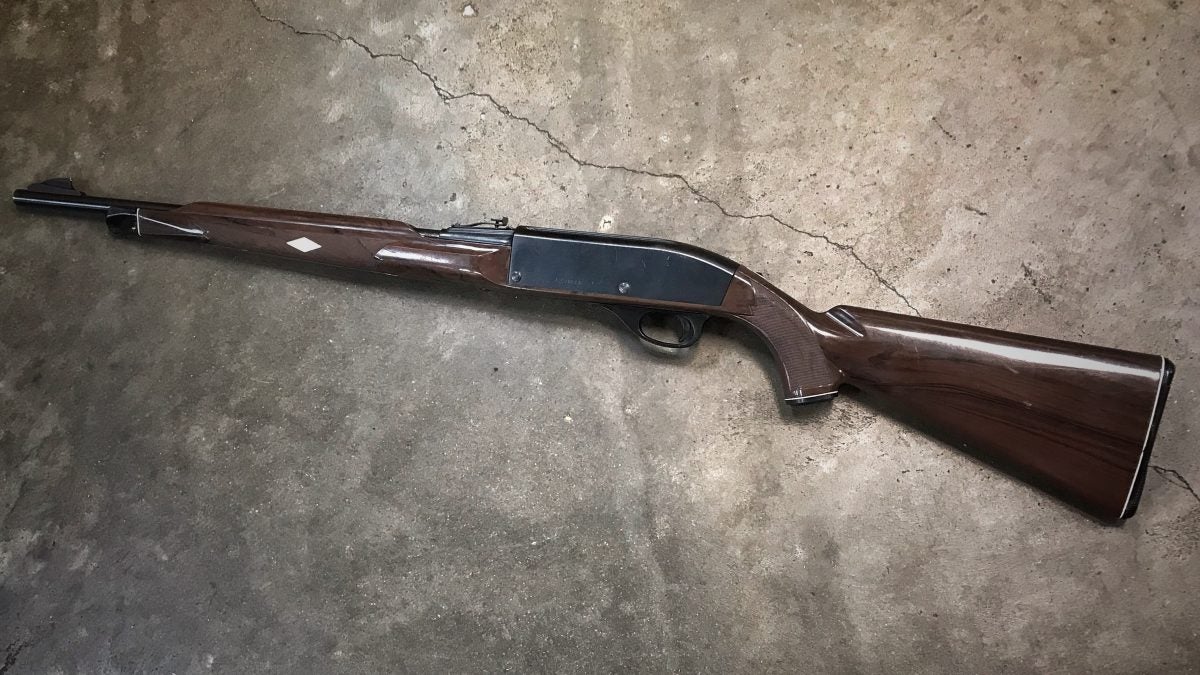 In closing, I hope our Curious Relics segment informed as well as entertained. This all was written in hopes of continued firearm appreciation and preservation. We did not just realize how guns were supposed to look and function. It was a long and tedious process that has shaped the world we live in. So, I put it to you! Is there a firearm out there that you feel does not get much notoriety?  What should our next Curious Relics topic cover? As always, let us know all of your thoughts in the Comments below! We always appreciate your feedback.