The Path Less Traveled #043: Top 3 Camping Knives – SHOT Show 2022
Andrew D 01.24.22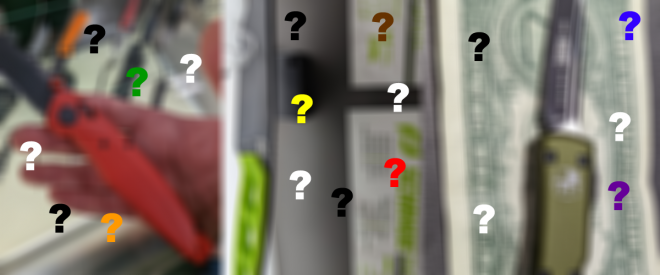 There are so many vendors to chose from, it was difficult to choose my top 3 camping knives from SHOT Show 2022. With this in mind, I decided to go with a goldilocks-style price tier from low to high. Don't forget that I have a strong desire for things that are lightweight! Take a look at what I think would fit the best for those going out on a multi-day hike, an overnight in the woods, or glamping with buddies in your Airstream!
Like Schrade? Check out these posts!
---
Welcome to our recurring series of "The Path Less Traveled." In this series, we want to take you along for our exploits in the wilderness while hiking, camping, exploring, and general adventuring. This will include our small daily victories, foibles, tips, tricks, and reviews of gear we authentically appreciate and frequently utilize. While a well-worn trail can often be the pathway to a leisurely day, the paths less traveled can often spur on some of the greatest memories, misadventures, and fun we could imagine. Join us in the Comments as we share our travels and hopefully, we can all come together for a greater appreciation of the outdoors.
---

The Schrade Isolate DP is a no-nonsense do anything camp knife for the lightweight backpacker who isn't out there trying to baton firewood like Bear Grylls. This knife will still tackle the tough tasks. (If you want to baton, try the Schrade SCHF52 Frontier.) The AUS 10 steel is going to keep it reliable when you forget about it at the bottom of your backpack for three months and need to make a splint for your trail buddy after a fall. A $24.99 price-point makes it very attractive for those who use their knives as tools, rather than things seen in photos where people classify EDC as a fashion/hobby. (Don't get me on this topic…)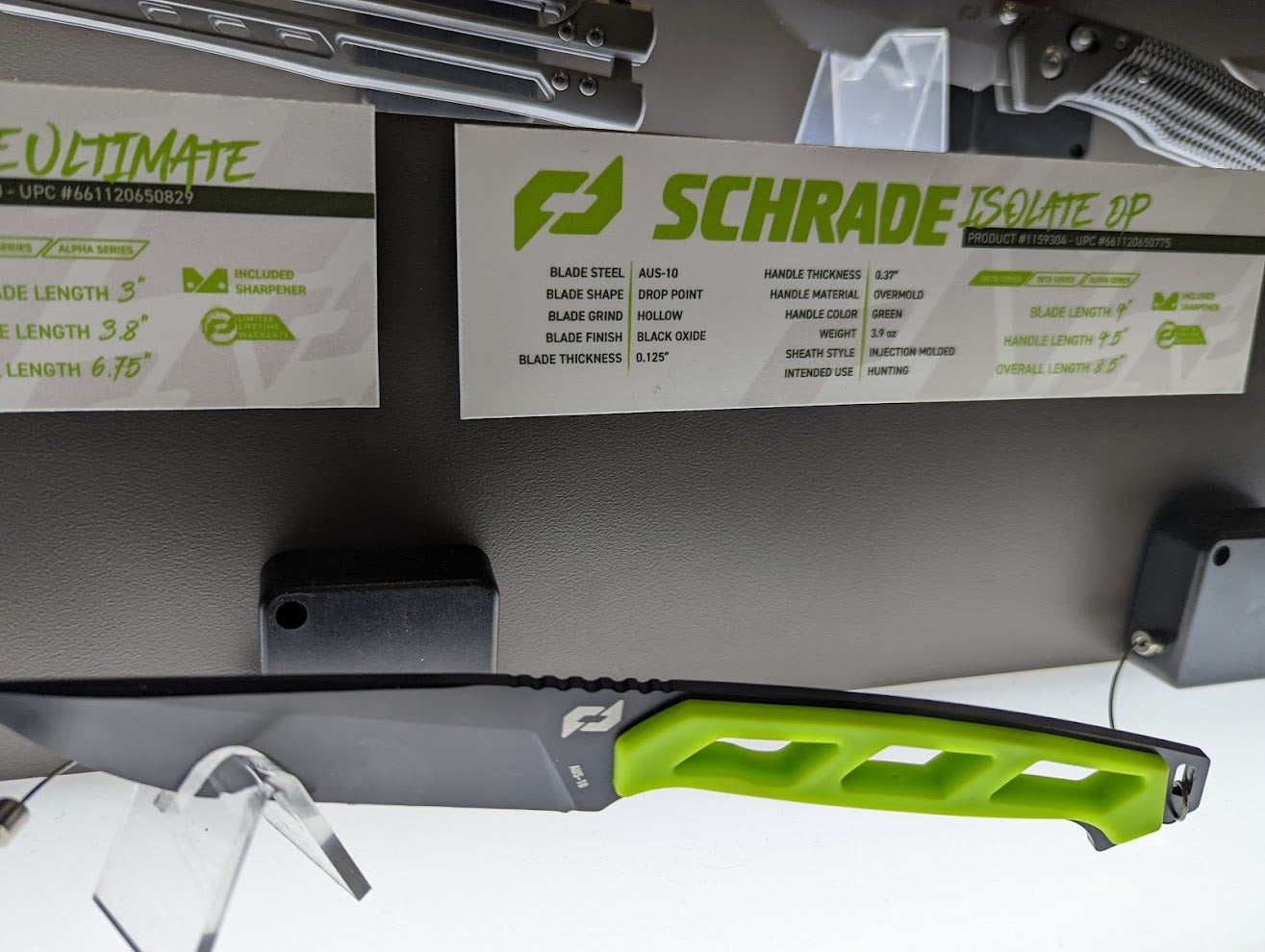 "The Isolate series of hunting knives is designed for the hunter who is uncompromising about the need of having a lightweight, durable and ultra sharp hunting companion. Designed in Columbia, MO using AUS-10 steel, full-tang construction and non-slip TPR handles, the Isolate series of knives makes quick work of your success in the field and is built for a lifetime of use."
SKU: 1159304
Blade: 4″ Plain, Fixed Drop Point
Color: Black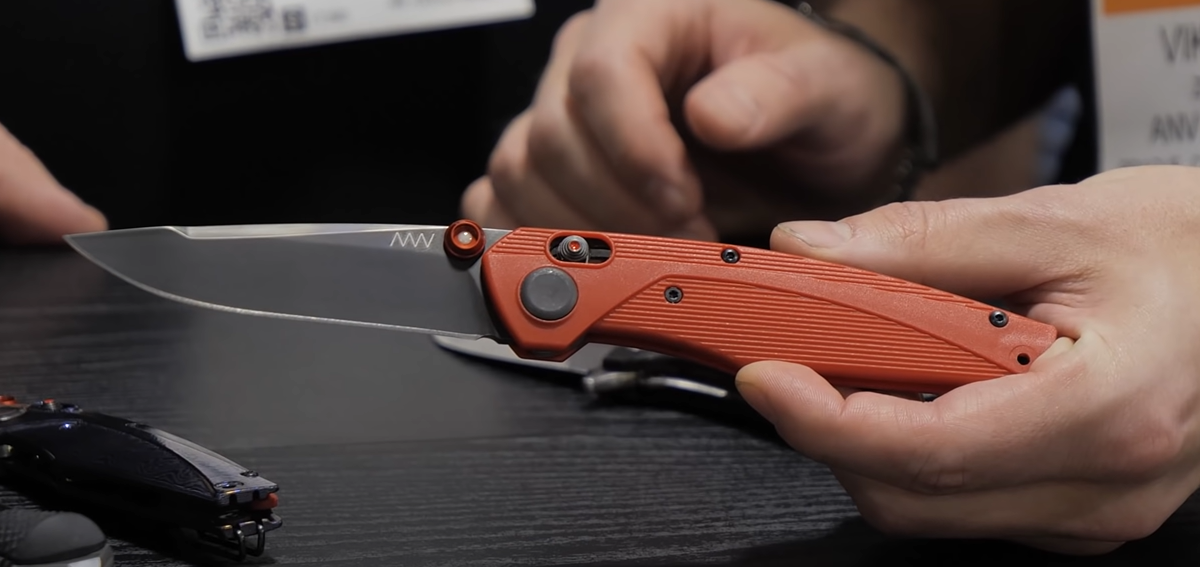 I spoke to ANV knives for about ten minutes, detailing the history and production of their knives. Andrew (same name) reported his passion for design. Andrew stated for the A-series of knives, ANV did not compromise on the quality of the blade material. Deep Cryo Elmax steel was used for the blade, while attempting to remain price-friendly with glass reinforced nylon for the grip.
This would be my pocket camping knife for a weekend trip. Classy, but it's okay if the blade coating gets scuffed. A glass reinforced nylon handle will keep it light, and the little glowing thumb stud is a bit of flex to share with friends. This isn't your OKC RATII, it's a knife to be used AND share.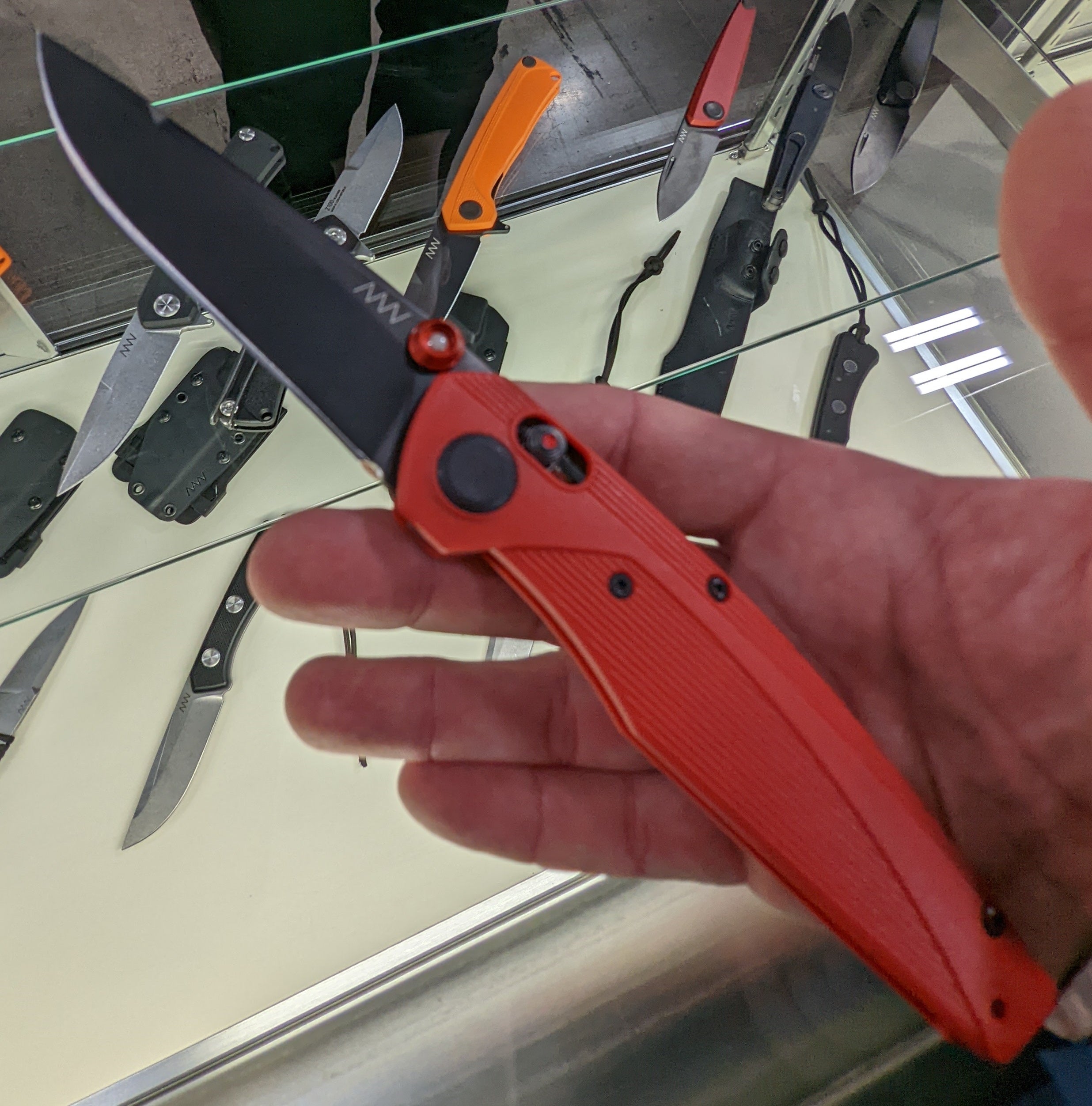 Opening the knife took no effort, and the thumb stud had a small glow in the dark filament in it. Andrew with Acta Non Verba stated that their folder had to be truly great for an EDC knife. Weight, comfort, dependability, and appearance were all evaluated when designing the A100.
Release Date: Unknown, likely Summer 2022.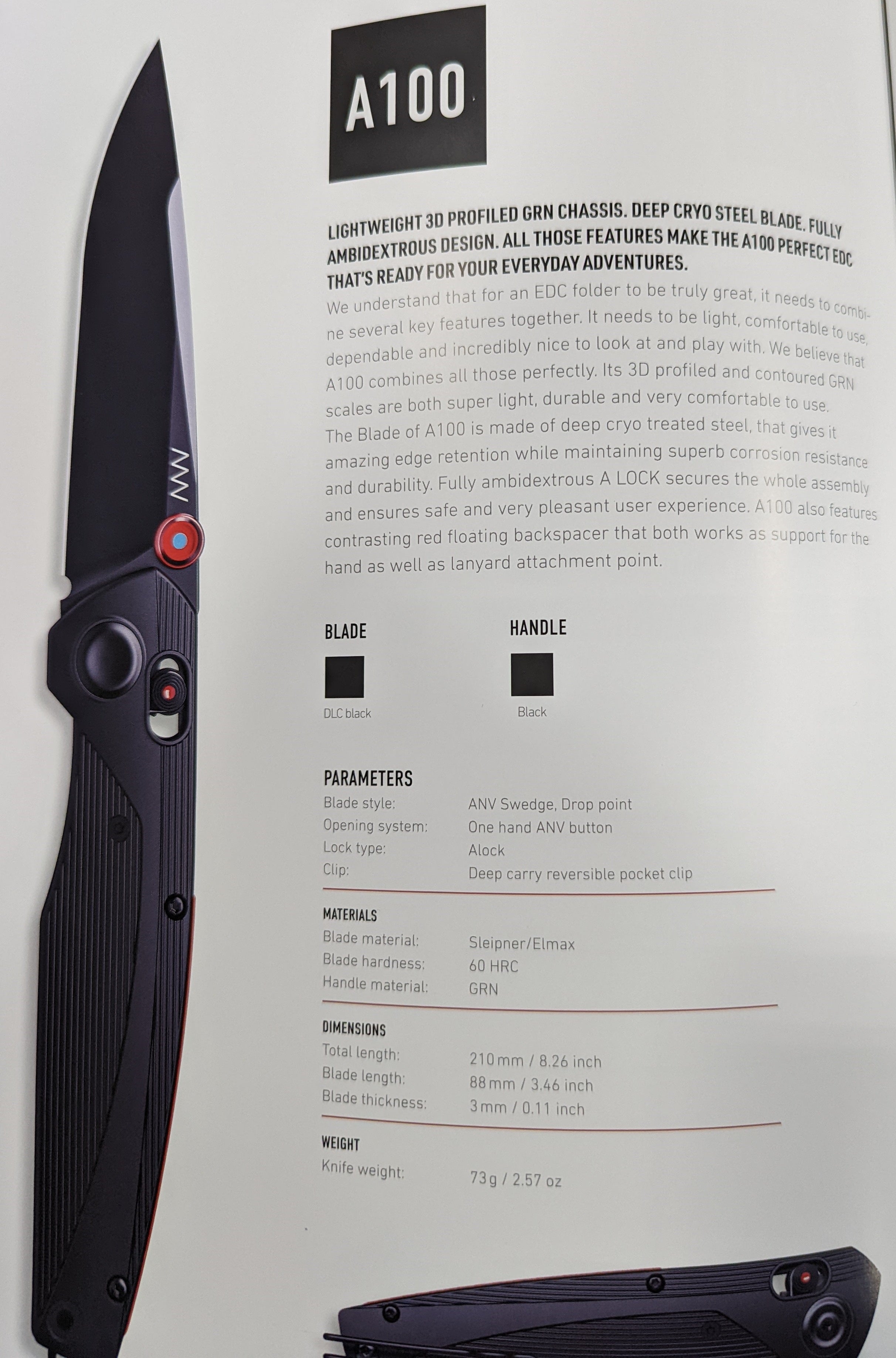 Blade Material: Deep Cryo Elmax steel
Blade Hardness: Handle material:60 HRC
Total Length: 210mm
Blade Length: 88mm
Blade Thickness: 3mm
Weight: 73g!!!
The UTX-70 is the camping knife you bring when you're drinking mimosas around a camp fire at the ski resort. Having an OTF knife when camping seems absurd when considering the environment you're in. Dirt, grime, water, muck are all worrisome, but these guys can handle more than you think. The M390 Steel retains it's sharpness and is a mother trucker to sharpen compared to other simple metals. But for real, bringing this knife with you would be dedicated to opening your MREs and filleting small fish. The most extreme thing I would be willing to do with the UTX-70 is sharpen green sticks. Heck! Co-writer Lucas D once told me about gutting a deer with a larger Microtech blade before!

Microtech says this about the UTX-70:
"At 70% the size of the Ultratech®, the UTX-70® is small enough to fit in a watch pocket. Its nimble size means it could fit into any small bag or pocket. When you need the functionality of a hard-use cutting tool without the size and weight of a full-size knife, the UTX-70® is a perfect choice."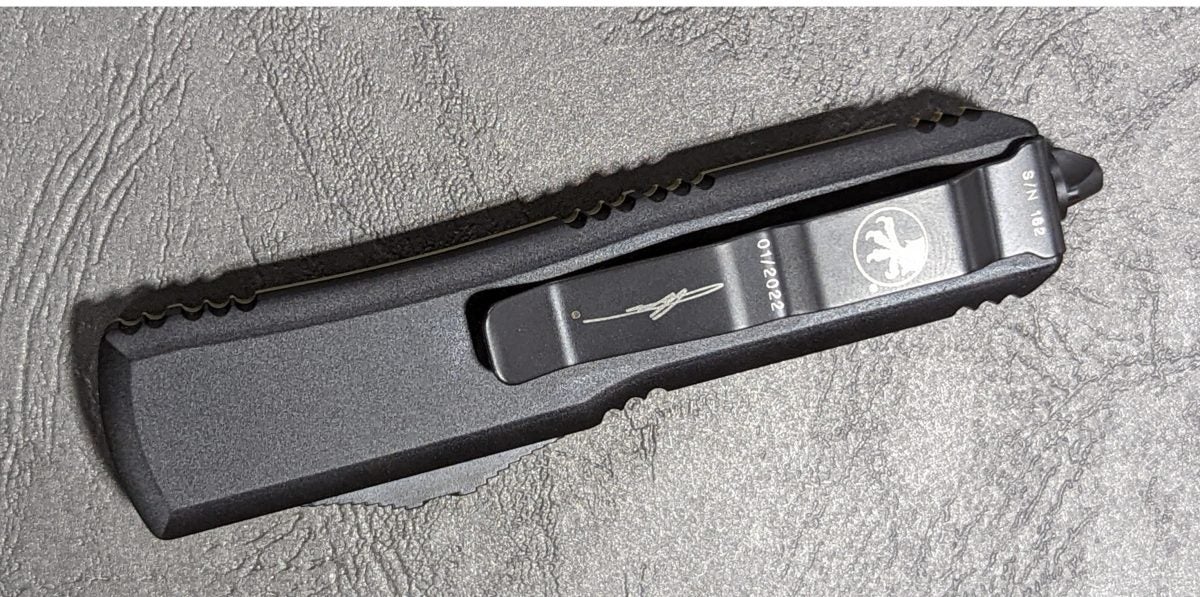 Top Camping Knives, In Summary
Were you at Shot Show 2022? What blades were you hype about? What blades under four ounces do you bring with you on a camping trip? Tell me in the comments!