AllOutdoor Review: Infante S6 Ultrasonic Gun Cleaner – Video & Wrap Up
Sam.S 02.02.22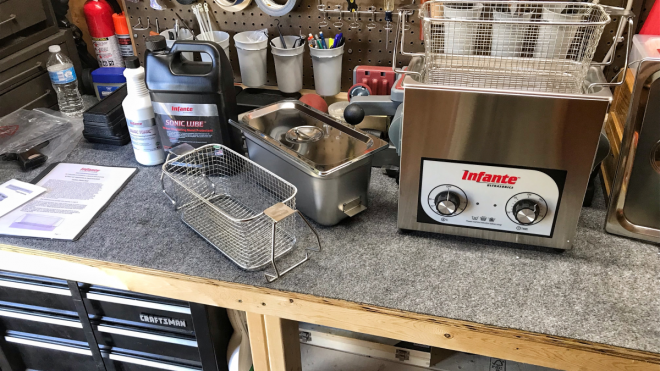 I recently in the last few months have had the chance to work extensively with the Infante S6 Ultrasonic Cleaner. I have written a review, suppressor cleaning article, and black powder revolver cleaning article. I thought it only fitting to send it off with one final demonstration. Below I have included excerpts and brief explanations on past articles covering the Infante S6 Ultrasonic Gun Cleaner. I hope to have this article be a good way to wrap up the topic and give plenty of information for anyone curious about the product. It is a product I have enjoyed using and hope to use more with future projects. Make sure to check out the demonstration video below before the conclusion heading. Let's dive right back in!
AllOutdoor Review: Shooter Series Ultrasonic Gun Cleaner – Infante S6
Starting off, I wrote an initial review of the Infante S6 Ultrasonic Cleaner back in October 2021. I tried to make it a point to inform on how there really is not much out there in the way of a dedicated firearm sonic cleaner and that the folks at Infante Ultrasonics have done an outstanding job at producing quality and non-hazardous products for people like myself that work with firearms and firearm accessories that need a good cleaning. I myself went to college for gunsmithing and have worked with firearms ever since. As a gunsmith, you come to know that about 85 percent of firearm issues stem from the gun not being maintained or cleaned. In my review, I chronicled the process of both cleaning and lubing which the S6 is capable of accomplishing and I was very impressed. This fantastic first impression gave me the feeling of a challenge being set before me and the S6 seemed to be up to the task in the articles that followed.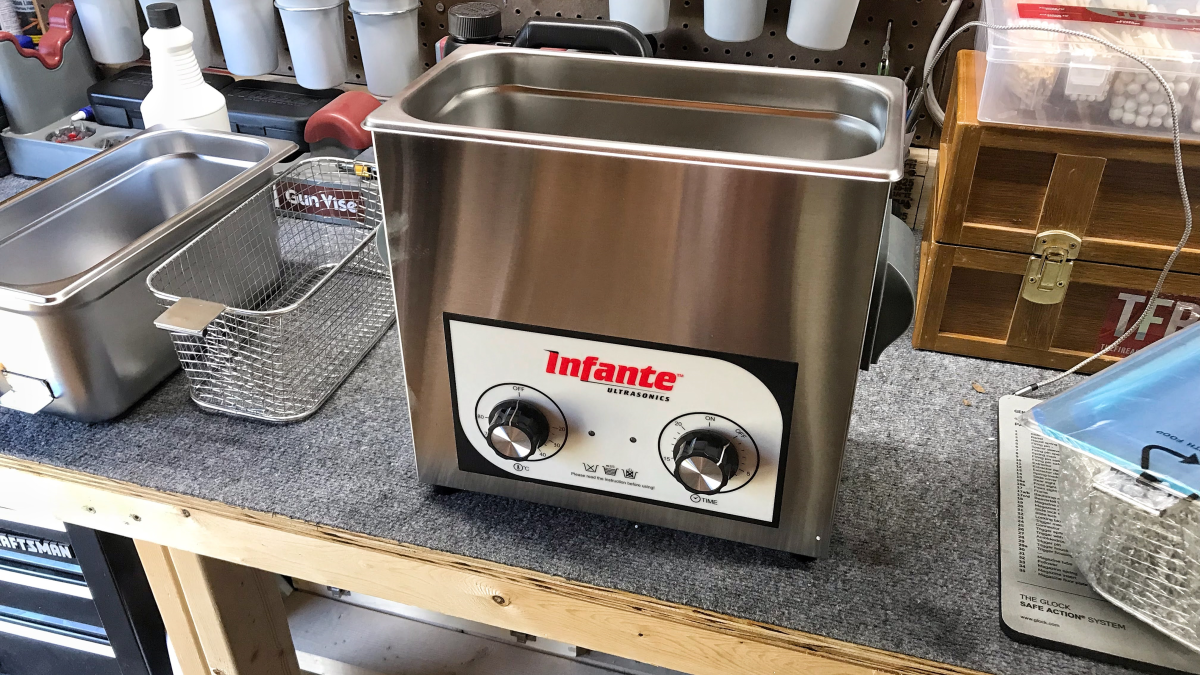 "The Infante S6 is the base level portion of the Shooter Series of Infante Ultrasonic Cleaners. The Shooter Series of cleaners are "High-end ultrasonic gun cleaners for the avid shooter and gunsmith." whereas its counterparts in the Pro Series are marketed to bigger operations "Heavy-duty industrial ultrasonic gun cleaners for military, law enforcement & commercial use". The MSRP of the Infante S6 sits at a hefty $730.00 but considering what you get it for sure seems understandable. The Infante S6 comes with the ultrasonic cleaner tank itself, 1 Qt. of Sonic Tonic, 1 Gallon of Sonic Lube, 2 Wire mesh suspension baskets with drain position handles, 1 Lube pan, and 2 Tank lid covers. The S6 has a dial for a duration of ultrasonic waves and also a dial for the heat of the solution in the tank."
Cleaning a Rimfire Suppressor with the Infante S6 Ultrasonic Cleaner
My first challenge to the Infante S6 Ultrasonic Cleaner was cleaning a heavily dirty rimfire suppressor. I started with this because I felt that if it could handle this it could probably handle anything. Typically every time before that I have had to clean my Dead Air Mask 22 HD it would take me about three hours. That is three hours of chipping away heavy lead fouling with a flathead screwdriver and working with caustic solvents and bore cleaners. The Infante S6 Ultrasonic Cleaner made cleaning my suppressor enjoyable and it saved my precious time which is valuable to me. That in itself to me as a consumer makes a product like this worthwhile if I do this as frequently as I am known to do.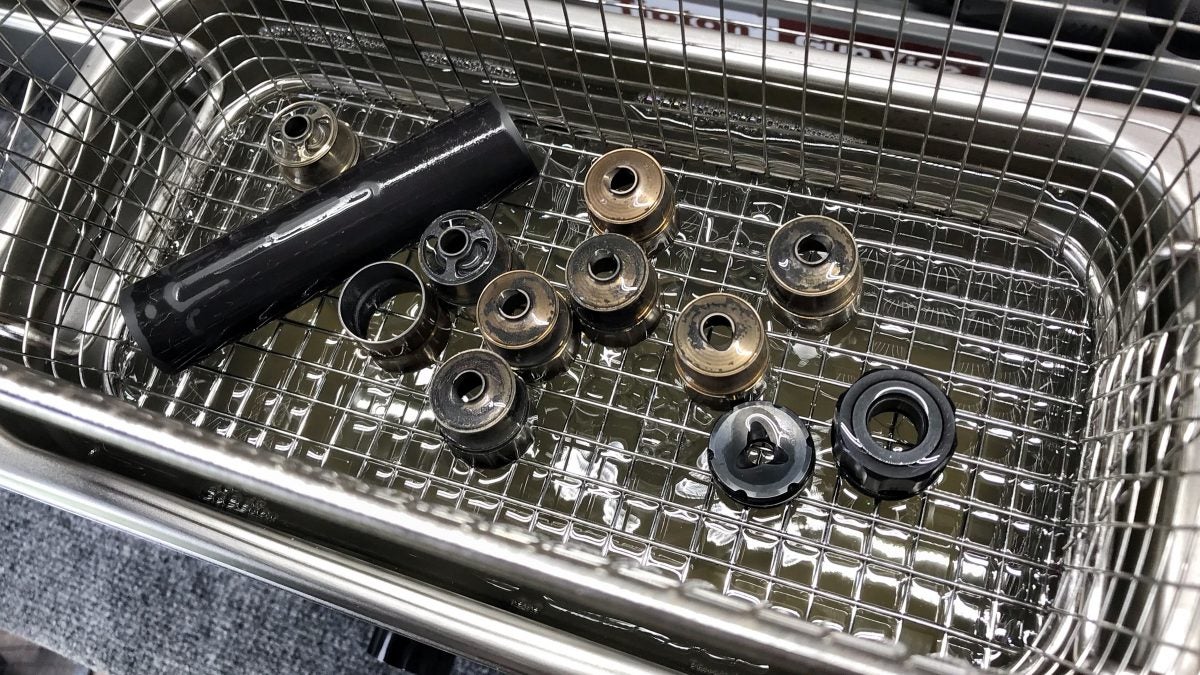 "So how did it do? It did a fantastic job. It is hard for me not to get excited writing about it because it genuinely made my life easier and my valuable time was saved. I do go more in-depth on how the setup and processes work in my initial review of the Infante S6 which you can find at the link here. I took the silencer and baffle material and finish under consideration and read the manual to double-check nothing would change and go wrong before even beginning. When I did start I made sure to put a couple of shots through the suppressor in hopes to shock some of the fouling to aid in cleaning."
Cleaning a Black Powder Revolver with the Infante S6 Ultrasonic Gun Cleaner
After the Infante S6 Ultrasonic Cleaner unexpectedly handled the rimfire suppressor cleaning so well I looked back in my memory of every gun cleaning I have ever done in order to try to think up something just as hard or harder to clean. What I came up with was hard to clean, but in a less tedious way. I chose cleaning a black powder revolver as a worthy advisory. I chose that because anyone who has ever worked with a black powder gun of any sort knows that they foul up very quickly, are corrosive, and gummy. Sometimes when left to sit in their filth these black powder guns will cease up and be very difficult to clean. I went out and shot my revolver until it was thoroughly fouled up and on top of that let it sit for at least a couple of days if I remember right. After just a single cycle the Infante S6 Ultrasonic Cleaner cleaned it right up and turned the solution to a cloudy golden brown.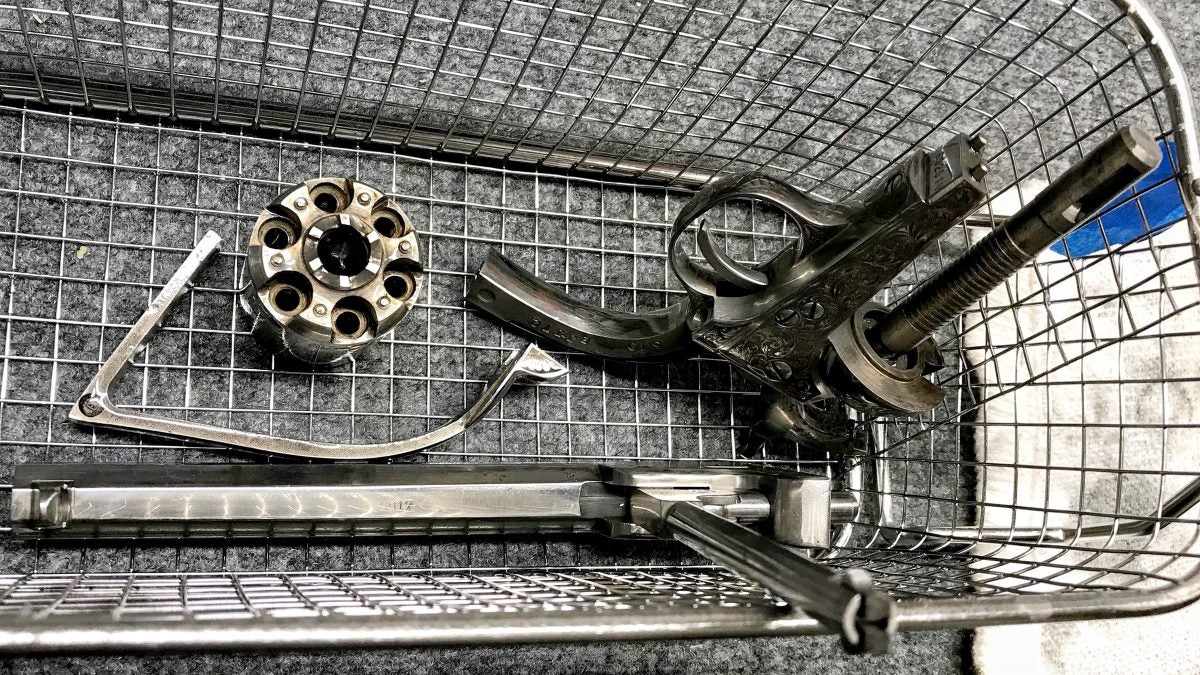 "So, how did the Infante S6 perform when it came to the fouling, dirtiness of this revolver, and its parts? It went extremely well once again and only required one cycle! I broke down the revolver to its base parts and prepped them in no way shape or form. I used a tea infuser to hold the smaller parts that would normally just fall out of the Infante cage. From there, they were submerged for a four-minute cycle. The initial reaction to the solution and ultrasonic waves was interesting and different compared to the pistol and suppressor I cleaned before. Instead of light dust flaking off of dark carbon build-up, it was a brownish cloud pluming in solution. It was awesome to watch because it was so immediate and I have no real idea why that could be. The revolver itself has a polished steel finish and lots of pores from the engraving so I do not know why the dirtiness was removed so well. Perhaps it is because the fouling had not done its dirty duty and penetrated deeper into the materials. A thankful thing because I like this gun."
Demonstrating The Infante S6 Ultrasonic Gun Cleaner
Finally, we have our last time with this impressive machine! I have really been wanting to show off how this works at a glance, broke down, and decided to make it happen. In the video below I demonstrate a typical day of cleaning a firearm with this machine. I decided to soil up that black powder revolver once more with an extensive range day and show how something so caked in messiness can be wiped clean with ultrasonic waves after a few minutes. In the video, I do not have any gloves on. Honestly, this was me just being forgetful. I do recommend the use of gloves and other forms of PPE (personal protective equipment) when working on firearms and especially when cleaning them. Gloves are necessary when working with firearms that have large amounts of lead caked inside. Luckily, this revolver had most of the lead residue which I later shove out the barrel. Safety glasses are always an easy and welcome precaution in any firearm maintenance situation. Please enjoy the video below which offers a brief demonstration of how this works at a glance and see firsthand the cleaning power of the Infante S6 Ultrasonic Cleaner.
In Conclusion: Infante S6 Ultrasonic Gun Cleaner
There you have it all! It has been an extreme pleasure to work with the Infante S6 Ultrasonic Cleaner and with the folks at Infante Ultrasonics. I am now a big fan of their products and would recommend them to anyone in the business of working with firearms on a gunsmith, gun store, or industrial level. If their bigger examples of ultrasonic cleaners do the same job like this one I would say they are well worth it and would pay for themselves. Quality non-hazardous products for shooters like myself is something we should all welcome. Well done, Infante Ultrasonics!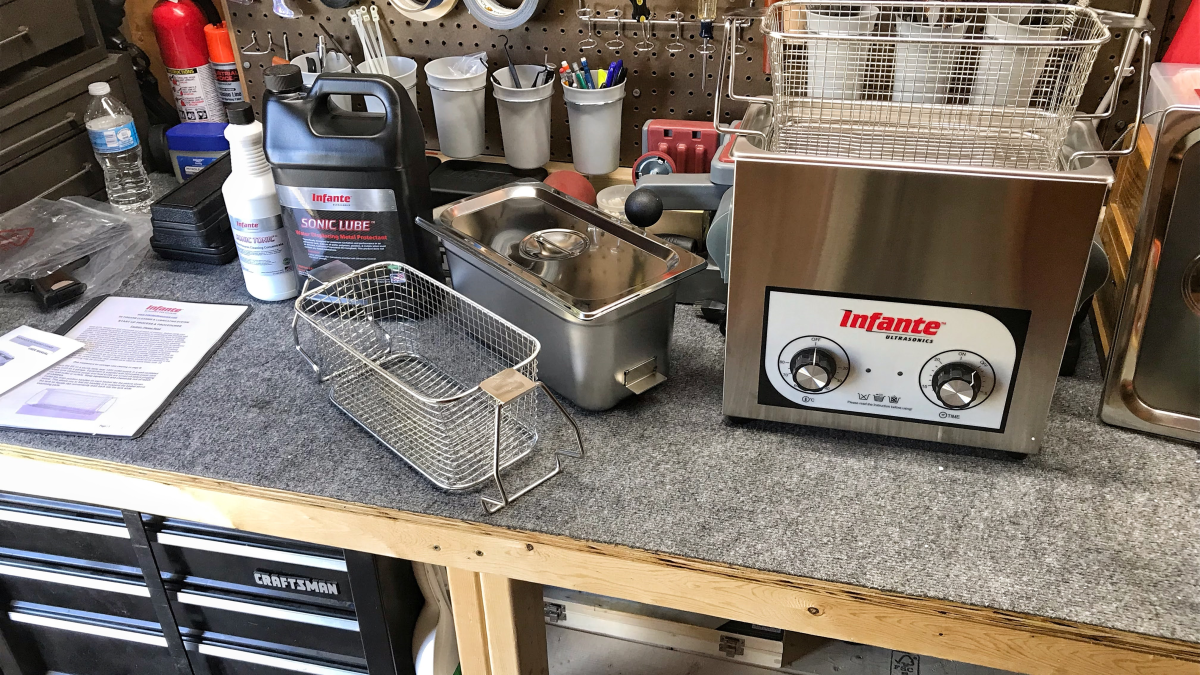 In closing, I want to say thank you to Greg Infante and Infante Ultrasonics for allowing AllOutdoor and myself the opportunity to try out their Infante S6 Model That is greatly appreciated. Also, we would like to know what all of you guys and gals think? Do you believe that this Ultrasonic Cleaner is worth spending your money on? Would you use this in your shop? Would this be your go-to cleaning method? Let us know all of your thoughts in the Comments below! We always appreciate your feedback.