HEVI-Shot Launches NEW HEVI-18 TSS Turkey Loads
Nicolas Lenze 02.25.22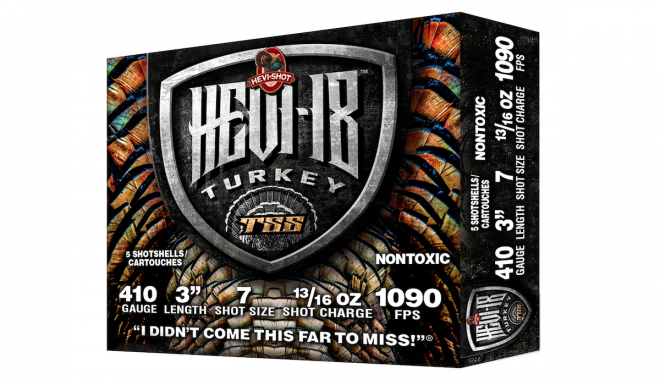 I can't believe it's almost spring again. Flowers, bees, and shootin' turkeys. Turkey season will be upon us soon and it's time to start deciding what gear you'll be using this year. Aside from the gun, ammunition selection is one of the most important decisions you can make. HEVI-Shot, while at the National Wild Turkey Federation's 46th Annual Convention and Sport Show, revealed their new turkey loads for the 2022 season. These are the new HEVI-Shot HEVI-18 TSS turkey loads.

HEVI-Shot Coverage on AllOutdoor
"TSS shot is an excellent option for turkey hunters, and we are excited to feature it in the new HEVI-18 shotshells," said Scott Turner, HEVI-Shot's Product Line Manager. "A great benefit of this load is that hunters have an extremely effective .410 option without sacrificing performance. This allows hunters of all ages and sizes to be able to carry a smaller shotgun without having to second guess the shotshell payload or penetrating power."
HEVI-Shot Launches NEW HEVI-18 TSS Turkey Loads
To start, the new HEVI-18 TSS turkey loads are available in 12 Gauge, 20 Gauge, and .410 Gauge. The .410 and 20 20 Gauge shells are 3″ while the 12 Gauge are 3.5″ shells. Those 3.5″ shells carry a payload of 2 1/4 oz, while the 3″ 12-gauge shells hold two ounces. All 20 Gauge options deliver 1 1/2 oz of shot, and the .410 loadings are 13/16 oz. Each size gives you the option of number 7 or number 9 shot. While the 12 and 20 Gauge loads both show a velocity of 1,250 feet-per-second, the .410 comes in at 1,090. These shells use a combination of thick based-wads, hot primers, and clean propellants to make sure they run in your semi-auto shotguns. Inside, they use a spherical buffer to help produce tight patterns.
SPECS
Gauges: 12, 20, .410
Shell length: 3″, 3 1/2″
Shot size: 7, 9
Shells per box: 5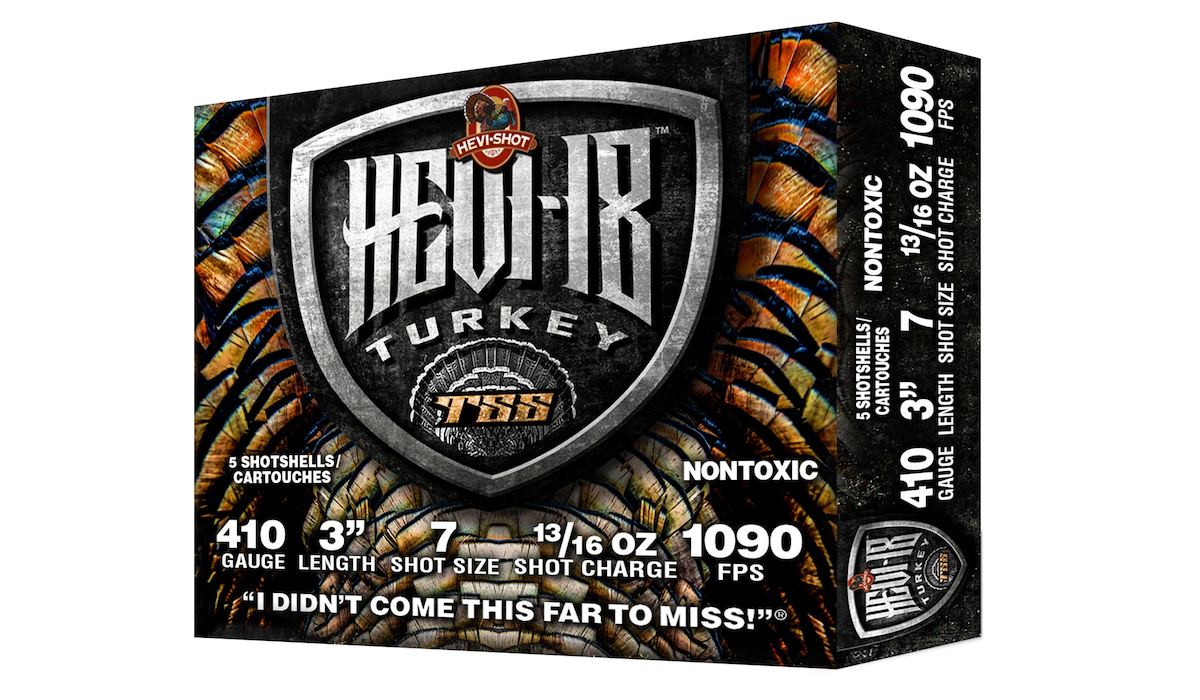 If you'd like to look at all of the HEVI-18 load options, head over to the HEVI-Shot website. You can also see more content and announcements directly from HEVI-Shot when you follow them on social media. You can find them on Facebook, Instagram, YouTube, and Twitter. Good luck this spring!