Curious Relics #043: Under The Hood – The Browning Hi-Power
Sam.S 07.13.22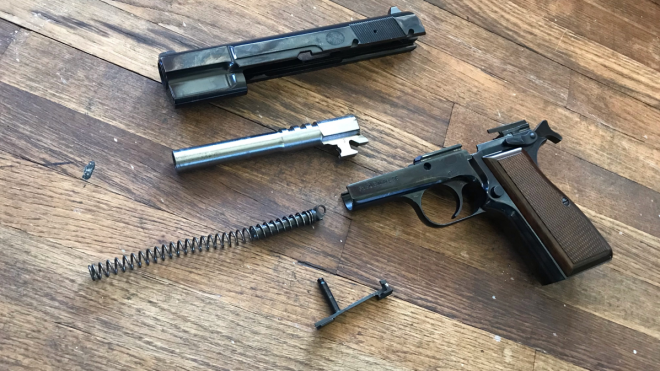 Welcome, if you are a newcomer to this fun bi-weekly segment of AllOutdoor.com! The last time around I covered the history and many variations of the Browning Hi-Power. Today we are jumping back into the Browning Hi-Power and closing it out with dating, some specifications, and aftermarket parts/accessories. Do not fret quite yet for the lack of a range day though because a special fourth part comparing and contrasting an actual Hi-Power with one of its legacy reproductions will be next. Let's dive right into the rabbit hole!
Dating: The Browning Hi-Power
Unsurprisingly dating for the Browing Hi-Power is pretty limited. At least the very early P35 iterations because World War Two happened and Belgium was occupied while production on these pistols was in full swing. Actual trustworthy internet sources for dating the Browing Hi-Power all start at the same spot…1954/1955. This is when the Hi-Power in all its foreign-manufactured glory began being imported into the United States. The lists will always start with rough serial number estimates starting from 1955 until around 1975 when Browning standardized its serial number identification which remained in place until 1998. In 1998 the method top the madness changed and a new serial number dating method was established. Besides me explaining it all a link to Browning's official website and dating resource is at the link here.
Following this source of Browning Hi-Power dating would put my personal Mark III 40S&W FN Hi-Power being manufactured in 2003 (far from literal Curio & Relic standards I know). I already knew this was the case because my "Vigilante" model of Browing Hi-Power began production in 2003 and it is stamped on some cards on the inside of the box. My "Vigilante" model is literally called the "Model: H.P. Vigilante" on the inside of the box. In the short research, I have done on that it is a standard Mark III Hi-Power in 40 S&W and the "Vigilante" model name is a legacy thing from an earlier "Vigilante," which to my understanding was more of a take on vigilance than it was on anything to do with vigilante related happenings. The literal translation of "vigilante" from French to English is "Vigilant."
Specifications: The Browning Hi-Power
Many records for prices and production number estimates are convoluted and cloudy due to most of them being cataloged from information starting when the Browning Hi-Power was imported in 1954/55. As far as the MSRP of the original P35 goes I could find no helpful information. This is why I used an MSRP I had found from a 1966 advertisement for a "Standard" Hi-Power. I did however dig into what a Colt 1911's MSRP was in 1935 (around $50), which we could adjust for this being a new handgun and guess around $55-$60. With that pure speculation on the board, the adjusted amount would be roughly $1200. The P35 was not imported into the United States until 1954/1955 so it really does not matter too terribly and if anyone out there has any further information on its initial cost please let me know in the comments.
Years Produced: From 1935 to 2017 (the last units being delivered in 2018)
MSRP In 1966: Roughly $89.75 (about $786.87 in 2022)
Number Manufactured: Over 1,500,000
Operating System: Link-less tilting barrel cam system
Chambering: 9mm, 40 S&W, 30 Mauser (very small production run)
Barrel Length: 4.7 Inches
Overall Length: 7.8 inches from heel to crown
Weight: Roughly 2.3 Pounds
Action: Single Action
Safety: Manual Right-Handed Thumb Safety, Magazine Safety, and some Ambidextrous Thumb Saftey
Capacity: Original 13 round box magazine (10 rounds in 40 S&W)
Front Sight: Dovetailed Front Ramp
Rear Sight: Dovetailed Rear Square Notch, some Adjustable
Grip: Checkered Walnut, Black Plastic, Black Rubber Wrap Around, many more
After Market Parts & Accessories: The Browning Hi-Power
Since the Browning Hi-Power is such a famous and beloved handgun there is an endless amount of sources for aftermarket parts and accessories. This gun was utilized by over 70 countries in its prime (and arguably past it as well) so there are tons of options out there. As always the basics for parts could be places such as Midwest Gunworks, Brownells, Numrich, SARCO, and Jack First. Of course eBay is an honorable mention since just about anything Hi-Power related could pop up on there. As far as websites for accessories go there are a million but useful ones of note would be SARCO (for the plethora of magazines, holsters, and even stocks of the Inglis Hi-Power variants), BHSpring Solutions (for the spring kits and specialized replacement parts), and then BAR-STO (for all the different barrels they provide but most notably a conversion barrel to convert the 40 S&W to a 9mm).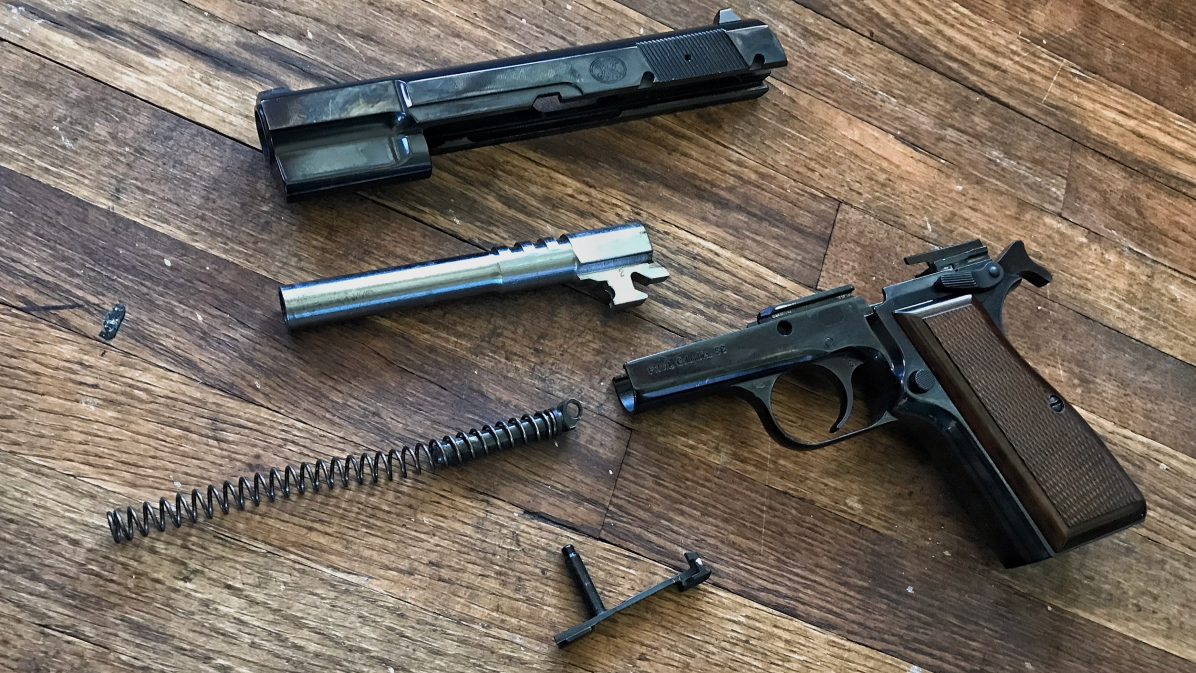 End of Part Three: The Browning Hi-Power
So as I had mentioned at the beginning there will be a fourth part to this stretch of Browning Hi-Power articles. Typically part three (this one) is the last and it includes a range session/review. The next article will cover the range experience since it was done with both my FN Hi-Power and a recent legacy reproduction in the form of the Springfield Armory SA35. Until that article comes out I hope that this article on the original Browning Hi-Power pistols has been informative and enjoyable. There is almost too much information out there and it is unfortunate that the few books that deep dive into these guns are no longer in print. Until next time stay safe out there!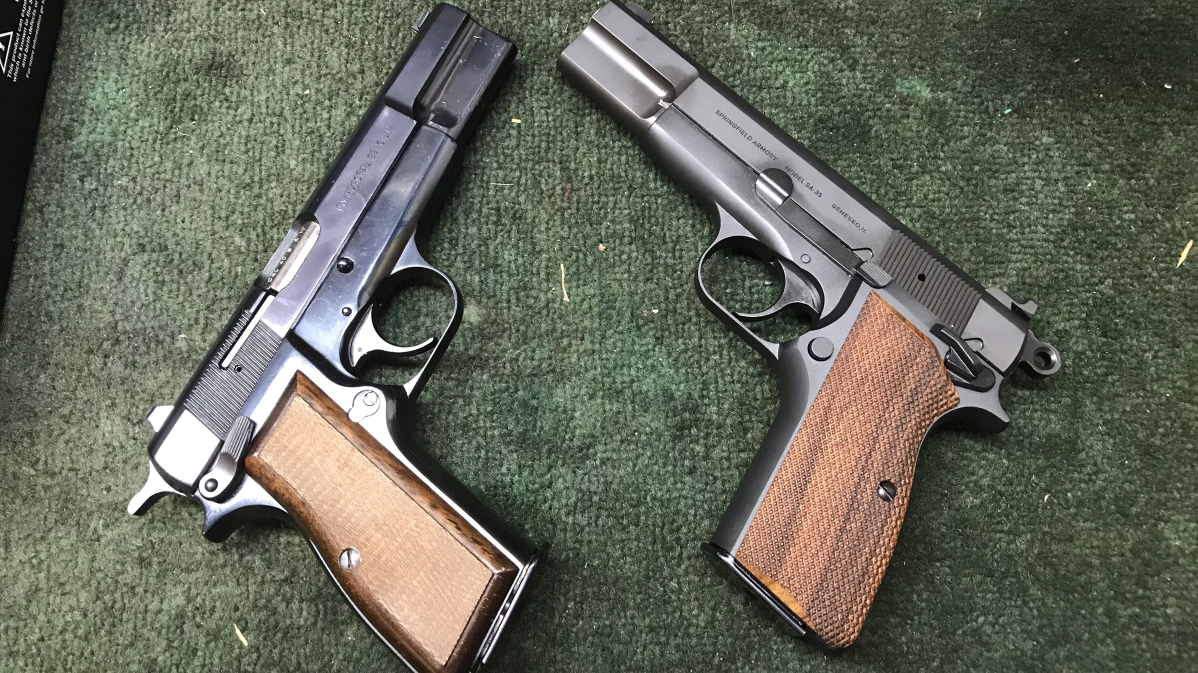 In closing, I hope our Curious Relics segment informed as well as entertained. This all was written in hopes of continued firearm appreciation and preservation. We did not just realize how guns were supposed to look and function. It was a long and tedious process that has shaped the world we live in. So, I put it to you! Is there a firearm out there that you feel does not get much notoriety?  What should our next Curious Relics topic cover? As always, let us know all of your thoughts in the Comments below! We always appreciate your feedback.