BRS Sherpa Offroad Trailers
Doc Rader 10.06.22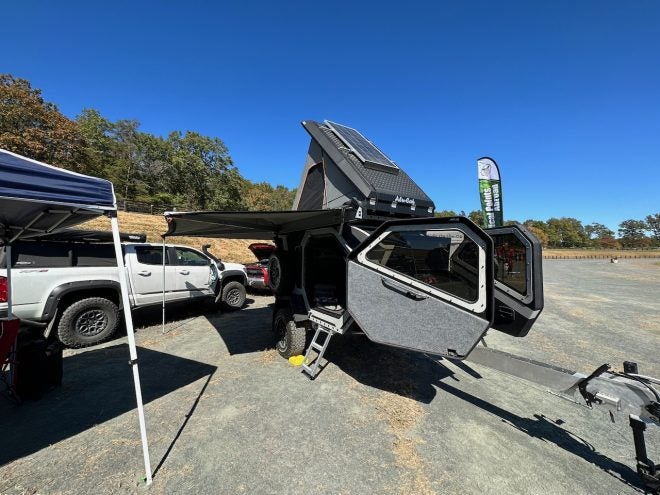 There are a ton of different trailers on the market. Some are domestic. Some are foreign. Foreign builds, specifically those from South Africa and Australia, are generally thought to be better quality since they have been formally "Overlanding" for much longer than we have in the US. Normally these trailers are exported to the US and then upfitted for US power and fuel types, which is how my trailer, a Conqueror UEV490, came.
Good day everyone and welcome to a new installment of AllOutdoor's Off-Road and Overlanding series brought to you by onX Offroad--mapping software for all your adventures.
The BRS Sherpa is an Australian model that is also built in the US (made in Utah). While there are some slight differences (with respect to things like the rooftop tent model), the bones are basically the same.
The Sherpa incorporates well-tested components with cutting-edge style and design. I had the opportunity to spend some time poking around one at a recent show and was duly impressed.
Sleeping
The main point of a trailer is to provide shelter in some form or another. The Sherpa has a couple of different options. First is the tear-drop body that has a generous queen-sized mattress. The main cabin has giant doors on both sides that provide easy access. The main cabin is also heated and has the ability to port in an air conditioner. If you want to go more primitive, you can run the fans in the cabin.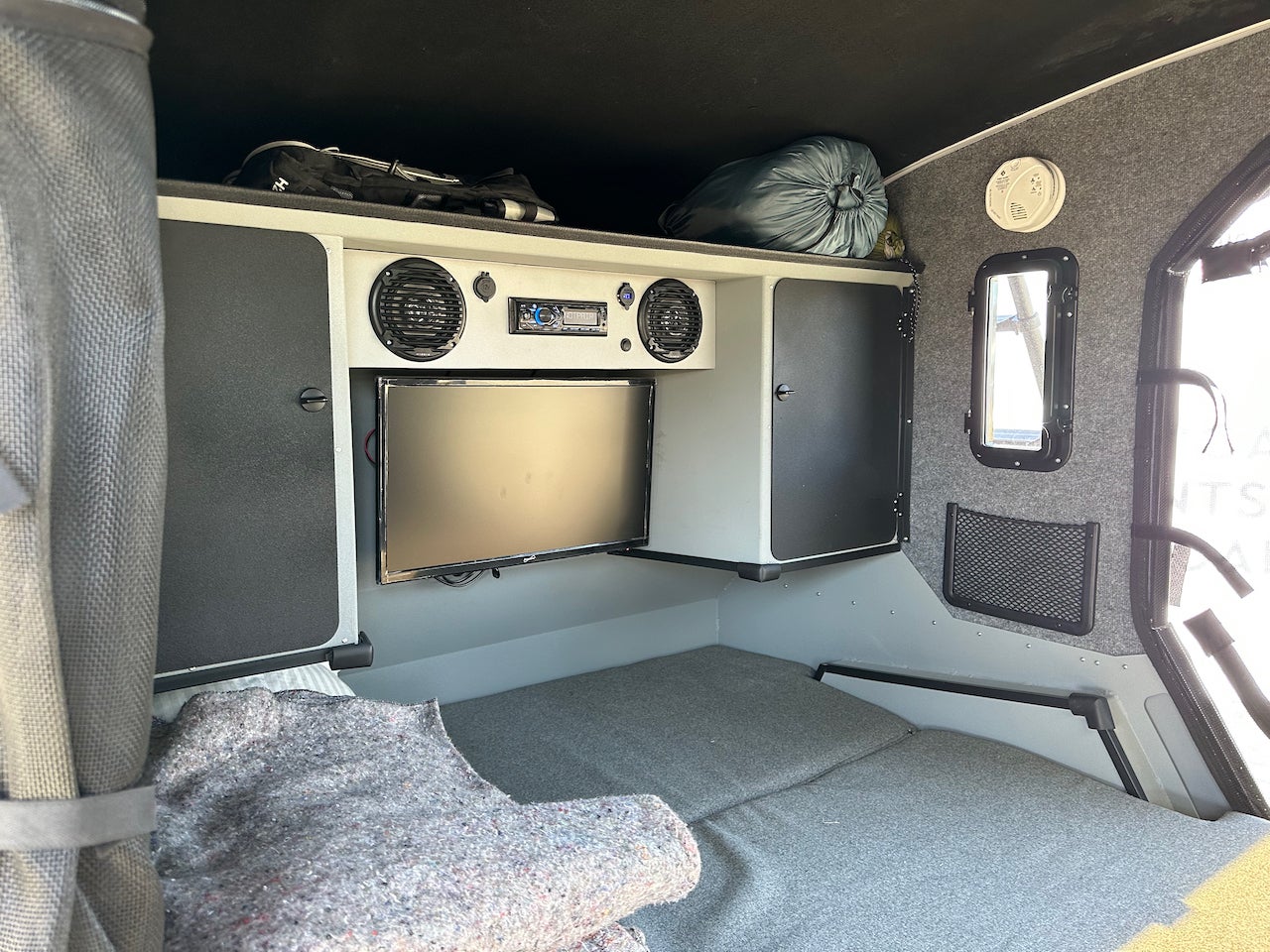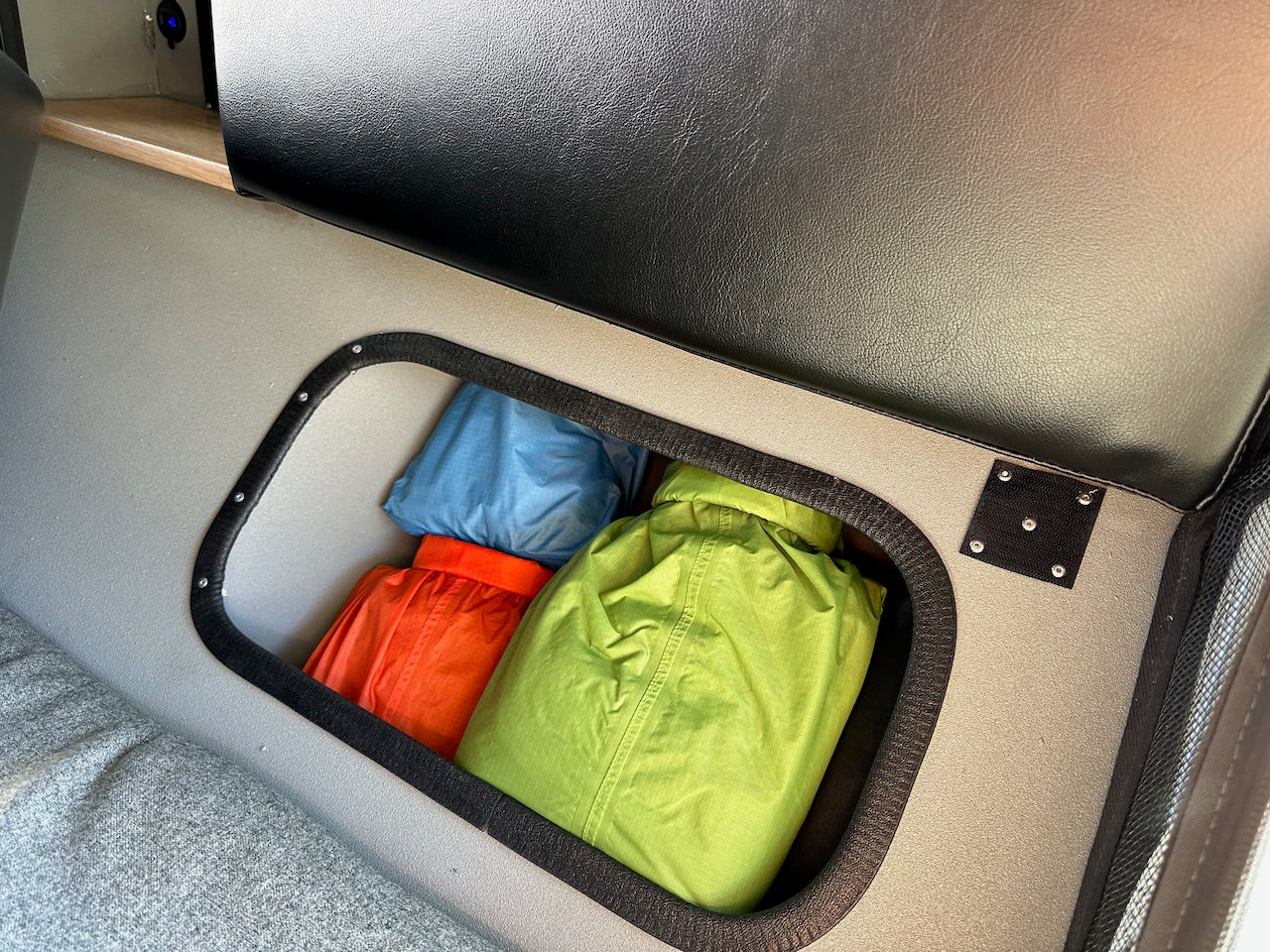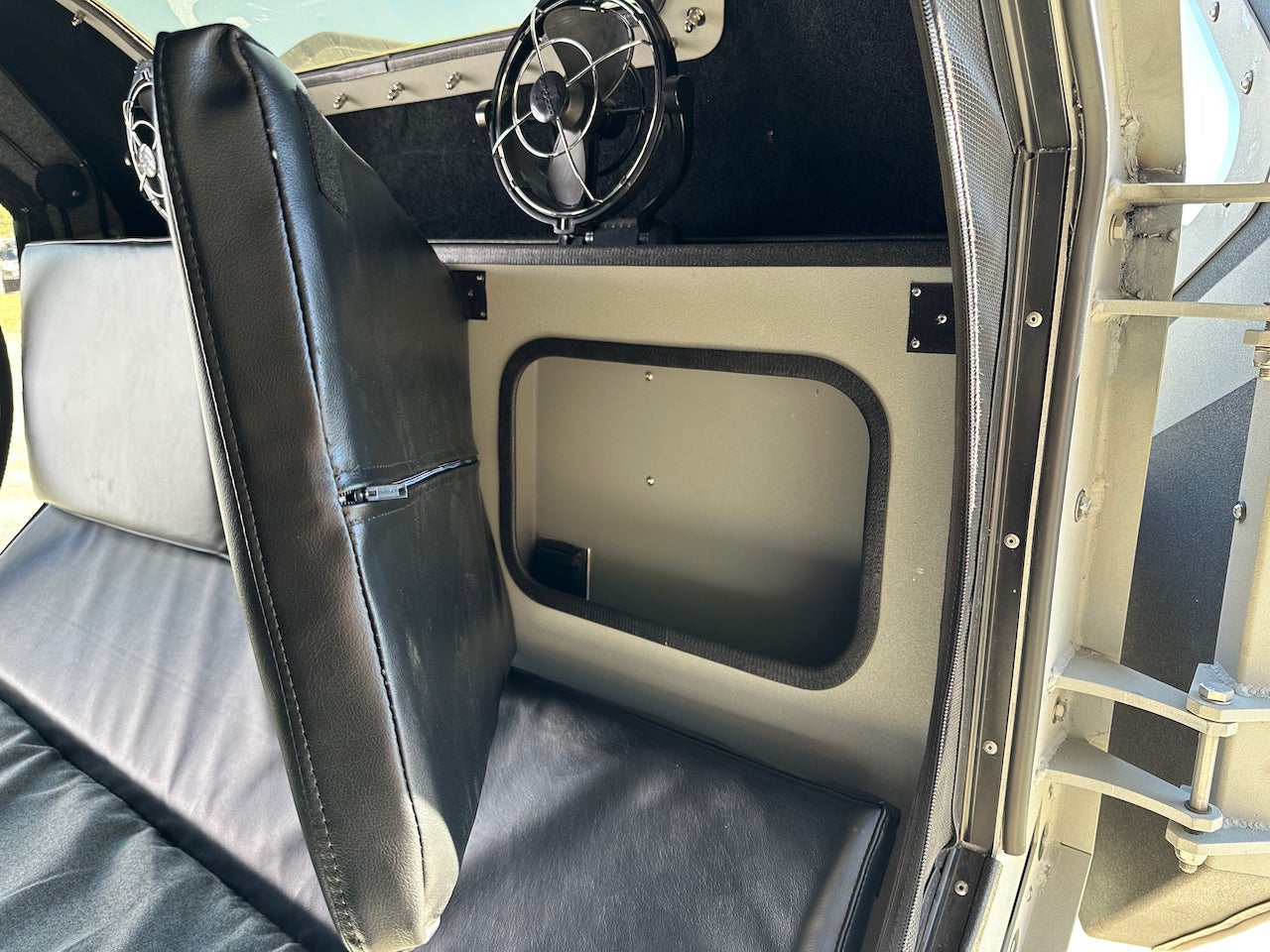 You can also pop up the AluCab rooftop tent (we reviewed one a few weeks back) if you want a more elevated bed (or have kids or other people). It also has an AluCab ShadowAwn for a 270-degree, freestanding cover.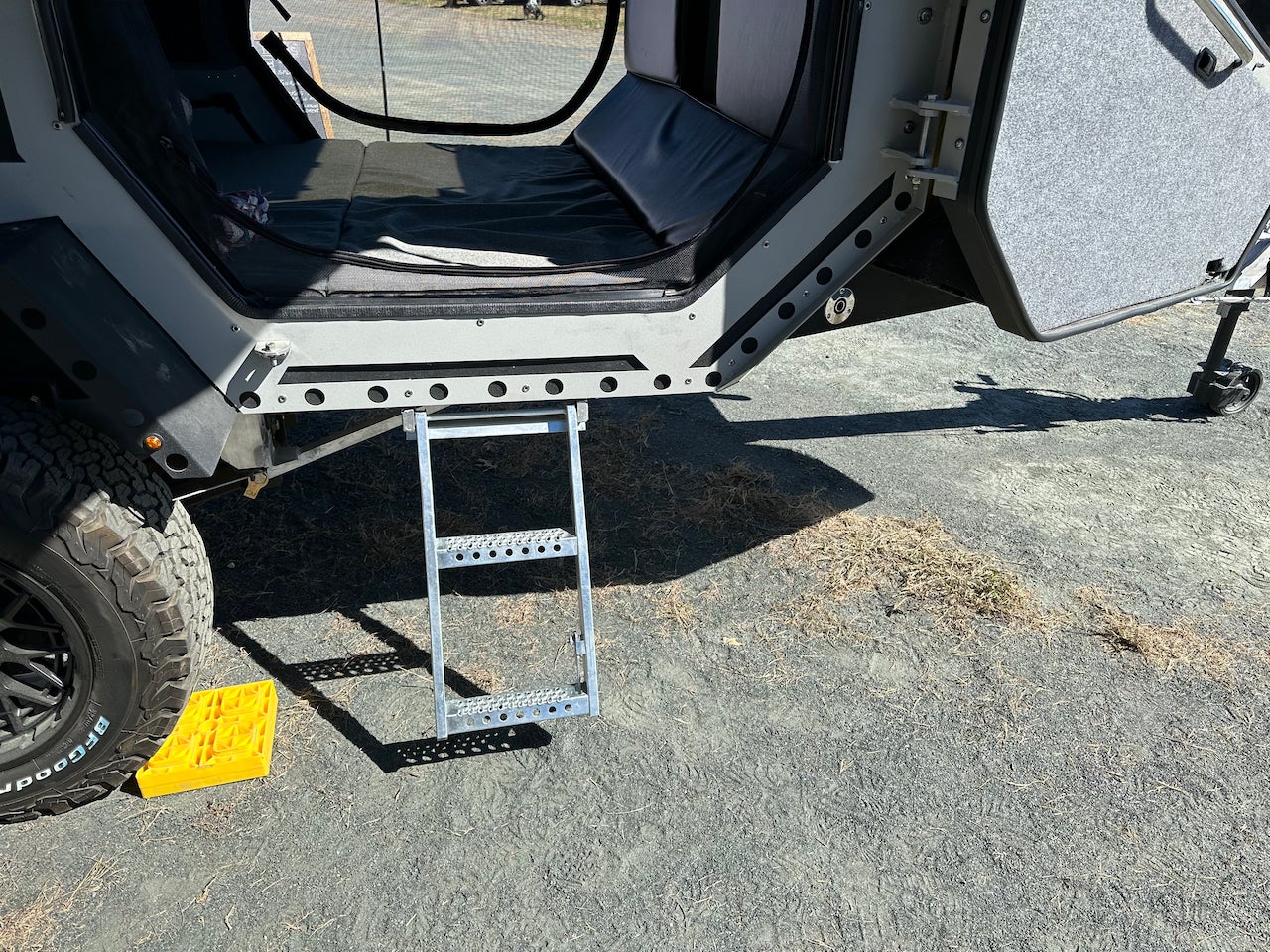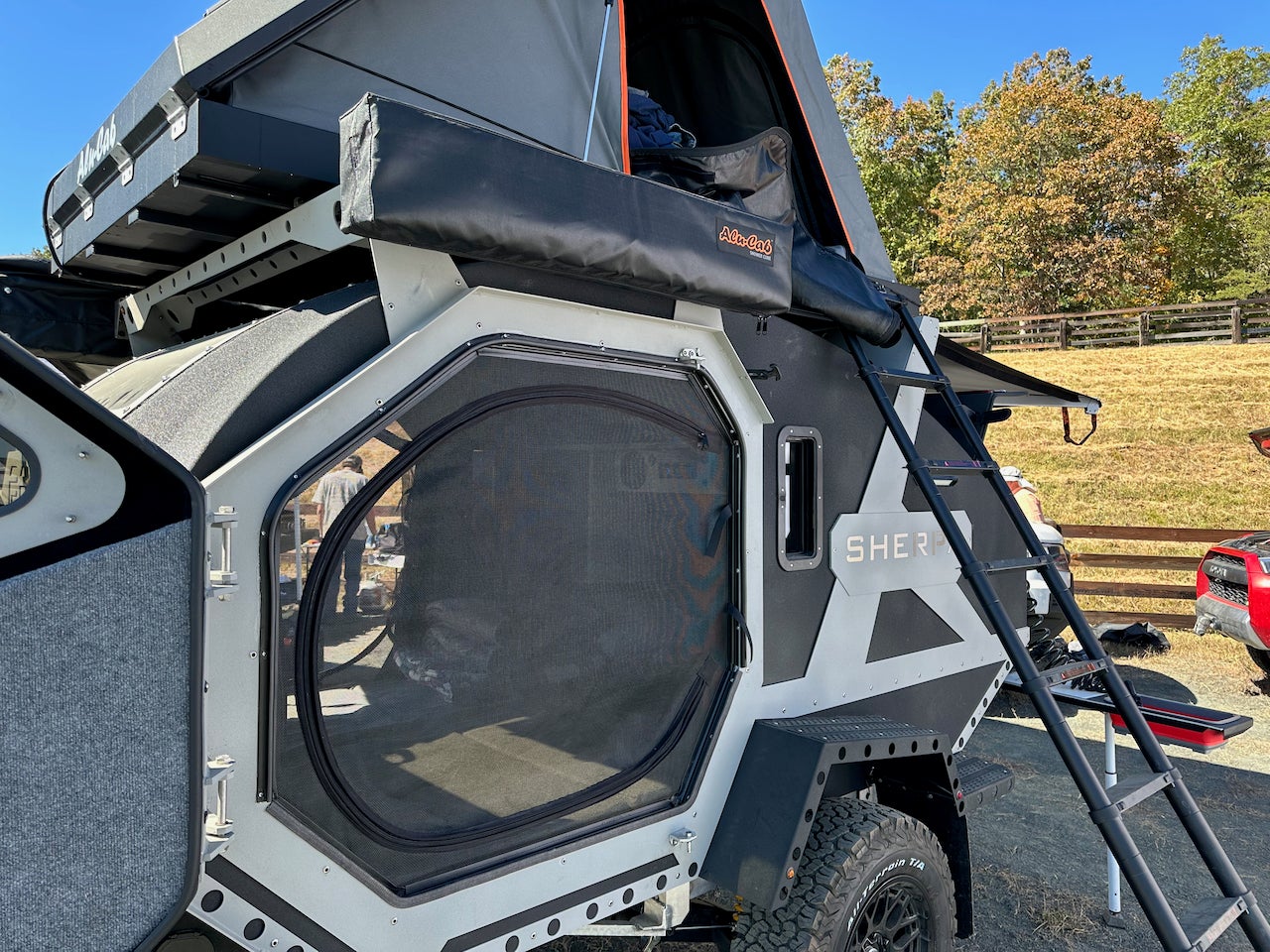 Food management
The isotherm fridge/freezer combo in the kitchen will keep your food and drinks cold and fresh. The fold-down bench provides easy access to pots and pans, while the slide-out drawer stores nonperishables. After eating is finished, you can clean up with the collapsible sink (which is a nice feature–it looks to be a standard type you can source from a lot of places).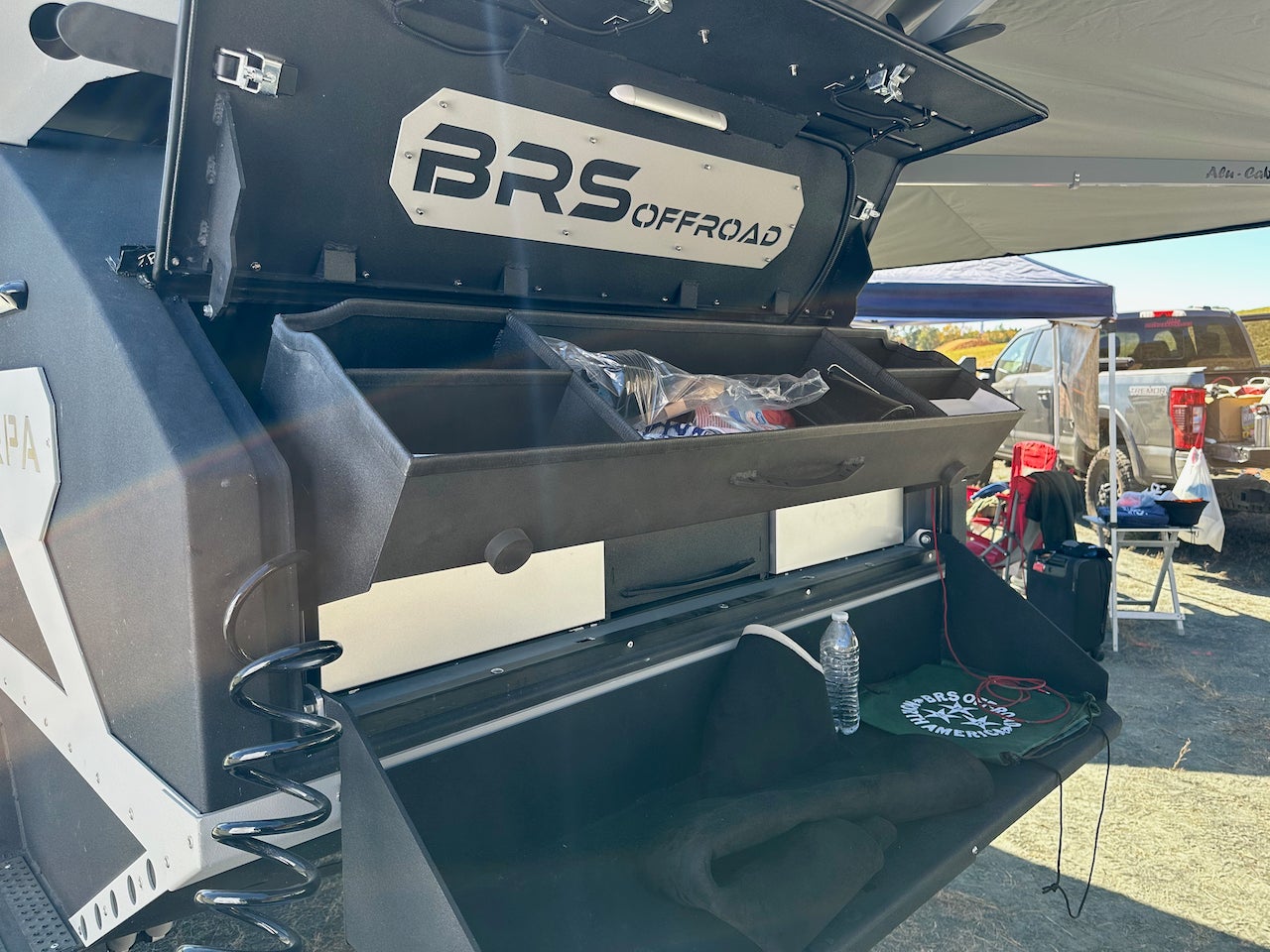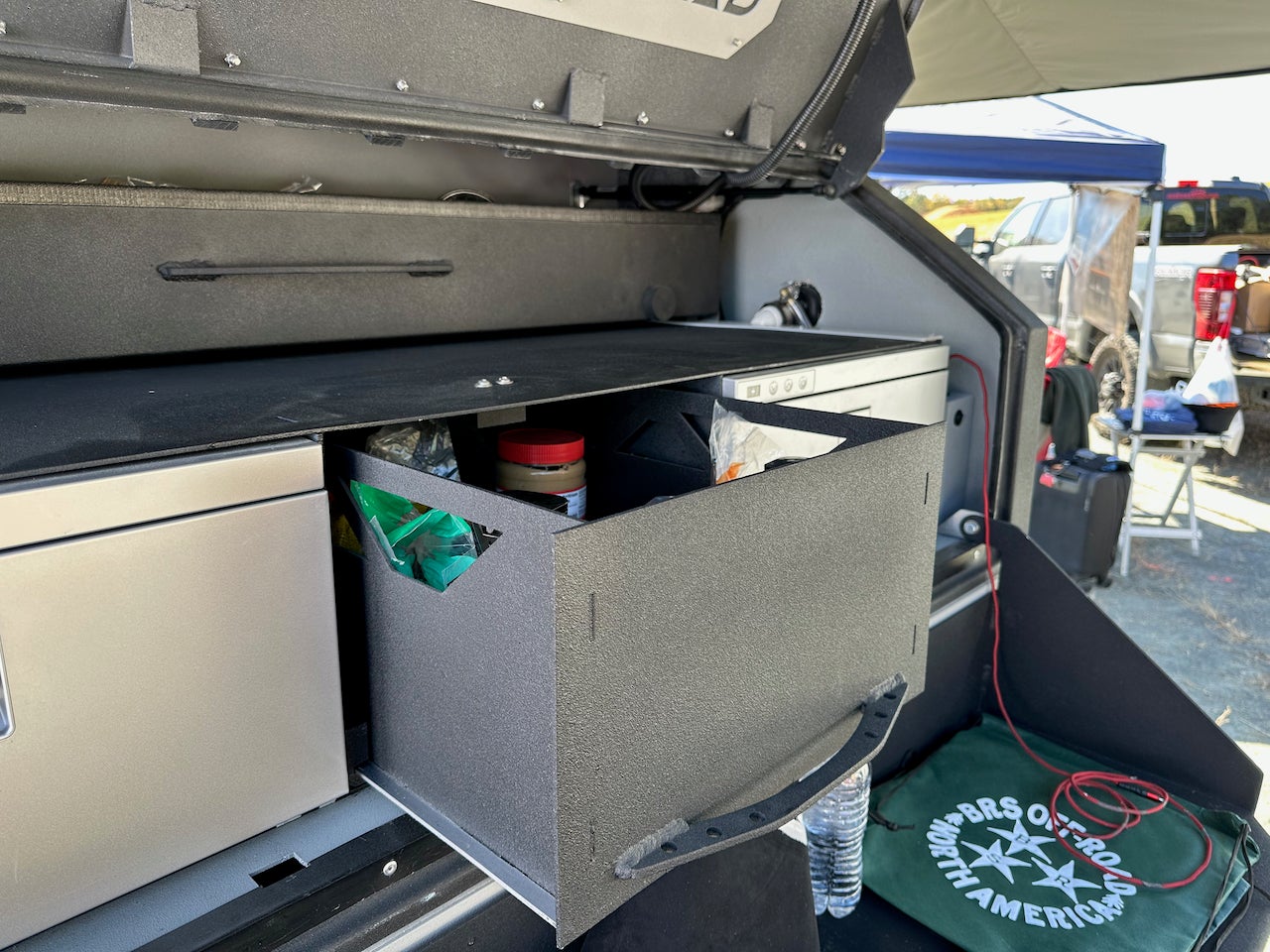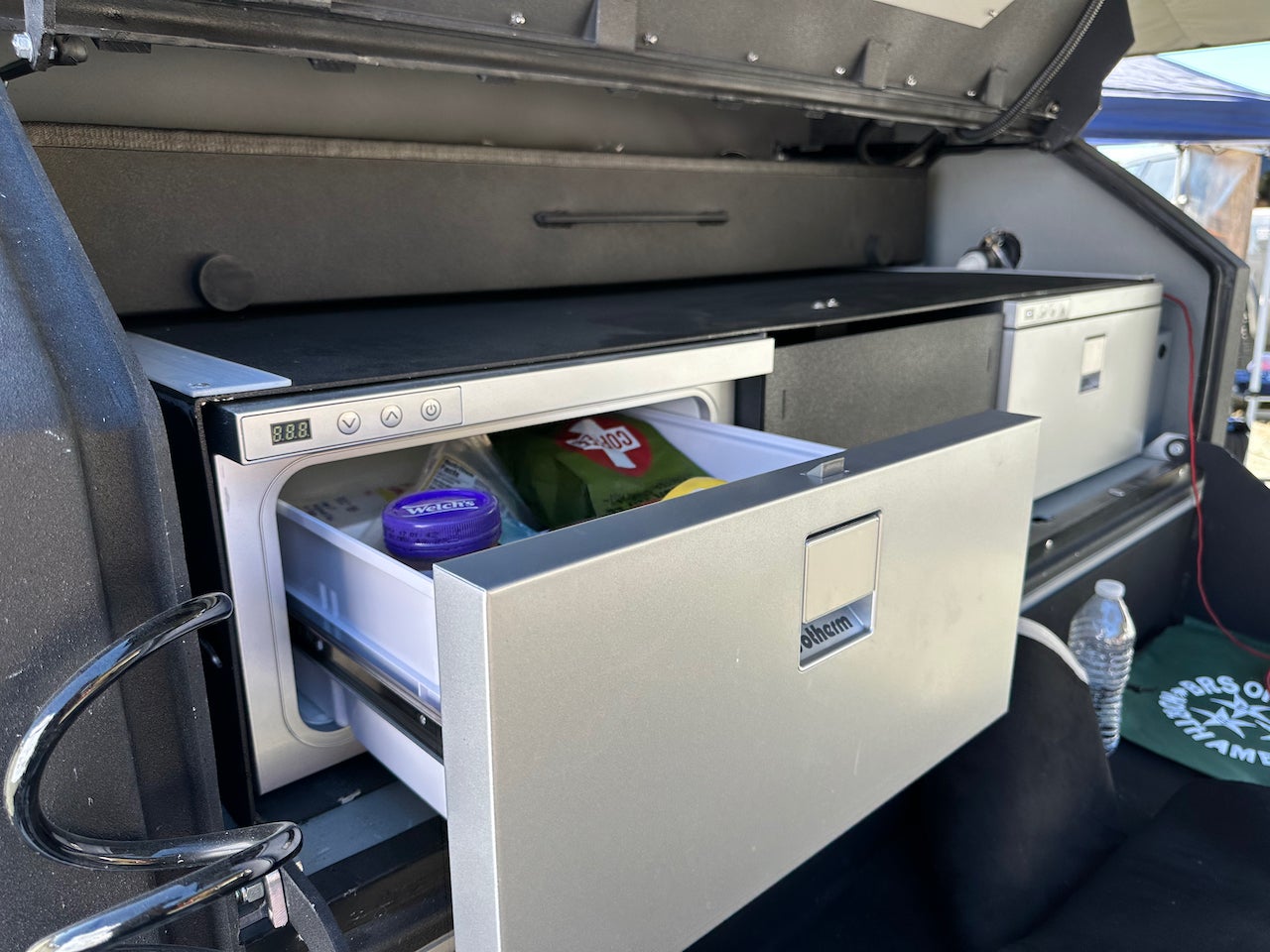 Hygiene
A diesel heater provides on-demand hot water for showering that you can enjoy wide in the open or more modestly behind a drop-down shower pod. The Sherpa has a 37-gallon stainless steel water tank.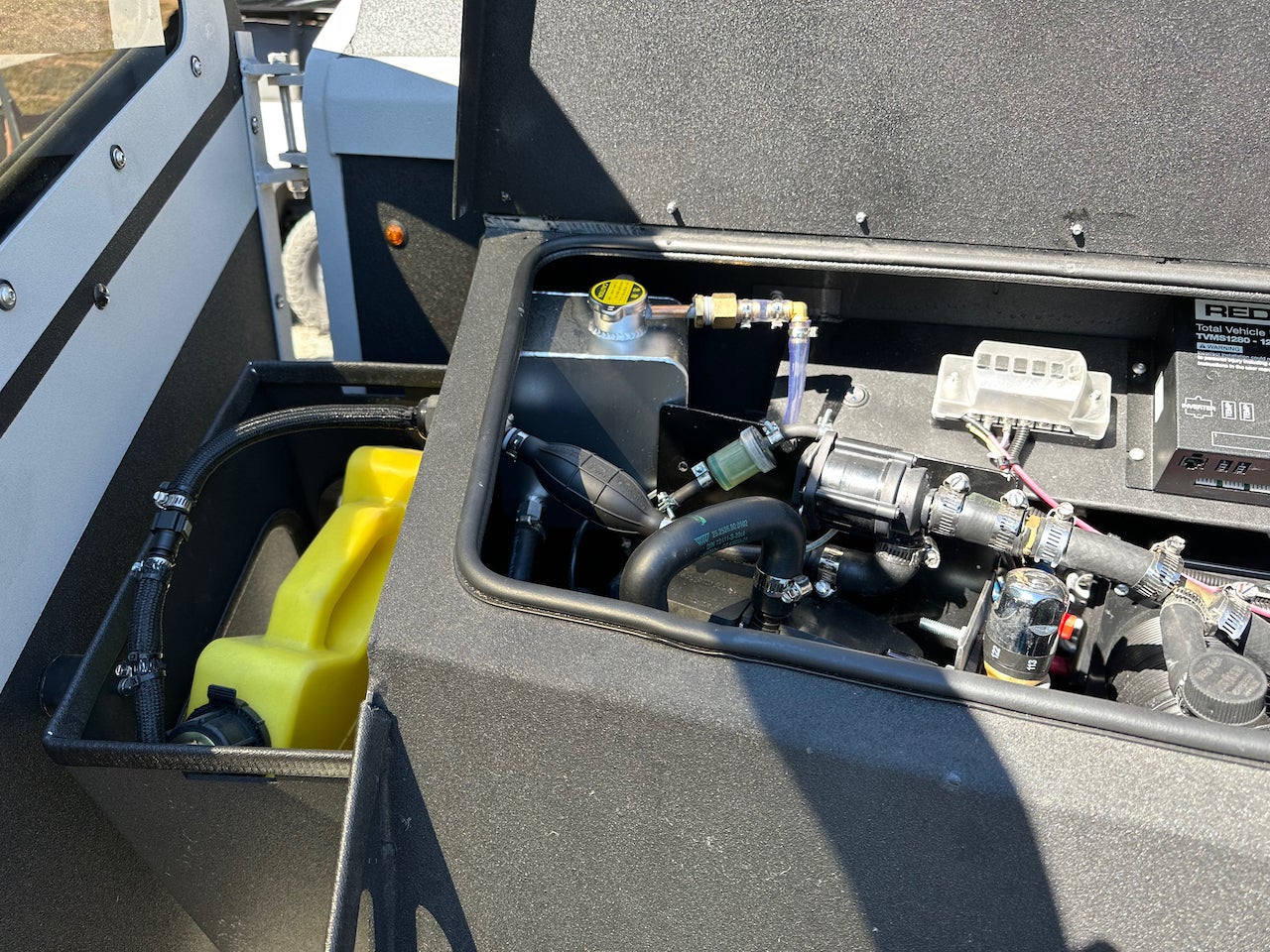 Power
The Sherpa is packed stock standard with a 125amp lithium battery (by Enerdrive) paired up with a 40 amp DC-DC charger and a 40 amp AC charger. Sitting up top is a 200-watt mono-crystal solar panel. 200 watts of solar should keep that battery topped off most of the time.
2 x 12-volt outlets, reading and cabin lights, cabin heating, and even fans.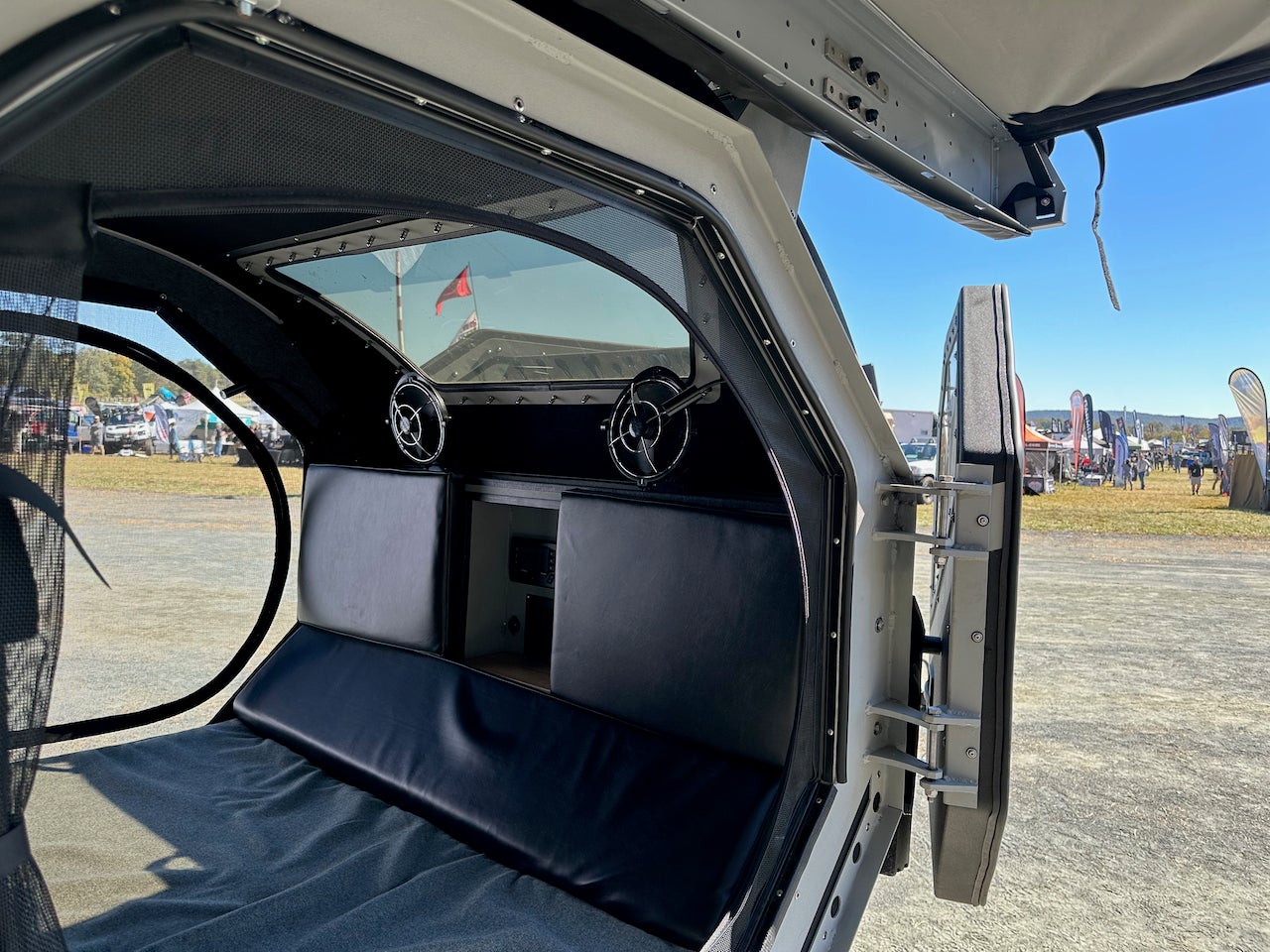 Body/Chassis
The Sherpa body is made up of 3mm 5083 marine-grade plate alloy and boasts a double skin with an air pocket for insulation. The body also has a sub-chassis welded to the bottom of the base, with CNC-cut spines running horizontally to the body. This forms a skeleton-type structure that protects the Sherpa chassis.
The Sherpa's ground clearance and arrival/departure angles (of nearly 90 degrees) allow for extreme maneuverability. Coupled with a Cruisemaster suspension (which features King Springs that are constructed from X5K steel), the trailer has the solid off-road capability. Your vehicle is probably more of a limiting factor.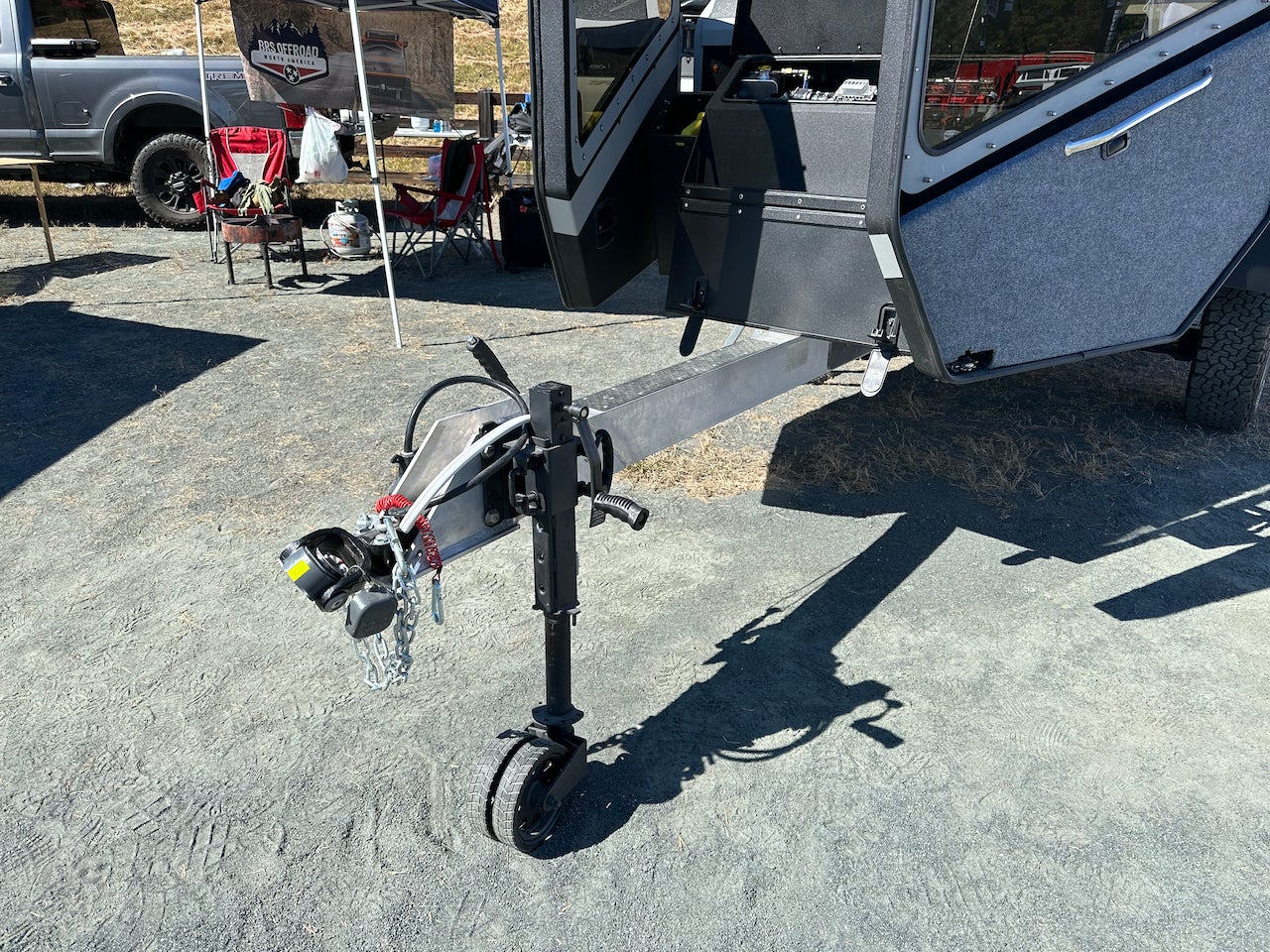 You can also add air or coil suspension if you want to upgrade.
As far as shoes, the Sherpa comes standard with BF Goodrich KO2 tires and matte black 17×8 CSA rims.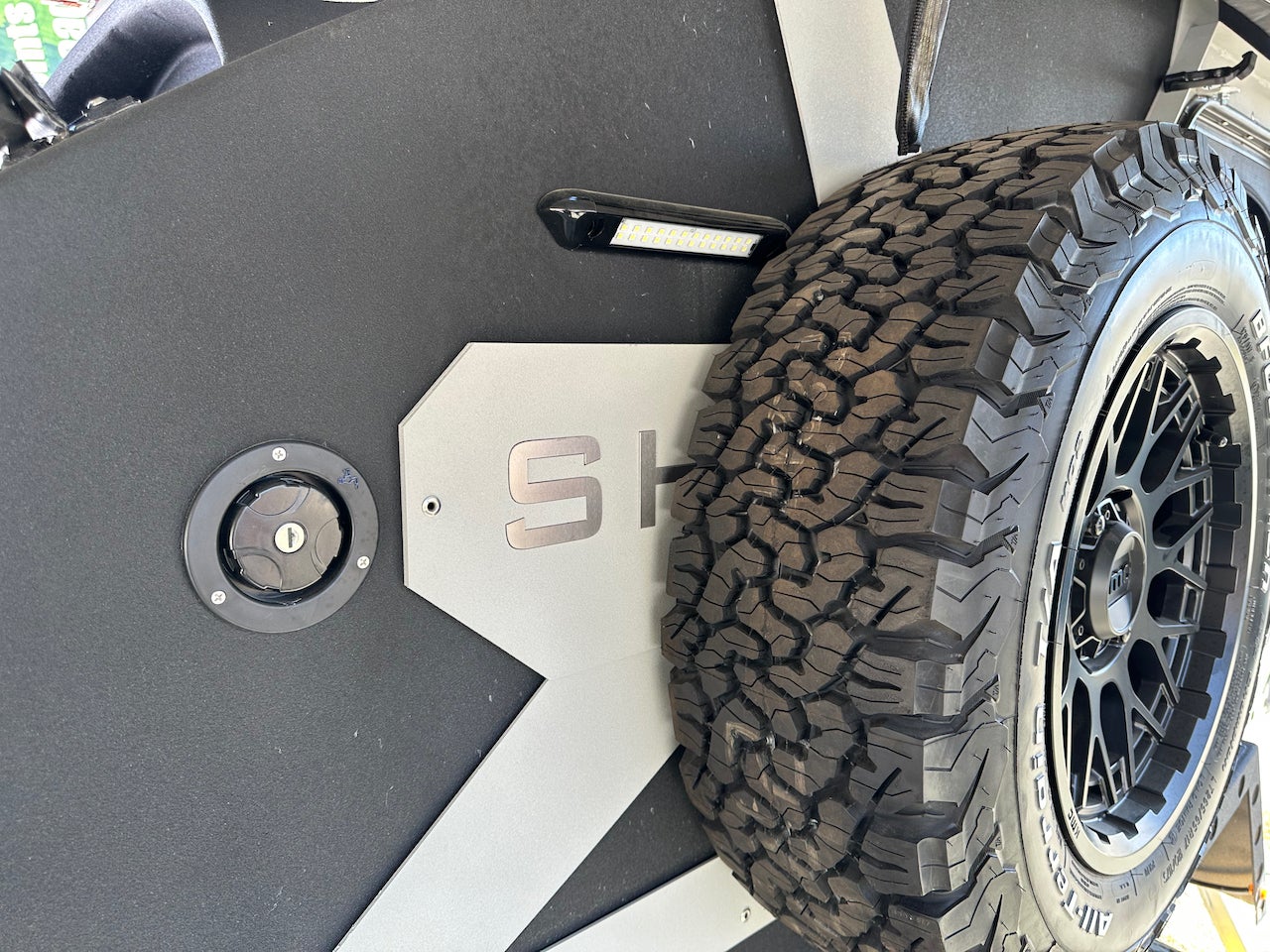 The coupler is a Cruisemaster DO35 and comes standard for the Sherpa. I don't have any experience with it, but have heard good things. I'm currently running a McHitch. Pretty much anything but a ball will have decent performance for what most people will put these trailers through.
Technical specifications
Standard configuration
1 piece fiberglass cone (20mm thick) with honeycomb core
Raptor-liner paint all round
150 x 100 x 4 singular galvanized steel drawbar/chassis beam (through to recovery points)
1.6-ton Cruisemaster independent coil suspension with twin shock absorbers
10" electric drum brakes
(3) 17 x 8 CSA Raptor matt black rims – LC6 pattern
BF Goodrich KO2's
Do35 Cruisemaster coupler
(2) 5-gallon fuel container holders
Electronic access fiberglass doors with honeycomb core and plexiglass windows
Internal cupboard storage
(4) pocket storage compartments behind backrests
Fully upholstered backrest (2" foam)
150mm foam queen mattress
Marine grade hood lining
Blue Sea circuit breakers and fuses
Wireless Receiver
Ark750 Jockey Wheel
Ladder (rooftop tent model only)
(2) Port window + fly screens
Optional upgrades
Cruisemaster Level 3 Air Kit (includes Air Bags, Compressor, Tank & Switching) $2379.00
LC5 Stud 12 Inch Hub Upgrade $414.00
BRS Offroad Stone Deflector Guard $810.00
Awning Walls – Short $240.00
Awning Walls – Long $420.00
Enerdrive 200amp B-Tec Lithium battery $3024.00
Enerdrive 2000watt Inverter $1885.00
Truma Aventa Compact Plus A/C. (non-roof top tent only) $3600.00
Storage shelf net $250.00
Curtains $450.00
Extend chassis length 500mm $850.00
Motorcycle Rack (Max weight 150kg) $3000.00
Front Runner roof rack $1600.00
Additionally, you can remove a number of stock components if you want to really strip it down and build out yourself. I'm not sure why you would, though–it comes with all of the stuff I'd want on there, anyway…
Final thoughts
I love my Conqueror trailer, but it can be difficult to set up. I have an older model that has four stabilizers and tent awnings (that deploy on either side), which require guy lines and poles and are not trivial to stow if winds pick up. The BRS Sherpa is much easier–drop the jack wheel (or even leave it attached to the towing vehicle), pop the doors and back hatch, and camp is ready.
One of the things that I have come to appreciate the more I get out and enjoy "Overlanding" in the backcountry is the ease of setup and take down. I don't want to spend chunks of my trip deploying my campsite. The faster I can get things set up, and camp chores managed, the more time there is to sit, relax, and enjoy the location. The BRS gives that through the use of a teardrop-style compartment, rooftop tent, freestanding awning, and rapidly deployable kitchen area.
The BRS comes in at a cool $50k price tag which is not at all unreasonable for a super rugged, fully kitted, fast-deploy trailer. And you have the option to delete a bunch of things if you want to start with bare bones and add your own components. If you are just getting into trailers and want something that will perform off-road as well (or better than) your vehicle, check out the BRS Sherpa.
Off-Road and Overlanding is sponsored by
To subscribe, visit: https://subscribe.onxmaps.com/offroad/purchase/membership