Bushnell Laser Rangefinders Earn 2 Gold Choice Awards (as a Brand)
Adam Scepaniak 10.28.22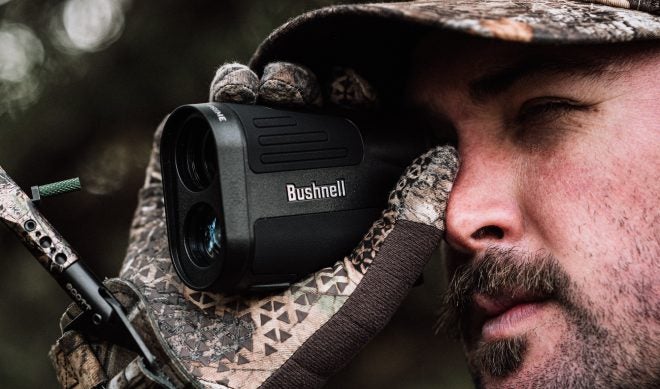 One of the most valuable tools afield in the fall is a reliable laser rangefinder (LRF) when we are hunting. We can be the most accurate shot among our hunting party, but if you don't know the correct distance, it is all for not. So, when you need a LRF who do you reach for?… The 1st company to ever invent the LRF was Bushnell some 25+ years ago, and you would be wise to utilize them even today. In fact, Bushnell Laser Rangefinders recently won two Gold Choice Awards for their quality and overall design.
Bushnell Coverage on AllOutdoor
Bushnell has been in the business of making laser rangefinders longer than anyone leaning on technology used by NASA, and deployed in the hands of hunters and shooters everywhere. Most recently, Bushnell Laser Rangefinders earned 2 Gold Choice Awards from "Shooting Sports Retailer" and "Tactical Retailer" magazines.
OVERLAND PARK, Kansas – October 25, 2022 – Bushnell®, an industry leader in performance optics, has been named the winner of two Readers' Choice Gold Awards for Best Laser Rangefinders by the readers of Shooting Sports Retailer and Tactical Retailer magazines.

Shooting Sports Retailer and Tactical Retailer are two of the longest-standing B2B brands in the shooting sports retail market, and together are considered by many to be the "voice of the independent retailer." The annual Gold Choice Awards were developed to give the publication's knowledgeable and experienced readers a chance to share what brands they believe are leading the industry.

"The Bushnell brand is no secret to anyone in the highly competitive optics market and sweeping top honors in the rangefinder category for both the Shooting Sports Retailer and Tactical Retailer Choice Award brands elevates Bushnell to a new level. Congratulations are in order," said Derrick Nawrocki, President of Grand View Outdoors, the publisher of both magazines.
While Bushnell produces quite the gamut of laser rangefinders, their most recent offering is the Broadhead Laser Rangefinder affording archers industry-leading precision with +/- 0.3 Yard accuracy out to 150 yards on any target. An insane feat – and equally, insanely valuable – if you are a competitive archer. Congratulations to Bushnell on their award, and as always, let us know all of your thoughts in the Comments below! We always appreciate your feedback.