AllOutdoor Review – Yeti Panga 75L Waterproof Duffel
Adam Scepaniak 11.14.22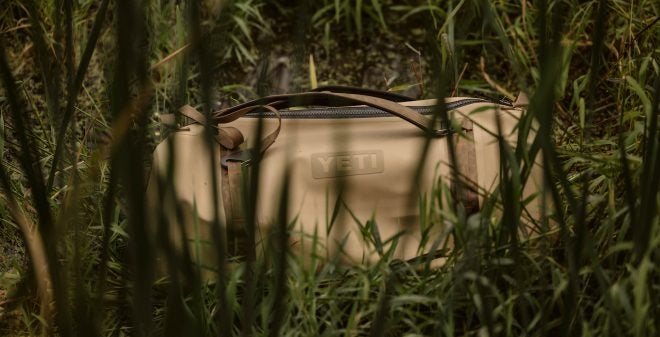 When it comes to being in the outdoors our adventures can take us nearly anywhere. From a mountainous, snowy precipice to the bottom of a saltwater flat, we can be outside searching for excitement, seashells, or even hunting mountain goats. Wherever we go the one constant we continually encounter is Mother Nature in the form of rain, wind, snow, and unpleasant wet conditions. For those reasons, it is imperative we have gear and storage solutions to keep our most important equipment dry in the face of adversity and moisture. Yeti – being the reputable, international brand that they are – came up with a tremendously durable solution in their Panga Waterproof duffels and backpacks. So, whether you need a small or large carrier for all of your essentials, the Yeti Panga looks to be that answer. Join us as we thoroughly review the Yeti Panga 75L Waterproof Duffel in wet conditions, dry elements, and everything in between. Let's dive in!
Yeti Coverage on AllOutdoor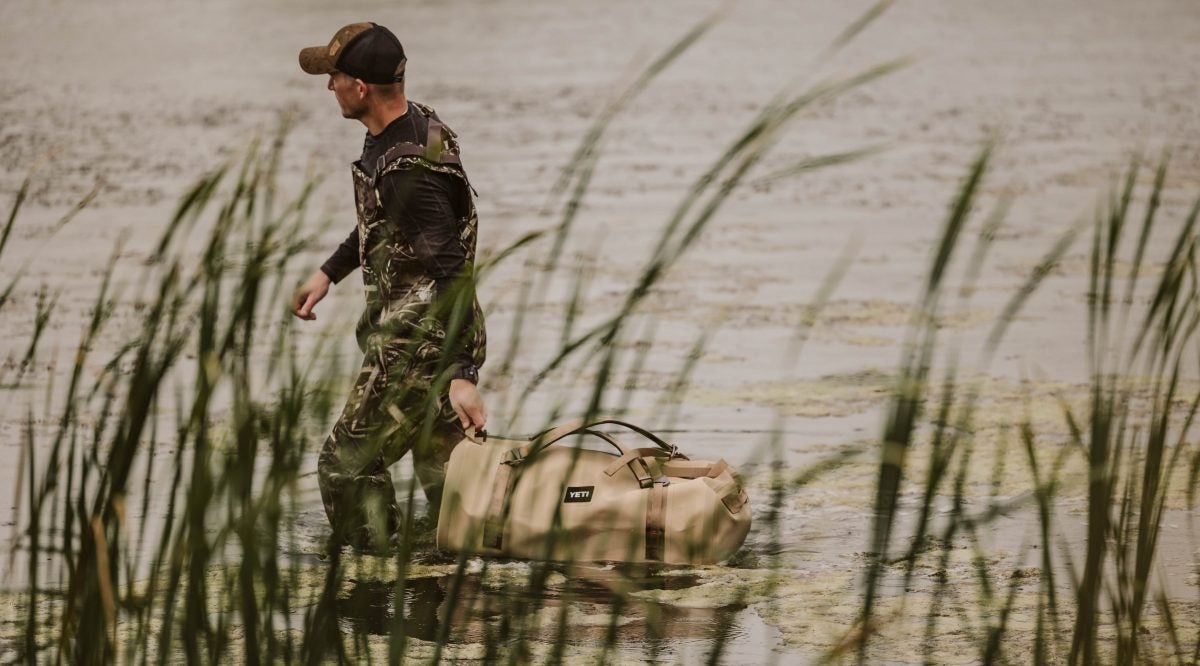 Specifications-  Yeti Panga 75L Waterproof Duffel
Even if you are not an Alaskan sea crab fisherman, you could definitely benefit from having a waterproof duffel or backpack. It means you have the ability to get gear into precarious and difficult places. You are bringing more vital equipment into the field with you as opposed to leaving it at home (or, in your truck). For this review, we used it out in a mucky, muddy, sloppy duck pond on a perfect day – strong winds coupled with unpredictable bursts of rain. The basics specs for the Yeti Panga 75L Waterproof Duffel are listed below as presented by Yeti:
Dimensions: 28″ W x 15.5″ D x 11″ H
Colors: Tan | Storm Gray
Weight: 6.1 Lb
MSRP: 50L – $300 | 75L – $350 | 100L – $400
With all Yeti products you have a 3-Year Warranty at your side, Free Returns if something is ever not to your liking, and Free Shipping on orders over $50. The specific Yeti Panga we are reviewing here today is the 75L Tan offering which has an MSRP of $350. As previously mentioned, Yeti always has your back in the rare event that you should ever need service. With their 3-Year Warranty, Yeti stands behind the quality of their products for 3 years where they will replace the item with the same or similar product at no charge.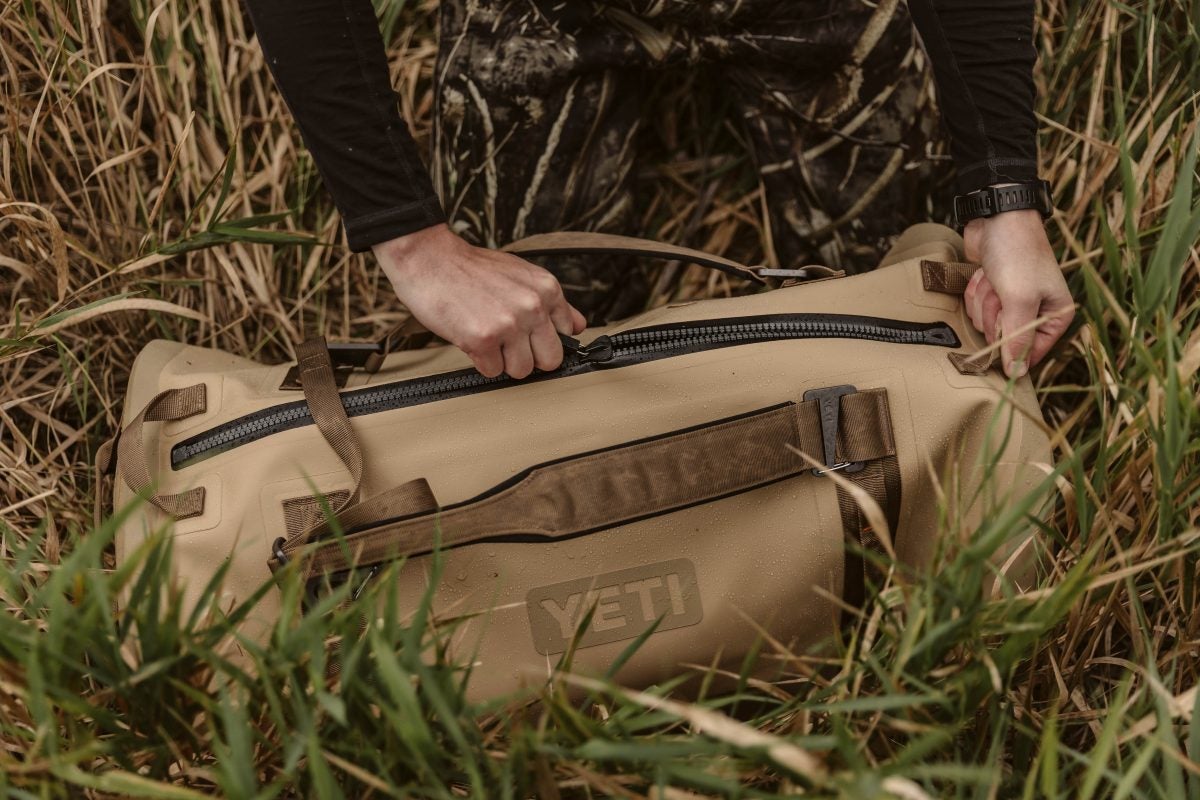 Rugged – EVA Molded Bottom provides a Sturdy and Waterproof Landing Pad. Its ThickSkin Shell is made of High-Density Nylon, making it nearly Impenetrable, and Puncture-Resistant.
Stowaway Mesh Pockets – Two Easy-to-Access Mesh Pockets keep your Valuables safely tucked away.
HydroLok Zipper – This is where the Magic happens. The Zipper paired with the bag's waterproof material ensures water stays out, and everything inside stays dry.
Ready to Go – MetalLock Hardware adds tough-as-nails durability while the DryHaul Straps make it easy to use and comfortable. QuikcGrab Lash Points allow versatile carrying strategies to help you gear up quickly.
Offline adventures call for waterproof, puncture-resistant bags built to protect your necessities through every terrain and all forecasts. That's why we engineered fully submersible gear fortresses unfazed by prickly paths and extra-high tides.
Field Use – Yeti Panga 75L Waterproof Duffel
When it came to using the Yeti Panga Waterproof Duffel out in the field for myself, I deployed it in a couple different ways. For one test, I traipsed it through a boggy pond to see if it could keep my essential hunting clothes dry after the journey. Where I go deer hunting the land is interspersed with lots of creeks and streams. None are overly deep, but none of them are shallow enough to simply walk through with your standard, waterproof hunting boots. So, I packed the waterproof duffel up with a hoody, hunting boots, and my hunting pack praying that the duffel would work as advertised.
I dragged the Yeti Panga a couple hundred yards through the pond and was surprised by its buoyancy. It floated really well on top of the water which I thought was awesome. For waterfowl hunters or people who spend more time on the water, this leads me to believe you could actually tow this behind a boat on the water's surface. Allowing for more room in your boat for other gear or simply leg room.
I also barrel-rolled the bag a bunch of times to see if any water would seep in through the HydroLok Zipper. I even left the bag upside for some time as well. Throughout all of the carnival flips and tricks, no water penetrated the HydroLok Zipper or the bag. This was comforting because I truly thought that would be a vulnerable point of this bag yet my premonitions were proven wrong.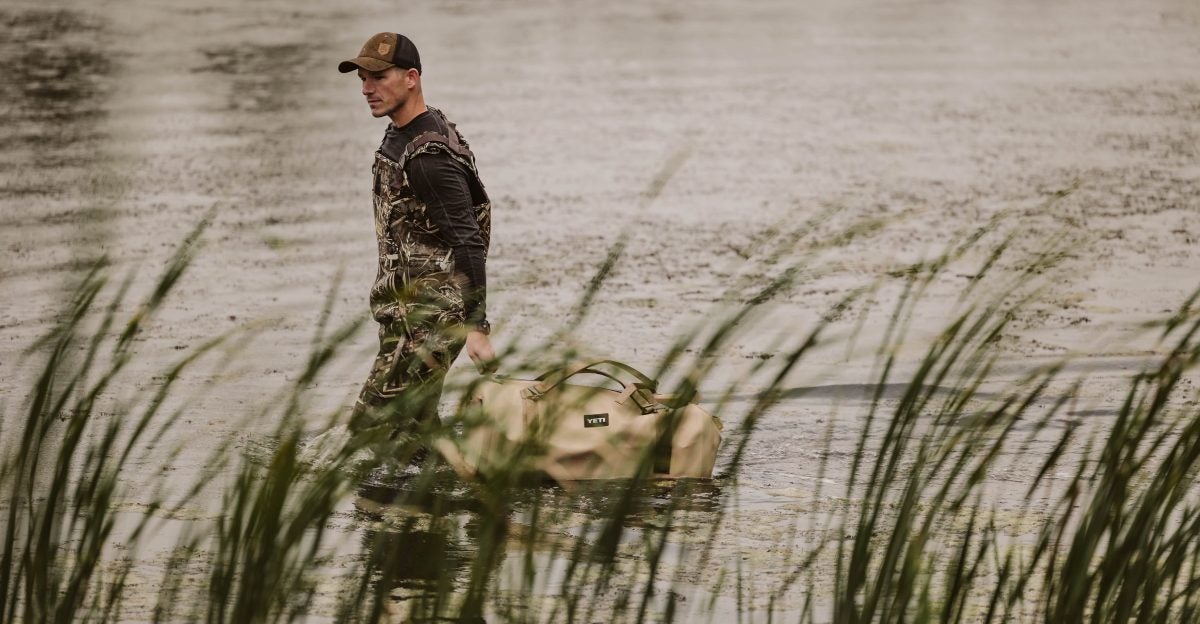 Another small element about the duffel I appreciated is that it had shoulder straps to carry it like a backpack. Often when I am going out into the field for hunting or recreation, I have my hands full – metaphorically or literally. So, to be able to pack a bunch of gear into the Yeti Panga waterproof duffel and have it on my back (as opposed to mandatorily carrying it in my hands) is beneficial. Also, the shoulder straps can be removed entirely if I want them stored out of the way during transport in a vehicle which is nice.
The bright orange interior is another small touch I liked. When you have that duffel crammed full of gear and you are searching through it in the dark it is a nice contrast inside its cavernous walls to be able to find the gear you are looking for. If the interior was a more dull or soft color (brown, tan, green, etc) it would make it difficult to fish out the gear I need which is also a spectrum of browns, greens, and camouflage patterns.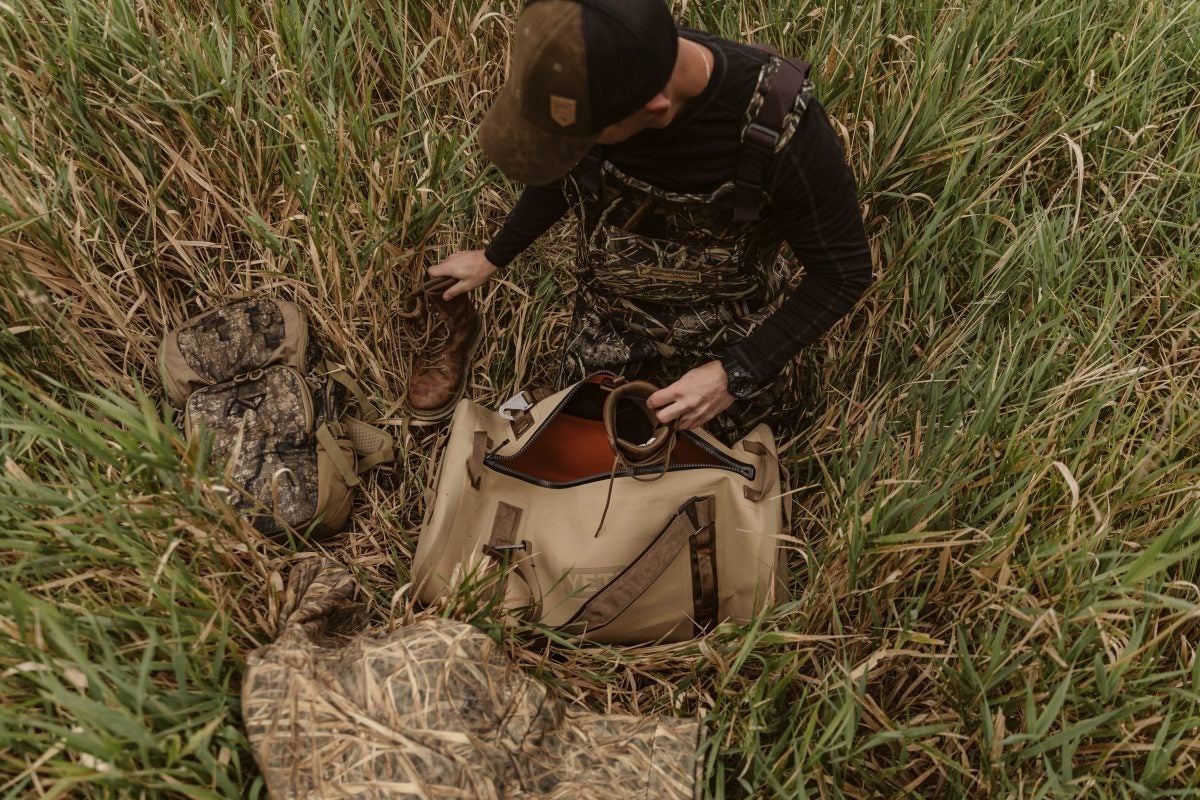 The other manner in which I tested the bag was letting it bounce around in the back of my Tacoma for maybe ~1 month whether it was raining, the sun was blazing, or any sort of weather in between. This proved to be a unique test, too, because I thought maybe some blistering 90 degree days with the sun beating down on it would deteriorate the duffel's material – it did not. Also, since the HydroLok Zipper already survived my bog test, I thought if rain maybe hit the zipper going 70+ MPH down the interstate maybe water would finally enter the bag – it did not.
So, with all of my attempts to get the interior of this bag wet, I failed – and the bag won – which is the outcome I hoped for. I wasn't as so much trying to prove Yeti wrong; rather, I wanted to thoroughly put this bag through its paces to prove its own quality. The Yeti Panga Waterproof Duffel passed all of my tests with flying colors.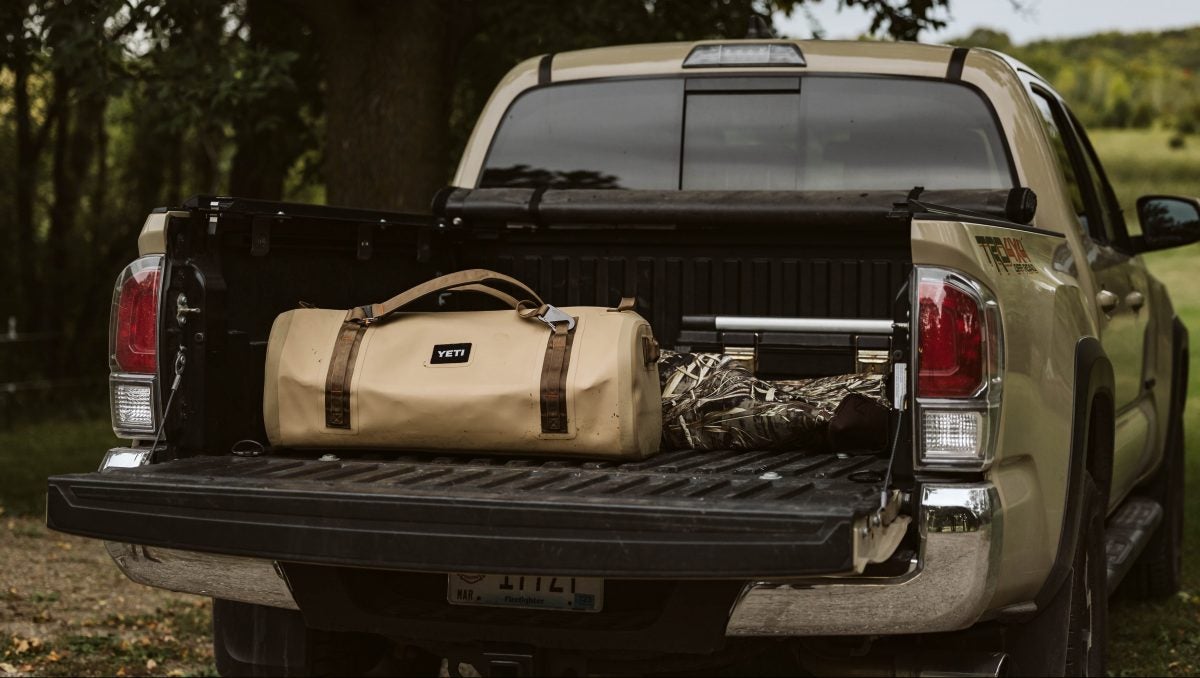 Final Thoughts – Yeti Panga 75L Waterproof Duffel
So, what are my final thoughts on the Yeti Panga 75L Waterproof Duffel after testing it in some uncharacteristically wet conditions in Minnesota?… I have all the backpacks I may need for 2 lifetimes, but it is rare to come across a backpack or duffel that is actually waterproof as advertised. Whether you are dunking, trolling, dragging, and flying through water in the great outdoors, the Yeti Panga has proven to me beyond a doubt that it will keep your gear dry. With varying sizes from a backpack and 3 different duffel capacities, you have a lot of choices to pick from – and for what they are able to accomplish – I believe they are appropriately priced as well. For anyone searching for waterproof storage options, the Yeti Panga series is a great option.
In closing, I want to say thank you to Yeti for allowing AllOutdoor and myself the opportunity to try out their Yeti Panga 75L Waterproof Duffel. That is greatly appreciated. Also, we would like to know what all of you guys and gals think? Do you believe that the Yeti Panga 75L Waterproof Duffel is something worth spending your money on while scouting, hunting, or simply recreating in the outdoors with friends? As always, let us know all of your thoughts in the Comments below! We always appreciate your feedback.
---
Video and Photography
All of the quality photography for this review was completed by the accomplished and wonderful Savannah Pierson of Savvy Photage while the video work was achieved by the versatile and gifted Jens Kallgren of High Shine Media. They are both pinnacles of knowledge and expertise in their field, and their assistance in reviewing the Yeti Panga 75L Waterproof Duffel is greatly appreciated.