RMEF Conserves Big Hole Valley Habitat in Montana
Adam Scepaniak 11.16.22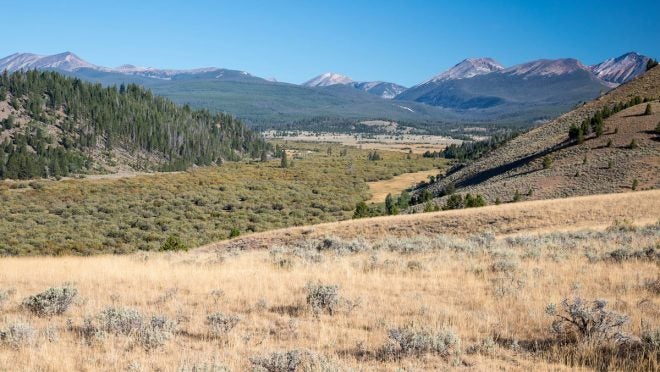 Some of the Big Hole Valley Habitat in Montana is getting some future security as the Bureau of Land Management (BLM) and the Rocky Mountain Elk Foundation (RMEF) have teamed up to preserve 3,600 acres of pristine wildlife and riparian habitat for years to come. This is just one of innumerable examples of the work that the RMEF accomplishes every year.
Rocky Mountain Elk Foundation (RMEF) Coverage on AllOutdoor
The Big Hole Valley Habitat of Montana is home to vibrant mountains, meadows, sagebrush, grasslands, and conifer and aspen stands that are home to elk, mule and whitetail deer, moose, pronghorn antelope, small game, upland birds, waterfowl and other species. The Big Hole River and Seymour Creek are also present which host westslope cutthroat, brook, brown, and rainbow trout as well as the last known wild population of fluvial Arctic grayling in the Lower 48.
Missoula, Montana – "Development and habitat fragmentation were very real and serious threats to this landscape because of its beauty, location and natural resources," said Kyle Weaver, RMEF president and CEO. "Instead, it is now conserved, protected and opened to public access. We appreciate the family for reaching out to us about their land and helping to make that happen."

"The conservation ramifications of this transaction are immense," said Blake Henning, RMEF chief conservation officer. "It protects the connectivity of public land ownership, a migration corridor, elk calving and winter range, and extensive riparian habitat, plus it offers public access to this acreage, the Big Hole River and greatly improves access to adjacent public land."

"The Seymour Creek property has been under private ownership for generations, so thanks to the private landowners, the Rocky Mountain Elk Foundation and partners, the public can now explore an additional 3,600 acres of diverse landscapes in the Big Hole Valley," said Lindsey Babcock, BLM Butte field manager.
The Big Hole Valley Habitat also supports a wide range of recreational activity such as hunting, fishing, hiking, horseback riding, camping and boating. So, it not only benefits a multitude of wildlife, but also is a great source of recreation to the public. As always, let us know all of your thoughts in the Comments below! We always appreciate your feedback.