Steelhead Outdoors Moves into New Facility; Adds Case Keeper Storage
Adam Scepaniak 11.16.22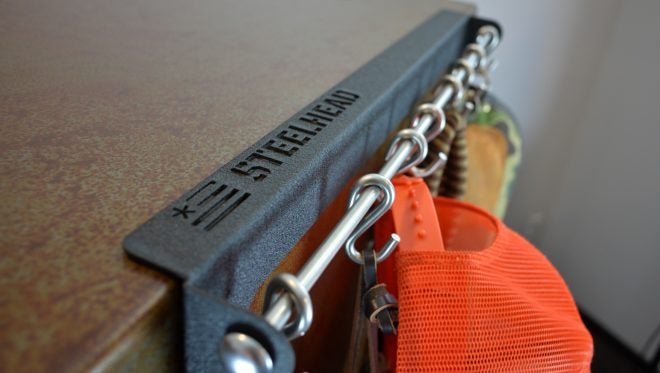 Steelhead Outdoors is a unique manufacturer of gun safes and vault doors out of Shakopee, Minnesota because of their modular designs. They are not modular in the regard that you can modify the shelving (which you also can do0. Rather, they are modular because you can dis-assemble and re-assemble the entire safe at will! Now, they have consolidated their operations to under one roof and introduced a new accessory as well.
Steelhead Outdoors, Vault, and Safe Coverage on AllOutdoor
The new safe accessory unveiled by Steelhead Outdoors is their Case Keeper. Instead of having all of your soft cases – and various other hangable firearm accessories stuffed in a closet – you can now have them conveniently hung and placed on the side of your safe. The Case Keeper is magnetically attached, can hold 30 Lb of weight, and retails for $49.
Shakopee, MN (November 14, 2022) – Steelhead Outdoors has moved to a 4,000 sq. ft. space consolidating all operations under one roof in Shakopee, MN – a southwestern suburb of Minneapolis – St. Paul. The modular gun safe manufacturer's new facility features a small showroom if customers want to schedule a confidential appointment to see the innovative products and options. Most Steelhead Outdoors safes, including custom safes, are ordered online. Customers can order a Made in America safe completely and securely online or call to discuss options including custom colors, custom sizes and interior storage configurations. Steelhead Outdoors is conveniently located in an active industrial park and near local partners. The neighboring FedEx hub and Amazon distribution center have increased the shipping options in the area.
If you have ever wanted a modular safe that you could move yourself, you may want to check out what Steelhead Outdoors has to offer. Being American made with ingenious accessories to boot like the Case Keeper, you could build out a customized storage solution for yourself fairly easily. As always, let us know all of your thoughts in the Comments below! We always appreciate your feedback.