No New Menhaden Restrictions in Chesapeake Bay… for Now
Eugene L. 12.12.22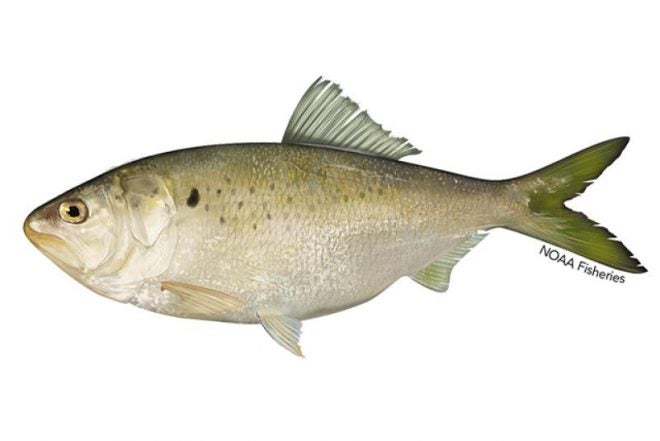 Back in the middle of November, we talked about State Delegate Tim Anderson (R)-Virginia Beach sponsoring a bill that would put a two-year moratorium to be placed on commercial Atlantic menhaden fishing inside the Virginia portion of the Chesapeake Bay. Well unfortunately for conservation groups and anglers, and fortunately for commercial fishing firms like Omega Protein the Virginia Marine Resources Commission on Tuesday chose not to place new limits on the menhaden harvest. This decision came in after hours of hearings that were composed of roughly three dozen public commentators.
The Virginia Marine Resources Commission board members actually didn't even make a vote on new regulations. Instead they put forward and approved a non-binding motion to try and reach an agreement with the commercial menhaden fishing industry. This is just another decision in a decades-long fight over these little baitfish. The small little Atlantic Menhaden (Brevoortia tyrannus) is a silvery-scaled baitfish of large importance. They serve as a major forage species for many different larger and sportfish species. With being such a vital prey species for so many popular species of sportfish in the Chesapeake Bay, the commercial harvest of such a species causes a lot of arguments and contention amongst interested parties.
Virginia is the only place on the whole of the East Coast that still allows the harvest of menhaden in state waters. Omega Protein catches these little fish in large nets, then processes them into oil and fishmeal at their facility in Reedville. The oils and fish meal are used for a variety of other industries as raw materials.
Sportfishing groups and environmental groups though have been pushing for a total ban on the commercial harvest of menhaden harvest in the Chesapeake Bay. Earlier this year a petition brought about by the Virginia Saltwater Sportfishing Association supporting a ban got 9,200 signatures.
The new proposed regulations this week would not go nearly as far a ban for the commercial purse seining, instead just adding in new regulations for the commercial harvest though.