Curious Relics #054: All I Want For Christmas – Curious Relics Edition
Sam.S 12.14.22

Welcome, if you are a newcomer to this fun bi-weekly segment of AllOutdoor.com! The last time we closed out the three-part slate of M1 Garand Rifle articles. I covered things ranging from the history, variations, and further specs and range time. This year has been full of luck in regards to me obtaining some older firearms on my list such as a Mauser C96, the FN 1910 that we covered, and a Mauser 1914. Today is a Christmas Special of sorts, the first of its kind for Curious Relics. Since this article falls before Christmas I decided it would be fun to talk about a wishlist and breath in the holiday spirit. I picked four guns from my personal wishlist that would be great for this series that I have yet to obtain. I picked out a Revolver, Rifle, Pistol, and Shotgun. Let's dive right into the All I Want For Christmas-Curious Relics Edition!
---
Welcome to our recurring series of "Curious Relics." Here, we want to share all of our experiences, knowledge, misadventures, and passion for older firearms that one might categorize as a Curio & Relic  – any firearm that is at least 50 years old according to the ATF. Hopefully along the way you can garner a greater appreciation for older firearms like we do, and simultaneously you can teach us things as well through sharing your own expertise and thoughts in the Comments. Understanding the firearms of old, their importance, and their development which lead to many of the arms we now cherish today is incredibly fascinating and we hope you enjoy what we have to share, too!
---
All I Want For Christmas-Curious Relics Edition: Revolver
All I want for Christmas…is a Webley Mark VI in 455 Webley. These revolvers are absolutely iconic and have such a unique look. A lot of Webley Mark VI revolvers (and before) were converted to an arguably more common cartridge here in the states when they made their way here. I am not shy to hard to find ammunition. These revolvers have often been "shaved" to accommodate 45 ACP and modern 45 ACP is not kind to them to put it lightly. A dead giveaway is the rearmost part of the cylinder will be shaved down and an obvious gap will be present. Many Enfield models are around but also have a bobbed hammer. These are called Tanker models. It is not so much that I am disinterested in those but more so that I favor the hammered versions. These were produced from 1887 until 1924 and only a mere 125,000 were made. Earlier models would do just fine but this is the grail of them all to me…without mentioning the Fosbery.
Lot 359: Webley & Scott Ltd Mark Vi Revolver 455 Webley – Australian Marked Webley & Scott Mark Vi Double Action Revolver. (n.d.). Rock Island Auction Company. photograph. Retrieved December 13, 2022, from https://www.rockislandauction.com/detail/1025/359.
All I Want For Christmas-Curious Relics Edition: Rifle
All I want for Christmas…is a Remington Model 81 in 300 Savage. The Remington 81 is the more modern take on their earlier Model 8. I particularly want one in 300 Savage since it is the more common of cartridges still available today. Technically 35 Remington is just as common but not so much in northern states as it is in the southern states. The Remington Model 81 (and earlier Model 8) has a selector switch/safety switch much like the ones found on an AK firearm. It is often speculated it served as inspiration for that particular part but Mr. Kalashnikov is cited as saying that is nonsense. The operating and exterior characteristic similarities to the Browning Auto 5 are not coincidental. Browning basically built this gun and sold it to Remington. It uses the same long recoil action but the barrel is shrouded. What a beautiful work of art! Too bad Remington thought the 74 series was a worthy replacement (spoiler, it was not).
Lot 290: Remington Model 81 Woodsmaster Semi-Automatic Rifle. (n.d.). Rock Island Auction Company. photograph. Retrieved December 13, 2022, from https://www.rockislandauction.com/detail/52/290/remington-model-81-woodsmaster-semiautomatic-rifle.
All I Want For Christmas-Curious Relics Edition: Pistol
All I want for Christmas…is a Luger of some sort. Vague, I know but I would guess this iconic pistol is on every gun lover's list. This unfortunately makes them hard to find at reasonable prices. Ideally, a shooter-condition Luger in 9mm is the dream. I do not believe in owning a tool and never enjoying it. The luger was introduced around 1900 and it was quickly obvious that it had many positive attributes it used a cartridge that was way ahead of its time. The toggle lock system is a permutation of the Borchardt C93 and it was arguably perfected by Georg Luger. Ergonomic, well-balanced, and blast to shoot, the Luger is a handy and fun piece of kit at the range. One day I plan to have one of my own. until then it will continue to be on my Christmas list!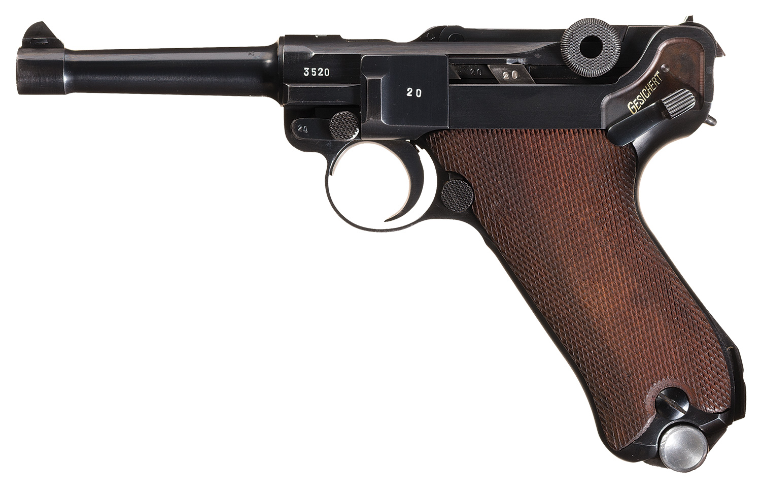 Lot 1594: Mauser P08 Pistol 9 mm Luger – Pre-World War Ii Nazi Mauser "S/42" Code Luger Semi-Automatic Pistol Dated 1938 with Matching Magazine and Holster. (n.d.). Rock Island Auction Company. photograph. Retrieved December 13, 2022, from https://www.rockislandauction.com/detail/68/1594/mauser-p08-pistol-9-mm-luger.
All I Want For Christmas-Curious Relics Edition: Shotgun
All I want for Christmas…is a Winchester Model 1911 Self Loading Shotgun. This shotgun is interesting in so many ways and would make an excellent Curious Relics subject, especially with some hands-on experience. the Winchester 1911 SL, often referred to as the "Widow Maker", is a classic instance of a company trying its best to work around a patent. Browning held the patent for the classic side charging handle we all know and use today on a lot of rifles so Winchester opted to go with a front-end plunger charger of sorts. This premiered on their Model 1903 and 1907 rifles but was too weak for a larger gun like this shotgun. The solution was to make the barrel the charging plunger hence the knurling on the barrel. It was to compete with the Browning Auto 5 but reports and rumors of this gun being a true Widow Maker had ill effects on its sales. Little actual information about these unfortunate events actually happening is seldom but that is not the point. The point to me is it is an interesting story i would love to tell in more detail and offer a better-informed opinion.
Lot 1580: Scarce Winchester Model 1911 Sl Self Loading Shotgun. (n.d.). Rock Island Auction Company. photograph. Retrieved December 13, 2022, from https://www.rockislandauction.com/detail/59/1580/scarce-winchester-model-1911-sl-self-loading-shotgun.
Conclusion: All I Want For Christmas-Curious Relics Edition
A pretty basic list I know. a few classics and oddballs but with short notice, I would say those are all at the top of my list with realism in mind. I would love a Gatling gun or a Pedersen Device but I will never have those unless I find some gold or oil on my property. These picks are ones I am capable of obtaining and are in shooting condition as well. What is on your personal lists? Any of mine? Let us know in the comments below!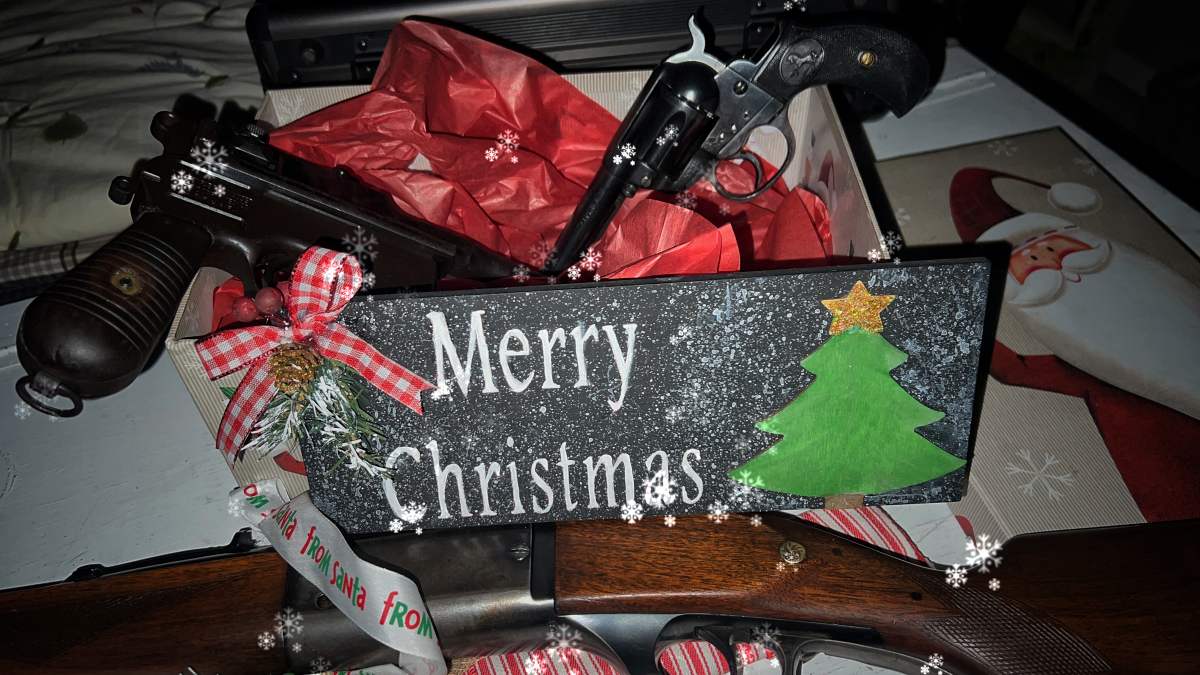 In closing, I hope our Curious Relics segment informed as well as entertained. This all was written in hopes of continued firearm appreciation and preservation. We did not just realize how guns were supposed to look and function. It was a long and tedious process that has shaped the world we live in. So, I put it to you! Is there a firearm out there that you feel does not get much notoriety?  What should our next Curious Relics topic cover? As always, let us know all of your thoughts in the Comments below! We always appreciate your feedback.