AllOutdoor Review – Uberti 1858 Remington Revolving Carbine
Travis Olander 12.14.22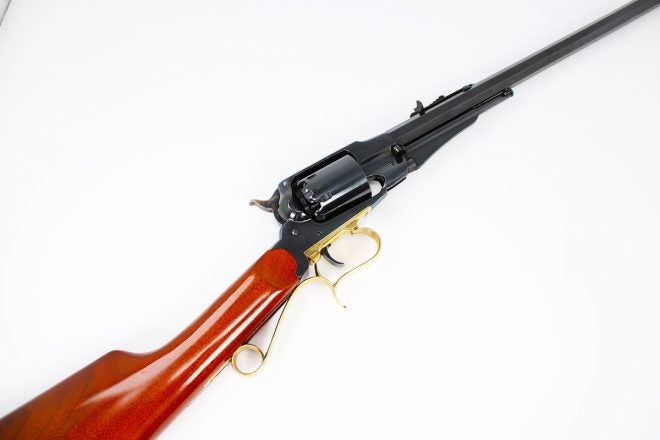 When Remington introduced its Model 1858 revolver, it provided a potent .44-caliber contender of a wheel gun that saw plenty of service in the Civil War. It was issued as a sidearm to the Union Army – first as a supplemental gun to the infamous Colt 1860 Army, then as the primary revolver of choice after Colt's factory fire in 1964. William "Buffalo Bill" Cody himself carried one for nearly forty years. His New Model Army .44 sold at auction for nearly $240,000. But what I think makes the Remington 1858 a particularly memorable and important firearm is its much lesser-known configuration, the Remington 1858 Revolving Carbine. Just 3,000 original examples were produced between 1866 and 1879. The stocked carbine variant of the Model 1858 came fashioned with walnut, an enlarged brass trigger guard and butt plate and an 18" octagon barrel that one would normally find on the Sharps and Henry rifles of the day. Thankfully, you needn't spend tens of thousands of dollars on Guns International to get your hands on an example of this niche wheel gun: Uberti, who makes plenty of faithful black-powder recreations, brought the 1858 Carbine back to life for a cool $550 to $600, depending on where you purchase. Check out our review today of the Uberti 1858 Remington Revolving Carbine!
Uberti 1858 Remington Revolving Carbine – Specs
Black Powder: .44 caliber
Cartridge: .45 LC, .45 Schofield
Weight: 4.4 pounds
Capacity: 6 rounds
Overall Length: 35.3"
Barrel Length: 18"
Finish: Bluing
Sights: Adjustable rear, dovetail front blade
Ignition: Percussion or centerfire (w/ conversion cylinder)
Uberti 1858 Remington Revolving Carbine – Brief History
The Remington Carbine's existence was first noted in an 1865 advertisement. In Ilion, New York, the "Citizen" newspaper published a Remington ad that simply said, "The Armory is manufacturing a revolving gun for deer shooting."


Originally catalogued as a Revolving Breech Rifle, the Model 1858 came in .36 or .44 caliber, weighing 6 pounds and sporting Remington's signature "Topstrap," solid frame. By March, 1872, the Revolving Carbine had been adapted to use modern cartridges, offered for $25, chambered in .36 Long rimfire.
The Carbine largely relied on the Model 1858 revolver's original design. It shared the same cylinder, hammer, bolt, and loading rod. Only the modified geometry of the grip dictated a concave mainspring, opposite the handgun's convex mainspring, shaped to fit inside in the pistol grip.
Uberti's take on the Remington 1858 Carbine
I fancy unique firearms, pieces that can hang on the wall and start a proper conversation. The profile of the 1858 Carbine doesn't disappoint. Uberti took no liberties or interpretations with the original design, and kept the modern reproduction true to its 19th-century iteration. It is a striking rifle at first glance: Its svelte, elongated frame and barrel complement a swooping walnut stock and finely curled brass guard.
The stock's long length of pull balances the frame and barrel and accentuates what a casual observer might call an "extreme" design. I think it's genius, but we'll touch on the mechanics later. The polished and pointed brass plate plays well with the acute curvature of the stock's shoulder. It keeps congruity with the dramatic design of the trigger guard and palm rest.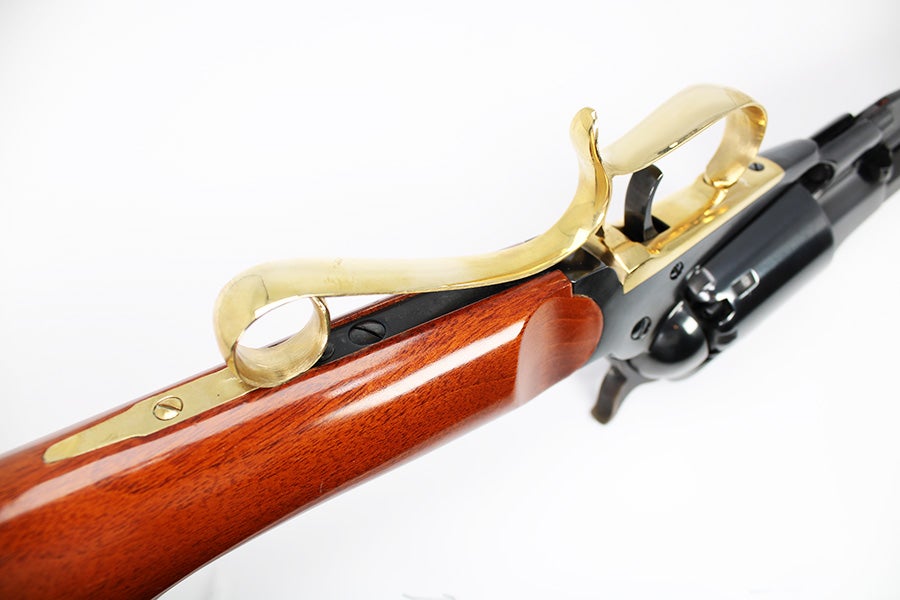 The angle of the stock's bottom flows in a nearly perfect line up through the loading rod's housing, terminating just in front of the rear sight. I'm a fan of the finger loops and grooves. They're just as functional and comfortable as they are aesthetic. Although the Remington Revolving Carbine was made for the woodsman stalking American game, it stands on its own as a unique centerpiece above any fireplace.
Uberti's Brass can be "Rough" Out-of-the-Box
I noticed a few blemishes and dull markings on the otherwise fine polish. It took a few moments with a felt polishing wheel and Dremel to clean everything up. Once you touch up the accoutrements, this rifle really shines in the light. You'll probably want to wipe it down once in awhile, and apply a light coating of oil — the brass shows some oxidation and tarnish over time.
Fitment
Fitment on the Uberti is nearly perfect, particularly where it could be most concerning: The cylinder gap. Fitment between the wood stock and frame are good. There are a few foibles to note upon close scrutiny, but nothing that generally detracts from the show.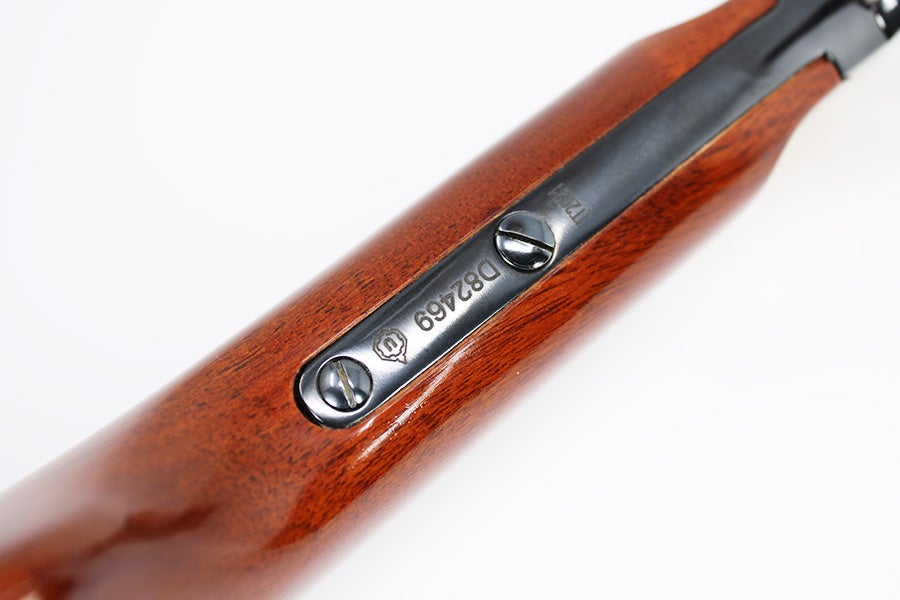 The Walnut specimen is finely grained and pops with nice contrast and good finish work. All fasteners are traditional, with broad, flathead bolts securing the frame and stock. Routing could be a bit better on the tang's fitment, where the serial number is engraved. But we're talking about a ~$550 gun, so it gets a pass.
A Word of Caution (Chain Fires)
If you're wondering why the housing for the loading rod isn't festooned with Walnut to act as an off-hand perch, that's because of a digit-killing phenomenon called chain firing. Original black powder revolvers occasionally suffered a mishap. When the chambered round would ignite, a wayward spark escaping the cylinder gap could ignite the charges in all loaded cylinders.
The result was 6 shots of ball slamming into the frame, destroying the gun and anything in front of the cylinder. That would include any fingers and palms, should the wielder have mistakenly used the loading rod as a makeshift foregrip. That's why I remark positively on the excellent fitment between the cylinder and barrel. There's practically no gap, which basically eliminates the risk of a chain fire. Still, I make a habit of keeping both hands behind the frame.
Finish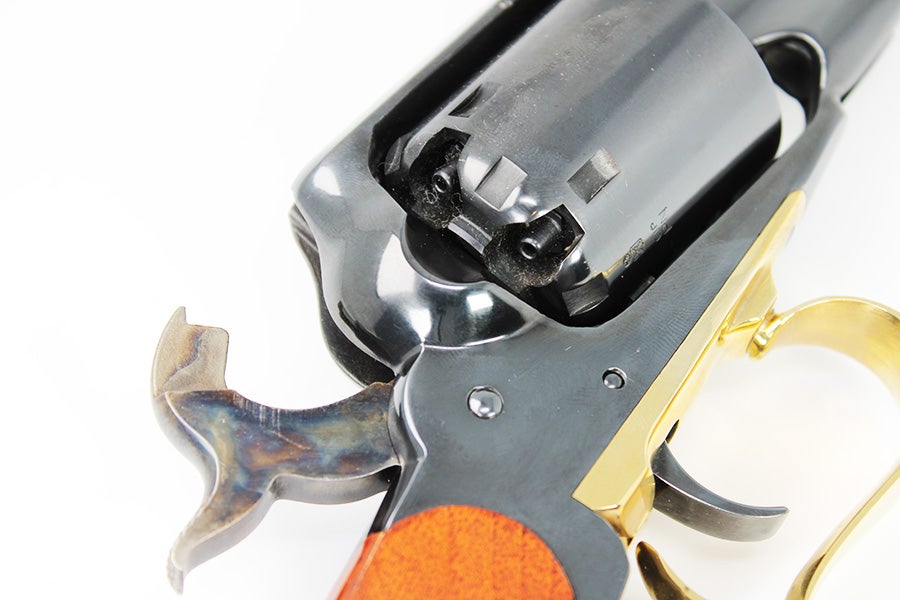 Uberti did well with the frame's bluing, the stock's finish, and the case hardening on the hammer. Everything glows nicely, and unlike the brass, I found no blemishes, marks, or stains. With some polishing, the frame and barrel both shine like a mirror.
Sights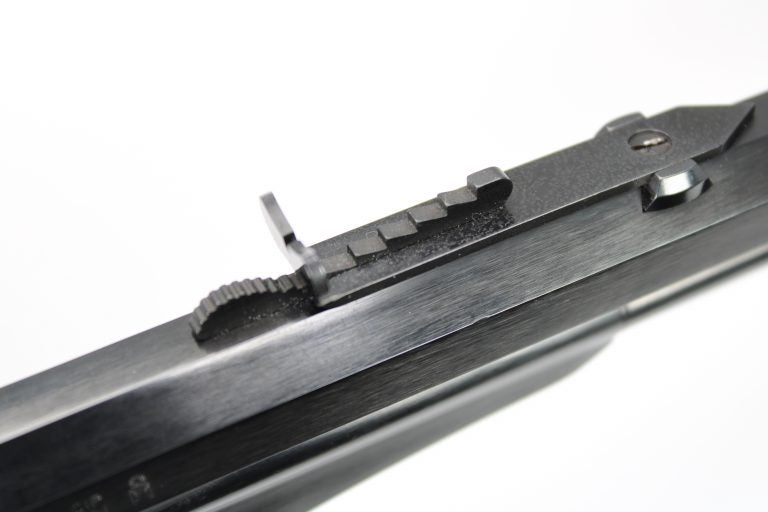 Remington's original rear open-leaf sight makes a reappearance, here. It's adjustable for distance, while the front dovetail sight can be adjusted left or right for a proper zero.
Cylinder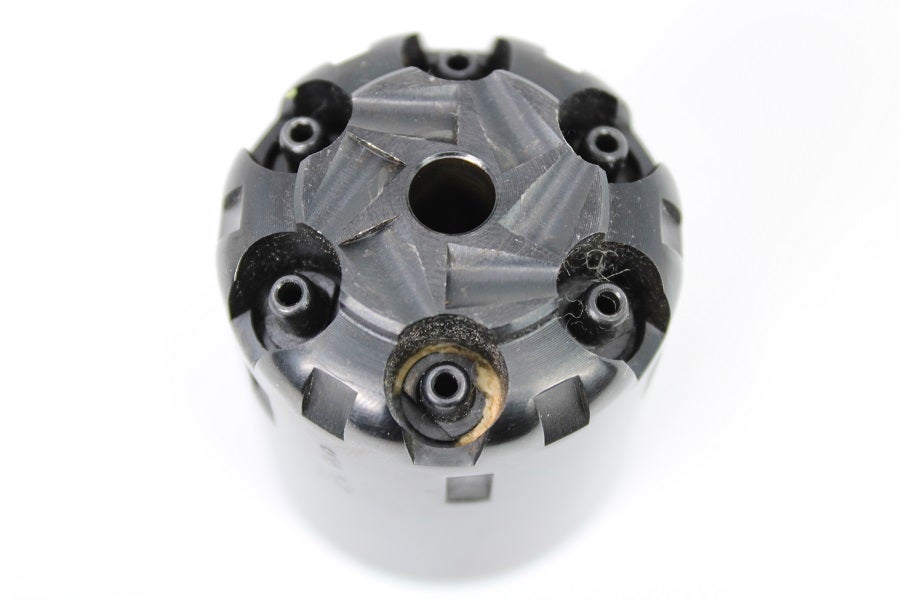 The cylinder sports good machining. It has positive lock-up and no tilt nor wobble. The CNC work on the back plate is smooth and clean, too. Uberti has a poor history of not properly cleaning its guns after sending them through the proof house, and that was evident on mine.
You can spy some percussion cap residue and inside, I noticed some fouling and pitting wherein they failed to properly clean out the burnt carbon and oxide. If you pick up one of these wheel guns, I highly recommend an out-of-the-box disassembly and cleaning with solvent and oil. There's one more trick up the Revolving Carbine's sleeve, though, if you're not a fan of black powder.
Conversion Block (Powder to Cartridge)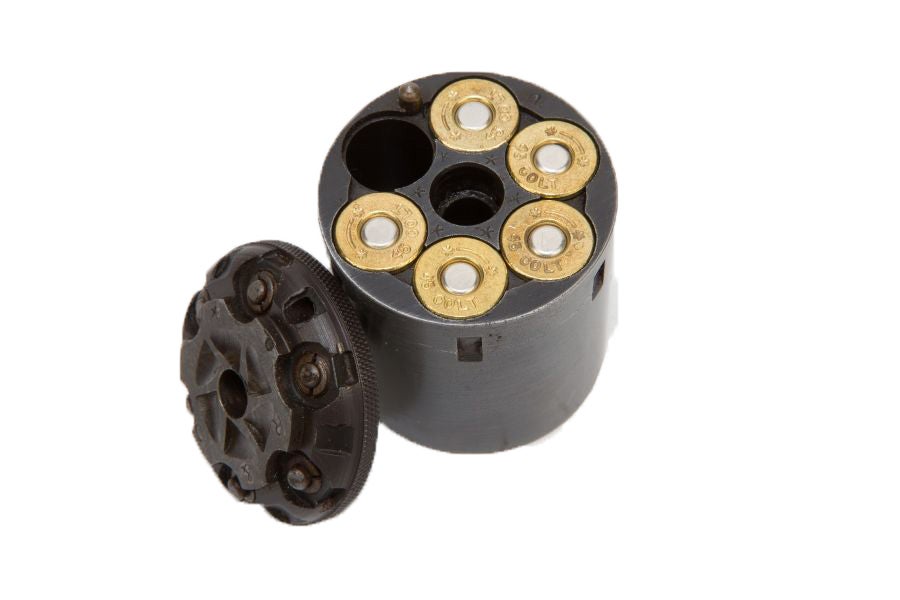 Taylor's Firearms — who also makes an identical replica of the Remington 1858 Revolvers and Carbine — introduced a cool little piece of tech called a conversion cylinder. This 6-shot replacement trades the integrated percussion caps for a removable plate adorned with individual firing pins.
The cylinder itself is machined to accept modern .45 Long Colt and .45 Schofield cartridges, effectively turning this black powder revolver into a proper centerfire rifle. I haven't field it personally, and it is a tad expensive (around $250), but it's been reviewed favorable.
It's a Great Shooter, Too
I shamelessly bought the Revolving Carbine as a wall-hanger. But fielding it is just fun. Its stock and long barrel reduce recoil significantly, and bolster accuracy to make rapid single-action work as practical as it is enjoyable. The gun is light and easy to carry, too.
Remington certainly were onto something when they decided to stretch out their popular handgun into one of the first modern carbines. I can easily pop cans at 100 yards with the open leafs. Compared to the sidearms and typical rifles of the era, I imagine the Revolving Carbine made for a lethal companion that cut above its competitors for accuracy, speed, and size. If black powder isn't your thing, but you appreciate revolvers with legend in their name, check out our review of the reintroduced Colt Anaconda.