AO Review: Alexo Athletica Women's Fashion Apparel (Springfield Armory)
Eve Flanigan 12.19.22

Springfield Armory has never been a company to rest on its laurels. Every year we see an entirely new gun from them as well as new interpretations of existing products. In 2022, the company not only did the usual deepening of their gun selections, they also broadened their product lines with apparel that seeks to be functional and not just promotional. Logo shirts are nothing new, of course, but recently I got to try out a few new products from Springfield Armory directed at the concealed-carry/active lifestyle set. In my view, they score some points on this front, and have some work to do to if they want to stay in the concealing garment business. In this two-part review, I discuss the products in order starting from the one I see as most fashion-oriented and moving toward the concealment-specific. These items are more on the fashion side. In the second half, I'll review their Alexo Athletica tights/DeSantis holster combo, which turned out to be a project in its own right.
Alexo Athletica Breezy Moto Jacket
This is my favorite and the most gift-worthy piece among the collection I tried. The cut, which hits just below my short waist, is flattering. Down the center of the back, on the shoulders, and around the elbows is very lightweight quilting with stitching patterns that conform with the natural contour of the body without being clingy. These are joined together with a combo of non-insulated and mesh fabric that offers ventilation in all the right places. The cuffs have a generous zip-open expansion panel that provides easy access to wrist-borne devices or can seal off that morning run air gap between gloves and sleeves. The collar can stand up and zip all the way up to keep cold air off the neck, or fold down for a more business-ready appearance or air circulation.
Color-on-color branding on cuff with the SA symbol is quite subtle. Only educated eyes will recognize this garment as that of a likely gun owner and possibly armed person. Kudos to Alexo Athletica and Springfield Armory for that. The logo does have a sort of reflective quality in certain light, not running shoe-style reflective, but less bright – it took three wearings of this jacket to notice the effect. While hooded jackets are useful and trendy, I appreciate having jacket choices that are hood-free, for times when I want a more polished appearance and also as a safety measure. A hood provides an effective handle for strangers with criminal intent. As such, they're a double-edged sword on exercise wear for both women and men.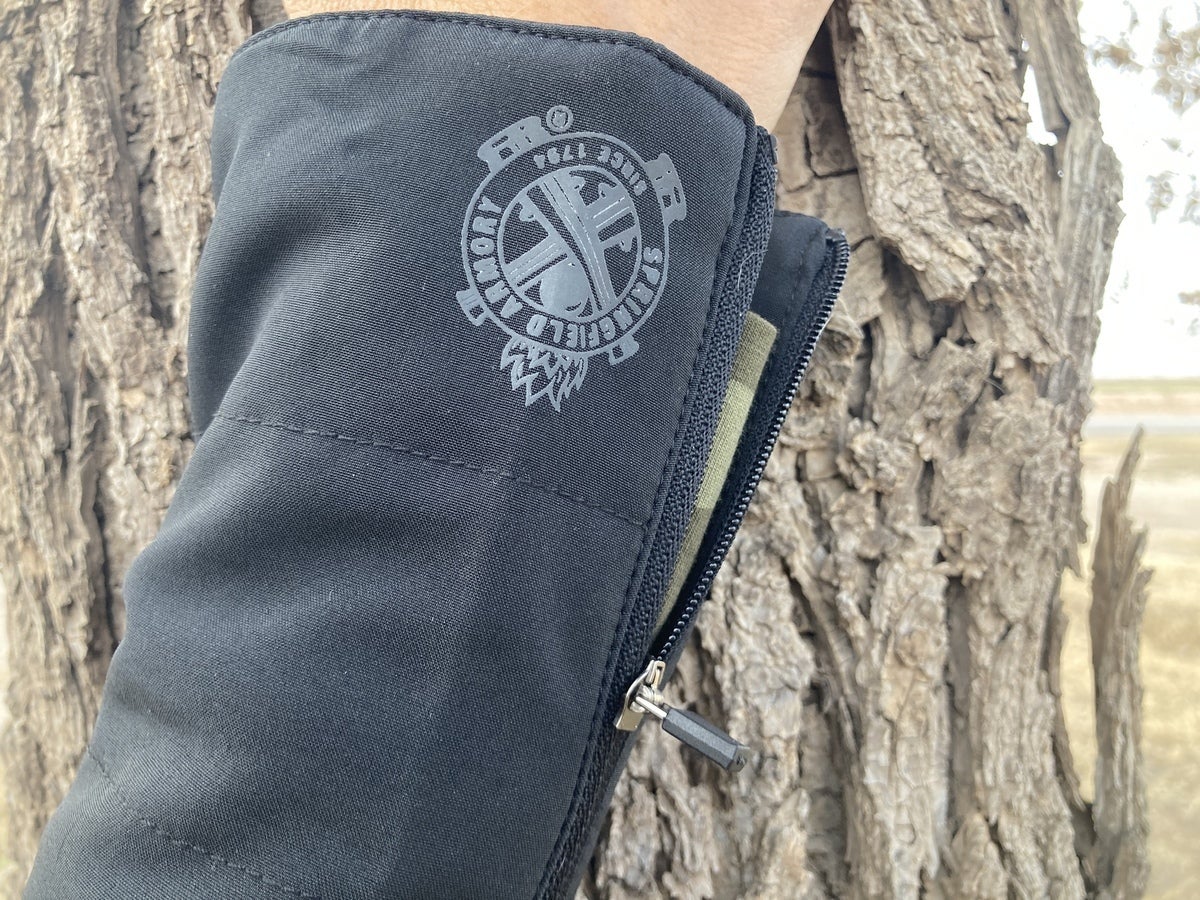 I believe the Alexo Athletica Breezy Moto Jacket is a great choice for those morning workouts when there's just a little too much chill in the air to set out in a tee or tank top. It's so lightweight as to create a minimal burden in a pack or tied around the waist once muscles are warmed up. It's attractive and classy enough to pull business-casual duty as well. Given the prevalence of mesh in the garment, it wouldn't be my first choice for physical labor as it's not very abrasion-resistant for farm chores. I tried black, and have animals with some white hair, which of course showed a bit after handling them. But, it brushed off easily from the peach-textured fabric and didn't visibly hang around on the mesh. I'm calling this a fashion win for Alexo Athletica and Springfield Armory. Even though there isn't any accommodation for an actual gun on this garment, it allows the Springfield fan to subtly show off their brand to anyone inside the gun community and look good doing it. Price is $129.
Springfield Armory Women's Flowy Long Sleeve Camo Tee
This is a long-sleeved tee in either olive or charcoal camo with "Springfield Armory" and the US flag across the front in subtle black decal. It's cut generously and the fabric is a lightweight cotton/polyester/spandex blend. It's not terribly distinctive, but has the advantage of being long enough to tuck or wear untucked.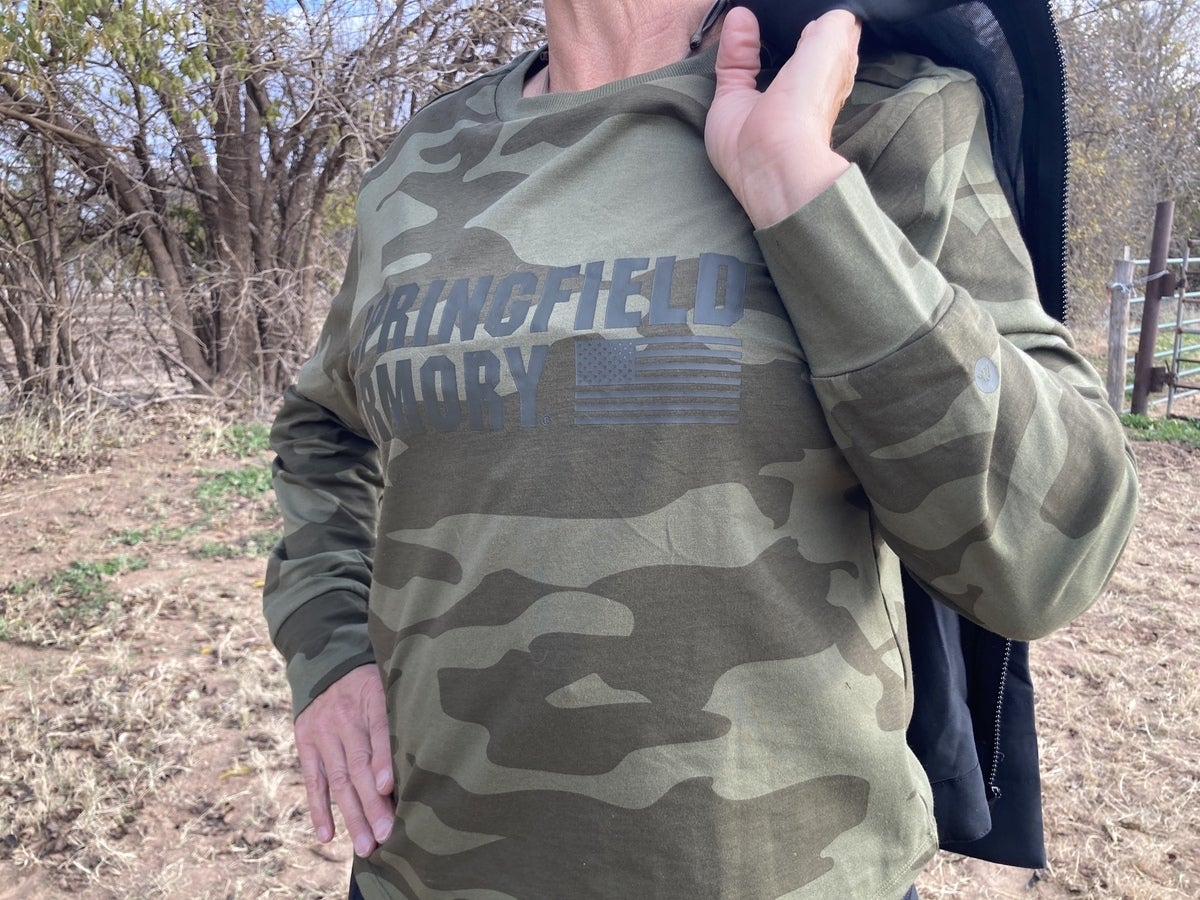 On this shirt, the designer did a big favor for the appendix carrier. Some women go to great lengths to blouse the gun-disguising front of the shirt with side cuts and/or strategically-placed knots. This tee has subtle upward shaping at nine- and three-o'clock. Ease of movement, concealment at the front or lumbar quadrants, and drawing are all enhanced by side-of-waist sculpting. Concealment is further enhanced by the camo pattern. With camo being fashionable and the logo subtle, this shirt doesn't scream "gun person" to the uneducated eye. This good-looking shirt is offered at $29 by direct order.
Overall, I think Alexo Athletica and Springfield Armory has done a good job of selecting its first assortment of apparel choices for men and women. They managed to accommodate both people who want to show pride in the brand and those who prefer understated messaging. Concealed carriers in particular might take interest in some of the garments. There is one more – the Alexo Athletica concealed carry tights – that I'll dedicate an entire article to in the near future. Stay tuned!