Our Top 8 Picks! The Best Takedown Rifles for 2023
Travis Olander 01.25.23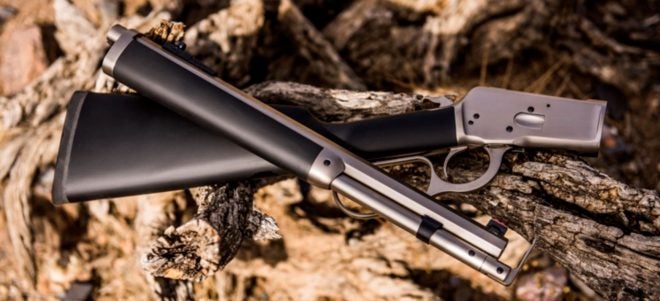 "Gucci" guns and tactical rifles – like the Saint Victor .308 – are cool and capable, but a quality survival rifle is an apt companion for the SHTF-minded prepper. Originally made to accompany Air Force pilots in the event of a Cold War shoot-down, the modern survival rifle has evolved into a capable, modular, transportable, and accurate rifle. There are, of course, more than one survival rifle, also called Takedown Rifles. We've come a long way from the glory days of the rudimentary, service-issued AR-7 – but hey! – the stock-stowed AR-7 is still relevant, so let's start there.
Takedown Rifles: #1 Henry U.S. Survival AR-7

Caliber: .22 LR
Capacity: 8 rounds
Overall Length: 35″
Weight: 3.5 lbs.
MSRP: $344.00
It cuts its teeth behind bomber pilots' seats in the 1950s: The U.S Survival Rifle, commonly called the Henry AR-7, is the quintessential survival shooter: It's an incredibly lightweight, .22 lr-chambered breakdown gun that stows away inside its own hollow, waterproof buttstock: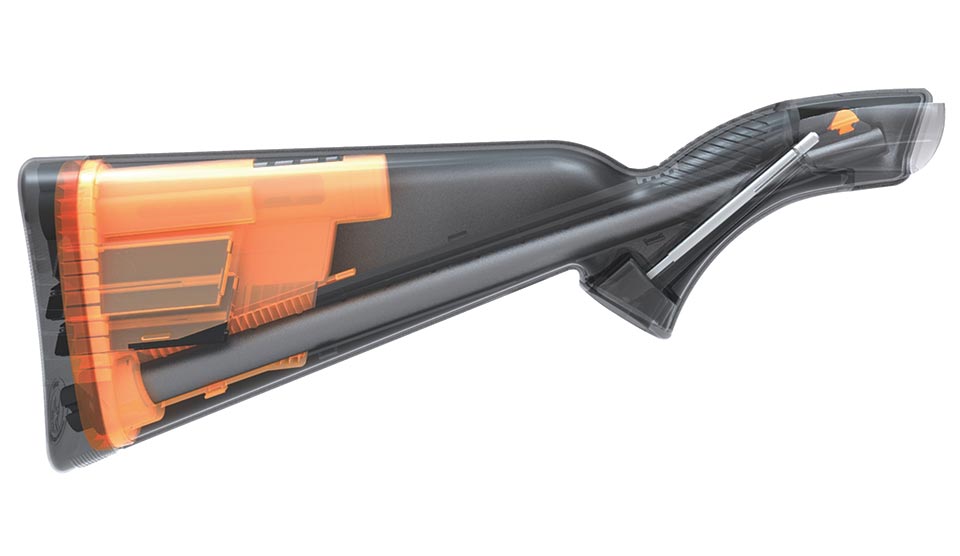 The semiautomatic action, its stick magazine, and the barrel all tuck neatly inside the polymer stock. Broken down, the rifle measures just over a foot long and a few inches wide, providing svelte storage inside any backpack or rucksack. The action is reliable, with a simple closed bolt being fed by an 8-round box magazine. Open leaf sights provide a basic but effective sight picture, while the 16.125″ barrel and 1:16 twist yield enough accuracy to take small game within 150 meters. Modern AR-7s come festooned with a regular ole' Picatinny rail, affording much better accuracy and performance when paired with a small glass optic, like the Leupold VX-R (1.25x-4x).
Takedown Rifles: #2 Savage Arms 42 Takedown

Caliber: .22 LR, .410 ga.
Capacity: Single-shot
Overall Length: 35.75″
Weight: 6.1 lbs.
MSRP: $559.00
If you desire a little more "oomph" that regular ole' .22, consider Savage Arms' 42 Takedown Rifle/Shotgun combo. Fitted with two barrels — one, a rimfire, the other, a .410 smoothbore — the 42 provides reliable single-shot functionality in a lightweight package at just about 6.1 pounds. This break-action survival gun provides 20″ barrels, maximizing velocity and accuracy. After all, each shot must count when you're working with just one round in each tube.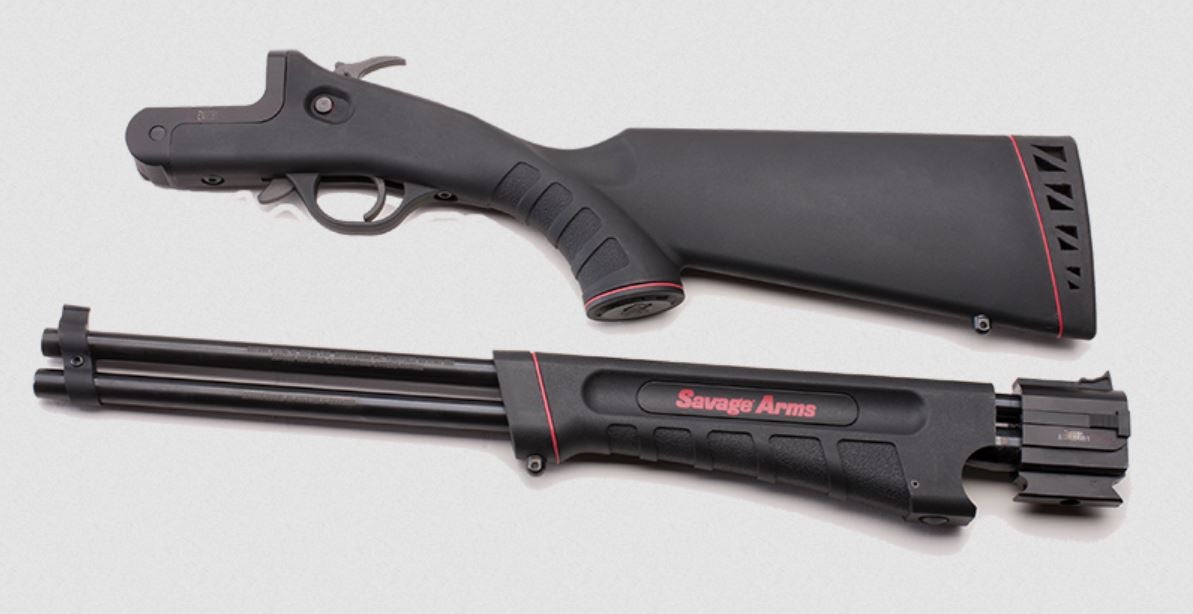 The break action and takedown function are one in the same: Just pull the retainer pin to separate the chambers and barrels from the hammer and trigger mechanisms. Although stowage inside the stock isn't a thing, the 42 Takedown provides a small profile that fits easily inside a typical backpack. No Pic rail is available for adding an optic, but adjustable leaf sights provide plenty of good accuracy.
Takedown Rifles: #3 Ruger 10/22 Takedown Edition

Caliber: .22 LR
Capacity: 10+ rounds

Overall Length: 37″ (varies)
Weight: 4.6 lbs. (varies)
MSRP: $559.00 – $799.00
No list would be complete without the legend: Ruger's infamous 10/22 semiauto rifle makes an entrance in a classic takedown configuration, sacrificing nothing of the original design to get there. Available with barrels measuring between 16.12″ and 18.5″, the 10/22 Takedown comes fitted with classic wood stocks or accurized polymer stocks.
Some models sport all synthetics and heavy, threaded CHF barrels for high suppressed accuracy, like the Model 21133. Regardless of configuration, all Takedown versions of the 10/22 break in half just past the action, separating the barrel and foregrip from the chamber and bolt. All models are fitted with Ruger's typical open leaf irons, though some models afford Weaver and Picatinny mounts for your favorite glass or red dot. Each Takedown .22 is capable of fitting Ruger's compact and quirky rotary magazine, in addition to typical banana mags for higher capacity.
Takedown Rifles: #4 Taylor's 1892 Alaskan Takedown

Caliber: .44 RM, .357 Mag, .45 LC
Capacity: 10 rounds (varies)

Overall Length: 34″ (varies)
Weight: 5.9 lbs. (varies)
MSRP: $1636.08 – $1740.88
Let's ditch the tiny lil' .22's for a moment, and take a look at a proper cowboy gun: Taylor's & Co.'s 1892 Alaskan gives up no firepower nor aesthetics to transform an old Western lever-action into a proper takedown rifle. Available with 16″ and 20″ barrels, you're getting full velocity and energy out of its potent .44 and .357 cartridges.
Each variant of the 1892 features traditional tube magazines, capable of handling at least 10 rounds. Options can be had with stainless barrels and accoutrements for some flash, or all-black for a subdued finish. Overall length varies from 34″ to 38″, depending on barrel.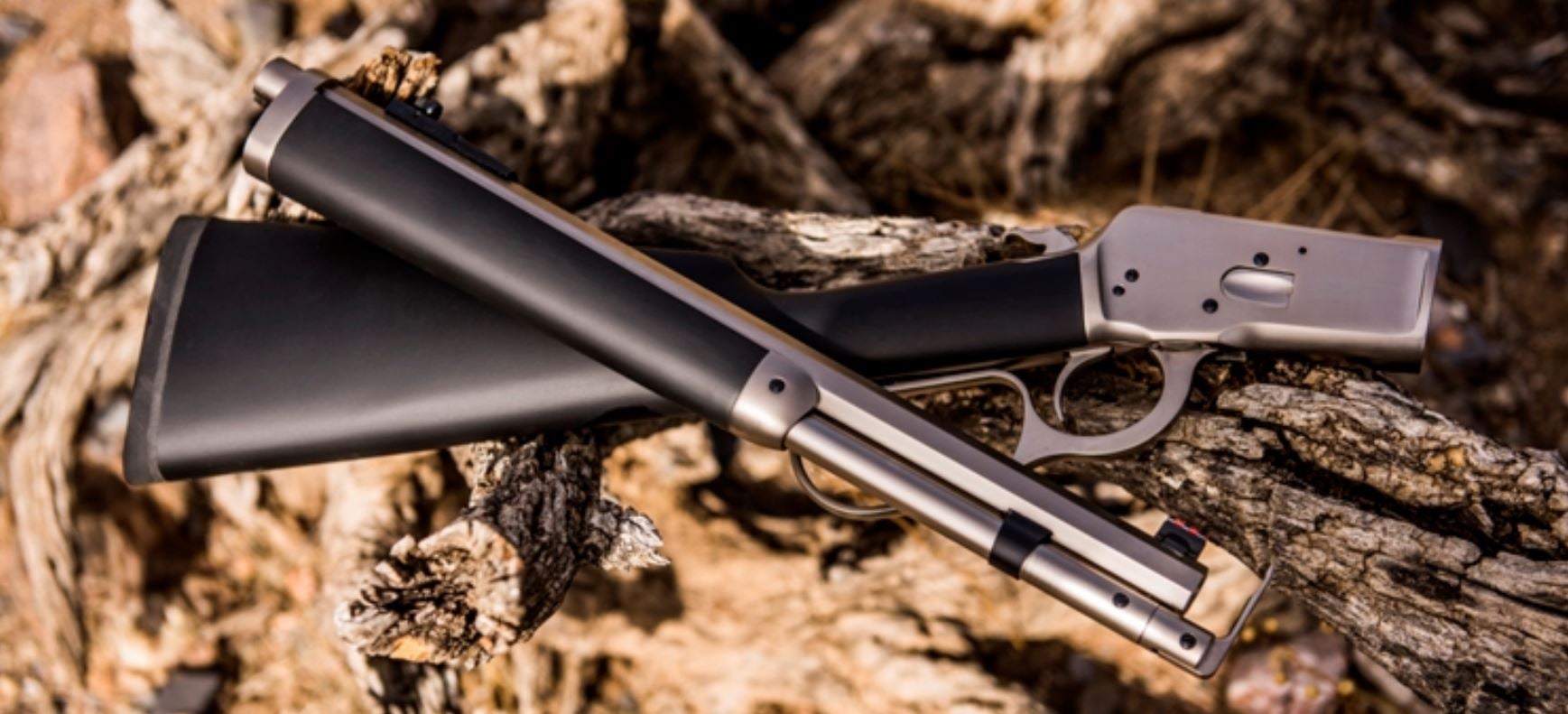 The takedown function is simple enough, too: The barrel and magazine separate as one unit from the action, requiring no special tools for storage. "Skinner Express" irons accompany each model, with some optioned for "Scout Mount" optics thanks to drilled and tapped receivers. Stocks and forends are made of wood with overmolded rubber.
Takedown Rifles: #5 Kel-Tec Sub-2000 Folding Carbine

Caliber: 9mm, .40 S&W
Capacity: 10, 33, or 50 rounds
Overall Length: 30.5″
Weight: 4.25 lbs.
MSRP: $556.00
KelTec makes some zany guns, but the Sub2000 is truly a useful little carbine. Unlike other entrants on this list, this super-compact folder comes chambered in 9mm or .40 S&W. Coupled with a 16.25″ barrel, you're getting some serious velocity out of cartridges designed for handguns. The Sub2000 is also one of the only takedown rifles you'll find that simple folds in on itself without actually, well, breaking in half. The rifle pivots on a single pin just underneath the rear sight post, allowing the barrel to fold and lock back against the rear stock.
The Sub2000 takes conventional magazines that fit inside the pistol grip, while the charging handle is tucked neatly away inside the hollow buffer tube. Large iron sights provide a decent sight picture, with Picatinny rails and M-LOK slots fashioned into the polymer forend for typical attachments and grips.
Takedown Rifles: #6 Kel-Tec SU-16 Takedown Rifle

Caliber: .223 Rem / 5.56 NATO
Capacity: 10, 33, or 50 rounds
Overall Length: 30.5″
Weight: 6.0 lbs.
MSRP: $556.00
Like the Sub2000, but prefer rifle cartridges? KelTec's SU16 is up for consideration. This rifle might look a bit, well, cheap — but it's packing some pretty cool features and a proper gas-operated piston system instead of direct impingement. It even takes standard AR-15 magazines, and sports an 18.5″ barrel with a 1:7 twist rate to reliably send most off-the-shelf .223 and 5.56 loads downrange with good accuracy up to 300 meters.
The SU16 is a pseudo-takedown rifle: The entire receiver, including the bolt, barrel, and magazine well, remain as one unit. Only the stock and trigger assembly fold down and underneath the barrel for storage. But the SU16 compensates for this still-sort-of-bulky setup by providing a built-in bipod.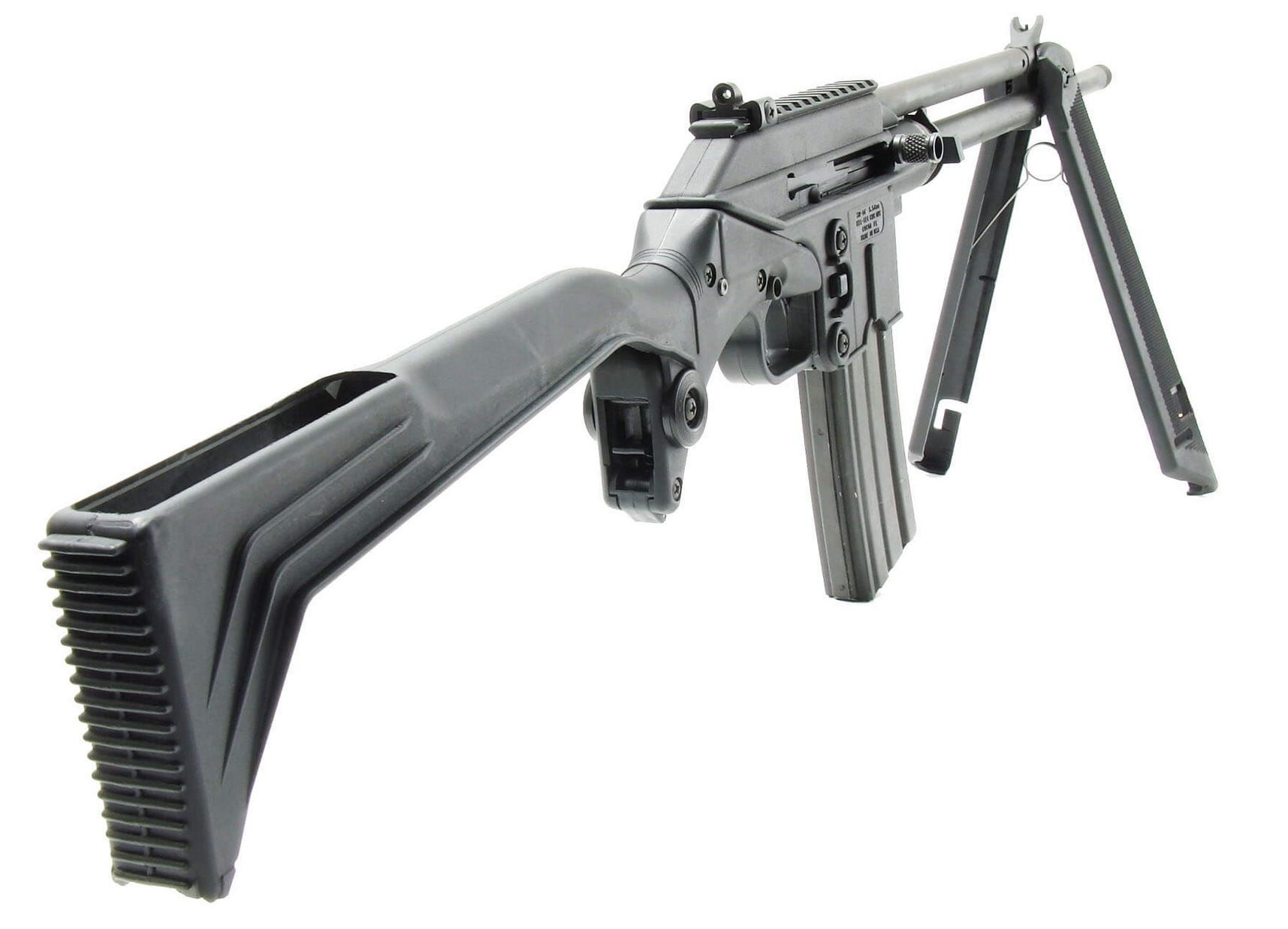 Either side of the handguard folds outward under spring tension, providing a stable, fixed shooting position in the prone or from a supported position. Coupled with its optic-ready Picatinny rail, the SU16 is perhaps the most accurate and capable takedown rifle on this list. Managing to weight just 6 pounds with a piston system is a nice bonus, too.
Takedown Rifles: #7 Chiappa Little Badger

Caliber: .22 LR
Capacity: Single-shot
Overall Length: 31″
Weight: 2.9 lbs.
MSRP: $280.00
If the SU16 is our most capable and built-out takedown rifle, here, then the wire-framed Chiappa Little Badger is its antithesis. This single-shot, break-action .22 LR barely qualifies as a firearm. It's more of a bang stick that happens to have some rifling fitted inside its 16.5″ business end.
It is seriously minimalist, lacking even conventional handguards and a pistol grip (you can install a grip to the underside Pic rail, behind the trigger). Interestingly, though, the Little Badger has some quite capable iron sights: Military M1 adjustable sights, similar to what you'd find on an M4 or M16 clone.

The advantage of the Little Badger is its ridiculous size and featherweight profile. It comes in under 3 pounds and folds into what looks like two sticks that fit inside a waterproofed plastic tube. It's the essence of a bare-bones survival rifle with a price tag that reflects its intent.
Takedown Rifles: #8 Ruger SR-556 Takedown

Caliber: .223 Rem / 5.56 NATO
Capacity: 30+ rounds
Overall Length: 32.75″ – 36″
Weight: 7.1 lbs.
MSRP: $2,049.00
Ruger apparently felt the AR-15 wasn't portable enough (even with its easily separated upper and lower) because they took their vaunted SR-556 and made it even more, well, "takedown-able." This unique iteration of the AR rifle includes a removable barrel extension that mates directly with the star chamber, allowing the barrel and chamber to separate from the upper receiver and handguard without the need for a workbench and Armorer's Tool.
Breaking the rifle down means also detaching the front sight-gas block combo from the piston system in the upper receiver. Yes, this runs with a two-stage piston instead of direct impingement. So, cleaner functionality and less cleaning. But in traditional AR fashion, the lower assembly remains one piece when broken down, with no modified buffer or recoil spring to speak of.
The SR-556 is considered a high-end AR in its own rite: It comes with a 41V50 CHF barrel, with an optional .300 Blackout barrel that can be swapped in for suppressed fire sold separately. A two-stage trigger provides crisp action, with quality Magpul furniture and a heavy-duty Picatinny handguard. Looking for something compact and silent, instead? Check out the recently-announced, integrally-suppressed Ruger 10/22 from SHOT Show 2023.