Why You Should Consider Out-of-Production Knives for EDC
Tony Sculimbrene 08.25.14

The point of this series is to give you an alternative to the current folders on the market. The first article discussed the merits of a fixed blade EDC. The second reviewed the benefits of a traditional folder as an EDC. In this article I am going to delve into the murky waters of hard-to-find out of production knives. Be warned–some of these knives will cost you a pretty penny and are virtually impossible to track down.
Despite the higher profile of some knife companies like Gerber and Kershaw, for the most part knife companies are still small operations. They don't have the ability or the desire to do lots and lots of focus group testing and prototyping. Compared to the automotive industry, there are a lot of products released in the knife world that are basically shots in the dark. Add to this the fact that many knife designers come from the tinkerer/inventor mold, and you can see a number of truly wild ideas when looking through a knife company catalog. Some of those ideas are great and go on to be mainstays in the product line.  Some are terrible and get dropped almost immediately. Every once in a while, however, a great knife will not continue in production and just fall away.
There are a couple of reasons a great knife might go out of production. First, the company might intend for that to happen to make the knife special by making it a limited edition. Second, the knife might have been too complex or expensive to keep making (or to make at a sufficient profit). Third, the knife's design might have been out of step with tastes and thus not be a good seller.
There are some classic "chase" knives that are out of production, stuff like the Jess Horn Spyderco or the Spyderco Klotzli Michael Walker, both of which have appreciated in value significantly since they went out of production. More recently the Kershaw Tilt is a production knife that, on the secondary market, commands "custom knife" prices. Those are pretty obvious examples of great out of production knives and all three fell into the "too expensive to make" category.
The benefit of these knives is that they have all of the excellent design chops of a major knife company, usually excellent materials and fit and finish, but they are still rare enough to be unique. They are a little bit of pocket bling from companies built on delivering modestly priced workhorse knives. Here are a few of my favorites:
Spyderco Jess Horn C38 in ZDP-189
This is a rare knife on the secondary market, but nothing like the OTHER Jess Horn Spyderco.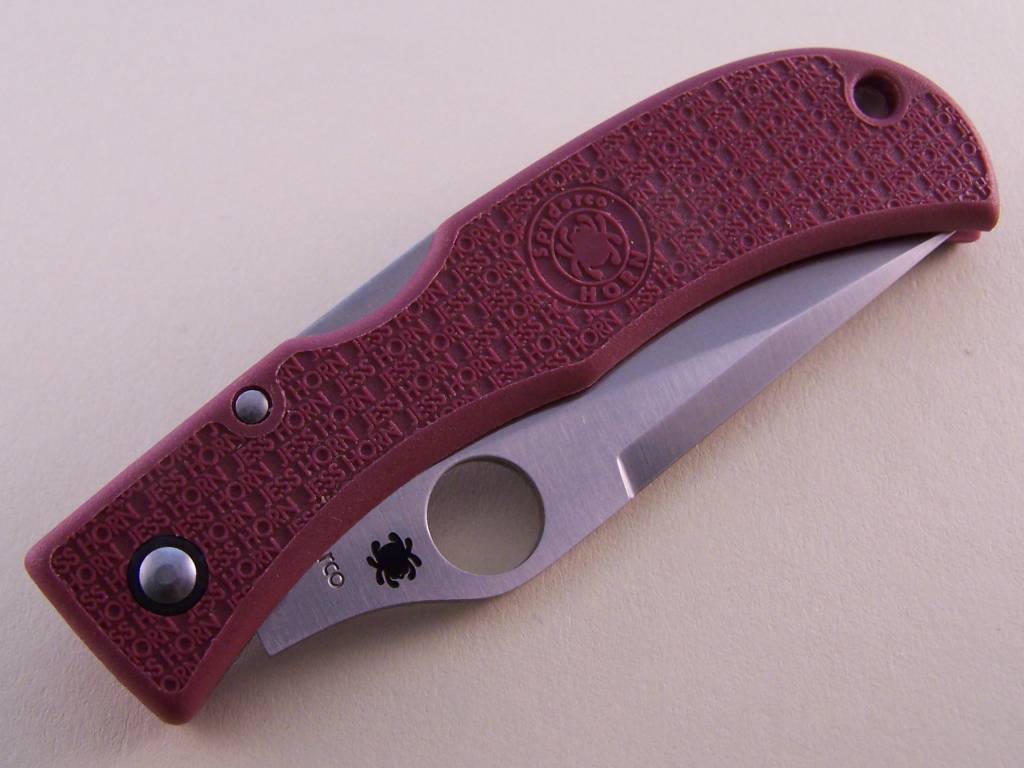 Readily available at around $150 on the secondary market, the C38 packs in a ton of features and performance. First, the blade is 3.25 inches long, but the whole knife comes in at a dainty 1.75 ounces. The steel, ZDP-189, is one of my very favorites and runs huge amounts of carbon and chromium, making it both capable of taking and keeping a sharp edge and fighting off rust. But all of this misses the single reason why its worth tracking down a C38 even in today's market: there is nothing with a 3 inch ZDP-189 blade that is as light and thin on the market today.
Benchmade Mini AFCK
The Advanced Fight Combat Knife is something of a puzzle. I can't, for the life of me, figure out why Benchmade took it out of its line up. It is, frankly, the only thing Benchmade has that can compete with the Paramilitary 2. It's lighter than the Contego by more than full ounce, and it runs that very rare combination: a thumb hole and an Axis lock (only the HG Griptillians have that combo). Here is a great video overview of the knife by NYCDave212 (one of my favorite YouTube reviewers who doesn't seem to be making videos anymore):
It's just such a unique knife for Benchmade, but unfortunately it's not around anymore. On the secondary market, prices reflect its unique combination of good features as they regularly sell for more than $150, and good condition models can hit $200. There are a ton of variants–ones with liner locks (the perferred lock of the knife's designer), ones with thumb studs, ones with exotic steel (stock models ran 440C then ATS-34 then D2, and there are M390 version floating around). There is even a small AFCK, the Mini AFCK. It too has the amazing cluster of features and it weighs in at a paltry 2.80 ounces. They also made Gold Class AFCK and Mini AFCKs.
Kershaw Mini Cyclone in ZDP-189
Want a titanium framelock flipper with ZDP-189 steel? Well your options are to plunk down some cash and wait four years for Yuna to make you a knife or track down the Kershaw Mini Cyclone.
There just aren't a whole lot of folks using ZDP-189, even in the custom world, so the only way to score all three of those things is to find the Mini Cyclone. It's not so much a mini knife as it is a smaller version of the full-sized Cyclone. The blade length is 3.25 inches, and the flipper is assisted, making it a somewhat bulky knife at 4.0 ounces. But its blade shape and flipper look great. The secondary market is quite enamored with this little cutter. It runs a pretty penny, coming in at around $200 and even $300. Be careful, though, as there are lot of versions of the Mini Cyclone and not all of them have the super steel.
CRKT S2
The Hi Jinx is the knife most people think of when someone says "High End CRKT knife." Truthfully there haven't been a whole lot of high end CRKT knives (though that thankfully appears to be changing). But before the Lionsteel made blade, there was the S2. It was a titanium framelock with elegant lines and ATS-34 steel. Even today this steel, which is very similar to 154CM, is a good steel.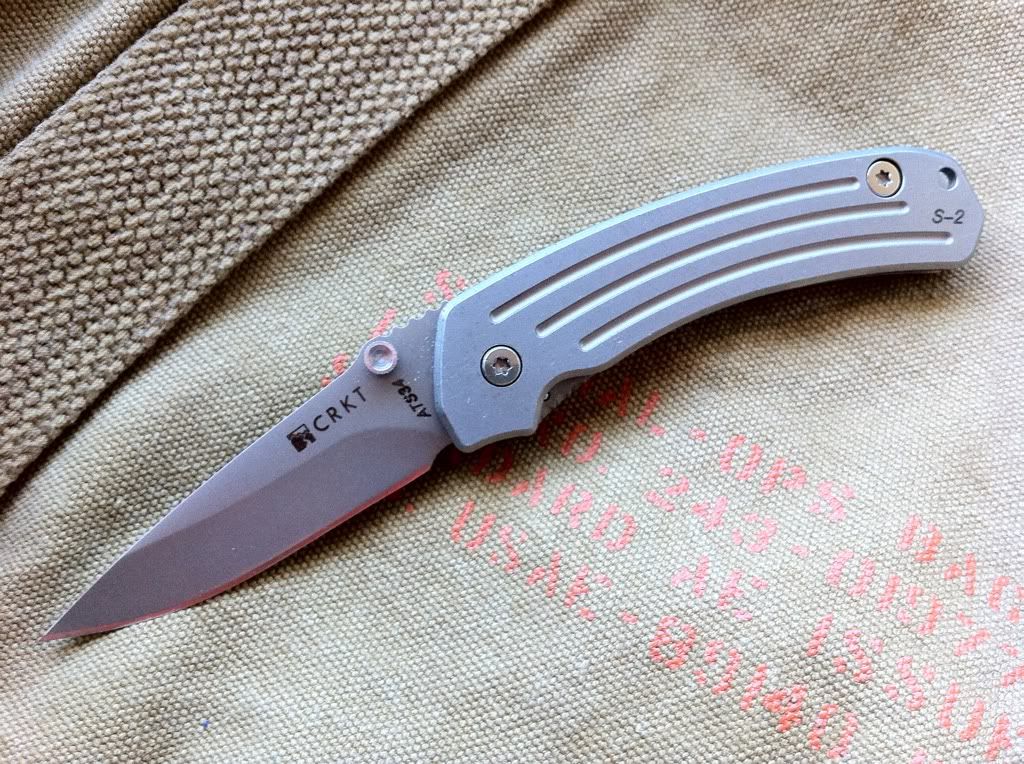 This is not the typical CRKT knife. It is exceptionally sleek, looking much more like Kershaw Leek than an M16. There were two sizes, and even the lock bar follows through with the curved aesthetic. It was made when there was a critical shortage of Sebenzas and everyone was rushing a titanium framelock to market. But even in that crowd, this curvy blade stands out.
Buck Mayo TNT
There is probably no chance that you or I will have a REAL custom Buck Mayo TNT anytime soon. As the prices for custom knives have spiked in recent years, Mayo knives have been at the crest of that price explosion. Three years ago you could get a TNT for $800. Now you'll pay three times that. But a few years ago, as part of a collaboration project with high end custom makers (a project that also brought us the Buck Striders, all of which command high prices as well), we were treated to a few different Mayo knives produced by Buck. The TNT is by far the most coveted and the coolest.
It's an elegant blade with the Mayo holes in the handle. It's very, very slim and it runs an excellent S30V blade heat treated by Paul Bos (as most Buck Knives are). The pivots are smooth and the spine is rounded over. The TNT was a competitor to the Sebenza, and while it clearly lost that battle (the Sebenza isn't about to go out of production anytime soon), it is a very good knife. They sold for around $250-$300 originally and there are a few variants, one with black handles and a smaller version called the Waimea (which runs a more scimitar-like blade). You can find these jewels on the forums for reasonable prices, but eBay prices are insane, sometimes more than the original retail price.
If you are looking for a knife based on features, you might realize that the current catalog of production knives doesn't have exactly what you want. If that is the case, there are plenty of recently out of production knives out there that are very competitive with materials and might have the features you want. Plus there is the thrill of the hunt, which can be quite fun. Good luck.