HCA Prototype Double Barrel Muzzleloading Pistol
Russ Chastain 07.11.16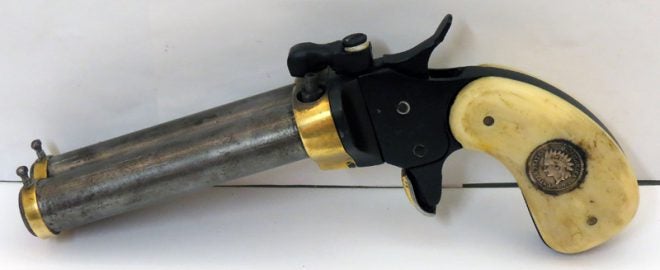 In a previous post, we met local gunsmith George Halstead, who makes nifty little poppers of his own design in a small workshop. The pistol we'll look at here is the one he calls his prototype.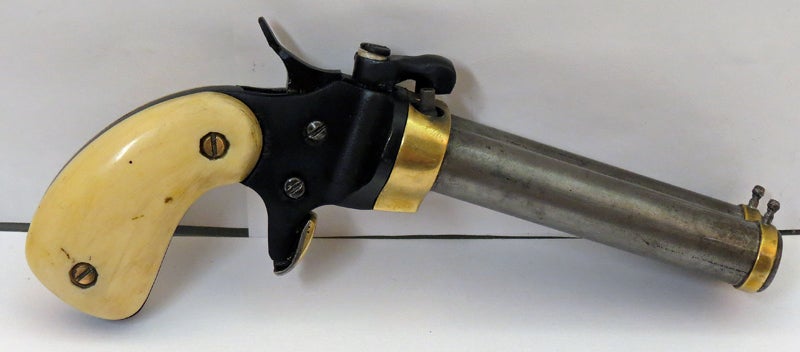 The barrels remain unfinished on this interesting little gun, but the frame is powder coated. Why isn't it blued, you ask? Because he's not yet set up to do hot bluing, and cold bluing pretty much sucks.
George's grips are hand-molded from polymer in his shop and may or may not receive a patina to "age" them.
The front sights are simple steel posts, but you won't be doing a whole lot of aiming as there are no rear sights. And it's a smoothbore anyhow.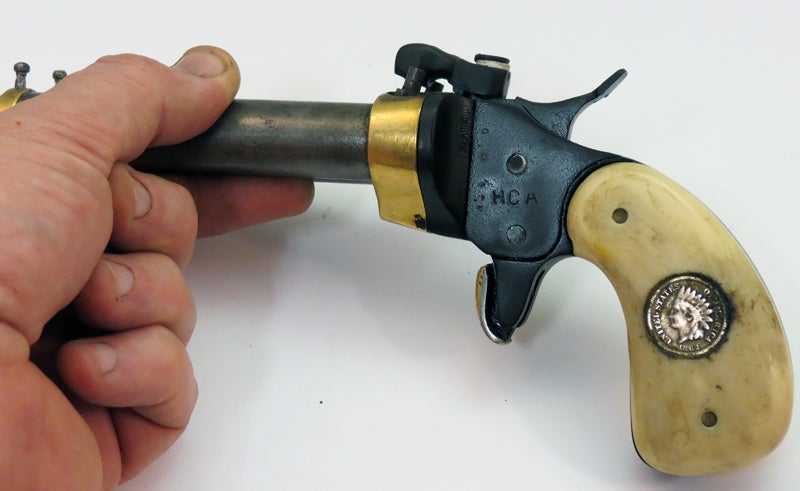 The trigger is kind of a derringer style deal, but wide and comfortable. The coin inlaid into the handmade, hand-fitted grip is real.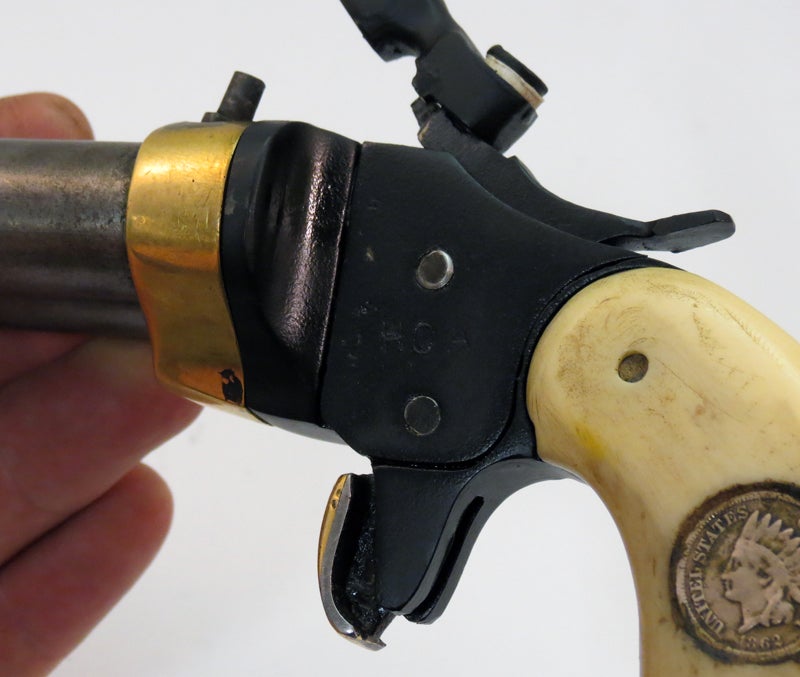 George made this one with barrels that are about 4.25″ long. The right one measures about .42 caliber, and the left one is about .46. The idea is to stoke the large barrel with shot and the right barrel with a round ball; then you have the shot charge for shooting a hard-to-hit threat such as a venomous snake, or the round ball that packs more punch if you need to finish off a deer, say while hunting in muzzleloader season.

Most of the frame–the part that contains the mechanism and forms the grip–is made from a single hunk of 1/2″ thick steel plate. A crosspiece of 3/8″ steel is welded to the front of that frame to support the rear of the barrels. That curved portion on either side between the two is the weld.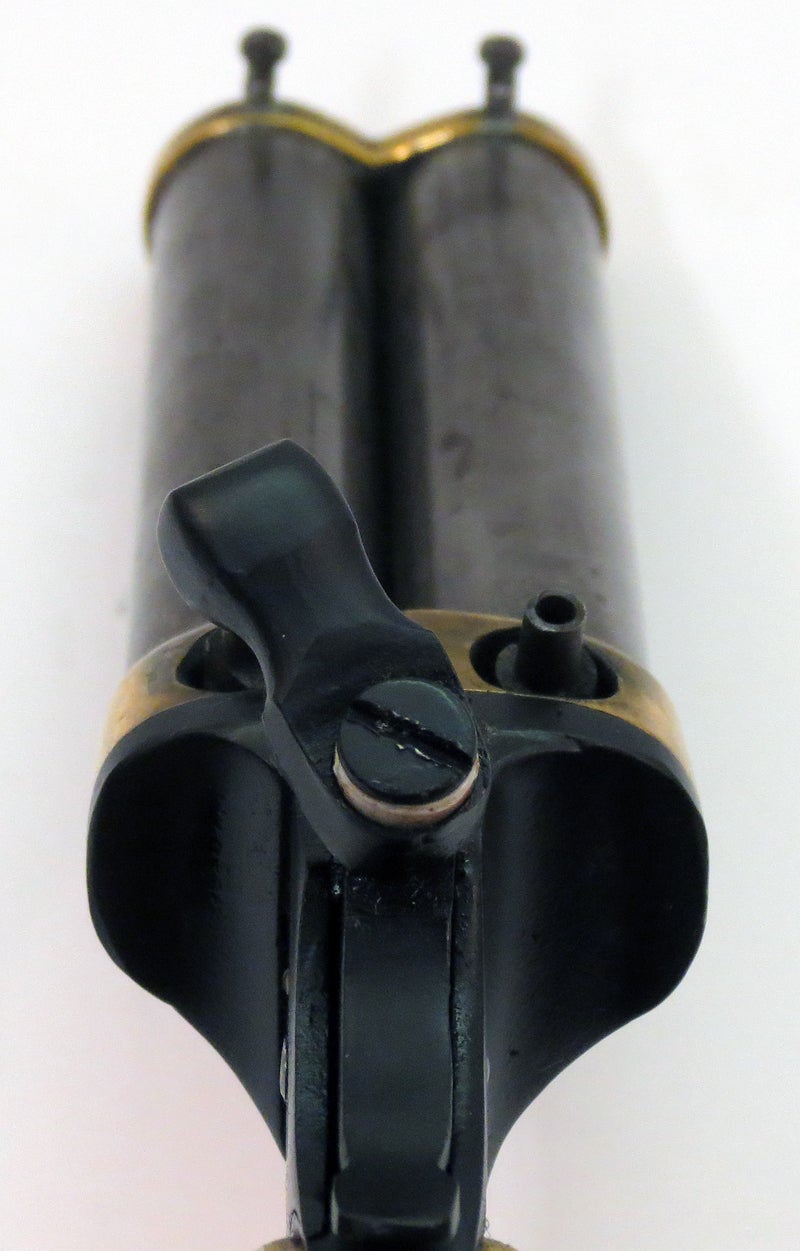 This handy little gun is pretty wonderful, if you ask me.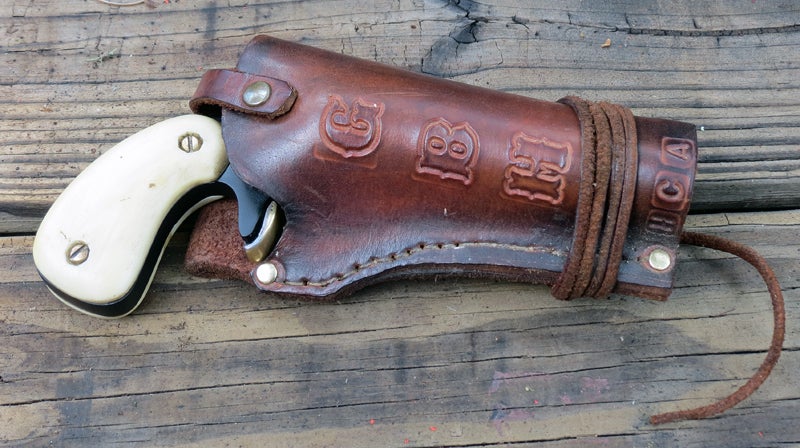 Overall length of this gun is roughly 8.5 inches, it's about 4.25 inches tall, and it weighs in at a pound and a half (24.15 ounces).
Mr. Halstead only builds black powder guns and is open to requests for custom work. He plans to offer a single-barrel option as well. Typical cost for a double barrel will run about $450, while a single barrel will be $300. Custom options may raise or lower those prices, of course.
If you like this one, check out his newer (and more deluxe) Model MC.
Halstead Custom Arms
George Halstead
352-546-3731
23455 NE 160 Avenue Road
Fort McCoy, FL 32134