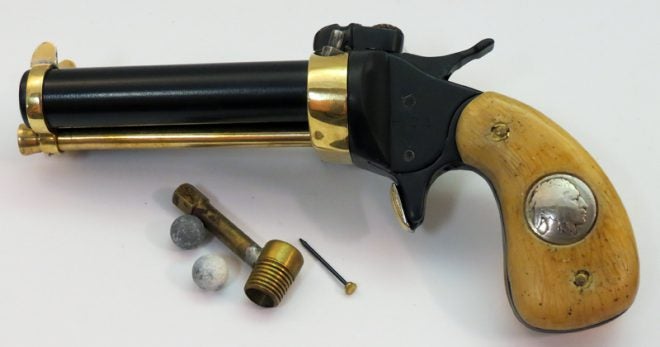 Some months ago, I stopped at a roadside yard sale. It was one of those manly sales, with tools and other good stuff, including some gun items. When the fellow behind the table said he had built a double-barrel muzzleloading pistol and asked me if I wanted to see it, of course the answer was a resounding, "Yes!"
The gun was well-made, functional, and creative. A pair of barrels, side by side, each with its own percussion nipple. A single centrally-located hammer served each nipple via its nifty rotating nose. And he'd made it all himself, in a modest workshop using simple tools.
George Halstead is a mechanic and fabricator who has been working on guns since the 1990s. His father was a tool and die man who worked for General Motors and did gunsmithing on the side, starting in the 1960s. And George's paternal grandfather was a gunsmith, machinist, and engineer who did gun work from the 1920s into the 1950s. He even once worked on, and was given, a revolver by William "Buffalo Bill" Cody.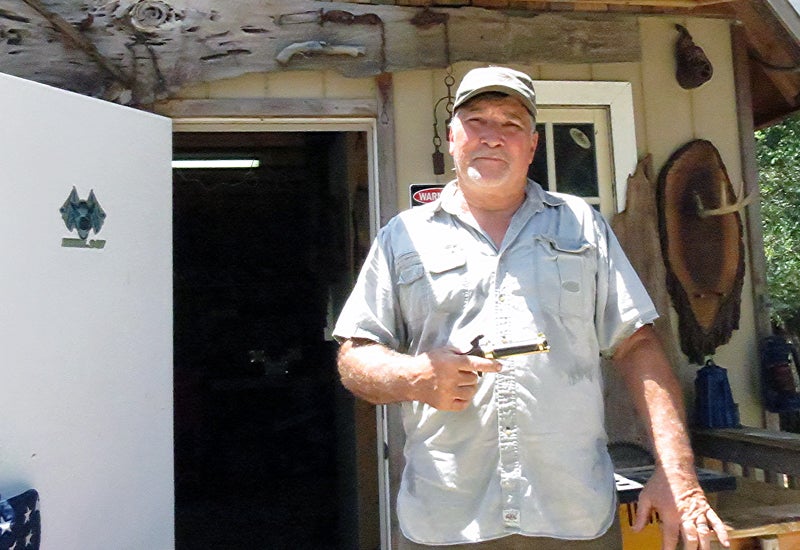 As you can tell, transforming metal into useful objects is a Halstead family tradition. And it was George's son who suggested that he mark his muzzleloaders HCA, for Halstead Custom Arms.
George's workshop is not fancy. A handmade workbench supports a small lathe, and a drill press is the next-largest piece of equipment. The press serves as a mill, via the sliding mill table.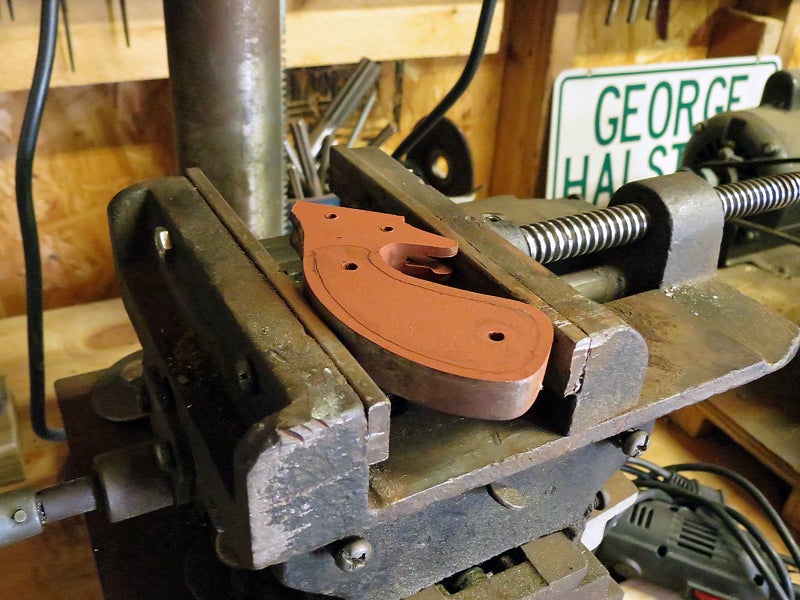 Most of the work is slow, methodical, and done by hand. Bench-mounted power tools include the lathe and drill press, along with portable tools such as:
Angle grinder
Grinder with wire wheel
Drill
Belt sander
Reciprocating saw
DA sander
Files
Welder
Oxy-acetylene cutting torch
Dremel tool
Each frame begins as 1/2″ steel plate, which gets cut out with a torch and manually shaped until it's suitable for milling.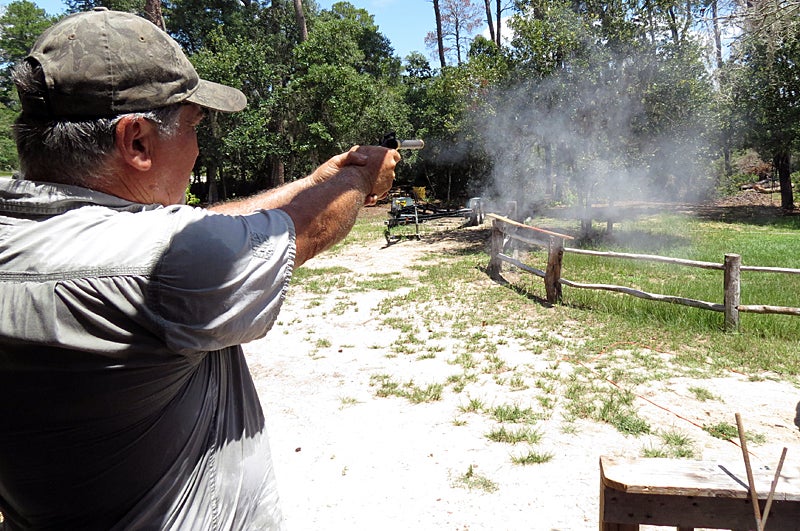 Gun barrels are 4140 steel and are smoothbore. And his grips, believe it or not, are molded of polymer and fitted right there in his shop.
Frames are powder coated, as are the barrels on his most recent popper. Hammers are hand made and hand fitted, just like everything else.
George is carrying on a longtime tradition of home craftsmanship that is far more valuable in society than most folks realize. Without local people who can build and repair real things, we would all be hosed, especially in even a short-term survival situation.
For more information, check out these articles with details of two of his creations:
HCA Prototype Double Barrel Muzzleloading Pistol
HCA Double Barrel Model MC Muzzleloading Pistol
Mr. Halstead planning to expand his capabilities and is looking to cast bronze and/or aluminum before too long.
Here's the contact info for HCA:
George Halstead
352-546-3731
23455 NE 160 Avenue Road
Fort McCoy, FL 32134