Emerson Knives: Overrated and Problematic?
Jon Stokes 02.20.17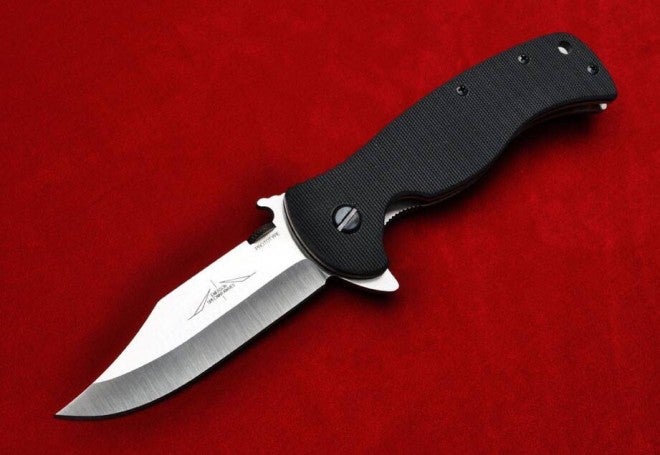 Well, this guy has gone and done it. He claims to be a hardcore Emerson user for over a decade, but he's bailing because of bad quality control, shoddy heat treats, sub-optimal edge geometry, and other complaints.
I was a die-hard Emerson fan for a decade. Over the years, I owned around $3000 worth of Emerson knives, production and custom, and made heavy use of them in daily carry in every walk of my life. Over time, the attraction of the good designs and the Wave feature finally faded under the glare of function-affecting quality and construction issues. There is not another Emerson knife in my future.
You don't often read an extensive slam on a revered maker like Emerson, which is why I wanted to link this up. I'd be interested to hear of our readers' experiences with these knives.
The one specific criticism I'll respond to is the bit about the chisel grind. My reaction to that was, "duh!" I just don't get the rational of a chisel grind on anything but, well, a chisel. I'm sorry, but that's just about the and only grind that I have no use for and that's not represented in my knife collection.
I have to say, there are very few knifemakers that I actually trust with my hard-earned scratch. Also, I tend to buy fixed blades for hard use, so I'm not much of a folding knife guy.
There are two "grail knife" makers who I actually avoid because of longstanding online complaints over quality control and other issues:
Chris Reeve: Reeve's Yarborough is a popular fixed-blade tactical knife, and his Sebenza is legendary. I've eyed both these knives over the years, but have read too many stories (and not just from Cliff Stamp, a notorious Chris Reeve critic) of heat treat problems to want to pony up.
Bark River: You can find a lot of happy Barkie customers out there, but you can also find a lot of really angry ones. Bad grinds and heat treats and terrible customer service top the list of complaints. I actually may still pick up a Bravo 1 LT in CPM3V at some point because it's the closest I can get to a Fallkniven F1 in my new favorite steel.
So who do I like? Frankly, 90% of my fixed blade collection is either Busse Combat or Fallkniven. I'm also a fan of Barry Dawson's work, and I've recently discovered Southern Grind. I've never been let down by the work of these makers over the years, and they all have great reputations in the knife community.
The only complaint I have about any of these is that I can't stand the goofy insider culture around Busse–the 'ganzas and forum geekery and limited releases and so on. I just want to buy a knife, not join some tactical redneck cool-guy club. Sadly, you can't actually get a knife directly from Busse anymore outside of participating in one of their little forum things. Their custom shop has quit taking orders, and they haven't listed an in-stock knife for sale on their site in at least a year. So if you want Busse, right now you're stuck with the secondary market until they get their act together.
As for folders, I carry multitools exclusively. As much as I appreciate a good folding knife, I like having the other tools that something like a Skeletool CX provides.
Are there any revered knife brands that you avoid?